6 Japanese chefs in Singapore reveal their favourite restaurants in Japan
Sure, omurice is good, but have you tried oyaki, monjayaki or motsunikomi? If you're travelling to Japan, here's what to eat and where to find the best version of it. You're welcome.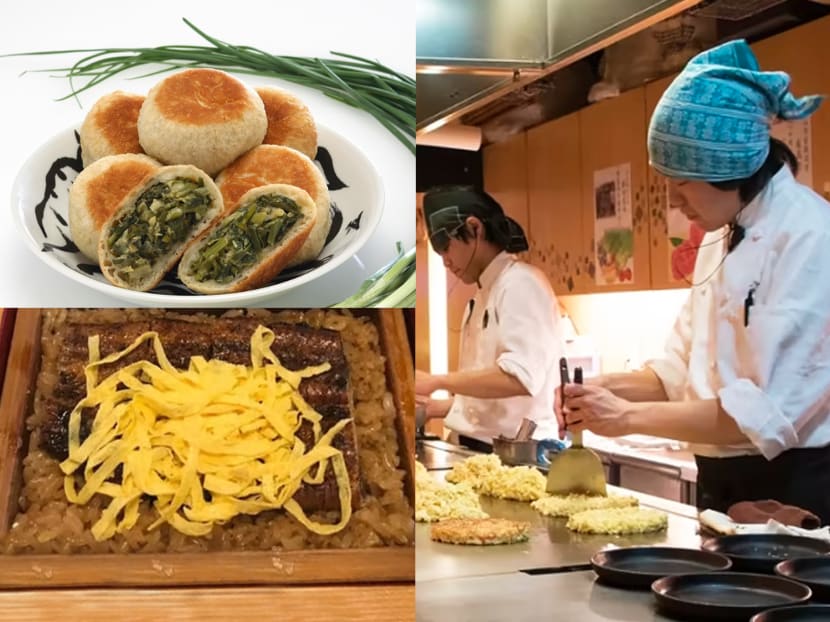 There's never a time of year when Japan doesn't beckon. And if you're planning a trip to the land of sushi, sukiyaki and soba, you'll definitely have its smorgasbord of delicious eats on your mind.
It's difficult to have a bad meal in Japan – come on, you can even get a gourmet meal at 7-Eleven – but have you wondered what those who live and breathe food love to eat most?
We asked six Japanese chefs in Singapore to tell us about their number-one must-try food in Japan. And, boy, are we hungry now.
CHEF AKANE ENO OF ICHIGO ICHIE RECOMMENDS: OYAKI
Chef Akane Eno presides over an intimate counter at contemporary fine dining kappo restaurant Ichigo Ichie, named after the proverb that refers to the value of moments and experiences, where she serves dishes featuring rare, prized Japanese ingredients such as Iga beef and Miwa somen, as well as exclusive sakes.
But the one thing she recommends that visitors to Japan must try isn't fancy at all – it's a simple, homely snack.
"I recommend oyaki, a snack local to the Nagano prefecture," she said. Oyaki is a "Japanese dumpling stuffed with different ingredients" such as seasonal vegetables like pumpkin and eggplant; beans; mushrooms or pickles. The dumplings, which can be roasted or steamed, are texturally interesting thanks to their chewy dough.   
With its simple flavour, oyaki "holds nostalgic value for me," Eno said. "My grandparents lived in Nagano, and my family used to visit them at least once a year during my summer school holidays. My father would drive us there, and we would always stop to get oyaki along the roadside. I have fond memories of enjoying the treats during the journey."
Eno's go-to flavours are the traditional ones such as nasu (eggplant), kiriboshi daikon (dried radish) and nozawana (pickles). But, "with a wide range of flavours available nowadays, it's fun to explore and find your favourite one. Recently, I've heard that some shops are even offering green curry flavour," said the chef, who's lived in Singapore for six years and enjoys using unconventional things like curry leaves, macaw peppers and cream cheese in her own cuisine.
"I've also heard that some fine dining establishments are serving oyaki as part of their course menus in a more sophisticated manner, which is intriguing to me," she shared, considering an oyaki costs a mere 200 yen (S$1.90), in her memory. "While I haven't had the chance to experience it personally, I find it interesting to see how a local snack can be transformed into fine dining cuisine."
Ichigo Ichie is at 1 Nanson Road, #02-07A, Intercontinental Robertson Quay.
CHEF MITSUTAKA SAKAMOTO OF IKKAGOYO RECOMMENDS: SUSHI AND ODEN
At recently-opened Ikkagoyo, chef Mitsutaka Sakamoto presents an elegant and beautiful kaiseki experience, but not without moments of drama and flair. One of his more baller moves is setting his hassun on fire. Here, the platter of seasonal snacks traditionally served at the beginning of a kaiseki meal is covered with paper and lit in the middle so that it slowly burns outwards, revealing what's within.
Sakamoto's inspiration comes from two summer ceremonies: Kyoto's Gozan Okuribi bonfire, and Gifu's ukai, an ancient fishing method that uses fire lanterns to attract fish. For the diner, it's time-stoppingly mesmerising – if you can somehow put your phone down instead of filming it, that is.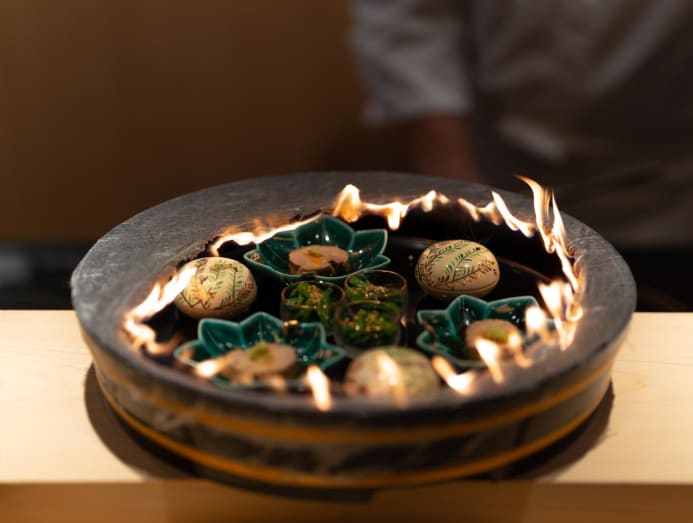 At Ikkagoyo, named after a Zen proverb about how one flower opens into five petals and then bears fruit and prospers, his out-of-the-box "specialty" course features Oigawa eel and seaweed paired with almond cream cheese from France, freshly-grated black truffle and homemade truffle oil powder, which the diner folds up in a buckwheat flour wrap. But when it comes to what he'd recommend in Japan, he feels no shame in going basic.
"One of the more popular international dishes, sushi is still a quintessential Japanese dish that I highly recommend having, even in Japan!" he quipped. "I personally find sushi so unique because it can be luxurious or prepared simply. Regardless of the price point, I appreciate how sushi often highlights the delicious, high-quality ingredients used."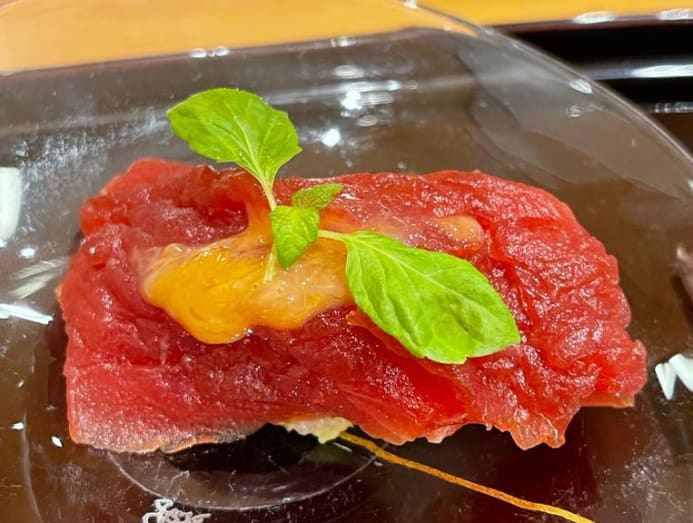 Sushi is everywhere and anywhere, but Sakamoto's personal must-try is Komatsu Yasuke in Kanazawa, Ishikawa, where you can get a meal for around 20,000 to 29,999 yen (S$193 to S$289).
"Komatsu Yasuke's master, Kazuo Marita, is known to be one of Japan's legendary sushi chefs. The sushi he serves is unlike any in the world, including Japan," he said. "To date, I am still deeply impressed by his remarkable skills when it comes to complementing quality ingredients with locally-grown rice that he cooks perfectly."
If you get to experience the skills of chef Kazuo Marita, "My only tip is to completely enjoy every bit of it!" Sakamoto said. And, while there aren't any secrets to making a Japanese sushi chef like you, there are definitely some things not to do, to make sure they don't dislike you: "Avoid talking too loudly, bringing alcohol into the restaurant and being late for your reservation."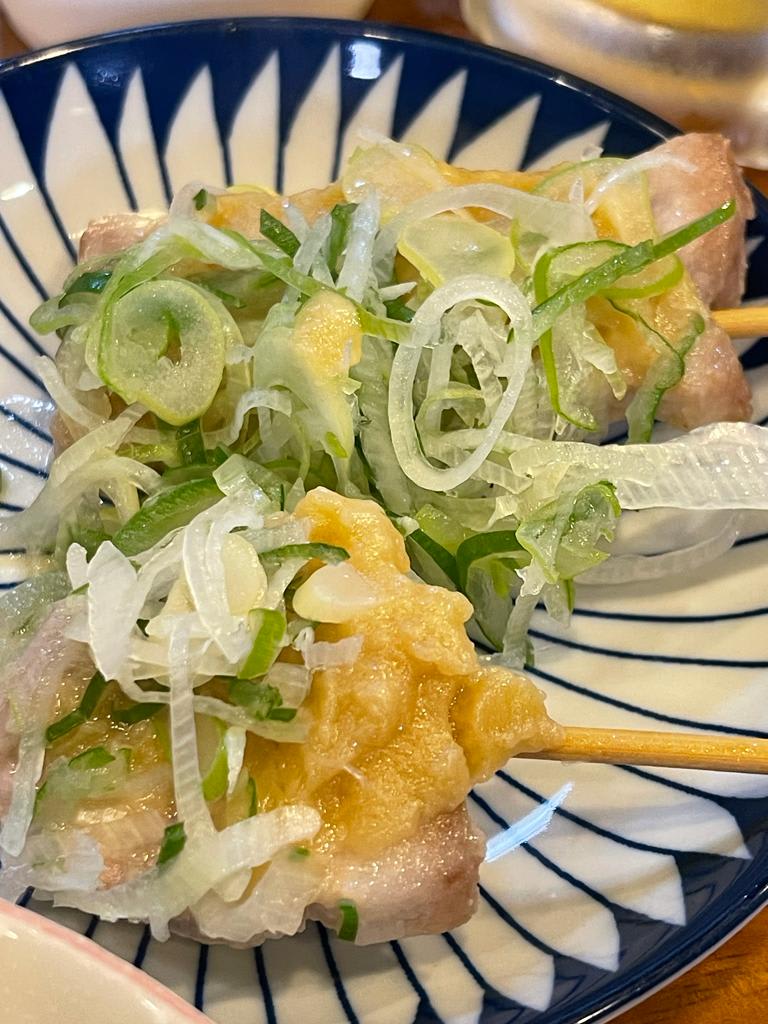 While in Kanazawa, Sakamoto says, you should also try the oden. "It's one of my favourite comfort foods. Wakaba, also located in Kanazawa, Ishikawa, is one of the first restaurants to offer Kanazawa oden, and is affordable, with an average cost of around 2,000 to 2,999 yen. I thoroughly enjoy Wakaba as the broth is always filled with the delicious flavour of kombu. The doteyaki and ochazuke there are also superb!"
Ikkagoyo is at 115 Amoy Street #01-04.
CHEF UNO KEISUKE OF MIKUNI RECOMMENDS: MOTSUNIKOMI
Mikuni's executive chef Uno Keisuke's current menu is all about the premium ingredients he's sourced from Japan and traditional cooking techniques. Take the Signature Black Truffle Toro Carpaccio with Tamari Soy Sauce, for example, which is dressed with a special Kyushu soy sauce he's painstakingly sourced. Or the Saikyo Miso-Infused Cheesecake made with small-batch miso from Kyoto, topped with frozen shiso leaf.
When he's off work, though, one of his favourite ways to unwind is to knock one back at a cosy izakaya and order one of his all-time favourite dishes: Motsunikomi. This popular tripe stew, often a staple on izakaya menus, is his must-try dish for visitors to Japan. "The dish includes small intestines, other offal and a variety of vegetables, all cooked in a dashi stock seasoned with miso, sake, soy sauce and more," he shared.
Motsunikomi isn't just about filling your belly – it's a whole vibe. "In my opinion, it pairs perfectly with a chilled mug or bottle of beer," he said. "Motsunikomi is always my go-to option whenever I go out drinking with friends." As a result, it always "evokes pleasant memories of enjoying a few drinks and catching up with my close friends."
He explained that "there are typically two versions of the dish available: One braised in miso sauce, which is my preference, and another braised in soy sauce. I particularly enjoy the unique flavour of the offal and the rich umami taste that comes from the meat- and vegetable-infused broth."
The Japanese capital has thousands of izakayas, but the chef recommends you head to Tokyo's famous Tsukiji market, where a bowl of motsunikomi can be enjoyed for S$4 to S$5. Here, "you can find various stalls that serve this dish". And, "The best way to enjoy it is piping hot, and alternating between sips of beer or sake."
Mikuni is at Level 3, Fairmont Singapore, 80 Bras Basah Road.
CHEF SHIMUTA KUNIHIKO OF KAPPO SHUNSUI RECOMMENDS: UNAGI SEIROMUSHI
Chef Shimuta "Shim" Kunihiko is clearly a very sociable man. When you dine at Kappo Shunsui, which offers an immersive kappo-style omakase experience, he begins the evening with a drink and a loud "Kampai!". And guests are even invited onto his "stage" to help prep elements of the meal.
When you visit Japan, you must sit down to a meal of Unagi Seiromushi, he says. "Japanese or not, everyone loves unagi. Who can resist that smoky-charred exterior with plump and fluffy-soft flesh, slicked with that smoky-sweet tare sauce!"
But it's not as straightforward as just eel on rice, okay?
Unagi is prepared differently in different parts of Japan, he explained. "In the Kansai region, it is simply grilled. In the Kanto region, it is first steamed, then grilled." Kunihiko himself was born in the countryside of Fukuoka Prefecture in Kyushu, and "in my hometown, we steam and grill the unagi, then place it on a bed of rice that has been seasoned with sauce, then finally, steam it all in a bamboo steamer so that the flavours of the eel are absorbed into the rice." This is Unagi Seiromushi.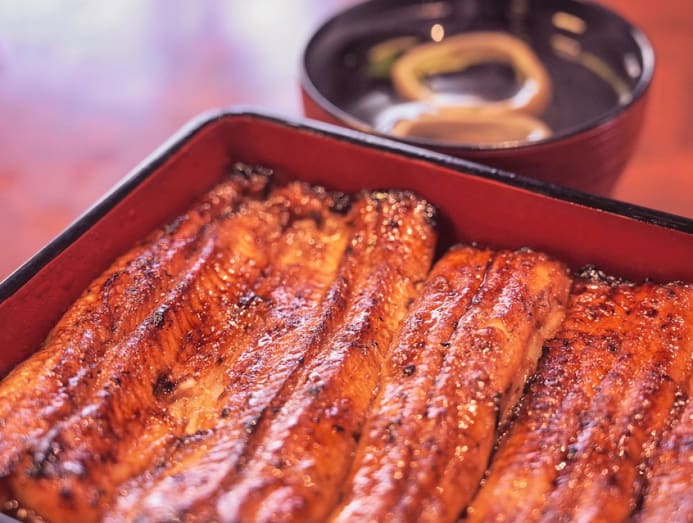 For Kunihiko, Unagi Seiromushi is better than birthday cake. "When I was young, my parents would take me to my favourite unagi restaurant on my birthday every year. I really liked it. I recall that the dish always took quite a while to be served due to the cooking process, so I had to wait for it patiently. I love unagi so much that we would visit this restaurant on any special occasion, and not just on birthdays!"
For the best Unagi Seiromushi, head to Ganso Motoyoshiya in Yanagawa city, Fukuoka, he said. It's "a very established unagi restaurant with more than 300 years of history, and they have faithfully preserved their traditional secret sauce and cooking method for generations." Here, the standard Unagi Seiromushi meal costs about 5000 yen.
"There are many unagi restaurants in Yanagawa, but this is my absolute favourite because of the amazing sauce and impressive technique of charcoal grilling," he shared. "You can start your meal by having the eel Shirayaki-style (simply grilled with salt, without any sauce or seasoning) with wasabi, matched with a drink or two, before finishing off with the Unagi Seiromushi."
Kappo Shunsui is at 17 Hongkong Street.
CHEF TAKESHI ARAKI OF ESORA RECOMMENDS: OKONOMIYAKI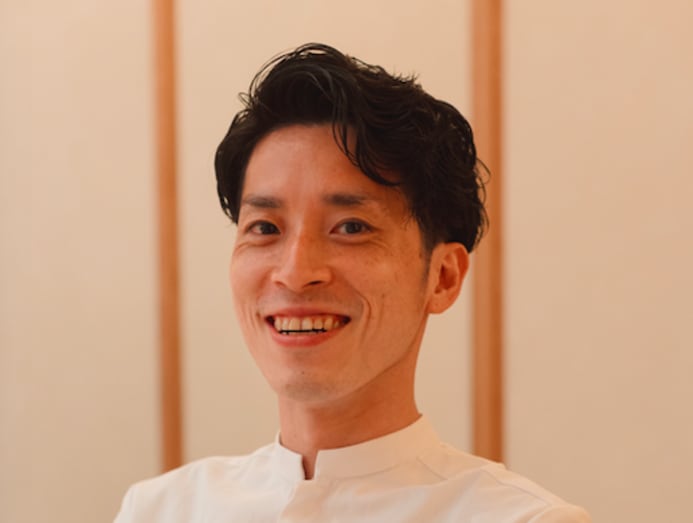 Chef Takeshi Araki may head up Esora's ethereal dining room, its silent open kitchen and its too-pretty-to-eat dishes at the modern kappo-style fine dining restaurant, but when it comes to his favourite foods, it's messy, sloppy, saucy okonomiyaki that has a special place in his heart.
"I was born in Hiroshima, and okonomiyaki is soul food for us. It always reminds me of my childhood," he said.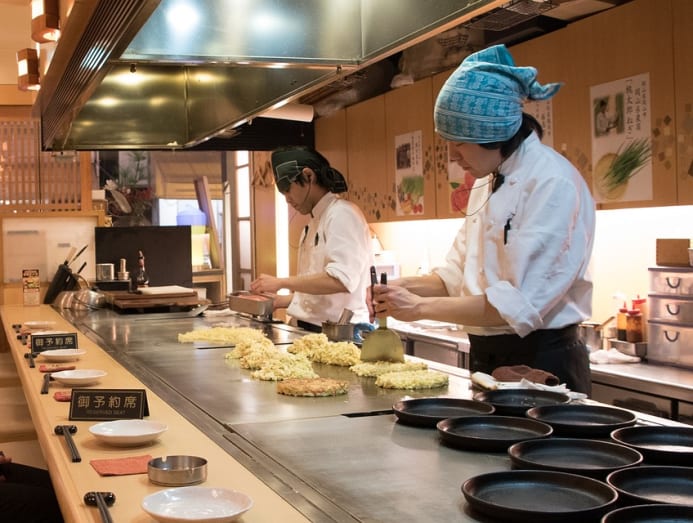 Fun fact: "There are two styles of okonomiyaki in Japan. One is the Hiroshima style; another is the Osaka style. People from each of these cities insist that their style is the real okonomiyaki," he chuckled. "Those from my hometown Hiroshima will tell you that the Osaka style is 'Modern Yaki'. On the other hand, Osaka people will say that our style is the 'Hiroshimayaki'!"
What is the difference? Essentially, "the Hiroshima style okonomiyaki has the addition of soba or sometimes udon, as well as fried egg," he explained. "Also, the cooking involves layering ingredients one after another on the griddle, rather than mixing the ingredients together in a bowl and cooking them all at once like they do in Osaka."
So, where can you find the best okonomiyaki? No prizes for guessing his answer. "Definitely only in Hiroshima". "I recommend Hasshou, where a plate of okonomiyaki will set you back less than S$10. Not only is this place very popular, it also has a long history of making okonomiyaki. Just ask the staff for recommendations.
"One little trick: Eat it using the metal spatula, which we call 'hera' in Japanese. It will make you look like an okonomiyaki expert!"
Esora is at 15 Mohamed Sultan Road.
CHEF SHINGO IIJIMA OF FAT COW RECOMMENDS: MONJAYAKI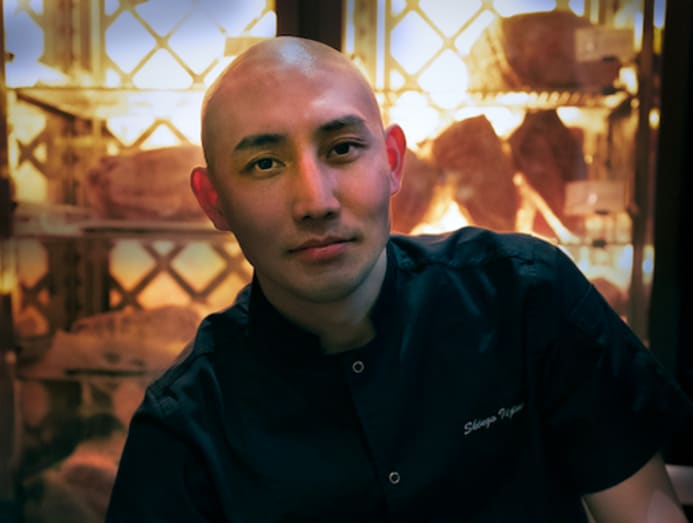 Fat Cow's head chef Shingo Iijima's parents ran an izakaya in his hometown of Adachi City, Tokyo, and as he was growing up, he spent his free time helping to cook and serve yakitori at the restaurant.
Now, he serves up a selection of different types of premium Japanese wagyu prepared according to a variety of methods at Fat Cow. He's relatively new to the 13-year-old establishment known for its beef-focused cuisine, but with his arrival, the restaurant is already demonstrating a stronger emphasis on seasonality and incorporating more kaiseki elements into the menu.
And, he can do you one better than okonomiyaki. The dish he'd urge you to try is monjayaki.
Monjayaki involves wheat flour mixed with water, poured onto a hot iron plate and grilled. Similar to okonomiyaki, where the main ingredients include seasoned flour and an assortment of other ingredients, monjayaki is made with a lower flour-to-liquid ratio to create a runnier batter, Iijima explained. This prevents the Monjayaki from becoming pasty after grilling it on the teppan.
"Diners can press the mix of batter and ingredients on the teppan with a spatula while it grills, resulting in a chewier texture for the charred parts, while areas that are less cooked are stickier."
As a history lesson, Iijima said: "The creation of monjayaki supposedly occurred in the past when someone tried to make and sell okonomiyaki – a popular snack that originated in the Kansai area – at a store for children in the Kanto area, but failed because he added in too much soup stock. Children would then eat the monjayaki and, at the same time, using a tiny spatula, practise writing Japanese alphabets with the runny batter on the hot iron plate."
Iijima recommends the restaurants Kanoya in Asakusa, Okoge in Tsukishima and Kameari in Tokyo. "Tokyo is my hometown, and as a plus, the recommended restaurants are in areas that are great for sightseeing," he said. An order of monjayaki usually costs less than 1,000 yen.
More than a delicious meal or snack, monjayaki is a cultural and social event. "I have been eating monjayaki since I was young. Enjoying it with loved ones around the teppan is very much part of our Japanese culture," he said.
"Monjayaki is eaten directly from a teppan while it is still sizzling hot, and the longer you grill the batter to your preference, the more caramelised it will get. I think its taste will be familiar to Singaporeans who like charred flavours."
And, if you use the small stainless steel spatula to skilfully scrape crispy batter bits off the teppan and eat them directly, "the server will hardly think of you as a foreigner."
The best part is that "getting to eat monjayaki around a teppan with everyone – family, friends or a lover – allows us to come together to talk and spend some quality time."
Fat Cow is at 1 Orchard Boulevard #01-01/02, Camden Medical Centre.