Slurp up this restaurant-quality ban mian at Telok Blangah Food Centre where everything's made from scratch
Follow this Makan Kakis series for the best eats to spend your CDC vouchers on. This week, Gold 905 DJ Denise Tan discovers Yanan Ban Mian Noodle's excellent dish elevated for the modern palate by former hotel chefs.
There's regular ban mian and then there's ban mian distilled through the creative minds of professional chefs with decades of experience between them.
The result? Loaded handmade noodles from new kid on the block Yanan Ban Mian Noodle, which came highly recommended by my Makan Kaki, food entrepreneur Jeremy Nguee of gourmet caterer Preparazzi. Impressed by their craftsmanship, he was especially excited for me to try their "can't be missed" ban mian.
FOMO activated, I hurried to Telok Blangah Food Centre to catch John Yeo Eng Woon and Na Yanan in action at their fledgling stall, which opened a little more than a year ago. What they lack in hawker experience, they more than make up for in professional culinary experience, having cut their teeth in five-star hotel kitchens over the last two decades.
For Yeo, after spending 26 years as a chef in Hong Kong, at The St Regis Singapore and, most recently, The Westin Singapore, he longed to do "something very Singapore-style".
To him, that meant sharing his personal memories of a mealtime staple from his Hokkien household – his mother's homecooked ban mian (handmade, straight-cut, flat egg noodles). "I started this stall because I wanted to bring back the memory of my mum. When I was a kid, I used to observe how she made the noodles," he said, explaining why he decided to leave the hotel industry.
Meanwhile, Na was honing her skills as a noodle and dumpling making teacher in her hometown of Shenyang in the northeast of China. After moving to Singapore and stints as a la mian (hand-pulled noodles) chef at local hotels, including Amara Singapore and The Marriott, she spent more than six years as head chef of the now defunct Italian restaurant Modesto's. She and Yeo met as fellow chefs at The Westin Singapore and discovered a shared desire to strike out on their own, so they took the opportunity to work on something that best showcased their culinary strengths.
As the namesake of their stall, Na brings a unique East-meets-West expertise to their signature dumplings and noodles. Coupled with Yeo's mastery of Chinese cuisine and his specialty in sauces and soups, theirs was a hawker business destined to happen. Since opening, Yanan Ban Mian Noodle has grown a following of foodies who recognise something special when they taste it.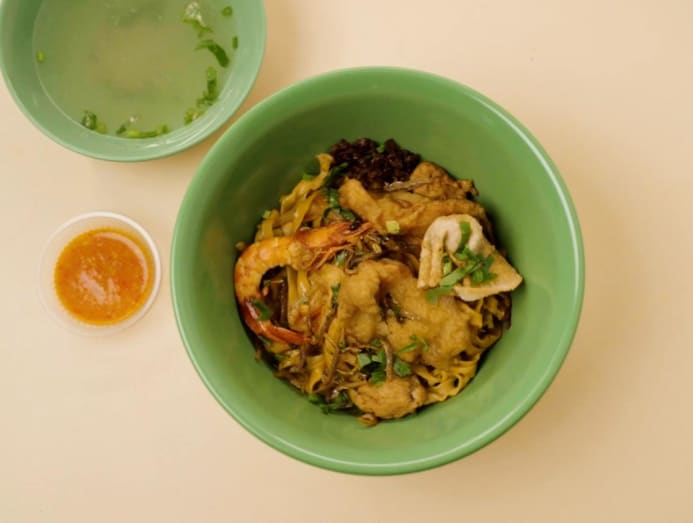 Several types of noodles are served at the stall including mee sua, brown bee hoon and instant noodles, but you're far better off indulging in their handmade varieties – thin noodle (you mian), mee hoon kway (mian fen guo) and their signature flat noodles (ban mian). In Mandarin, handmade is "shou gong", which speaks of hard graft and time invested to perfect something from scratch.
"For our handmade noodles, we use high grade flour. Inside, there's something else, but secret! We wake up very early, 3am or 4am to make the dough!" Yeo said. "The space here (at the stall) is too small. We tried at first, but really cannot! So now we do the noodles at my own place, then we bring it in the morning." I hadn't been able to witness said noodle-making but was happy to discover that there was excellent standard in the noodle-eating.
Many noodle iterations are available at the stall, but Yeo recommended his bestselling Seafood Combo Premium Soya Sauce Toss Noodle (S$5.50). This bowl of goodies was a mouthful in name and nature, piled high with springy, al dente handmade ban mian, Tianjin cabbage and lots of meticulously crafted ingredients. A soup version was also available, but Yeo was particularly proud of his "dry" version tossed in a carefully concocted sauce.
"Our soup is more traditional – pork bone and anchovy stock – so I want to make something more interesting with the dry version," he said, describing his homemade chilli paste as "very Singaporean, with dried chillies and a lot of secret spices".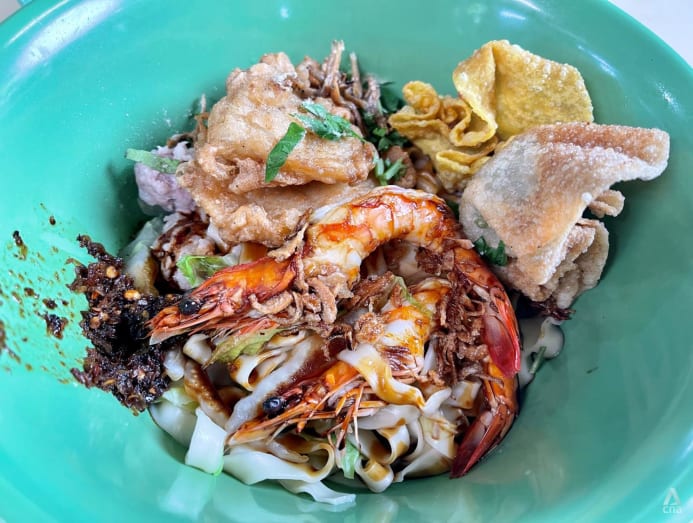 Garlic, ginger, galangal, shallots and plenty of hae bee (dried shrimp) rounded off the paste which, along with homemade shallot oil and "very good grade soya sauce", formed the saucy seasoning base for the ban mian.
Given a thorough toss, each noodle strand was coated in a silky slick of flavour that was aromatic, spicy and full of umami. The mouthwatering fragrance of onion oil balanced well with the earthy sweetness of the dark soya sauce and the throat-tingling potency of the chilli paste. The latter also had a crisp texture that contrasted delightfully with the chewy-smooth noodles, bringing punchy pops of shrimpy heat.
The meatballs were also handmade with minced pork seasoned liberally according to another "secret recipe". Made to order, each meaty morsel was rapidly shaped by spoon and scooped into boiling stock to cook. Coaxed into little quenelles of pure porky flavour, the meatballs were meltingly tender thanks to an excellent fat to protein ratio.
"In the morning we usually do 3 to 4 kilograms of minced meat first. After that, we see how much we can sell. Next day, we do it again. We try to keep it all fresh," said Yeo.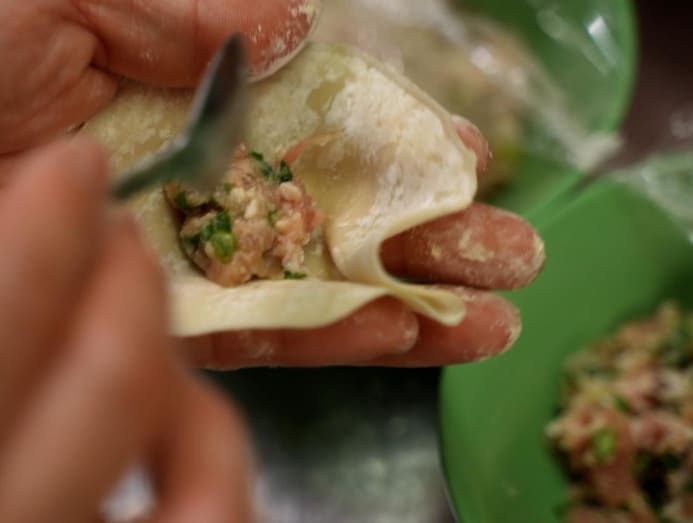 The fresh, handmade theme continues with their jiao zi. More than a hundred dumplings are painstakingly made from scratch daily, available in two fillings and cooking styles – chive and pork; or celery, onion and pork; either deep-fried or boiled (eight dumplings for S$5).
Each order of their signature dry noodles comes with one deep-fried jiao zi, but Yeo agreed to let me try both fillings. Fresh out of the wok, the perfectly seasoned dumplings were shatteringly crisp on the outside and juicy on the inside. Personally, I preferred the chive and pork version for the vibrant green of the stalks and its herbaceous onion bite.
To cut through the fat of the deep-fried delicacy, Yeo reminded me to try their accompanying dipping sauce. Different from his homemade chilli paste, this was a sour and spicy fresh chilli sauce that highlighted their pro-chef attention to detail and flavour pairing.
They applied the same dedication to their prawns, lightly boiled until just blushing and served de-shelled in the middle with heads and tails intact. This showed next-level care for customer convenience – chopsticks easily gripping the prawn tail shell, I was able to devour the tender belly and extract the creamy concentrate within the prawn head without getting my hands dirty.
More treasures of the sea came in the form of a battered fish fillet, featuring a light and crispy shell coating the fresh and flaky flesh within. And then there was the final crowning glory of crunch – deep-fried ikan bilis. The anchovy flavour magnified the noodle bowl's ocean essence, seafood playing off the pork for a meal that was the whole package.
The bar has been set high for the pair of chefs behind Yanan Ban Mian Noodle, whose exacting standards are evident in their signature noodles. Expertly executed, boxes all ticked for taste, texture, freshness and quality, the dynamic duo of Yeo and Na have taken childhood memories of ban mian and made it their own.
They have a reputation for running their establishment like a high-end eatery, so look out for their specials, usually handwritten on a piece of paper tacked up on their storefront. Superior seafood selections including the heads and bellies of red grouper, red snapper and white pomfret, as well as lala (clams) have made appearances on their menu.
Since opening in May 2021, business has been "like a roller coaster" according to Yeo. The hours are long, with both pulling 16 hours most days, yet they remain steadfastly motivated. Their goal is to win over new customers using the skills honed from years spent in professional kitchens.
When asked if he misses the security of his previous job, Yeo laughed, saying: "Cannot regret lah! I just want to stabilise this business and to do something special that I can share with everyone." Refined, restaurant-quality noodles that pay tribute to family tradition, yet elevated for a new generation of diners? It would be difficult to refuse such an offer.
There's regular ban mian and then there's ban mian that's been distilled through the creative minds of former professional hotel chefs – such as John Yeo and Na Yanan of Yanan Ban Mian Noodle at Telok Blangah Food Centre. GOLD 905 DJ Denise Tan finds out more in this episode of Makan Kakis.
CDC Vouchers accepted at Yanan Ban Mian Noodle, located at
79 Telok Blangah Drive, #01-29, Telok Blangah Food Centre, Singapore 100079
. It's open daily, 7 am to 7pm (Mondays to Fridays), 7am to 3pm (Saturdays and Sundays). Catch Makan Kakis with Denise Tan every Thursday from 11am on GOLD 905.