Mala and calamansi bonbons from Mr Bucket's chocolate shop at an HDB block in Sin Ming
Follow this Makan Kakis series for some of the best eats to spend your CDC Vouchers on. Gold 905 DJ Denise Tan travels to Mr Bucket's chocolaterie in Sin Ming for regionally sourced chocolate with unique local flavours.
Chocolate-lovers might be familiar with homegrown brand Mr Bucket, which emerged as an e-commerce success during the pandemic, but for one whose tastes run heavier on the savoury, I'm a little late to the game. One year after a sweet-toothed friend recommended their confections, I finally paid Mr Bucket Chocolaterie a visit and made some surprising discoveries.
Bringing a little high-end to the heartland, the compact store is located at the foot of an HDB block along Sin Ming Road. It stands out from its neighbours, including a paint shop, beauty parlour and kopitiam where pot-bellied uncles drink beer and smoke cigarettes all day.
Yet, it doesn't feel out of place. In nearly two years, Mr Bucket – with its clean, minimalist design, hipster terrazzo counters and shiny glass storefront – has settled comfortably into its surroundings.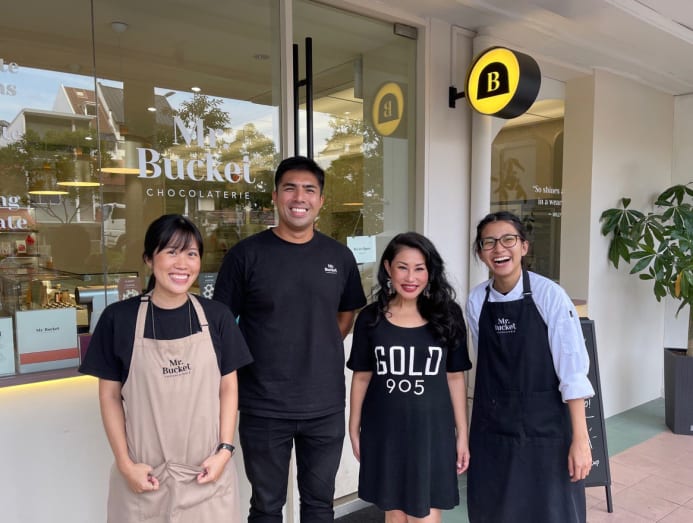 There, I also discovered that the brand's exquisite chocolates originate from regional producers including Malaysia, Vietnam, India and the Philippines. Mr Bucket is all about championing Asian growers because even though European chocolates have a reputation for being the best in the world, its source fruit, the cacao, grows best in tropical climes.
"It's the whole belt 20 degrees north and south of the equator. Popular places include Ivory Coast, Ghana, Central and South America, so why not Asia?" said 35-year-old founder and CEO Jerome Penafort.
One might say he's the eponymous Mr Bucket of the brand, named in whimsical reference to Roald Dahl's beloved children's book Charlie And The Chocolate Factory.
"Charlie's surname is Bucket and at the end of the story, Willy Wonka gives him the factory. So this is our interpretation of how the story continues with Charlie grown up and now he's creating a modern chocolate factory," explained Penafort, who is following through with big plans for Mr Bucket.
The making of this "modern chocolate factory" began when, at a career crossroads, he left the world of real estate and finance and wandered into the world of Willy Wonka. Five years ago, he decided to join the Singapore-owned, Malaysia-based chocolate manufacturing business his father had invested in.
"I knew nothing about chocolate and had to learn everything from scratch. I was involved a little in the operations, mostly business development. But I spent quite a bit of time at the factory in Malaysia understanding how things work. Then I started making my own chocolate at home," said Penfort.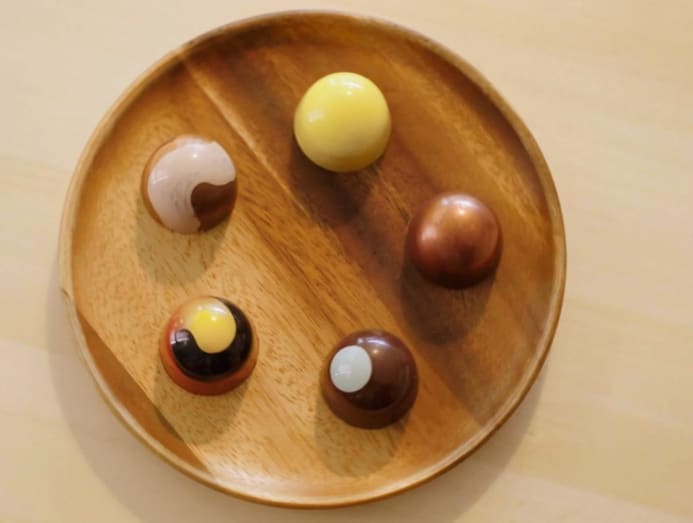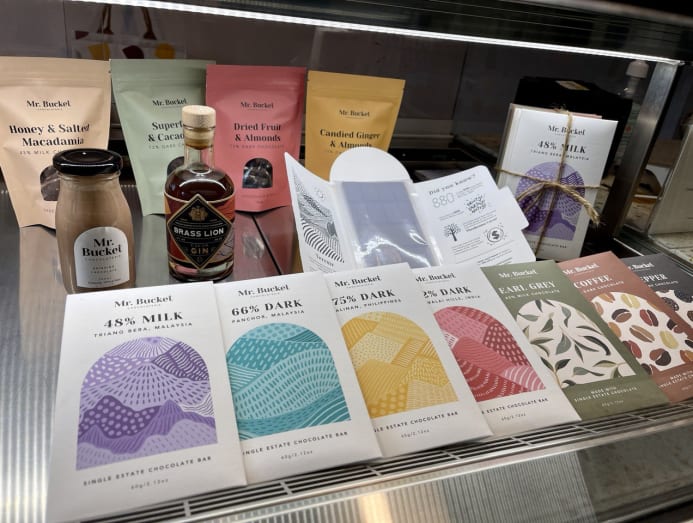 He also wasted no opportunity to visit regional cacao farmers. "Through that experience, I got to really understand what they go through. That led me to launching something focused on Asian cacao farms."
From there, things progressed quickly, and he went from working at the company manufacturing "predominantly lower-end, mass-market" chocolate products, to starting his own luxury chocolate business.
"Mr Bucket is a bean-to-bar company. We have direct contact with the farmers. We get the beans from the single origins and then we turn it into chocolate," he said.
Complete with cacao fruit replica as teaching aid, Penafort enthusiastically gave me a crash course in chocolate making. The elaborate process begins with the farmers harvesting the seeds, commonly known as beans, from the cacao fruit which grow in trees "like very big bittergourds… in every single colour of the rainbow, turquoise, orange, purple, yellow, depending on where they grow".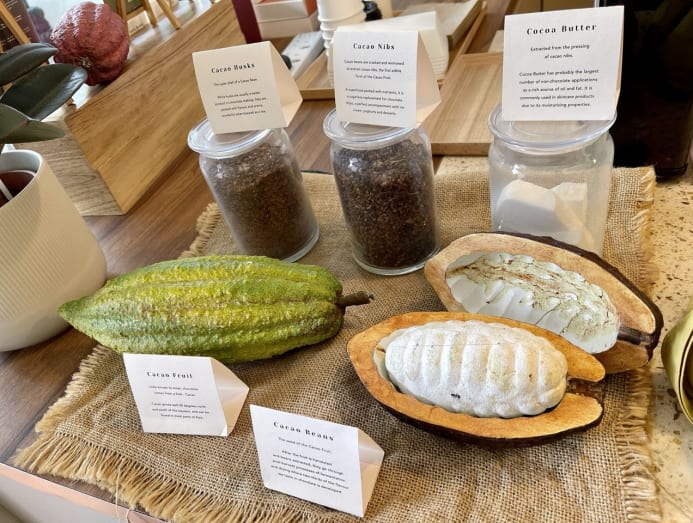 The almond-shaped beans are covered in banana leaves and left to ferment in boxes for four to eight days, then dried out on rain-sheltered racks for a further five to ten days depending on the weather. Post-harvest fermentation and drying complete, the beans are then turned into chocolate at Mr Bucket's off-site facility in Singapore.
In a nutshell, or rather a cacao shell, the beans are sorted for consistency of size, then roasted. Penafort explained: "If you don't remove uneven beans then they will burn during roasting and you'll get very awful chocolate. Then we crack and winnow, which is essentially removing the shell of the seed. Inside is what you call the cacao nibs. They are the first edible raw ingredient of chocolate."
The nibs, which resemble little chocolate chips, are ground in a stone grinder for anywhere between 24 to 72 hours and sugar is added for flavour during the process. "That's how you make chocolate. My expertise is in the chocolate-making, where I turn it from bean to bar. After that, the tempering and the moulding is done by my team of chocolatiers here in-store," Penafort finished.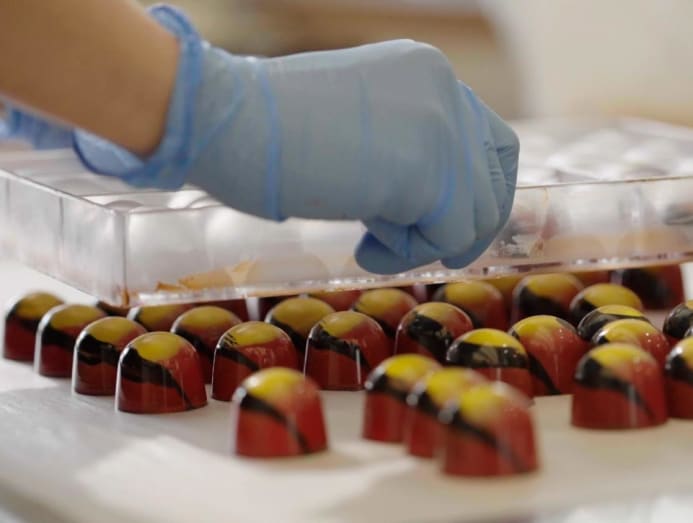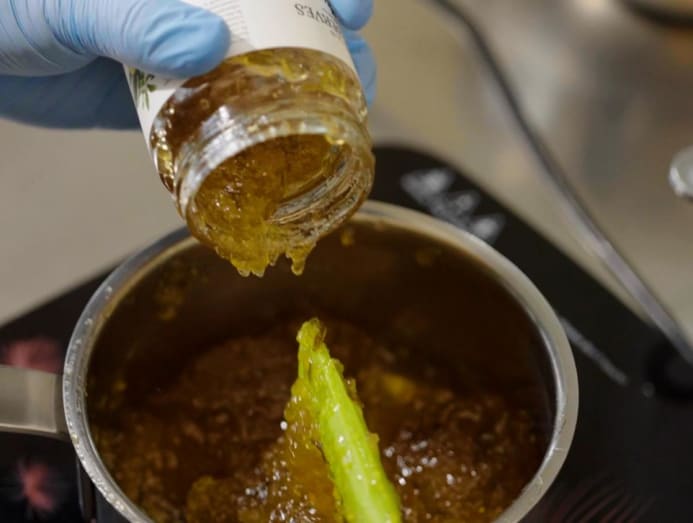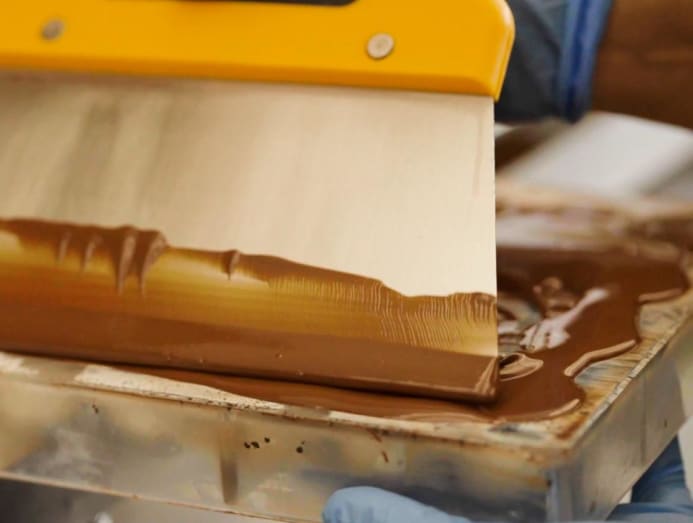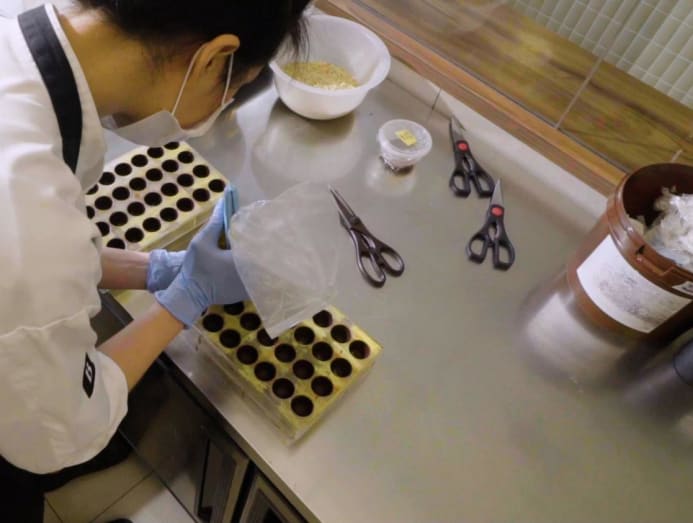 Mr Bucket Chocolaterie is the open-concept production and retail space where you can watch his chocolate expertly transformed into bonbons and other treats, then purchase them for takeaway.
"Before, we were operating out of a small rental kitchen purely for e-commerce. We got this location because we needed more kitchen space and we also wanted the opportunity to talk to our customers, connect with them," said Penafort.
Personally, I found connection with Mr Bucket through their more unusual flavours and collaborations with local brands. Penafort said: "They were all far more established brands than us, but they were just very supportive of our journey. What all these brands share is a kampung spirit. They want to help like-minded local brands who also have a focus on quality."
I, too, was keen to focus on some quality chocolate-tasting and after a quick consult, a local-collab chocolate "flight" was arranged according to intensity of flavour. At S$25 per box of six or S$41 for 12 bonbons, your CDC Vouchers will come in handy for a little treat of everyday luxury. The mini works of edible art looked almost too good to eat, but I managed.
I started with the Single Origin – 64% Panchor Dark, named for the Melakan estate where the cacao beans were farmed. The unadulterated dark chocolate bonbon was identifiable by a light blue circle on its crisp dark chocolate shell, like a pretty eye with a come-hither look. Its taste matched its good looks, the silky-smooth, bittersweet ganache within described by Penafort as having "honey and malt notes".
The Double Soy Caramel bon bon contained the same dark chocolate ganache, paired with two types of soya sauce-infused caramels. "Think of it as a salted caramel but instead of adding salt, we use light and dark soya sauce," said Penafort. The striking vermillion bonbon was capped in bright yellow and an expressively bold, black brushstroke.
Made in collaboration with famed local brewery Kwong Woh Hing, the light soya sauce's umami saltiness balanced perfectly with the dark soya sauce's deeper, earthy caramel notes and the lush bitter-sweet maltiness of the dark chocolate. This bonbon was the perfect savoury-sweet bite with a gratifyingly gooey molten centre.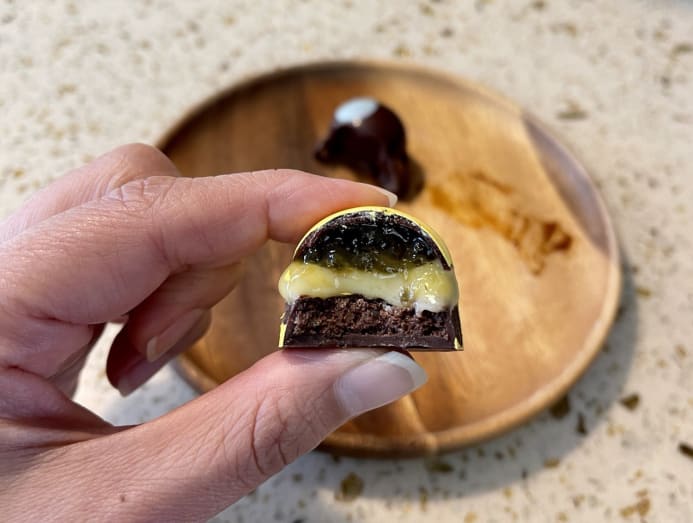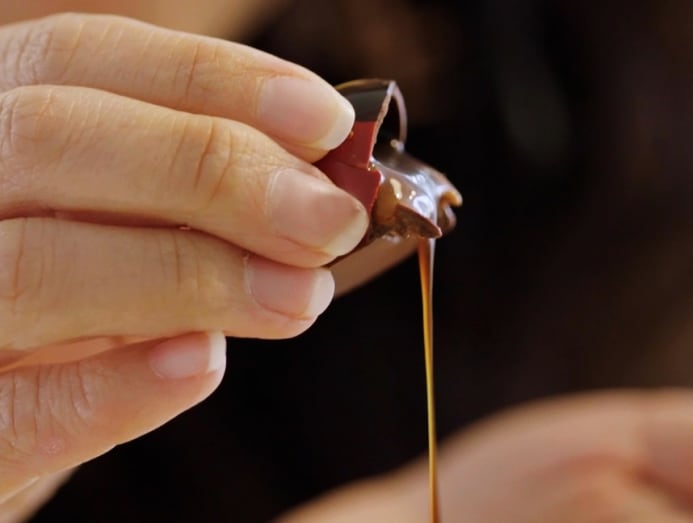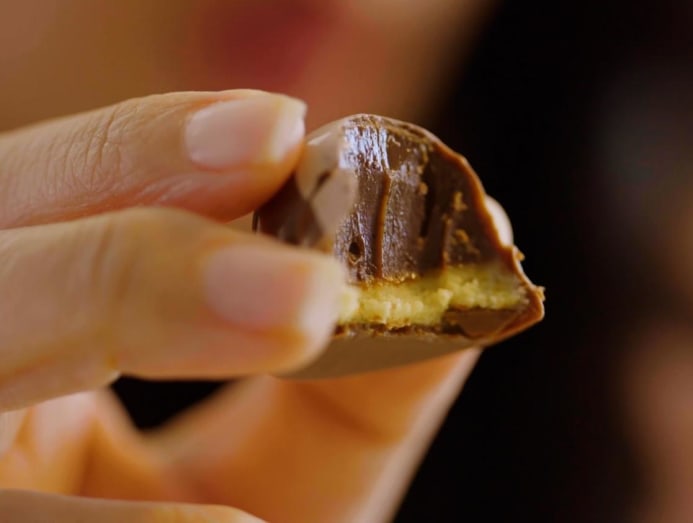 Next came royal treatment in the form of the Tea And Biscuits bonbon, created with English breakfast tea from Singapore's oldest tea producer, The 1827 Clipper Tea Co. Penafort revealed that it was inspired by hit historical romance TV series Bridgerton and launched for Mothers' Day last year. The tri-coloured bonbon featured a glossy milky-brown and creamy tea-hued shell with a metallic gold streak.
Inside, a tea-infused 45 per cent milk chocolate from Sungai Ruan in Malaysia sat atop a crumbly-crisp shortbread base. No longer just for treating mum like a queen, the bonbon has become a menu mainstay. It delivered just as its name suggested – a smooth, rich tea flavour came through the chocolate and contrasted beautifully in texture with the crunchy shortbread.
Following up with a zesty stunner to reset the tastebuds, the bright yellow Calamansi Surprise bonbon was refreshing and tart from its layer of Tropical Calamansi marmalade from award-winning homegrown company Straits Preserves. A second layer of calamansi white chocolate ganache amplified the citrus burst just enough before reigning it in with its sweet creaminess.
The element of surprise hit a few seconds later when the third layer of popping candy enrobed in dark chocolate almond praline kicked in. The delightful pop and fizz tickled the tongue in an excitement of crunch and zing. "My ex-boss from my real estate and finance days buys boxes and boxes of it for his wine tastings and hands them out as a palate cleanser in between glasses," added Penafort.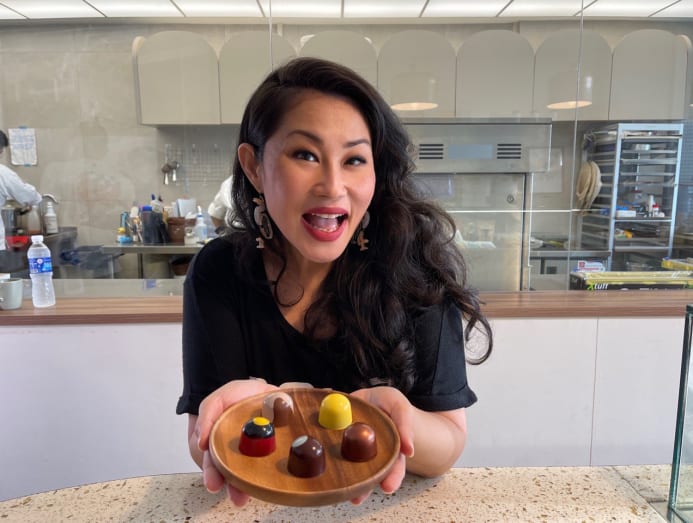 Palate indeed cleansed, I was primed for my final "course" with the Mala bonbon, its contents reflected in its metallic reddish-brown appearance. The spicy and numbing element comes from a local zichar restaurant that has closed due to the pandemic, but the owner still supplies Mr Bucket with the potent mala oil. According to Penafort, "it's cooked for at least five to six hours and there are more than 20 different herbs and spices in it."
Both layers of white and dark chocolate ganache in the bon bon were infused with the mala oil for the most intriguing and divisive of flavours. Mala isn't for everybody, but it's a favourite of mine. Far from the fiery finish I had been expecting though, the bonbon was subtle and well-balanced. The mala flavour was mildly spicy and aromatic, a hint of smokiness enhancing its savoury, umami undertones. Sweet white chocolate working in harmony with the bittersweet dark chocolate, the creamy ganaches cooled and tempered the heat and buzz of the mala spices.
Not into bonbons? Mr Bucket also has a diverse range of chocolate bars, bites beverages and bundles to choose from. It's no wonder expansion plans for the brand are well underway. Penafort revealed he's aiming to launch Mr Bucket Dempsey in November or December if all goes well. The second outlet, which Penafort describes as having a "playful Wes Anderson vibe", will incorporate "lots of Asian materials like rattan and breeze blocks" in its design.
In this episode of Makan Kakis, Gold 905 DJ Denise Tan heads to Sin Ming where a chocolate shop stands out from its neighbours, including a paint shop, a beauty parlour and a kopitiam.
It's an ambitious dine-in project, complete with al fresco and event-hosting workshop areas, as well as a retail space for their growing menu of pastries, spreads, dragees and other chocolate goodies. But perhaps the most exciting of all is the build-your-own chocolate bar, featuring different single origins and toppings to choose from.
This interactive element is at the heart of the Mr Bucket ethos. Taking inspiration from the artisanal coffees and cafe culture from his university days in Melbourne, Penafort said: "What the coffee industry did so well is they made coffee into a lifestyle. So from the very start I wanted to create something truly experiential. And how to create an experience is by showcasing and educating – how chocolate is made, processed. Most people don't even know that cacao comes from the region so we want to create an end-to-end experience much like what vineyards do."
Until the Dempsey outlet opens, Mr Bucket in Sin Ming remains the petite gateway into that chocolate experience and lifestyle envisioned by Penafort. Together with his team, chocolate maker and chocolatiers are building the Mr Bucket brand bar by bar, bonbon by bonbon – bringing proudly Asian chocolates to the heartland and beyond. Willy Wonka would be proud.  
CDC vouchers are accepted at Mr Bucket Chocolaterie, 23 Sin Ming Rd, #01-15, Singapore 570023. It's open Tuesdays to Fridays, 11am to 7pm; Saturdays, Sundays and public holidays, 10am to 7pm. Closed on Mondays. Catch Makan Kakis with Denise Tan every Thursday from 11am on GOLD 905.