Nasi lemak with fried chicken 'berempah' in HDB kopitiam
Follow this new Makan Kakis series for the best eats in Singapore, as recommended by cabbies and private hire drivers. This week, Mediacorp Gold 905 DJ Denise Tan eats with a private hire driver who first followed her nose and discovered this aromatic hidden gem.
In this new Makan Kakis series, drivers show us where some of the best eats across the island are. But instead of them driving me, I turn the tables and drive them so they can play food guide to my chauffeur.
This week, I picked up my Makan Kaki, private hire driver Michelle Lee. 
Even before driving to pick her up, I already felt a certain kinship with Michelle, our first female Makan Kaki of this series. Meeting my long-time listener was going to be a delicious experience, if the many makan recommendations she has shared over the years were anything to go by.
Michelle's all-time favourite food is hae mee (prawn noodles) or fried hokkien mee, but she's always keen to stop and try something new. "I don't eat at a specific time. It depends on where my passengers take me. I eat anything and everything," she said.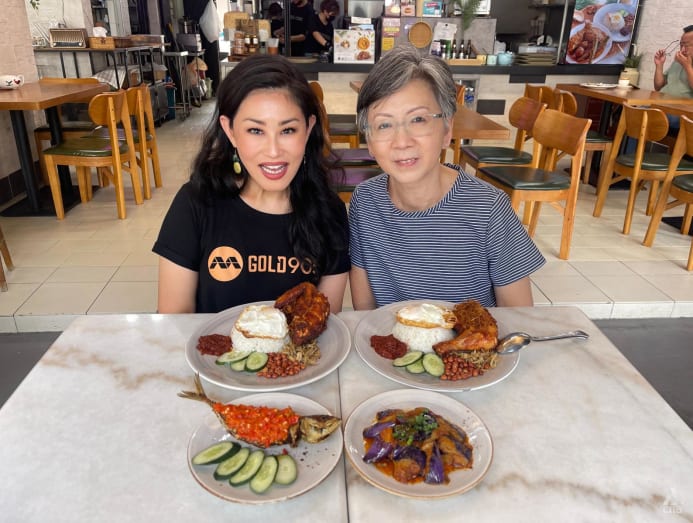 Having worked in the accounts department of a hotel for five years before making her career switch, she explained: "Driving is really a passion – I can sit in my car for four hours straight driving around. So when the opportunity came for me to take it up, why not?"
Michelle, who has been a private driver hire for four years, typically starts her day at around 10am. "I need my sleep, so I don't start very early. I send my niece to work and after that I drive from two hours to 10 hours. It depends. If mahjong is on, then two hours!" she said with a laugh.
In keeping with her fun-loving spirit, Michelle works her driving schedule around mahjong, makan and travel. "If I'm not driving, I'll be on holiday," she added, revealing that she has found the perfect job to accommodate all her passions.
I joked that driving was just a means to fund her travels and she agreed. "It is! Next, I'll be going to Scandinavia for two weeks. If you want to take a break, go far and for a long time."
When she's not visiting far-flung lands, Michelle especially loves driving first-time visitors to Singapore.
She said: "For those chatty ones, I get entertained and they get entertained by me too! For half an hour or so we talk about places to visit and where to go for food."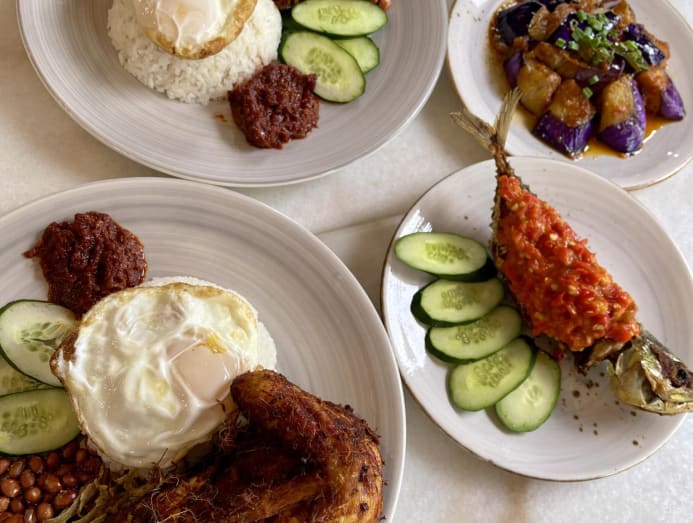 While the place we were headed to isn't found on any of the usual tourist lists yet, Michelle enthused: "But they'd get to enjoy local food in a very local setting."
And you can't get more local than dining at an HDB void deck coffeeshop. Tastefully decorated with neon lights and a shiny ordering counter with a separate collection window, Michelle's new go-to for nasi lemak struck me as "kopitiam luxe".
Wild Coco is the brainchild and first dining venture of Wayne Tan, 43, who used to work in F&B marketing and operations. It opened in February last year at the sleepy McNair Road enclave, just off Balestier Road. (It has now relocated to 14 Hamilton Road.)
"I always wanted to start my own place and nasi lemak is one of my favourite foods. I prefer the Malaysian style with ayam berempah," Wayne said, referring to the fried chicken marinated with distinctively Southeast Asian herbs and spices.
Mediacorp Gold 905 DJ Denise Tan joins Michelle, a longtime listener and the first female Makan Kaki of this series, to enjoy nasi lemak with marinated fried chicken at a coffeeshop she terms "kopitiam luxe".
It was exactly those aromatics that first led Michelle to Wild Coco. "When I dropped off a passenger just a few steps away at Block 122, initially it was the smell of the chicken that made my stomach growl. So I parked the car and I went to eat," she said.
At Wild Coco, the extensive no pork, no lard, no MSG menu is built around their signature sets, all consisting of coconut jasmine rice, sunny side up egg, Japanese cucumber, house-made sambal, ikan bilis and salted roasted peanuts.
Starting with the basic S$5.80 set, you can add a main protein – chicken leg berempah (S$11.80), chicken breast with wing attached (S$12.80), fried fish (S$10.80), sambal belado fish (S$11.80) or their S$14.80 daily specials of either chicken lemak cili padi (available Mondays to Wednesdays) or curry chicken (available Thursdays to Saturdays).
Side dishes include stir-fried lady's fingers, French beans with chye poh, fried tempeh tofu and tauhu goreng.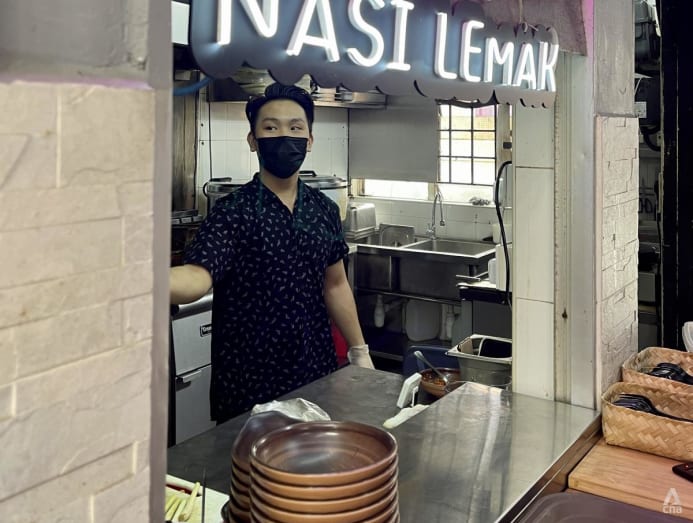 When time came to collect our order, the portions of her chicken berempah nasi lemak turned out to be so enormous, both our plates couldn't fit on one tray.
"Oh yes, you must try this hungry. They mean business. They marinate their chicken for 24 hours, so you get real flavour," Michelle informed me.
According to Wayne, Michelle's whole leg set is their best seller, but I was happy with my choice. Breast and wing combined, they yielded more meat – practically a quarter of a whole bird! Also, contrary to popular belief, it was not dry at all.
Underneath the crispy skin, the meat was moist and the marinade had penetrated down to the bone with its punchy flavours. The deep-fried herb and spice garnish provided crunchy contrast to the tender meat. Super-fine shreds of lemongrass and ginger really excited the palate, as did the charred, caramelised bits where the skin had been fried extra crispy. Tasty as is, but even more so when eaten with sambal.
"It's on the spicier side, because we use a little bit of cili padi besides dried chilli and herbs like lemongrass. There's also blue ginger, shallots and a little dried shrimp," Tan informed me, adding that they still actively seek customer feedback to perfect their recipe.
"Even the one we're serving now is still not there yet, so I keep doing R&D, trying to balance it for the perfect sambal." 
Their current sambal's fruity tang, slow burn and umami shrimp paired beautifully with the chicken and echoed the seafood flavour from the ikan bilis. Richness came from the fried egg which erupted in glorious yolky decadence over the fluffy rice, fat and fragrant from fresh coconut milk. To cool and cleanse the palate, sweet and juicy Japanese cucumber slices did the trick.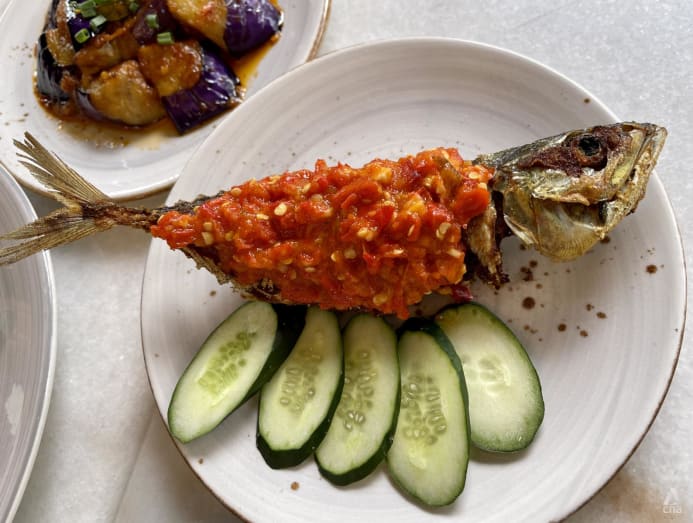 Tan summed it up perfectly: "It's the reaction each component has with each other that brings out the different flavours. That's what makes the best nasi lemak."
By this point we were already feeling quite full, but in typical gluttonous fashion, I ordered extra side dishes of sambal belado fish and Nyonya assam eggplant.
Michelle was game, saying: "Usually I just have a heavy lunch and I can skip dinner."
She's not the only driver I've met who does this, but I wondered if just one meal could keep her focused all day.
"Sometimes when I've had a really busy day, I'll stop somewhere and just close my eyes for 20 minutes. The best place is Dempsey Hill. Parking is free and if you're hungry there's always something to eat," she shared.
Energised by her pro tip, I was ready for more. The whole fried ikan kembong (Indian mackerel) sourced fresh daily from the wet market was a sight to behold, slathered with a vibrant, chilli seed studded sambal.
Made with cherry tomatoes, red chillies, garlic, shallots and lime, it was deceptively fruity and sweet, but the heat kicked me in the throat a few seconds later. I found that masochistically irresistible, especially how the spicy, zesty freshness balanced the fishiness of the mackerel.
As for the eggplant, it looked very appetising with its vivid purple skin, orange sauce and green spring onions.
"Beautiful colours, tangy flavour. It's very well fried," Michelle remarked.
The piquant fruit had a crinkly-crisp exterior and tender interior, ideal for sponging up the boldly herbaceous sauce. The mouth-puckering combination of ginger flower, lemongrass, kaffir lime leaf and assam was mellowed by the creamy eggplant and paired well with coconut rice.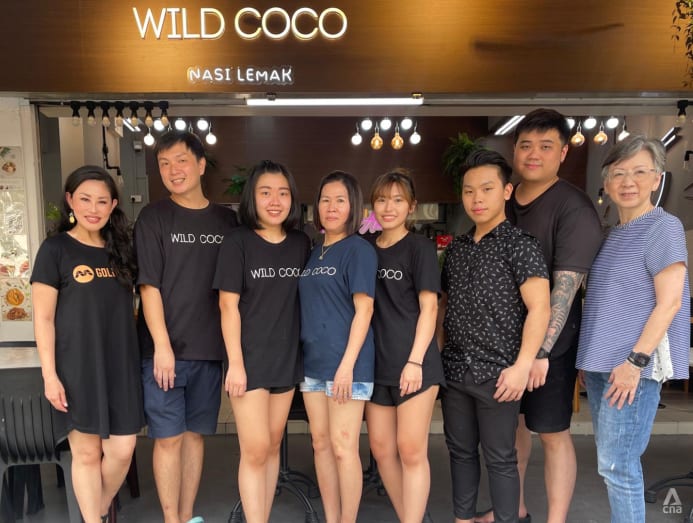 Our only regret was not being able to eat more, because as we discovered, the coconut theme extends to their kueh bingka (baked tapioca cake) dessert with coconut ice cream and a premium tiger prawn and flower crab laksa concept within the same coffeeshop.
If you intend on heading over to McNair Road for some Wild Coco action, do it soon. Barely a year and a half after opening, Tan plans to relocate in mid-September to a bigger, air-conditioned space at nearby Hamilton Road, which will also boast a bigger menu.
Michelle pledged to drive over with more makan kaki when she returns from her Scandinavian tour. Driving, feasting and feeding her wanderlust – the line between work and play is enviably fuzzy for her. I remarked to Michelle that her passions have truly taken her the delicious distance.
"Oh, it's fantastic," she replied. "This is the life, isn't it?"
Wild Coco is now located at 14 Hamilton Road. It's open daily 10.30am – 9pm. Catch Makan Kakis with Denise Tan every Thursday from 11am on Mediacorp GOLD 905.