Charcoal-grilled satay and BBQ chicken wings by the beach at East Coast Park
Follow this new Makan Kakis series for the best eats in Singapore, as recommended by cabbies and private hire drivers. This week, Mediacorp Gold 905 DJ Denise Tan meets a driver who shows family comes first, especially where their favourite BBQ chicken wings are concerned at Ahmad Spring.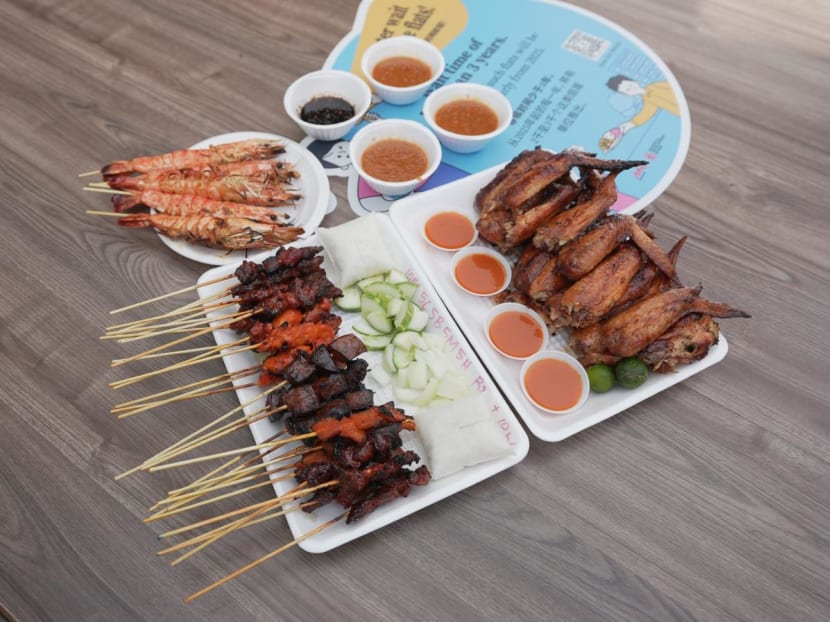 In this new Makan Kakis series, drivers show us where some of the best eats across the island are. But instead of them driving me, I turn the tables and drive them so they can play food guide to my chauffeur.
This week, I picked up my Makan Kaki, taxi driver and former full-time cameraman Mohammad Nazli bin Johar who also runs his own video production company for events.
He's been a cabbie for two years and "started after the COVID situation". "After spending 30 years of being an employee, I wanted to strike out on my own and have more time with my family," he said.
There was no clearer way to make his point – Naz (for short) showed up with his son Riduansyah for our makan rendezvous. It was patently obvious how close father and son are. Both were wearing identical red Iron Man T-shirts and often finished each other's sentences.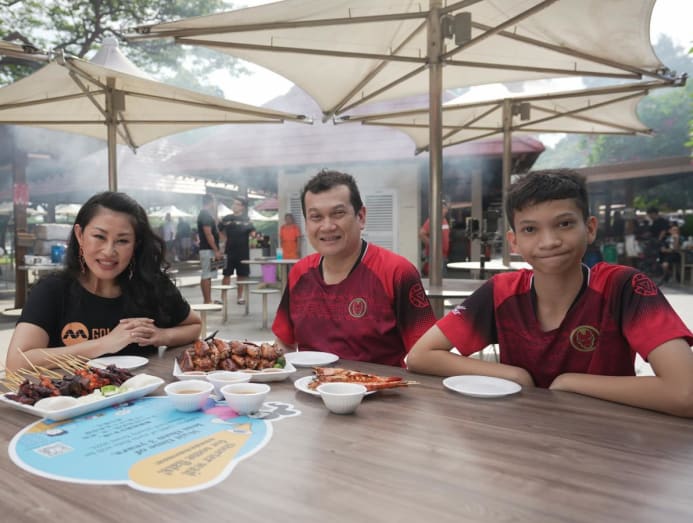 "He likes to road trip with me, run errands. He'll always tag along and I can use his muscle power when we buy things," the proud dad of six shared.
"And I always help my mum wash the dishes, do the laundry," Riduan interjected. Naz's youngest child is a 14-year-old student at Northlight School, where he's a keen forward on the floorball team.
Naz's daily driving routine begins with fetching Riduan to school at 6am and he confided that the biggest challenge of being a taxi driver is discipline. "To know when to start and stop your day if you're tired because safety is paramount. At the same time when you're tired, to find a good place to makan! I try to find something that is easy on the stomach but not heavy on the eyes."
Mediacorp Gold 905 DJ Denise Tan heads to East Coast Lagoon Food Centre with cabbie Naz and his son for a meal at their favourite food stall by the beach.
That usually means coffee and a quick bite like sandwiches from a petrol station, but for our day out, I was driving Naz and Riduan to East Coast Lagoon Food Centre. Their firm family favourite is a stall called Ahmad Spring, known for its varied menu that includes satay and other charcoal grilled delights.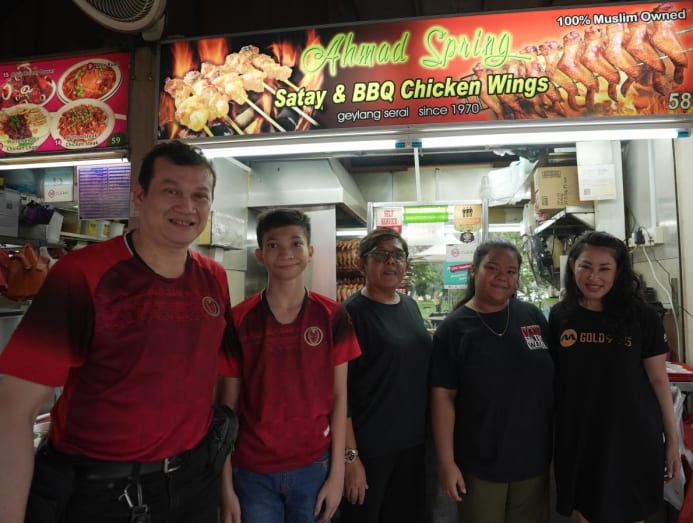 "The reason I chose this stall is because it's the only one serving halal BBQ chicken wings. And also, because he's the boss," Naz said pointing to Riduan affectionately. The family goes at least once a month for his chicken wing fix.
According to third generation hawker and manager of Ahmad Spring, Nur Sahara: "Our halal chicken wings are unique because we are using charcoal for barbecue, unlike others who use ovens."
On a good day, they can sell about 150 skewers of chicken wings. That's 11 wings per skewer for a whopping 1,650 BBQ chicken wings in total! And my makan trio was about to add to that number. We ordered a dozen wings, along with satay and grilled prawns for a massive seaside feast.
When the stacked plate of BBQ chicken wings arrived, Riduan wasted no time digging in. "The meat is well marinated, very succulent and you can see it's very tender," said Naz.
The spicy food fan also reminded me to try the accompanying hot and tangy chilli sauce. "It's also a little bit sweet to complement the saltiness of the chicken and the chicken actually has quite a few spices in it as well."
Oyster sauce, vinegar, sesame oil and garlic paste were some of the ingredients Nur Sahara had mentioned in their marinade. One bite of a fat, juicy wing gave a smoky burst of down-to-the-bone flavour, moist meat breaking through crispy, charcoal-kissed chicken skin.
Next, we moved on to mutton satay – the favourite of both father and son. "Because they make it the sweetest of all. Traditionally mutton will always have a smell, so to trick your senses they use a sweeter marinade," Naz explained.
With lots of charred crispy edges to chew on, the satay was sweet, which balanced the intense flavour of the mutton. I mentioned that peanut sauce would also be a good way to counter any gaminess.
But Naz informed me: "You know there's a way to eat satay. The first three sticks you're supposed to eat on their own to savour the pure flavour first."
So I hurried to sample the array of other sticks – chicken, beef, hati (liver) and babat (tripe). Of these, the glossy, generous chunks of chicken meat stood out for how tender and fresh they were.
My favourite babat delivered on taste and texture – four springy little pieces on a stick that gave off good beefy flavour, without any offal pungency.
The hati was good too, with a firm, crunchy bite and the distinct mineral twang of innards. I didn't mind that at all, but thought it was a good time to finally sample the peanut sauce, which was not too sweet, aromatic and nutty, with a hint of chilli heat.
"The consistency is just nice, so it's easy to stick on the meat and easy on your mouth," said Naz, who also asked if I knew why raw cucumber and onions are served with satay. I decided to let him enlighten me.
"It's to neutralise and balance before the next thing," Naz replied sagely. Just what we needed between bites of spiced, fatty meats – a palate cleanser.
If Naz appears very much in the know, it's because he loves to cook when he has time off. His signature dish is (no surprise here) his youngest's favourite fried rice. "With egg, hotdog and prawn," Riduan piped in enthusiastically.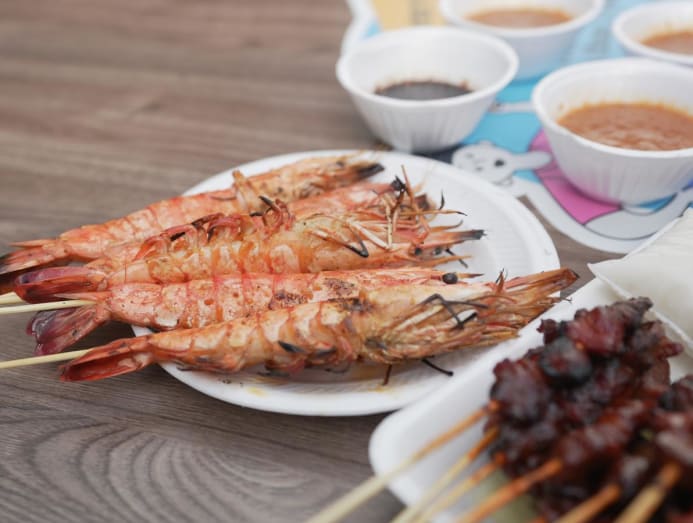 A reminder that we still had a platter of crustaceans to deal with. Five large, whole prawns, as long as my face and grilled to charred perfection. It was knowledgeable Naz to the rescue again as I struggled to tug my prawn off its skewer.
"You have to hold it firm and twist the body," he instructed. The prawn slid off like a charm.
Crisis over, we enjoyed the firm, sweet flesh with the killer dipping sauce. It was salty and sweet from kicap manis (sweet soya sauce), with a little zing of vinegar. The chunky mixture also had a surprising kick of cili padi (bird's eye chilli), garlic and onion. Together with the prawns, the five taste elements had our tastebuds singing.
Sharing this meal gave me an insight into Naz's family dynamics. With two grown children who have already married and moved out, and a decade between his last two children, the grandfather of two is determined to cherish his time with his youngest son. I teased Riduan, saying he must be the most precious in the family.
"Yeah, I'm the diamond!" he replied cheekily, without missing a beat.
And you know what they say about diamonds and girls. We weren't quite besties, but we three were fast becoming foodie friends.
Naz shared: "To me, food is the ways and means to bond the family together. Once your stomach is filled up, you're full, you're sharing, so that's what creates happiness among family members."
I asked Naz if our meal was what he meant earlier by makan that's "easy on the stomach, not heavy on the eyes".
"On my off days, it doesn't matter!" he laughed heartily.
Ahmad Spring Satay & BBQ Chicken Wings is located at East Coast Lagoon Food Village, 1220 East Coast Park, #01-58, Singapore 468960. It's open 4 pm to 10pm, closed on Tuesdays.
Catch Makan Kakis with Denise Tan every Thursday from 11am on Mediacorp GOLD 905.
More Makan Kakis recommendations: