Why Singapore's restaurants are turning to the humble hamburger for help
Almost as soon as Phase 2 (Heightened Alert) came into effect, burgers began popping up on menus across the island as stuck-at-home diners find comfort in the ubiquitous sandwich.
We are all set up to work from home and are better at handling home-based learning. Even our children seem more adept at staying in.
Yet in the quiet, this second COVID-19 wave is taking its toll on our spirits. Some of us are worried about our businesses which have been taking a beating since the last lockdown, or anxious about the state of our jobs. Yet others mourn the healthy momentum we'd been building with things that are important to us, only to have it all cut off at the knees with current Phase 2 (Heightened Alert) mandates.
In times like these, we crave comfort. We find ourselves nostalgic for the years when things were simpler. Like when we could devour a tray of fast food with little concern for our figure and our health. Heck, when we could devour a tray of fast food at a restaurant with more than one friend.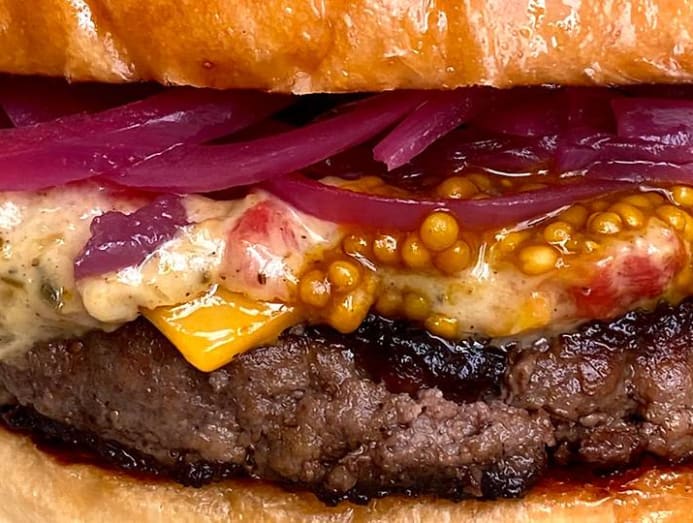 Which brings us to the hamburger, that bastion of fast food and the epitome of comfort eating. In Singapore, hamburgers are the childhood treat most of us hold dear, regardless of race. They are what we turn to when we want something quick, cheap and satisfying. And for many restaurants who find themselves forced to shut temporarily, hamburgers are exactly the things keeping them afloat.
BUNS UP
Almost as soon as Phase 2 HA came into effect, burgers began popping up on menus across the island. Sofitel Singapore City Centre wasted no time in putting a pair of burgers on their takeaway menu, "as they are a well-loved iconic street delicacy and comfort food to most diners," said executive chef Jean-Charles Dubois.
He created an exceedingly tasty French Burger inspired by the classic French dish of beef tenderloin with green peppercorn sauce and fries. His counterpart, executive Chinese chef Andrew Chong, created the Mala Szechuan Burger featuring roasted corn-fed chicken, sauteed bok choy, smoked Comte cheese, Szechuan mayonnaise and mala sauce. Both come with a side of French fries and retail for S$29.90 each.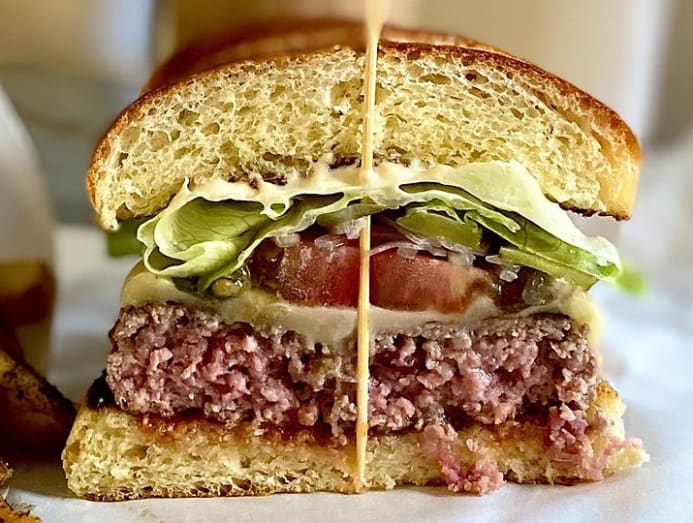 In its first week of takeaways, Ivan Brehm of Nouri busted out what he called The Perfect Burger using a process he learned during his stint at Heston Blumenthal's The Fat Duck.
"The thought process behind it is to use tougher cuts of meat that are flavourful, in a way that makes them tender," he said.

To that end, he chose a mix of striploin, chuck and brisket from grass-fed hormone- and antibiotic-free Australian beef which was put through a meat grinder. The extruded noodle-shaped meat was then arranged in a single direction to form a log, and then sliced through its cross-section to form patties.
"These are not smashed burgers," he pointed out. "You're not supposed to get a ton of Maillard (reaction) on them. They are meant to be steaky, medium rare and juicy." Which is exactly what they were. Tucked between tasty, pillowy buns, the patties were slicked with house-made mustard, white miso mayo, and draped with a cave-aged Gruyere given the texture of melty American cheese.
Singaporean chef Willin Low took the opportunity to revive his now defunct Burger Bench & Bar as a pop-up, bringing back favourites like the Sarawak Black Pepper Cheeseburger and Japanese Curry Torikatsu Burger (S$16.90 each).
The owner of two Relish restaurants said: "It doesn't make sense for us to serve the same takeaway menu from both spaces, so since several people have asked over the years if I would bring back Burger Bench & Bar, I thought, why not use this time to do something different and, hopefully, garner better sales."
Other establishments slinging their own versions of hamburgers include fine diner Basque Kitchen by Aitor, which has adapted its charcoal-grilled txuleta (the more flavourful meat of older cows) to a S$48 Double Cheese Old Cow Vintage Wagyu Burger served with homemade chips and spicy mayo.
There's also award-winning bar The Old Man, which is serving burgers made by Big Burger Club (from S$15) on its takeaway menu.
COMFORT FOR EVERYONE
You would think the current market saturation would make a dent in the bottom lines of burger restaurants, but Ken Loon, owner of the cult favourite Burger Labo said: "I don't think this will affect sales. At the end of the day, the burger market is huge… Once (something has) comfort food status, people will gravitate towards it." Loon is set to open a new burger restaurant in the Henderson area later next month.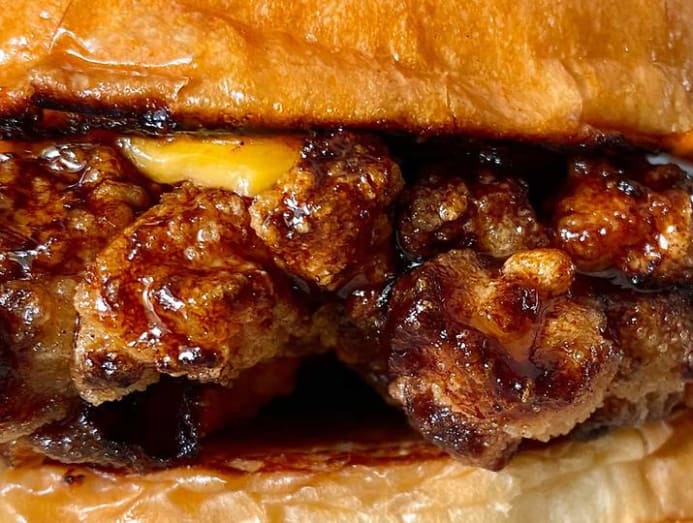 While Brehm and Low report surprisingly good sales, both say they have no plans to open a burger restaurant. 
"We probably won't ever be a burger joint," said Brehm. "Making burgers allowed us to make a dish that the team can execute efficiently. We just want to do things that are creative and fun, and bring a spark of joy to people. This is what's getting us through to the other side."