'Dished with attitude and sarcasm': 7 hawker stalls in Singapore serving good food with a side of bad mood
Forget Karen's Diner in Australia – our local aunties and uncles can serve you a good meal with a side of drama for no additional cost. We took a deep breath, steeled ourselves and ordered.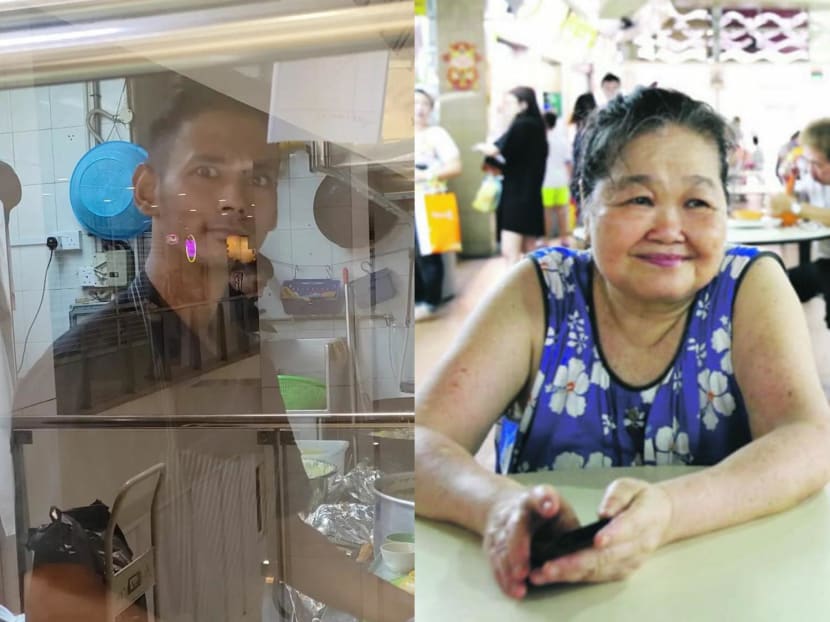 There are few places where bad service is worn like a badge of honour. For example, there's Karen's Diner in Australia, where wait staff are trained to insult you; and the tsundere cafes in Japan, where they play hostile at first but warm up eventually.
Well, the hawkers on this list don't fall into this category. Their reported grumpiness is organic, a product of the sweltering heat, lunchtime crowds, and indecisive patrons holding up the queue because they can't decide between mee pok and mee kia. Yet, we've found a way to not only tolerate but embrace them as proof of quality.
Perhaps it's because we aren't paying for service, or that our love for food outweighs our ego. They must be the real deal if they can afford to lose customers, right? You can be the judge after reading some of the reviews on Google below and (eventually?) braving these notoriously grumpy hawkers.
1. WAH KEE BIG PRAWN NOODLES (PEK KIO MARKET)
The lady boss of Wah Kee Big Prawn Noodles at Pek Kio Market has a reputation that precedes her, which kept me on my toes even though there was no queue when I visited on a weekday afternoon. I recited my order with rehearsed succinctness but still faced her wrath for assembling the tray and cutlery too slowly.
If anything, cautionary tales about her seem to have drawn curious patrons from all over the island. On Google reviews, a customer said she was "certainly not disappointed" and another came to her defence, saying she's bossy but meant well. There seems to be a fair share of grievances about their pricing, though, especially from people who've had to shell out up to S$25 for the largest serving when the smaller portions "ran out".
What they said on Google Reviews:
"This is the place to be if you like to get scolded for no reason." (Gigi Xuzhi)
"She prepared the order and wished me a good day. Overall good ordering experience. Maybe I caught her on one of her better days." (Supreet Kini)
2. TAT LEE SEAFOOD (SERANGOON CENTRAL)
I've known Tat Lee Seafood since I was a wee kid, and my family has a way of tracking them down every time they relocate. Unfortunately, it would take more than unwavering loyalty to move the aunties' hearts of stone.
If you're lucky, you would get eye contact and some acknowledgement when placing your orders. If you aren't, you just have to keep your fingers crossed that they heard you right. Let it be known that they're especially triggered by special requests – a pattern we noticed in the reviews section – and may roll their eyes at you or badmouth you to other stallholders aloud. Honestly, I can't tell if I've developed immunity or if their zi char is that good, but I'd grown to take their attitude in stride over the years.
What they said on Google Reviews:
"The worst service I have ever received. The aunty was extremely rude." (Sherlyn Ei)
"Food was great and one of the best places to have your dinner in Serangoon." (Bryan Loh)
3. BUGIS STREET CHUEN CHUEN CHICKEN RICE (BALESTIER MARKET)
Bugis Street Chuen Chuen Chicken Rice in Balestier Market has no lack of newspaper clippings on their storefront, placing them toe-to-toe with well-known competitors in the area. After all, they've been around for over four decades now.
There is just one rule: Make haste when placing and collecting your order. If you don't, the aunt may give you a hand and it's not a pretty sight. Some customers have reportedly been screamed at and argued with; others have had cutlery flung onto their trays. One kind soul did write this off as a "uniquely Singaporean" experience, so it might be a matter of perspective.
What they said on Google Reviews:
"You come to this place to get congee for breakfast. You get dished with attitude and sarcasm." (C Chai)
"Boon Tong Kee was crowded, so I'm happy to find great option here without a queue." (Stephanie Tan)
4. TIAN WAI TIAN (SERANGOON ROAD)
Dinner at Tian Wai Tian, a popular fish head steamboat and zi char place along Serangoon Road, is not for the faint-hearted. It's understaffed, overcrowded, and has little semblance of a queue system, so nabbing a table can be a cut-throat undertaking. On top of that, the aunties are – you guessed it – angry.
We were told to "do it yourself" when we requested a soup refill, like other customers going back and forth to the kitchen with a saucepan in hand. No wonder one review described the eatery to be "chaotic, hot, (and with) steaming pots everywhere". It's messy but it works; that it is full-house every evening, despite the mayhem, must mean they're doing something right. Make your visit count by ordering the fish head steamboat, shrimp paste chicken, and tofu prawn.
What they said on Google Reviews:
"If you want to be welcome and served with a smile, better look away." (Jeremy Wong)
"One of the best fish head steamboat in Singapore that one must try at least once." (Albert Ng)
5. FIIE'S CAFE (LUCKY PLAZA)
For further proof that foodies in Singapore are a masochistic bunch, a visit to the sixth floor of Lucky Plaza will suffice. Follow the snaking queue and you'll find yourself at Fiie's Cafe, a Nasi Ayam Goreng stall that recently went viral for its short-fused showrunner (who has since explained why).
You would be hard-pressed to find a S$6 meal anywhere else in Orchard Road, but that isn't all fans are here for. One customer who witnessed a man getting an earful for cutting the queue left a glowing review, saying he "felt so good watching the show live". So, if you like your fried chicken with a side of drama and schadenfreude, Mr Grumpy – as the shop's payee name says – will not disappoint.
What they said on Google Reviews:
"Pretty good food and good experience. Definitely not for people with fragile egos." (Rae Rae)
"Mr Grumpy is most definitely misunderstood…I have personally witnessed his respect and care for the elderly and pregnant women." (Gerard Lai)
6. TIONG BAHRU LIEN FA SHUI JING BAO (ALEXANDRA VILLAGE FOOD CENTRE)
Crystal dumplings are nearly extinct in most Teochew kueh stalls today, which makes the goods at Tiong Bahru Lien Fa Shui Jing Bao highly coveted. Since the second-generation business has no lack of regulars, you'll need to get in line or reserve in advance.
Imagine soon kueh with a thicker and chewier skin that, when bitten into, gives way to a yam, red bean or turnip filling. The latter is best enjoyed with sambal chilli, but it appears that isn't the only fiery thing here.
Some customer reviews said that the owners are "extremely rude", though others who showed up expecting the "worst attitude" in Alexandra Village Food Centre were proven wrong. It looks like there's only one way to find out.
What they said on Google Reviews:
"Owner has the worst attitude in the whole Alexandra market." (William Lee)
"Best crystal dumpling I have tasted so far." (Lena Koo)
7. YONG KEE FAMOUS FISHBALL NOODLES (ABC BRICKWORKS FOOD CENTRE)
Just across the road from the aforementioned crystal dumplings is Yong Kee Famous Fishball Noodles in ABC Brickworks Food Centre – the final stop of your grumpy hawkers pilgrimage. The heritage stall was featured in the media several times and made headlines for putting its brand and recipe up for sale last year. The price tag? Half a million dollars.
I have yet to try their handmade fish balls, but this hype seems to be lost on customers who left Google reviews. They agreed, almost unanimously, that the owners can be rude, sarcastic, and curt, especially to those who pile the condiments on liberally. For what it's worth, they sometimes tell customers off in Teochew so those who don't understand the dialect may still enjoy their meal.
What they said on Google Reviews:
"20 years passed but this uncle is everlasting rude." (EC)
"The saving grace was the nice chilli and well cooked mee pok." (LG Wee)