Join a food crawl for some Japanese food and sake, off-menu desserts and cocktails
CNA Lifestyle Experiences invites you to spend a Sunday afternoon dining away in the heart of town at Raffles City.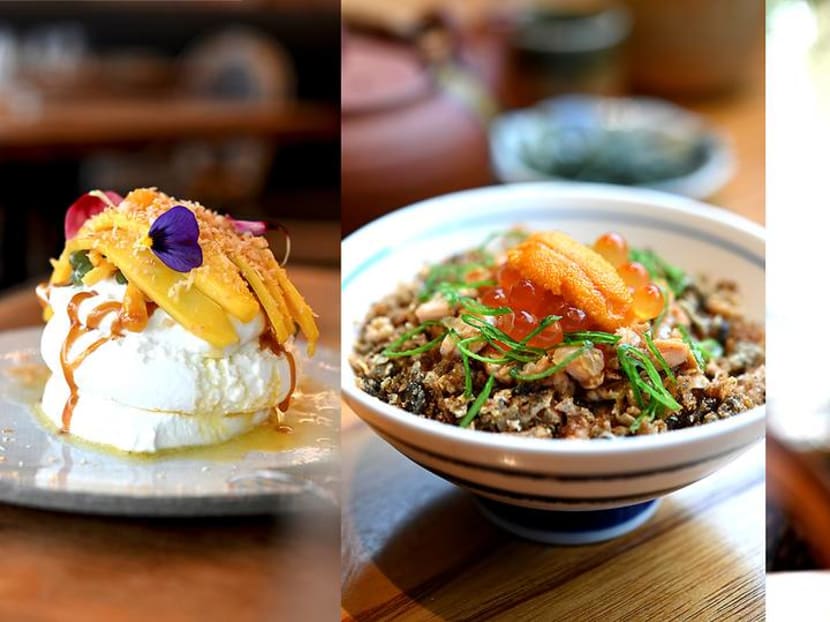 Sundays are usually known as brunch days. But brunch is so, well, mainstream. Instead of an unstructured in-between morning meal, we're in favour of an unstructured in-between afternoon meal. Why? Because then you get to sleep in, and afternoons are longer than mornings, which means more uninterrupted eating time, of course.
On Jul 28, from 3pm to 5pm, we'll be having one of our CNA Lifestyle Experiences events that fits this bill perfectly. It will be a leisurely food crawl at Raffles City, where we'll fill up on a variety of yummy Japanese dishes, each with its own sake pairing, at Sushi Tei; then pop over to The Botanic for dessert and cocktails in a gorgeous garden setting while watching the world go by.
The event is exclusive to CNA Lifestyle Facebook followers – once you've followed us, check out the sign-up details at the bottom of the page. You've got until Jul 22 to do so.
Here's the plan for that food-filled Sunday.
SUSHI, SAKE AND EVERYTHING IN BETWEEN
Kicking off our afternoon at Sushi Tei – which, incidentally, celebrates its 25th anniversary this year, which is no mean feat – we'll come hungry, of course.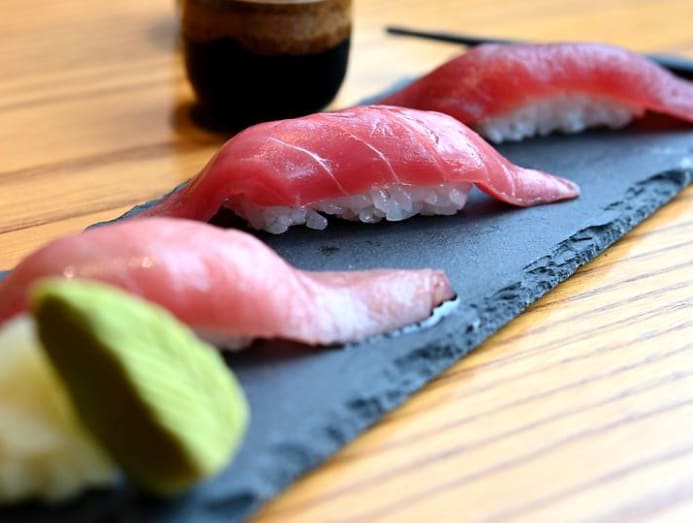 We'll start with a trio of bluefin tuna sushi: One akami sushi, the muscly part of the tuna; one chutoro sushi, that medium fatty part with the balanced sweetness; and one ootoro sushi, the coveted fat belly of the fish.
This will be paired with Kamoshibito Kuheiji Junmai Daiginjyo sake, which has delicate notes of melon, pear, apple, lychee and Japanese cypress to bring out the sweet flavours in fresh fish.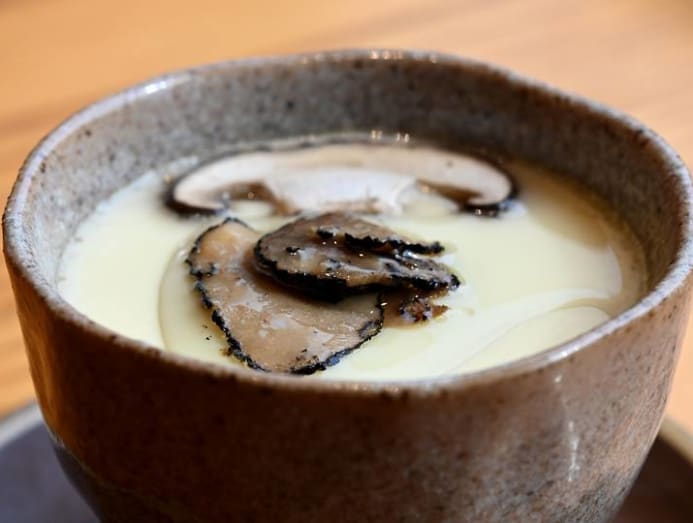 Then we'll perk our palates up with a truffle chawanmushi: A comforting dish of familiar egg custard, elevated by the addition of shaved summer truffles.
This will be served with Tamanohikari Bizen Omachi Junmai Daiginjyo sake, a full-bodied sake with a fruity aroma made with Kyoto omachi rice, a rare variety of rice regarded as the best for alcohol brewing.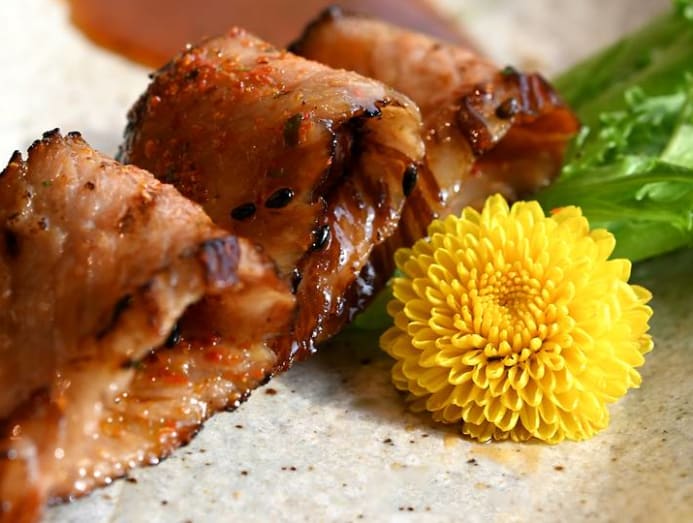 Next comes the aburi Iberico pork cheek – tender strips of buttery pork torched to perfection and glazed in smoky yakitori sauce with togarashi spice.  
This goes excellently with Ginrei Gassan Setchu Jyukusei Junmai Ginjyo sake, an award-winning brew from Yamagata that's stored in wooden barrels hidden in the snow.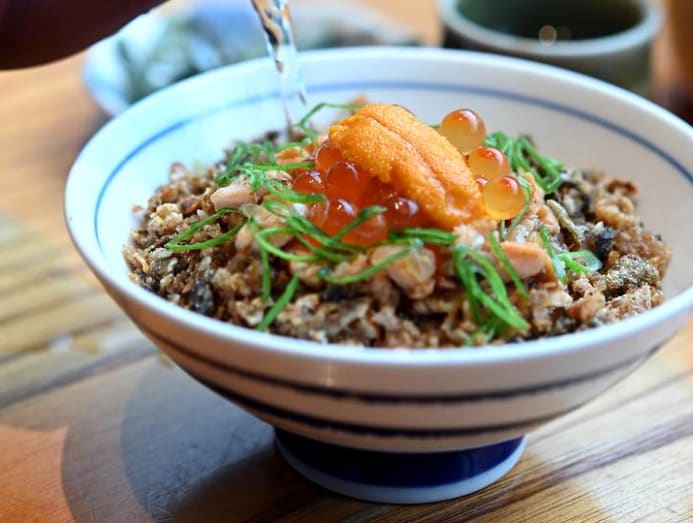 The next two courses won't be found on the menu as they're exclusive to this event. First, the uni and ikura on salmon ochazuke, which is full of hot, comforting umami: Plump sea urchin with salmon roe, served on top of salmon tea rice.
It pairs with Momokawa Junmai sake, a warm and fruity brew from Aomori prefecture carrying the fall flavours of berry, melon, peach and ripe apples – perfect for salmon and ikura, which are in season during autumn.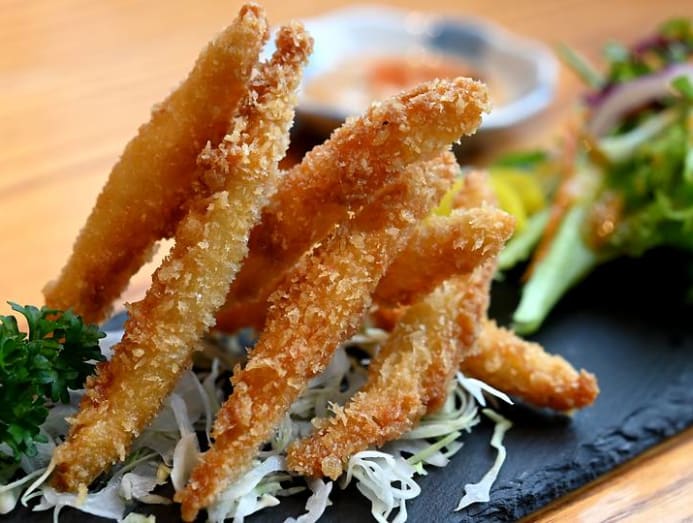 The final savoury course will be the fried shirauo with salad, an invigorating dish of Japanese silver fish tempura fried in crispy batter and served with fresh greens.
Have this with Kiku Masamune Karakuchi sake, Sushi Tei's house pour. The 350-year-old brand is an established sake that's slightly dry with a subtle finish, and pairs brilliantly with fried food.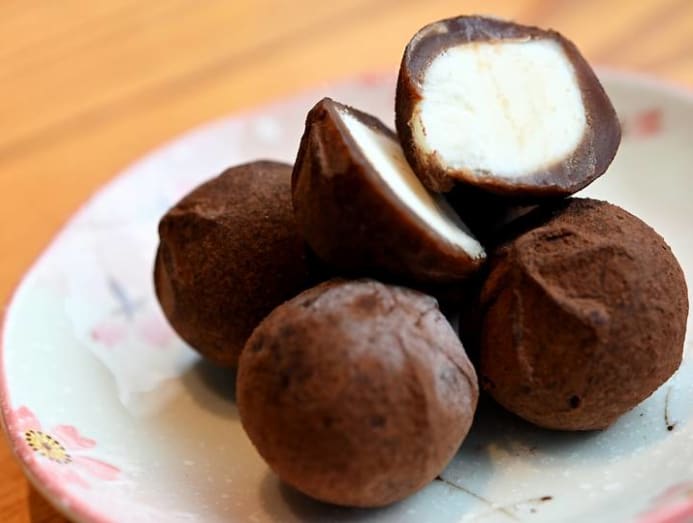 And for a small, sweet treat, indulge in the caramel chocolate ball, alongside a refreshing Ikezo Yuzu jellied sake that will cut through the rich caramel chocolate.
A SEPARATE STOMACH FOR DESSERT
The afternoon doesn't end here, though. After the meal, we'll all head over to The Botanic to lounge around in its idyllic greenhouse setting. And for the main dessert: A show-stopping Chendol Pavlova, which you won't find on the menu.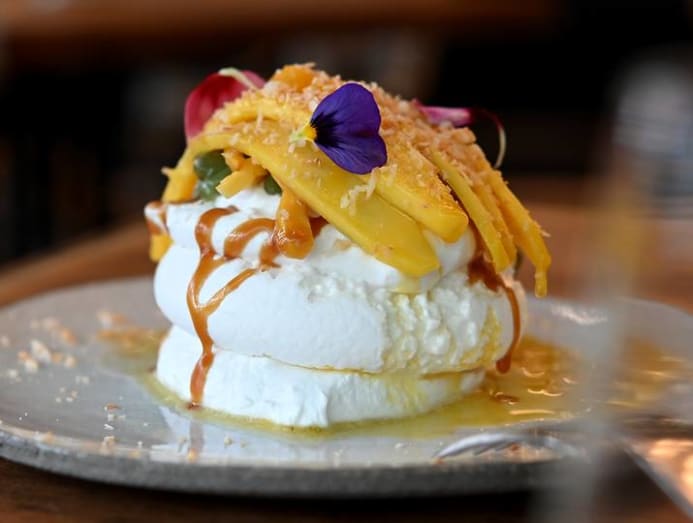 Just right for the hot weather, this vegan, gluten-free creation is an eggless meringue made from chickpeas, with coconut cream, jackfruit granita, mango and salted gula melaka.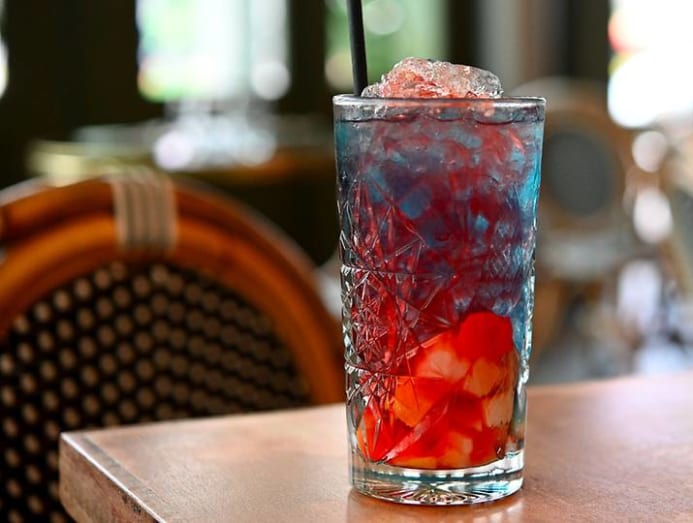 And for a gentle send-off into the evening, sip on a Rainbowlicious cocktail. Inspired by ice kacang, this boozy concoction features peach schnapps, vodka, grenadine and blue curacao, along with fruit and crushed ice. Give it a stir and watch the colours rise and swirl – just like your spirits.
TERMS & CONDITIONS
 
This contest is organised by Mediacorp Pte Ltd ("Mediacorp"). This contest is valid from 11 to 21 July 2019, and is open to all residents of Singapore who are above 21 years old except for employees of Mediacorp, its related companies and their immediate family members. By participating in this contest, the participant agrees to be bound by the official rules, regulations and decisions of Mediacorp.
5 winners will each win an invite for 2 people to attend this event.
By participating in this contest, the participant agrees to participate in any form of publicity for this contest. Mediacorp reserves the right to disqualify any winner(s) in the event that the winner(s) refuses or fails to participate in such publicity for this contest.
The invite is non-transferable or exchangeable for cash, credit, goods or services. Mediacorp reserves the right to replace the invite with other invitations of similar value without giving prior notice.
The decisions of Mediacorp on all matters relating to this contest are final, conclusive and binding and no appeals or correspondence will be entertained.
 Mediacorp reserves the right to reject any entry for any reason.
Personal Data
 
By participating in this contest, participants agree that their personal data may be used by Mediacorp and the Mediacorp group of companies (collectively "Mediacorp") to send them marketing and advertising materials in relation to goods and services of Mediacorp and its business partners, and for research and analysis. If you have any questions relating to Mediacorp's collection, use and disclosure of your personal data, please contact Mediacorp's Data Protection Officer at

dpo

[at]

mediacorp.com.sg

.
Contest Conditions
 
The invitation is not redeemable for cash, credit or any other items with Raffles City.
Others
 
 Mediacorp reserves the right to change, amend or add to these terms and conditions without prior notice. Mediacorp further reserves the right, without any liability on its part whatsoever, to cancel, postpone, or in any other way terminate this contest at any time without prior notice.
 No obligation will be incurred by Mediacorp or its sponsors by reason of participation in this contest or by reason of anything done or omitted to be done by the participants as a result of or on account of this contest. Mediacorp shall not be liable or responsible for any and all losses, damages, costs and/or expenses (of any nature whatsoever) suffered by any participant arising from any failure or refusal, for whatever reason, to deliver or transfer, whether by Mediacorp or its sponsors, the prize or make good on any promise or offer to the participants.
 Each participant expressly acknowledges and agrees that Mediacorp shall not be liable to any of the participant(s) for any injury, loss or damage whatsoever or howsoever caused arising directly or indirectly in connection with this contest or the prize, including any loss, damage or injury.
These terms and conditions and this contest shall be governed by and construed in accordance with Singapore laws.