Best eats: Hokkien prawn mee with 'killer' chilli at ABC Brickworks Food Centre
In this week's Makan Kakis, Gold 905 DJ Denise Tan gives a play-by-play account of how the 71-year-old hawker behind Tiong Bahru Yi Sheng Fried Hokkien Prawn Mee cooks up a plate of his Michelin Bib Gourmand-recognised noodles.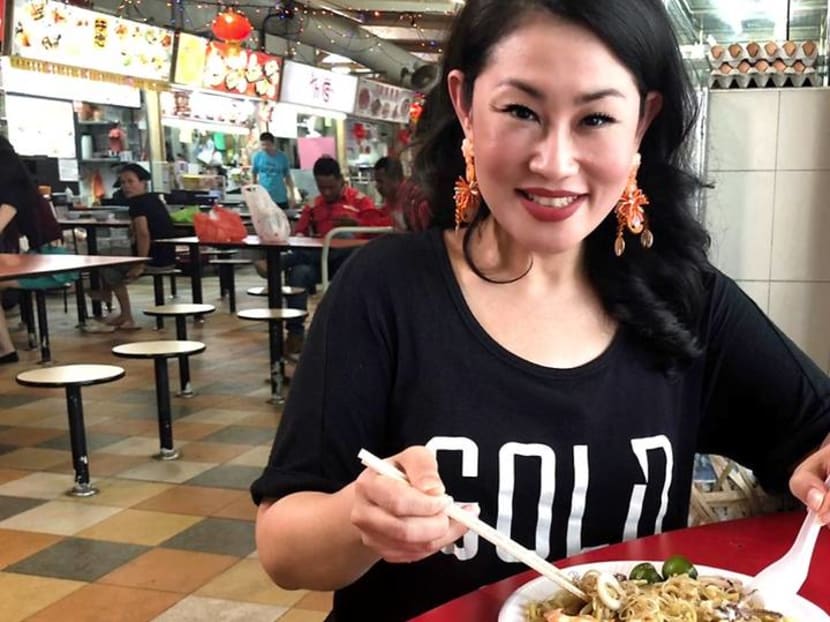 In the labyrinth of stalls at ABC Brickworks Food Centre, one man has been quietly serving up outstanding Hokkien mee since the 1980s. Only recently has his noodles been making a bigger noise, thanks to a Michelin Bib Gourmand mention.
My Makan Kaki Koh Han Jie, head chef of Elfuego and quite the gourmand himself, recommended that I get in line to try Toh Seng Wang's expertly fried noodles, despite the longer queues.
Armed with an empty stomach and a sizeable supply of patience, I paid Tiong Bahru Yi Sheng Fried Hokkien Prawn Mee a weekday visit just before opening time at 3pm.
There were already two people waiting in front of the shuttered stall and by the time I joined the queue, seven people had crept ahead. Which got me thinking – what makes this Hokkien mee so worth queuing for? Is it how high he tosses the noodles? Or is it the enormous wooden wok cover that looks like Captain America's shield?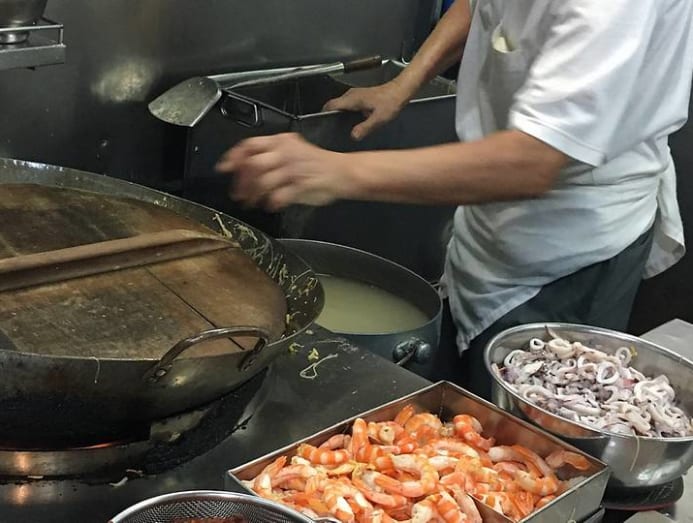 After observing the spritely 71-year-old perform his impressive culinary kungfu for about 20 minutes, I asked him. He was quick to downplay accolades: "My Hokkien mee is nothing special. If people like, they come and I cook."
This is something I've heard experienced hawkers say modestly time and time again. But there's no doubt Toh is an absolute master. 
After picking up the art of frying Hokkien mee from his father, who used to operate from a pushcart on the streets of – you guessed it – Tiong Bahru in the 1960s, he's had 40 years of his own experience to perfect his craft. So impressive are his ample skills, it's worth providing a play-by-play analysis.
His slight figure was absolutely dwarfed by his enormous wok, which looked seasoned by years of use. "No lah, this wok is brand new," Mr Toh cheekily told me. Methodically laid out were limes, sambal chilli, pre-cooked prawns and squid on his left. Stacks of eggs, seasoning sauce, garlic and oil sat on shelves to his right and situated between him and his stove, perched just a few centimetres off the ground, was a large pot of homemade prawn stock.
And just like a martial artist, Toh had his weapons of choice: An industrial-sized spade ladle and an equally large soup ladle, which he used to scoop liquid lard into his fire-blasted wok.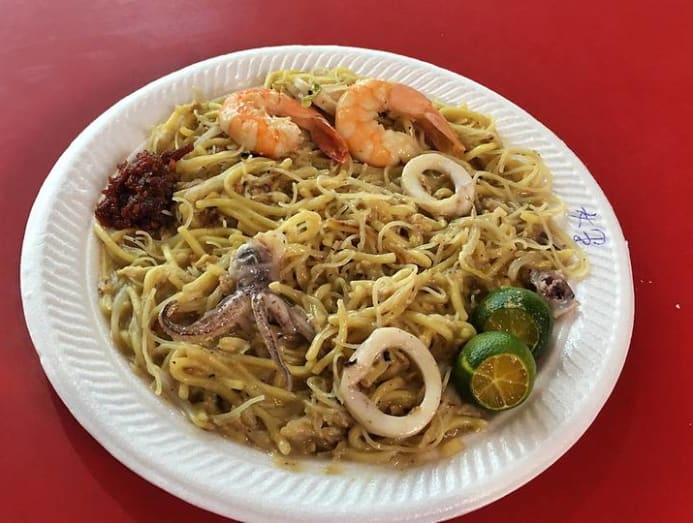 Another sign that the guy is a Hokkien mee sifu? His one-handed egg-crack. Quick as a flash, he tapped egg after egg on the handle of his ladle and unleashed a total of six into the wok. Another liberal ladle of liquid lard, a quick stir, then bean sprouts were added, followed by bee hoon (rice vermicelli) and yellow noodles.
In went another ladleful of lard over everything for a slick stir, then with lightning speed and great flair, arcs of prawn stock flew through the air, splashing the wok with savoury-sweet sizzles. A total of six swishing ladles later, Toh commenced what I can only describe as his double-handed-clanging-ladle-noodle-toss. Said noodle toss also involved nifty footwork and some hip swivelling action, like Ip Man meets Elvis in a choreographed wok and roll.
The vertical toss was succeeded by his one-handed stir – energetic, circular motions from his spade ladle, which also gave off resounding clangs. Thereafter, a massive wooden lid came crashing down over the wok.
Toh pointed out that this was an essential part of frying good Hokkien mee. The noodles had to be covered so that as they boiled in the stock, they also absorbed all the flavours. As the Hokkien mee simmered away, Mr Toh took the time to clean the handles of his ladles, rearrange his condiments and take calls (but more on this little quirk later).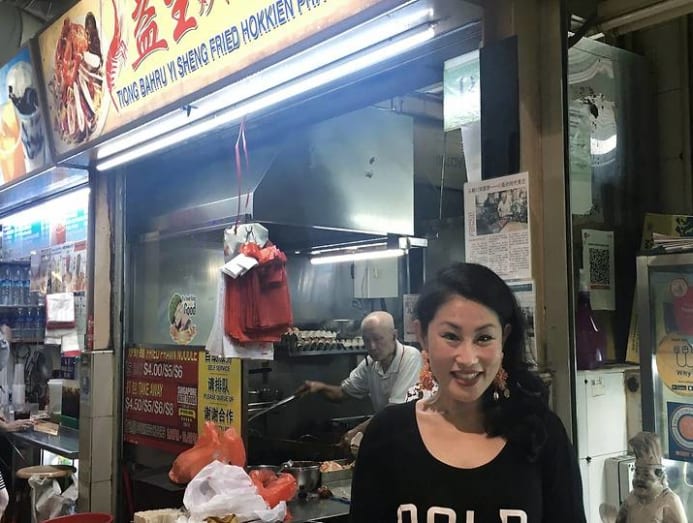 Twenty seconds later, the wooden cover was lifted, the noodles vigorously stirred again, then covered a second time. Another 20 seconds later (yes, I timed it), the lid was removed and he gave everything a rapid stir, taking care to scrape all the crusty bits of concentrated flavour from the sides of the wok.
What happened next though, had me scratching my head – he dished out a portion of the fried noodles and saved it on a plate. The remaining noodles in the wok were pushed to one side and then half a ladle of garlic was added and fried. A judicious flick of his secret seasoning sauce, then the noodles got another drenching of prawn stock – a total of nine ladlesful, to be exact. 
The contents ended up looking very soupy at this point. That was when the magic happened. Remember that plate of noodles he reserved? It was added back into the wok, mixed thoroughly and left to bubble away. That reserved plate of noodles was drier and I can only guess that it had the effect of cornstarch in gravy – to thicken the Hokkien mee beautifully.
Meanwhile, Toh measured out squid and prawns (two for $4 dine-in portion, three for $5 and four for $6), which were then tossed for only a few seconds with the noodles, before being portioned out. The noodles landed tantalisingly with a plop on takeaway wax paper or Styrofoam plates to be served with a dollop of sambal. Unbelievably, only six agonising minutes had passed – from the start till the Hokkien mee was finally ready. Agonising, because with the sight, smell and sound taunting us in the queue, the wait felt like an eternity. 
Quick public service announcement: At peak dinnertime, you can expect to queue for up to an hour or more.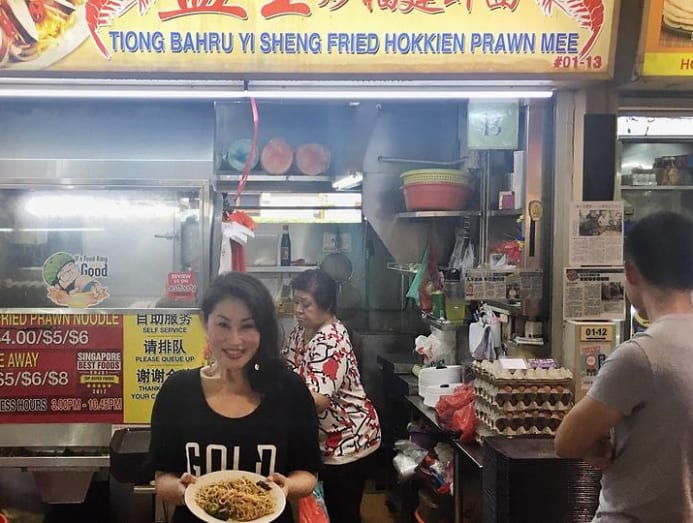 That first wok yielded about ten portions of mouthwatering Hokkien mee and by the time two rounds of frying were completed, almost every surface was broth-and-noodle-spattered and the glass stall window was obscured by smoke and grease. For this reason, Toh has been known to rock a pair of protective goggles that make him look like a lab tech or a mad scientist. He definitely cut a striking figure from behind his wok, goggles on, distinctive wires hanging from his attached earpieces. But he wasn't listening to music – he was taking calls from customers who wanted to skip the queue.
Between phone orders and the ones from queuing customers, I was in awe of how he kept track of every portion going out. This was largely thanks to his stall assistant, who has earned a reputation for being order-taker, gatekeeper and guardian of the stall, all rolled into one. This no-nonsense Auntie kept the queue and the customers in check at all times. Be sure you know exactly what you want and be ready to tell her your order quickly and concisely.
Together with Toh, they are the yin and yang of this successful stall. She's the stern, organised one and he's the cheeky, jovial one. Both take orders in their own style – she from customers and he from the personal phone calls – it's a system that works. Deliciously.
Finally tucking into my plate of Hokkien mee, I could taste every bit of skill that went into it. The first thing that hit me was the intense aroma and taste of garlic, followed by a robust seafood flavour that permeated every single noodle strand, thanks to the many liberal splashes of prawn stock. The mix of two noodles gave textural interest – the bee hoon was very tender and the yellow noodles had a little more chew. 
And then there was the wok hei (breath of the wok), a hint of char that imbued the dish with a wonderful smokiness. I didn't even miss the slivers of pork belly or crispy lard bits normally associated with fried Hokkien mee. A gentle undertone of caramalised pork from the liquid lard was just enough to caress the tastebuds. Instead, the pure, briny taste of the sea shone through, complemented by lots of squid, two medium prawns and noodles that were delightfully sloppy and eggy. 
It was really tasty on its own, but I ultimately discovered what makes this Hokkien mee so very special – the sambal chilli is killer. The deep red paste had a fiery sear, with just a hint of sweetness and a deeply savoury flavour from hae bee (dried shrimp) and ikan billis. Mixed with the seafood-rich noodles, the pleasure on the palate increased exponentially the more I chewed, especially after a squeeze of lime for brightness and balance.
Toh remained tight-lipped about the ingredients of the sambal, except to say that the condiment is homemade from scratch. I wouldn't be surprised if it took as many steps and as much time to make as his Hokkien mee. There was certainly a stoic pride Toh took in his cooking as he mused, "It takes a lot of work. I have no one to take over, such a pity, right?"
That poignant statement only made me want to order another plate to enjoy while I still could. I looked at the long line of customers patiently waiting behind me. He caught my eye and asked, "Why did you come looking for me? You can find Hokkien mee everywhere." When I told him his noodles came highly recommended by many people, he replied with a twinkle in his eye, "Troublemakers!" A half-joking parting shot, because it means more work for him. But the inimitable Toh shows no signs of slowing down for his steady stream of grateful Hokkien mee devotees – myself, a new convert, included. And praise the lard for that!
Tiong Bahru Yi Sheng Hokkien Prawn Mee is located at ABC Brickworks Food Centre, 6 Jalan Bukit Merah, #01-13, Singapore 150006. It's open Thursdays to Tuesdays, 3pm to 10.45pm. Closed on Wednesdays. Catch Makan Kakis with Denise Tan every Thursday from 11am on GOLD 905.