Best eats: Coin prata as crisp and flaky as Danish pastry at Sin Ming Road
In this week's Makan Kakis, GOLD 905 DJ Denise Tan tries out Sin Ming Roti Prata Faisal & Aziz Curry Muslim Food's popular dish and discovers it all makes perfect cents.
It's one of Singapore's most popular hawker treats with roots in India and it's embraced in countries across Southeast Asia. It's a potent combination of carbs, fat, sugar and spice that's flipped, fried and dipped, with a whole bunch of variations that boggle the mind. From plaster to bomb to tissue and beyond, who can resist roti prata?
In this week's Makan Kakis, GOLD 905 DJ Denise Tan tries out Sin Ming Roti Prata Faisal & Aziz Curry Muslim Food's popular dish and discovers it all makes perfect "cents".
But not all fried flat breads are created equal. I refuse to waste my calories on rubbery, oil-sodden dough and bland, watery curries, so justifying the indulgence depends on a truly special roti prata experience. And I just might have found one.
But first, confession time: When it comes to eating prata, my tastes run pretty straight and narrow. Just kosong (plain) with curry, please. Or I might have a cheese and mushroom prata if I want to go crazy.
Taking pity on my ignorance, my Makan Kaki Alexis Toh, travel blogger and co-author of Eat. Muse. Love. recommended I head over to Sin Ming Road for a rewarding encounter with something I'd never tried before – coin prata.
Forgive the pun (and Swingers movie reference), but each delectable disc of fried dough was "so money". And it made perfect cents – err, sense – after finding out what the guys from Sin Ming Roti Prata Faisal & Aziz Curry Muslim Food do.
Every day, they prepare a whopping 30 kilograms of fresh prata dough. Flour, water, ghee and a few other discreet ingredients are then all backbreakingly mixed by hand to exacting standards. It is this attention to detail, doing things the time-honoured way, not skimping on quality or effort, that make for a superb hand-kneaded prata dough.
After that, said dough goes through a dramatic process of stretching, slapping, flipping and folding before being fried on a ghee-greased griddle. While the resulting regular prata proved popular, it is the signature coin prata that hits the jackpot every time.
Three generations of prata experience certainly seemed to have paid off handsomely. Haj Mohamed (the Aziz in the stall's name) has been running the stall in Sin Ming for about 22 years. His father sold prata on the streets after arriving from India in the 1940s, before handing the family business to him. In turn, he passed the culinary legacy on to his son Almalic Faisal (yes, that's his name on the signboard too) and the father-and-son duo has been running the stall together since.
More recently, another son has joined the business and I asked him what set their coin prata apart from the rest. Mohamed Dufail explained that while they were not the originators of coin prata, customers kept returning because of the taste, texture and attention-grabbing mini size.
One ball of their regular prata dough yields three coin pratas. First, the dough ball is flipped and flattened, then cut into three long strips. Each strip then gets an extra dollop of butter before being coiled into the familiar coin shape.
Then there's the cooking process. Mohamed told me it's difficult because the cook has to pay very close attention to the fire. "It has to be lower than normal and it's not easy to control." That explains why perfecting each puffy puck is so time-consuming. So much so that if the queues become unmanageable, they've been known to stop selling them. Fortunately, they were able to accommodate me and I discovered their coin prata was well worth the wait.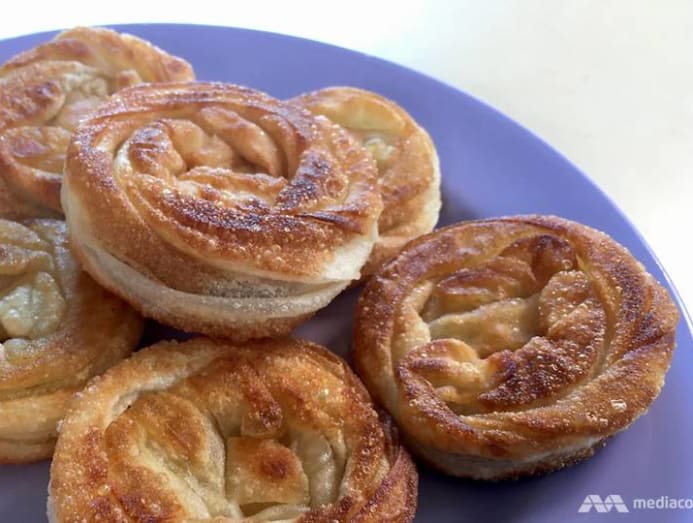 Half a dozen golden rounds glowed softly on the plate, resembling flat little cinnamon rolls because of their coiled appearance. My first bite was stimulating on several levels. Texture-wise, the exterior of the coin prata was shatteringly crisp, like munching on a cracker. The audible crunch of teeth breaking through crispy fried dough was also extra-satisfying (ASMR-lovers take note!). A slightly terrifying amount of ghee was used to fry the coin prata, but surprisingly despite their drenching of clarified butter, they weren't excessively oily at all.
A little further in, I got thin, fluffy spirals of dough. Light as air, some layers were as thin as a translucent membrane, yet so flavourful and with a good chew. The added dollop of butter during prep really came through, imparting a smooth richness thoughout the coin prata. Long after I was done eating, a pleasant hint of milky sweetness lingered.
Actually, scratch the cinnamon roll comparison. After tasting, the buttery-sweet flavour and the multi-layered crisp flakiness reminded me of something else – if a regular prata and a Danish pastry had a crispy-fried love child, it would be coin prata.
I understood why it wasn't a simple process to create these edible coins of ghee goodness. Skill and control were essential to ensure the small, but thicker discs were properly cooked through layer by layer, while maintaining maximum crispness outside and without burning the crust. They're so addictive that I may have eaten a few, just plain, before realising I had lots of curry to dip into.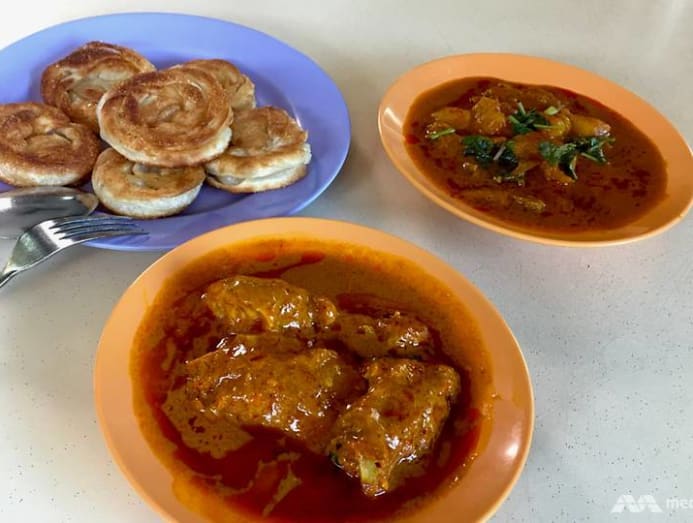 On Mohamed's recommendation, I tried two of their most popular. Firstly, the chicken curry (S$4 for a basic set of six coin prata), which was smooth, creamy and slightly sweet, with a gentle heat. Tomatoes coloured and thickened the red gravy, which clung lovingly to all the textures of the coin prata. The little coils of prata I tore off were wonderfully absorbent scoops for transferring the tasty gravy to my mouth. Just add S$4 to the basic set for a generous piece of chicken leg.
I liked the mutton curry even more (S$4 for a basic set with coin prata, S$8 to include meat). Made with a blend of secret spices different from the chicken curry, it was more intense, without being too pungent. Potatoes bulked up the sauce and the chunks of meat were just fatty enough to flood the mouth with luxurious flavour.
I had expected no less because, beyond their namesake, Sin Ming Roti Prata also had an extensive menu of other Indian-Muslim food choices. They sold rice with a selection of curries, including vegetarian options like dhal, as well as other dishes, such as nasi padang or economical rice.
Mohamed also recommended bestsellers such as the chicken biryani set (S$6) and mee goreng (S$4), which you can substitute with bee hoon, kway teow or Maggi noodles. But believe me, you'll want to make their coin prata your priority. Get there early, get in line and eat them hot for a signature dish you can most definitely bank on.
Sin Ming Roti Prata is located at 24 Sin Ming Road, Jin Fa Kopitiam, #01-51, Singapore 570024. It's open every day, 630am to 6.30pm (but take note that it's closed on alternate Fridays). Catch Makan Kakis with Denise Tan every Thursday from 11am on GOLD 905.