Best eats: A satisfying bowl of bak chor mee – at an ice cream cafe in Tanglin Halt
GOLD 905 DJ and Makan Kaki foodie Denise Tan discovers The Milky Way's delicious savoury noodle secret – and the ice cream's just as good, too.
You might have heard of a now-defunct stall at Tanglin Halt Food Centre called Aw's Signature Minced Pork Noodles, which made a name for itself with delicious, ingredient-laden bak chor mee.
But almost as quickly as it rose in popularity, it closed down, much to the disappointment of customers in the know. One of them was my Makan Kaki, Chef Shen Tan of private dining experience, Ownself Make Chef.
GOLD 905 DJ and Makan Kaki foodie Denise Tan discovers The Milky Way's delicious savoury noodle secret. Yes, there's good ice cream but those in the know, know to order their bak chor mee.
Imagine my delight when she revealed it had re-opened, albeit in a surprisingly different set-up, just a stone's throw from its former location. She recommended that I head down to The Milky Way Homemade Ice-Cream And Coffee cafe for my bak chor mee fix, but with the added bonus of dessert.
The man behind the noodles (and now, ice cream) is Terence Aw, a self-taught cook and former police officer who left a decade-long career in law enforcement to pursue his passion for cooking. "It's always been my hobby, so when I left the force, I just wanted to do something I love," he said earnestly.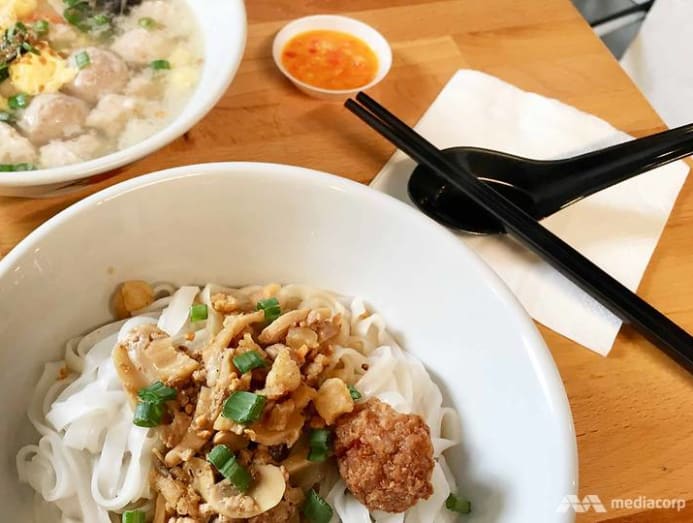 And as with many young, hungry hawkerpreneurs, he told me his initial foray into the food business didn't go according to plan. "At first, I tried selling mookata (Thai-style two-in-one barbeque grill and hot pot), but wasn't very successful. I realised that what customers really want is familiar comfort food that can be commonly found," Terence shared.
His personal favourite ticked those boxes, so he decided to make the switch to selling bak chor mee. However, he didn't actually have a recipe or the know-how. With his meagre experience in cooking and F&B, Google and Youtube became his culinary tutors.
After a lot of practice and pointers from fellow hawkers at Tanglin Halt Food Centre, Terence's bak chor mee, with its unique taste and plentiful ingredients, really took off and gained a loyal fan following.
He credits Chef Shen for helping to get the word out. "She kind of gave my business a jump start." In fact, she's still doing so, now that he's added custom gourmet ice creams to the menu at his new location. But more on that later.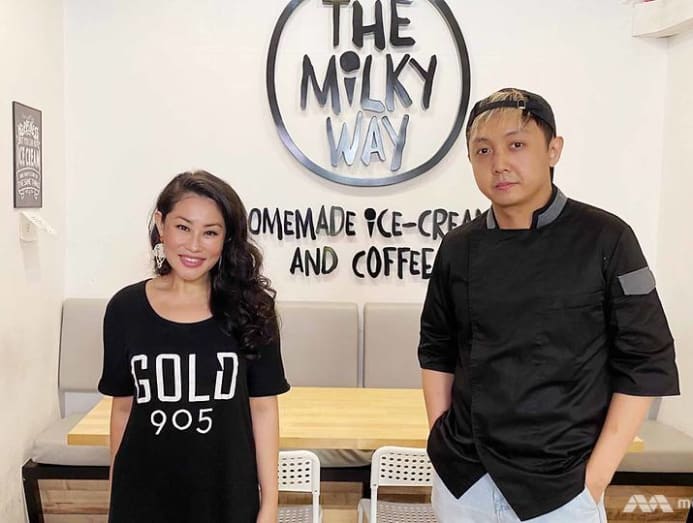 First, I was hungry for a taste of the noodles I had been hearing so much about. My order for the best-selling dry kway teow (flat rice noodles) cost S$5.80 and came served in a bowl piled with meaty, golden-brown ingredients. Beside it was a separate bowl of soup swimming with greens and more meaty ingredients.
Terence had created a noodle dish that was entirely his own and no wonder it used to be called his signature minced pork noodles – it didn't look like the typical hawker centre variety and was unlike any other I've tasted.
Slicked in the rich, savoury-sweet sauce, the kway teow was slurpily delicious, having absorbed all the umami dressing. Terence admitted: "My sauce is not what you find in bak chor mee. I've added other things I like, so it's not what you would usually get at a normal hawker stall."
Traditionally, bak chor mee is tossed in a sauce that includes black vinegar and light soy sauce, but Terence's homemade version contained a deep, pervasive fish sauce and dark, syrupy kecap manis (Indonesian soy sauce sweetened and thickened with palm sugar).
"To make it a bit more special, there are also a few other secret seasonings," Terence continued. "But since moving to this cafe, I've removed the black vinegar."
His unusual calibrations have resulted in a more, as he says, "Malaysia-style" noodle dish. In fact, fond of trying bak chor mee wherever he goes, he tweaks his recipe often, based on his frequent tasting experiences.
Succulent minced pork and sliced button mushrooms braised in Terence's secret sauce magnified its depth and gave it a porcine, earthy dimension. This played off appetitisingly against the gentle kiss of molasses from the kecap manis and the pungent salt of the fish sauce. Crunchy lard bits and chopped spring onions studded the saucy kway teow, while a single golden-brown meatball, like a meaty cherry on top, completed the dish.
I discovered that it was made from the same bak chor mixture floating enticingly in the bowl of soup. Terence's was made from a combination of fish paste and minced pork, rolled into a ball and air-fried for a crisp crust with a meltingly tender interior; or broken off in raw, rustic chunks to boil in pork broth.
Treating the same ingredients in two different ways for two different textures was such a clever way to bridge both dry and soup bowls.
Following this bak chor trail led me to the adjacent bowl of steaming soup, cloudy with the bloom of porky detritus and absolutely crowded with goodies.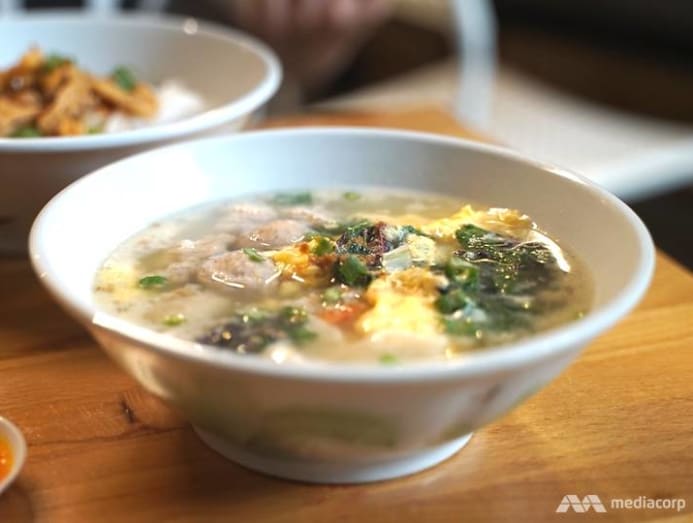 Fighting for surface real estate were the above-mentioned handmade bak chor chunks, fat ribbons of fluffy beaten egg, bunches of vivid green spinach, mock abalone slices, juicy prawn, bouncy pork balls and fish dumplings. A crowning flourish of minced garlic oil further imbued the bowl with fragrance and flavour.
For hot heads like myself, Terence's home-made chilli sauce was a must. Again, different from the usual chilli paste with deep-red hae bee (dried shrimp) served at traditional bak chor mee stalls, his version was a freshy, zingy little number.
Made from fresh red chillies, garlic, ginger and vinegar, the bright orange chilli sauce was chunky, tangy and perfect for disrupting the robust, meaty flavours with a little excitement and an exceptionally spicy kick. It was delicious both as a dip for the array of ingredients, or mixed into the umami, soy-soaked kway teow.
Eaten all together, Terence's signature bak chor mee was a rather luxurious playground of slippery noodles, meat and seafood. "That's why I added spinach. It's very healthy, but I also personally like it," he explained.
He wasn't wrong. Adding the spinach was the equivalent of mum sneaking in greens among all the treats. A little bitter, a little salty, it added some brightness and nutritional value to the porky pool party.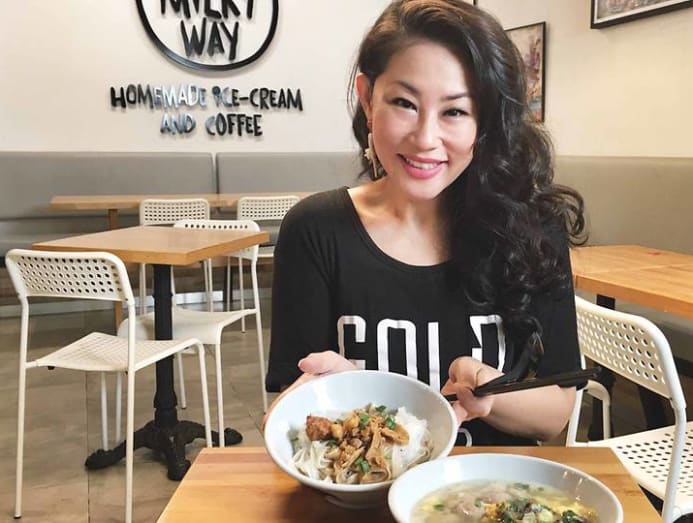 In fact, everything in the bowl made for a pleasing contrast of textures. An interesting marriage of homey comfort and familiar hawker flavours, the dish tasted like something mum would recreate in her home kitchen if you asked her to make your favourite bak chor mee.
I noticed that Terence only offered three noodle varieties at The Milky Way: Bee hoon, yellow mee and kway teow. Truth be told, I was a little disappointed, as I prefer the bak chor mee staples of mee kia (thin egg noodles) and mee pok (broader, flat egg noodles).
Terence was quick to explain: "Mee pok and mee kia have to be blanched in boiling water then plunged in cold running water using special kitchen equipment. Due to the setup in my cafe, I can't really sell it the way I used to in the hawker centre."
Mystery of the missing noodles solved, I asked Terence if he had considered expanding the business so customers could once again enjoy the full range of noodles.
As it turned out, his time with the Milky Way may be limited when the lease expires in 2024. Initially, it was a place Terence often took his children (aged four and six) for ice cream when he was still operating his own noodle stall nearby. He then took over running the cafe, in partnership with the previous owner who actually had plans to shut it down.
It might have been part-sentimentality, part-business decision, but Terence also saw it as an opportunity to try something new and hopefully take a little breather.
He confided: "Being a hawker was very tiring and I developed some back problems that were affecting my sleep, so I decided to make the switch again. I thought it was such waste to let the cafe fold, so we agreed to take over."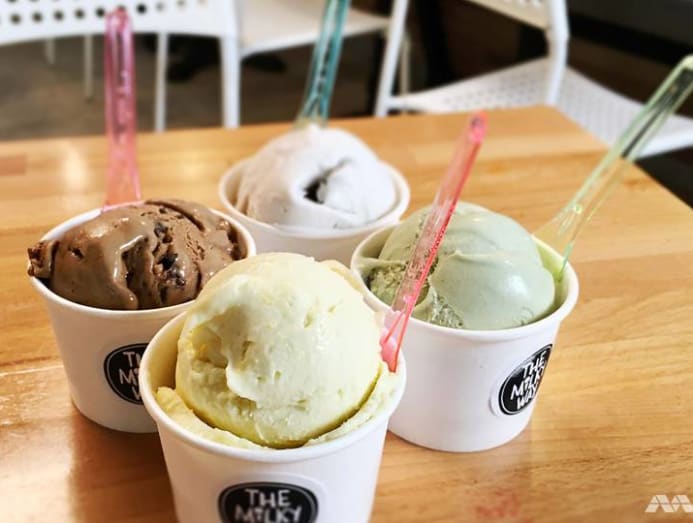 Since the move from hawker centre to cafe, Terence's wife Jesline has also been helping him with day-to-day business. After learning how to work the machines from the previous owner, Terence has been employing the same strategy to making ice cream as he did to creating his bak chor mee.
"I've continued to tweak the recipes and improve on them, adding things I like," he shared. It would seem he likes things that customers also like – his mao shan wang durian ice cream was a sell-out online during Singapore's "circuit breaker".
Made from top quality durian he gets (seeds removed) from a supplier, the heady, luscious ice cream packed a powerfully pungent punch because "it's 60 per cent durian" – meaning more than half of the ice cream contained the pure, fruity flesh.
Terence was also proud of his frequent collaborations with Chef Shen for her private dining sessions, which have given him the chance to incorporate more Asian flavours, like salted egg yolk and gula melaka, into his custom ice creams.
A few others caught my eye in the display and it didn't take much persuasion before I was sampling three more sublime flavours: His next best-selling nutty pistachio; crunchy, dairy-free kopi chips (coffee with cacao nibs); and vegan coconut "gao" (Hokkien for "very thick"), which lived up to its intense name.
But I got the feeling that noodles remained his first love, as he said wistfully, "Who knows? If things settle, I could find another place to set up a noodle stall again, or maybe I could even go back to the hawker centre. You could say I chose to let it go at its peak and people were shocked. They kept asking me 'what are you doing?'"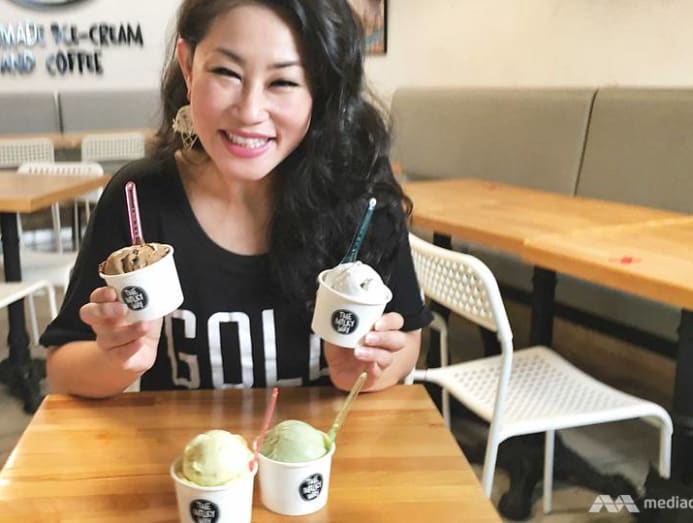 I would say Terence is doing his best for his young family. With Jesline by his side, two little ones and another on the way, he is focused on staying true to his passion for F&B, taking some risks, making calculated moves and continuing to serve food that's tasty and comforting.
Perhaps therein lies the appeal – his constant tweaking of recipes, willingness to reinvent and confidence to use only ingredients he personally loves to eat.
Go to The Milky Way for ice cream with big bangs of flavour; but definitely stay for the bak chor mee, which really is a labour of love and a reflection of Terence's home-made, learn-as-you-go strategy to life.
The Milky Way Homemade Ice-cream And Coffee is located at Blk 48 Tanglin Halt Rd, #01-333, Singapore 142048. It's open Tuesdays to Fridays from 10am to 9pm, and on weekends from 10am to 10pm. Closed on Mondays and public holidays. Catch Makan Kakis with Denise Tan every Thursday from 11am on GOLD 905.