Best eats: Grandma's ban mian and mian fen guo with grandson's Italian twist in Bedok
In this week's Makan Kakis, GOLD 905 DJ Denise Tan meets noodle-makers who keep it all in the family, blending tradition with innovation at 456 Mian Fen Guo in New Upper Changi Road.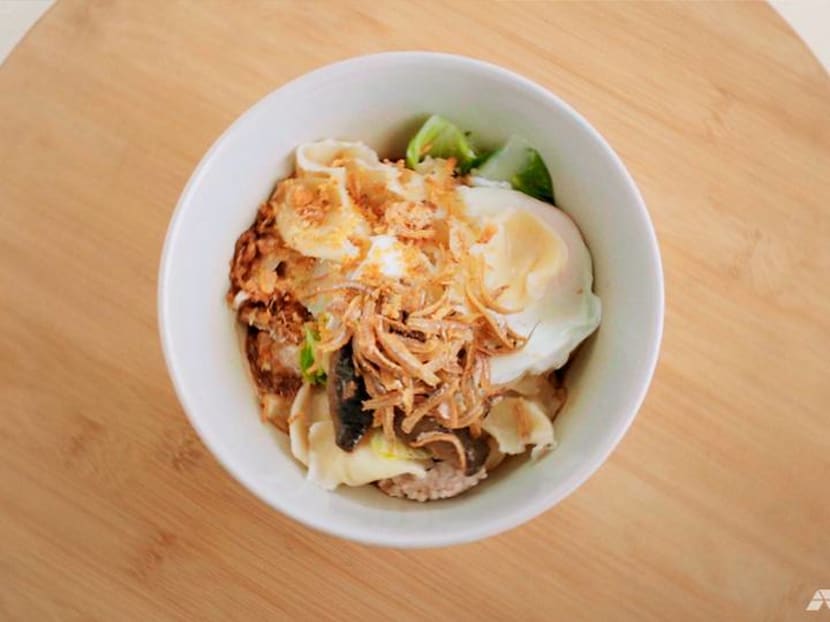 I never say no to a bowl of noodles, especially one that comes with a story and characters as colourful as its ingredients.
So when my Makan Kaki Xin Hui Helder-Eng, from the foodie family behind Tie Fun Wan and writer for Parched, recommended I check out this stall at a coffee shop in New Upper Changi Road, I jumped at the chance.
Visiting 456 Mian Fen Guo was a fascinating and slightly intimidating affair. Two figures stood waiting for me. One, a diminutive older lady with a piercing stare and the other, a younger gentleman covered in tattoos, who was in a hurry to get back to clearing up after a busy lunch crowd.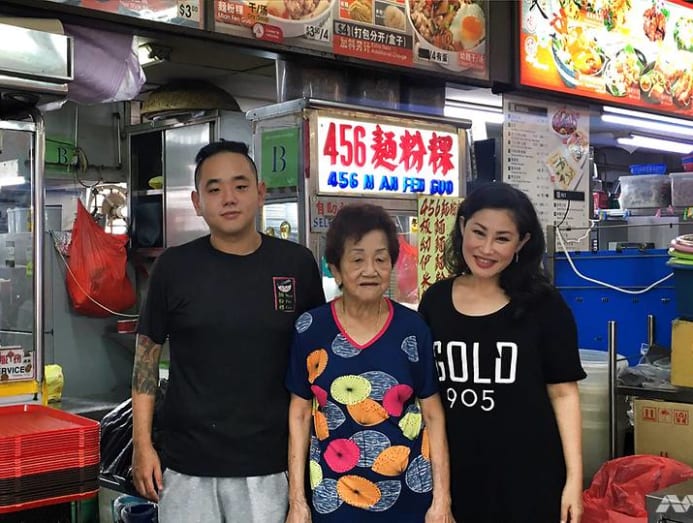 They are 80-year-old Madam Lim Kwee Kee and her grandson, 28-year-old Dickson Ng. Together, they are the tag team of dough-making, the yin and yang of handmade noodles and the convergence of past, present and future.
A three-generation operation, 456 Mian Fen Guo was started in 1991, serving homemade noodles like ban mian and their namesake, mian fen guo (hand-torn noodles) based on recipes created by grandma Madam Lim.
Right after completing National Service in 2013, Dickson learned the ropes with his mother until her passing two years ago. That's when he decided a full commitment to the family business was necessary – under the watchful eye of Grandma, of course. You could say things haven't changed much since he was a boy, growing up in the coffee shop environment.
Madam Lim explained in Mandarin: "When he was in Primary One, I paid him S$1 per day to be our bowl collector and washer. It taught him to work hard and earn pocket money to go watch movies."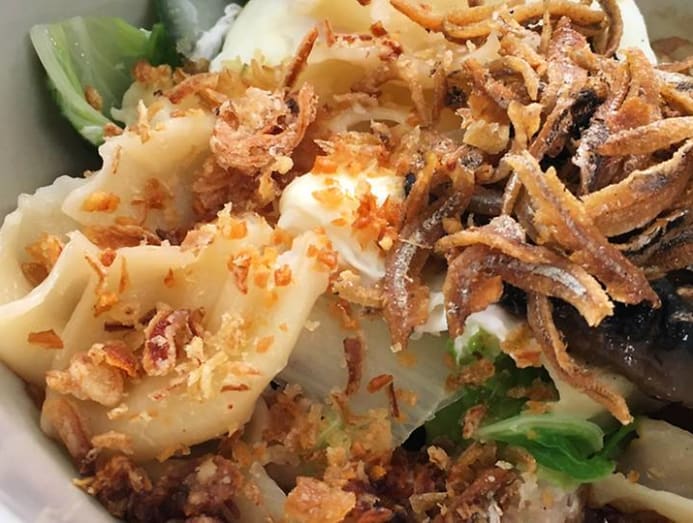 Now the tables have turned, with Dickson doing much of the heavy lifting. When she's not watching TV or playing mahjong, Grandma still comes in to help. Or as Dickson put it, "to give constructive criticism."
Once upon a time, a lot of that criticism centred on the way Dickson chose to catapult her treasured recipes and methods into the 21st century.
He gave Madam Lim's traditional Chinese noodles a Western twist, incorporating high-grade Italian pasta flour to the dough and turning it out with a hand-cranked pasta machine.
He also decided to transform her time-honoured soup version of mian fen guo (mee hoon kueh) into a dry version, which would be quicker to eat for the time-crunched work crowds. Needless to say, he met with firm resistance from the steely matriarch of the family.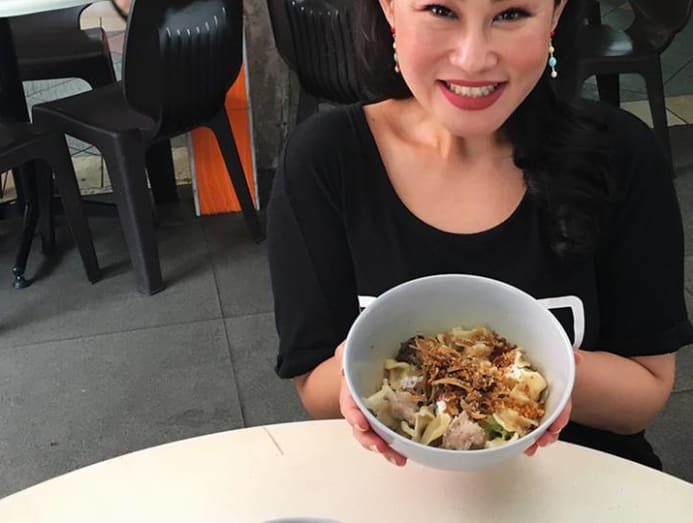 But he persevered and convinced her to let him try selling his creation alongside her original. Initially, almost every customer stuck to Grandma's soupy version.
Dickson revealed: "At first, I sold only one or two bowls a day, but eventually my Grandma saw the results."
Madam Lim's full approval came as his idea began to catch on and these days, they sell almost equal numbers of soup and dry versions – pre-COVID-19, 300 bowls in total on weekdays and 400 bowls in total on weekends.
The most important factor to Dickson's mian fen guo success has got to be their dough recipe, which he has tweaked and perfected with Grandma's blessing.
They use a mix of tapioca flour and Italian pasta flour, a little egg for colour and water. "You have to treat your dough like pasta-making, Asian-style," explained Dickson, using a pasta machine to roll out their dough to the right consistency and thickness. You mian (thin noodles), ban mian (thick noodles) and mian fen guo are all made fresh this way at the stall daily.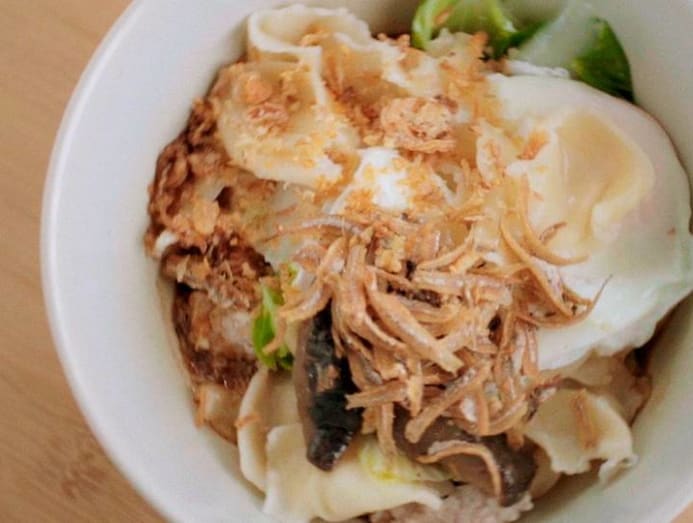 As for their star dish, Dickson's dry version, I could see that each flat, rustic piece of mian fen guo had been hand plucked, torn from a piece of flattened dough and tossed straight into boiling water for a quick al dente cook.
A S$4 bowl came with minced pork balls, soy-stewed shitake mushrooms, green vegetables and a runny egg, topped with deep-fried goodies like crispy shallots, garlic and ikan bilis. At the bottom of the bowl was homemade onion oil and a special blend of their soy-based sauce.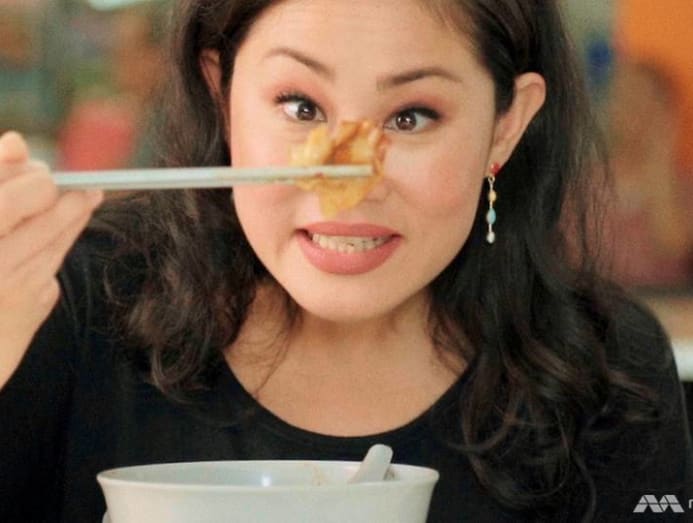 And finally on the side, red chilli slices in soya sauce as well as a homemade chilli sauce, which I poured straight into the bowl of mian fen guo. Tossed all together, this style of noodle gave the delicious dressing lots of real estate to cling to.
As with all well-balanced dishes, this was a study in exciting textures and flavours. The onion oil was fragrant and amplified the sweet crunch of the crispy shallot garnish. The special soy sauce was savoury and sweet, made rich and silky by the runny egg yolk.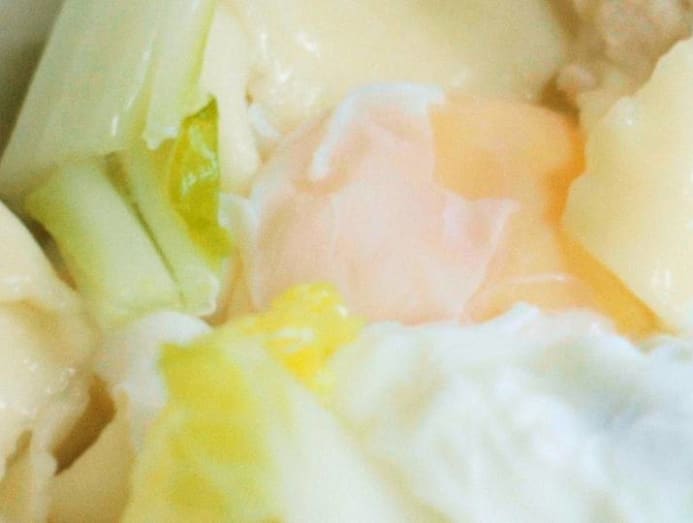 The minced pork balls were well-seasoned and meltingly moist, with a good meat-to-fat ratio. The stewed mushrooms brought another meaty, earthy dimension to the dish. The crispy fried garlic was mouth-wateringly fragrant, picking up on the garlic in the chilli sauce, which also had hints of ginger and zingy lime.
Finishing off each spoonful with deep-fried ikan bilis (anchovy) added a delightful crunch and umami hit that contrasted beautifully with the tender meatballs and chewy main fen guo.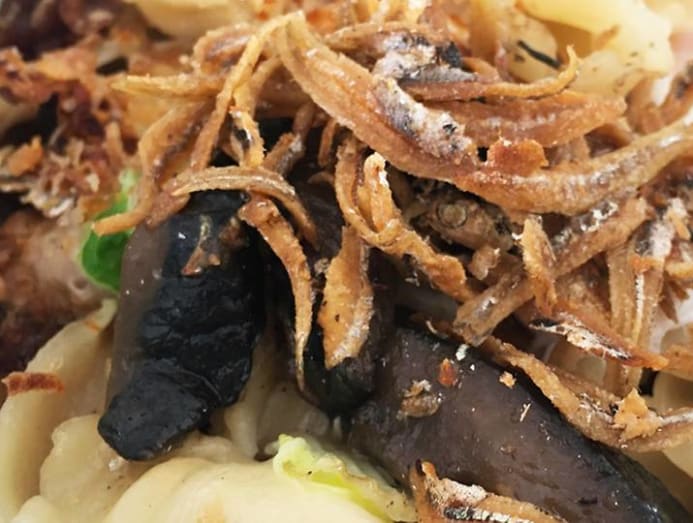 If you prefer, there are also yi mian, mian xian (mee sua) and bee hoon (rice vermicelli) options, available dry or in soup (S$3.50).
Speaking of which, their soup was definitely not an afterthought. Flavoured with ikan bilis and full of natural sweetness from corn and soya beans, it made for a wonderful palate cleanser in between bites of the dry mian fen guo.
For mian fen guo purists, give Dickson's tradition-breaking dry version a try – it was lick-the-bowl clean good. But it's also a dish that's best eaten on the spot, because the mian fen guo can get claggy if left for too long.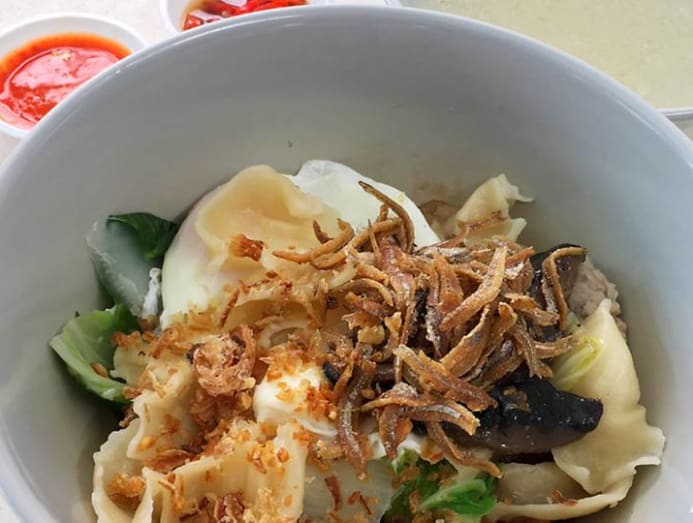 However, longevity in the family business is what Dickson is aiming for. Keenly aware of his culinary legacy, he has a respect for the past ("this stall is older than me!") and an eye on the future.
Together with his cousin who runs their Tampines branch, he hopes to see 456 Mian Fen Guo continue into the fourth generation. Dickson told me with a smile: "If my 14-year-old nephew decides to join us, we can all work together as one family."
Until then, Dickson is holding down the fort at the 29-year-old stall. Each bowl of noodles he makes is a delicious combination of tradition and innovation – palpable expression of his youthful energy and dedication to Grandma's high standards, that still leaves room for a little of his own improvisation.
456 Mian Fen Guo is located at 59 New Upper Changi Rd, Singapore 461059. It's open from 9am to 3pm (closed on Wednesdays and Thursdays). 
Catch Makan Kakis with Denise Tan every Thursday from 11am on GOLD 905.