Best eats: Nasi jenganan and nasi rawon soaked in gravy at Bedok Corner
This week's Makan Kakis installment has GOLD 905 DJ Denise Tan hankering for some rice – and Satay Solo's two specialty dishes hit the spot.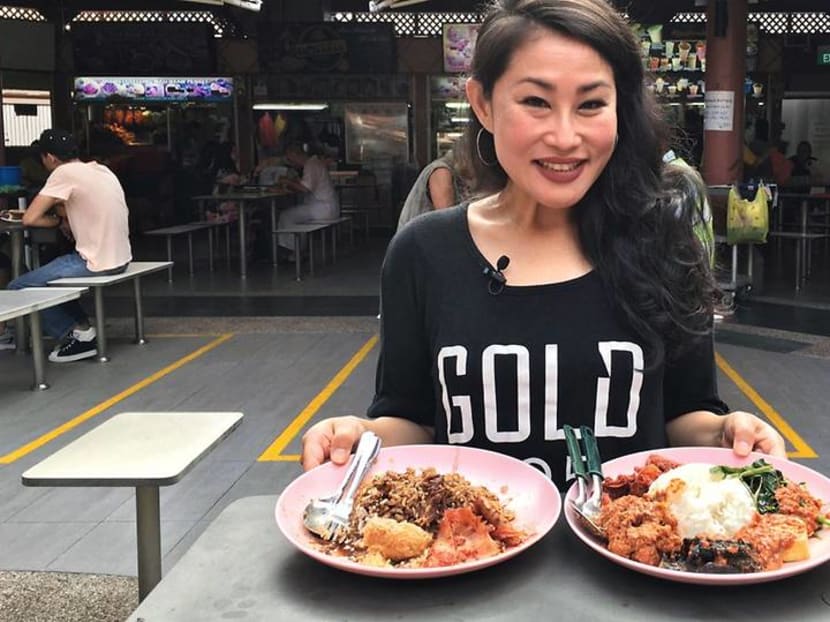 As a Southeast Asian staple, there are few things as comforting and versatile as rice. It's delicious as biryani or paired with other dishes ala economical "point-point" rice and nasi padang, as well as in the fried varieties of nasi goreng or yangzhou chao fan.
I thought I was familiar with them all, until my Gold 905 Makan Kaki, batik fashion designer Oniatta Effendi, told me about two rice dishes I'd never heard of before. The avid home cook and self-confessed rice-mad "nasi girl" said when she wanted something a little more extraordinary, she indulges in her favourite nasi jenganan and nasi rawon.
In this Makan Kakis installment, GOLD 905 DJ Denise Tan tries out Satay Solo's two specialty rice dishes - nasi jenganan and nasi rawon - which are not just delicious, but rich in Singapore history with recipes that date back to 1939.
Nasi what? A casual poll among friends and colleagues confirmed that these Javanese dishes are, indeed, little-known. Feeling slightly vindicated for my ignorance, I hurried over to Bedok Corner for a little rice re-education.
On a Sunday morning, a steady queue of hungry customers greeted me at the stall called Satay Solo, named for the city on Indonesia's island of Java, and run by the affable Madam Aini and her daughters Naseehah and Ariana.
Madam Aini told me the satay recipe was passed down through her grandfather, who started the stall in 1939. Her grandparents sold satay and other dishes by the beach and she still remembers her childhood at this seaside stall when her parents took over the family business.
Since those early days at the mercy of the sea and the weather, Satay Solo has moved twice, always in the same area, before settling at Bedok Corner Food Centre.
Madam Aini told me proudly that she's been grooming her daughters to take over. "I'm the third generation, they will be the fourth. But I still come early every day to help prepare the food," she said. Indeed, she arrives sometimes as early as four or five in the morning for prep, then before lunch leaves things in the capable hands of her daughters and her army of efficient makcik helpers.
At Satay Solo, they do serve charcoal-grilled meat skewers, but it's the rice sets customers are really there for. Both the nasi jenganan and nasi rawon sets come with the same basic ingredients: Steaming hot rice, paru (fried beef lung) and sambal sotong (squid). The difference is in the wonderfully aromatic and tasty gravies poured over each rice dish.
For nasi jenganan ($6), the gravy is a sweet and savoury peanut sauce with a spicy chilli kick. Made from frying, then blending peanuts, herbs, spices and belacan (fermented shrimp paste), this thick sauce is deliciously rich and nutty. Madam Aini informed me the gravy is similar to that of tahu goreng (fried tofu), except she doesn't add kicap manis (sweet, dark, palm sugar soy sauce).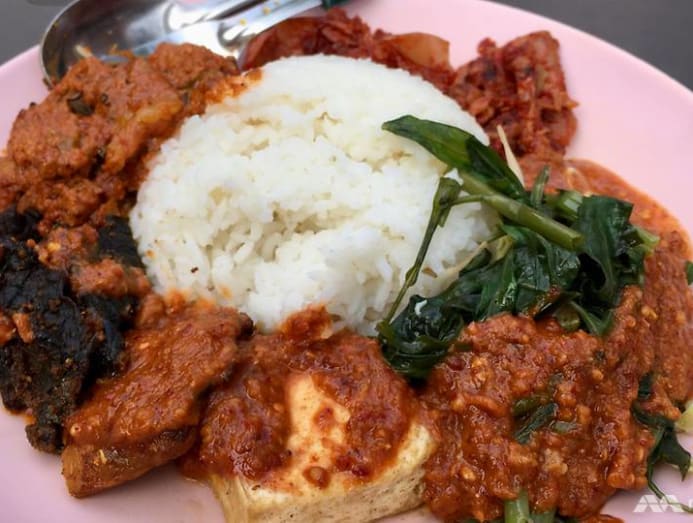 She believes it's a dish that perhaps older generations of Singaporeans will recognise, but it's not something the young ones know of or appreciate. I assured her that I was very appreciative now that I was in the know.
The jenganan sauce smothers a serving of fried bean curd and tempeh (fermented soybean cakes), as well as lightly blanched kangkong (water spinach) and bean sprouts for crunchy freshness. The paru is delightfully crisp and springy, yet tender, with a hint of that beefy, metallic offal flavour (but not unpleasantly so). The squid is soft and yielding, having been simmered in a spicy sambal that gets its sweetness from onions. Each and every component of the nasi jenganan set is delicious on its own, but it's that irresistible peanut gravy that ties everything together in an extravagance of textures and flavours.
As for the nasi rawon set ($5.50), the Indonesian-style gravy had a soupier consistency and got its essence from buah keluak (the fruit of the Pangium Edule tree that is poisonous until fermented and cooked). Madam Aini eschews any pre-packaged product and always goes for the whole fruit, which they painstakingly break open to get to the kernel inside. Connoisseurs refer to it as "black gold", perhaps in reference to this labourious process of extraction, as much as its prized flavour profile.
Buah keluak is complex to describe – at once bitter-sweet, pungent and pleasantly muddy. In rawon, it evolves and improves when seasoned, spiced and cooked with choice cuts of beef, including tendon, for that sticky, emollient mouth-feel. The gravy is poured liberally over the rice plate, until every ingredient is doused in the meaty elixir, with chunks of tendon floating in its beefy bath. Encircling the rice was paru and sambal sotong, along with one perfect potato patty. Otherwise known as begedil, seasoned mashed potato is shaped into pucks, dipped in beaten egg then deep-fried.
Theirs was outstanding, especially the ones fresh out of the kuali (wok) – hot and crispy on the outside, meltingly soft and creamy on the inside. A dollop of their mind-blowing sambal belacan balanced the earthiness of the rawon with a sharp chilli hit that's salty, umami and tangy with lime. The rice is topped off with crispy serunding (spiced grated coconut) that's fried till toasty and golden, which just takes the entire plate over the top.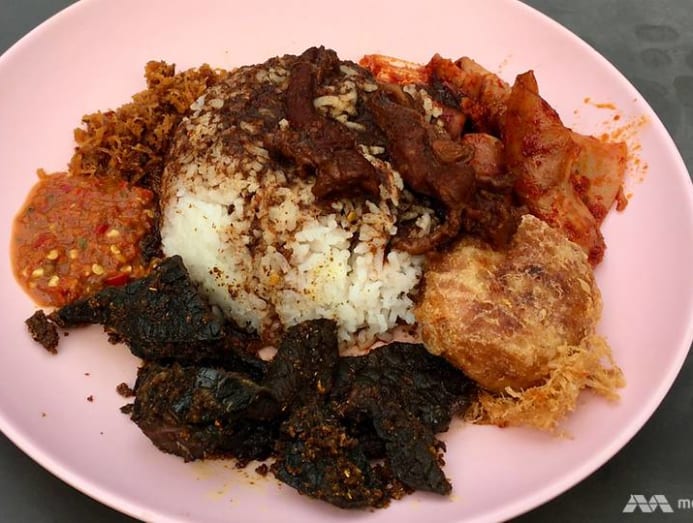 Satay Solo also serves other classics like its namesake ($0.70 per stick), rice sets such as ayam penyet ($5) and nasi sambal goreng ($4.50) as well as noodle favourites such as mee soto ($3.50), mee rebus ($3.50) and mee goreng ($3.50).
However, it's their nasi jenganan and rawon you really must try. Nasi rawon is served daily but nasi jenganan is available exclusively on Sundays because, as Madam Aini put it, "It's a lot of work and also a bit special." We couldn't agree more.
Satay Solo is located at Stall No. 9, Bedok Corner Food Centre, 1 Bedok Road, Singapore 469572. It's open Tuesdays to Sundays, 7am to 10pm. Closed on Mondays. Catch Makan Kakis with Denise Tan every Thursday from 11am on GOLD 905.