Best eats: The perfect plate of chee cheong fun at Pek Kio hawker centre
Makan Kakis is back. This week, GOLD 905 DJ Denise Tan gushes over Pin Wei Hong Kong Style Chee Cheong Fun, which serves restaurant-quality bites with a little high-tech help.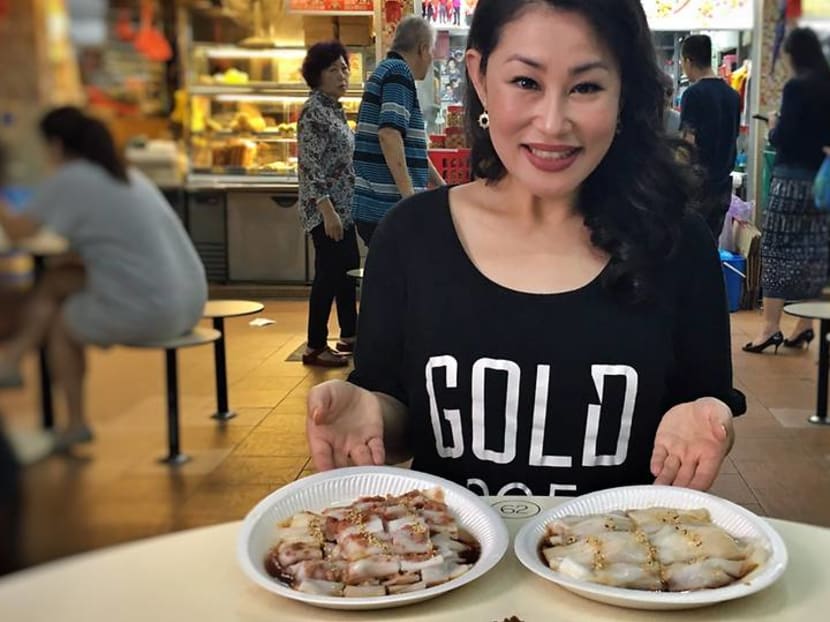 Foodies, loosen your collars and fix yourself a cold drink – things are about to get hot and steamy. This is a love story 10 years in the making – the meeting of taste and technique, brought together by one family's quest for the perfect marriage between tradition and technology.
If that all sounded a tad too dramatic, it's only because watching how Pin Wei Hong Kong Style Chee Cheong Fun is made was pure theatre. Recommended by my Makan Kaki, Wendy Foo of Ryan's Grocery, these steamed rice roll experts serve up plates of perfection six days a week at Pek Kio Market & Food Centre.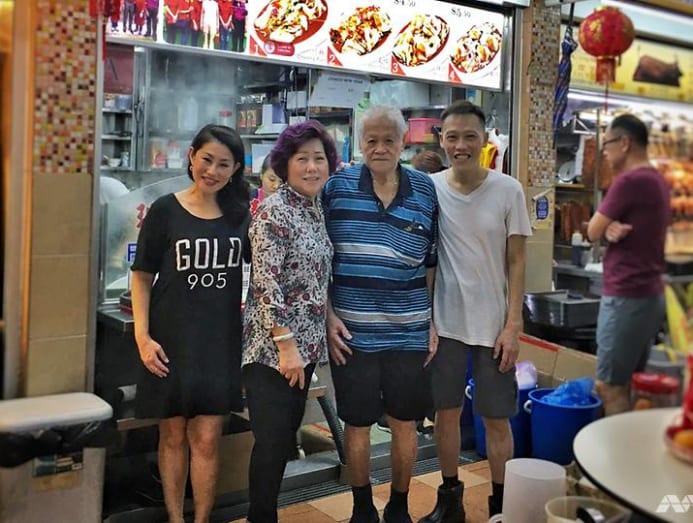 Named for the pig's intestines they supposedly resemble in shape, chee cheong fun are tender, twisty tubes made from a magical combination of rice flour, a little tapioca flour and water. Tasty morsels of meat are added as a filling and the rice noodle rolls are steamed lightly before being sauced and served.
At Pin Wei, watching them in action was a show in itself. From behind billowing clouds of steam, just beyond the line of hungry customers, you could just make out Eddy Tan in his stall, hard at work in balletic synchronicity with his helpers.
First, the rice and tapioca batter was poured in a thin layer on to rectangles of white cotton cloth laid out over the steamer. A choice of char siew (S$3.50), prawn (S$4.50) or scallop (S$5.50) was scattered over the sheets of batter. 
Then in a flash, the sheets were whisked from the steamer and on to an oiled surface. The cloths were gently peeled off and the steamed product was rolled and cut into bite-sized segments. A dollop of sambal, a generous dousing of their home-blended sauce and a shower of sesame seeds later, the chee cheong fun was ready to eat.
I had to find out why Pin Wei's chee cheong fun was so extraordinary and what struck me was Tan's commitment to and pursuit of precision. Traditionally steamed over charcoal, he explained that this method did not yield consistent results and it was backbreaking trying to control the fire to get the right chee cheong fun consistency.
In fact, Pin Wei's history with charcoal goes back to the 1950s when his grandfather was a street hawker peddling chwee kway (steamed rice cakes with preserved radish topping) from a pushcart in the River Valley Area. Tan's father, Tan Song Beow, took over the trade, selling the family's charcoal-steamed chwee kueh from a trishaw through the 60s and 70s.

Auntie Molly, Tan's gregarious mother, told me how their family continued selling chwee kueh up till 10 years ago, when they finally decided to stop, rather than compromise on quality. It was hard work trying to produce their chwee kueh in large quantities themselves and they did not want to turn to selling factory-produced rice cakes.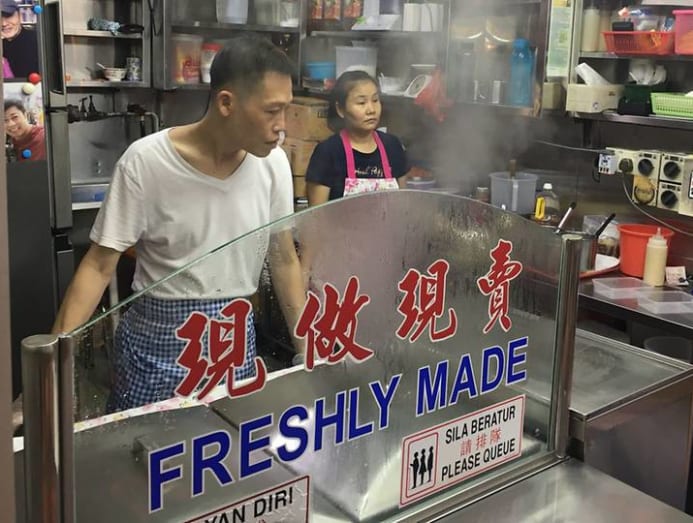 After much brainstorming, the Tans realised that a switch to selling chee cheong fun could be the next step for them, especially since they were already specialists when it came to the common ingredient – rice flour. But being complete novices, it took a lot of research for them to come up with their winning recipe.
"It's completely DIY (do-it-yourself)! No one taught my husband how to make it," Auntie Molly confided to me in Mandarin. The older Tan tried many different stalls' chee cheong fun and even went to Hong Kong on a tasting trip to try and figure out how to make his own. 
Meanwhile, the younger Tan was wracking his brains in the research department – how to produce perfect rice rolls every time, without the unpredictability of charcoal fires? The answer lay in the science of cooking and technology.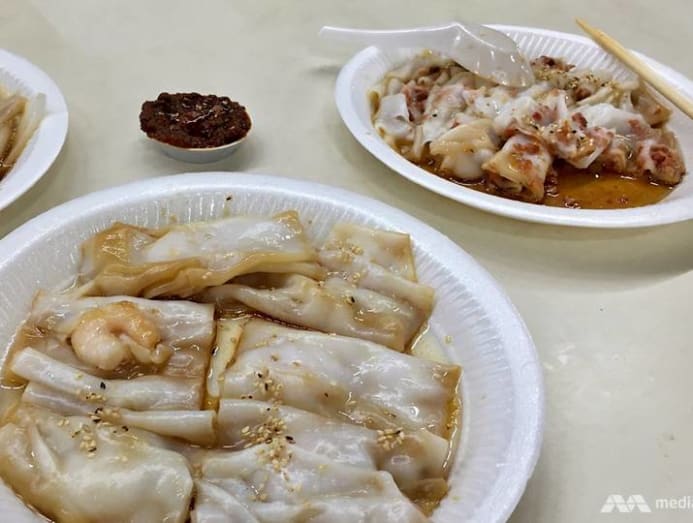 He designed a special gas and electrically powered stainless steel steamer and spent about S$10,000 to get it custom-built for their stall in 2010. A decade, thousands of rice rolls and hundreds of loyal customers later, the leap from charcoal tradition to high-tech equipment has paid off.
His steamer consistently turns out near-perfect rice rolls because "I can control the timing and the temperature so it's very accurate. Every piece we make, it's almost 99 per cent the same," explained Tan. The high-tech steamer is so precise, char siew and prawn chee cheong fun take exactly one minute to steam, whilst the scallop chee cheong fun takes just two minutes.
For all the R&D father and son conducted though, these chee cheong fun still required methodical and skillful handling with a light touch – from how much batter to layer on the steamer cloth, to picking up the hot edges and transferring it to the oiled metal surface, to removing the cloth without breaking the soft rice sheet, to rolling it up into its signature shape.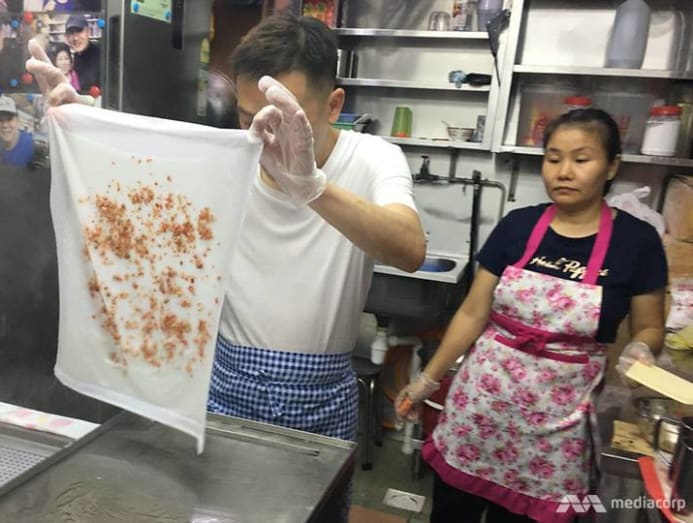 Auntie Molly told me proudly that they don't skimp on any ingredients. Everything was carefully considered to create their beautiful, made-to-order rice rolls. They even took the time to cook their vegetable oil first. It's then meticulously painted on to the work surface with a brush, to prevent sticking after the steaming process. "People visiting from Hong Kong tell me ours is better than what they get in Hong Kong!" she added.
Indeed, I daresay their chee cheong fun was better than what I've tasted in any fancy dim sum restaurant. Texturally, the rice rolls were silky smooth and extremely tender. They were so light, they melted in my mouth and I wondered how they didn't disintegrate with one touch of my chopsticks. I could see what filling I had ordered through the glossy and translucent skin. The char siew was sourced from the stall next door and is delivered, freshly roasted, every morning.
The barbequed pork was chopped into tiny bits and confetti-ed across the entire surface of the rice sheet while it was still steaming, so the batter acted like a tasty glue. Firmly embedded, not one bit of char siew fell out when I picked up a piece.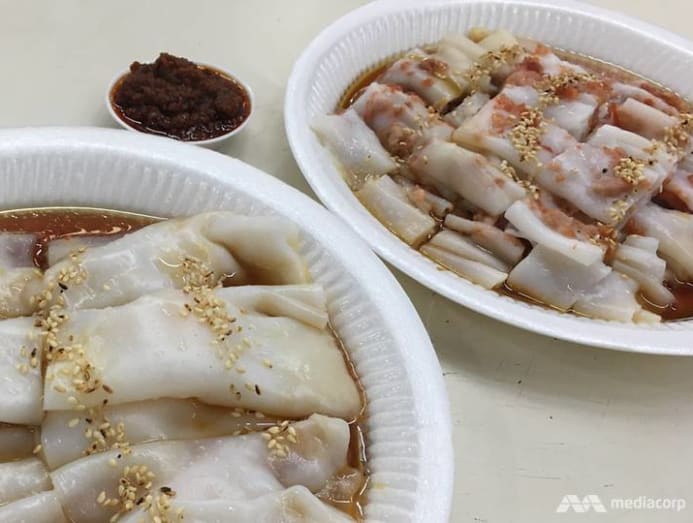 Sweet and savoury, with a slight charcoal-roasted flavour, the char siew chee cheong fun was a classic made even more delicious by their sauce made from a blend of soya sauce, rock sugar, sesame oil and a few other secret ingredients. Coupled the nutty sesame seed topping and homemade sambal belacan (a heady mix of fresh red chillies, garlic, onion and toasted, fermented shrimp paste), it was a killer combination, surpassed slightly only by my personal favourite, the prawn chee cheong fun.
The plump prawns were delicately blush-pink from their minute's steam, far from being over-done and retained a delightful freshness and snap. I had left the chee cheong fun in their saucy bath for a little longer, so the rice rolls had soaked up a lot more of the sesame-soy flavour. Also, sambal belacan plus fresh prawn chee cheong fun equals umami squared! But if you prefer things unadulterated, you can also go for the plain version without any filling (S$2.70). My advice is to go for broke and try them all.
Pin Wei's chee cheong fun is probably best enjoyed fresh out of their super-steamer, although the rolls I took away and re-steamed at home still met with my family's hearty approval. We're not the only ones, judging from the snaking queues that form every morning, even before the sun rises. Which takes us back to my initial question – what made it so extraordinary?
It's in the surprise discovery of refined, restaurant quality chee cheong fun in of all places, a hawker centre. It's in the three generations of rice flour expertise fuelled by passion, precision and innovation. It's in the marrying of tradition and technology, giving birth to champion chee cheong fun.
Pin Wei Hong Kong Style Chee Cheong Fun is located at 41A Cambridge Rd, #01-25, Singapore 211041. It's open Thursdays to Tuesdays, 6.30am to 2pm (closed on Wednesdays). Catch Makan Kakis with Denise Tan every Thursday from 11am on GOLD 905.