Best eats: The birthplace of Singapore's chilli crab and a modern burger version
In this week's installment of Makan Kakis' "national food" mini-series, GOLD 905 DJ Denise Tan goes elbow-deep in sauce to try the old (Roland Restaurant) and the new (Wok In Burger).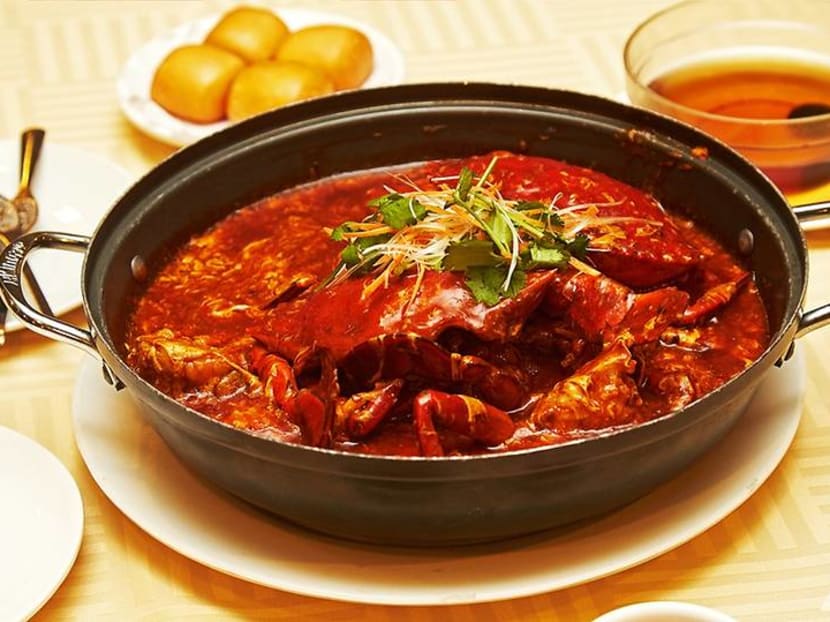 In a recent poll for a National Day series on Gold 905 on Singapore's best local dishes, chilli crab was voted the third most popular among listeners, just behind chicken rice and laksa.
An obvious choice, perhaps, but this is one dish we can proudly say was created in Singapore and is even promoted by the Singapore Tourism Board as one of the country's national dishes. 
As island-dwellers, our tables never go too long without this succulent, spicy seafood treat. Chilli crab is basically a dish consisting of mud crabs wok-fried in a piquant, savoury-sweet gravy, served with bread or buns on the side for maximum sauce-absorbing properties.
I say basically, because as I discovered, the dish can be so much more. I had to go back to the past in order to discover the future of chilli crab. And presently, here are two very different versions you might want to try. Old school and hipster chilli crab, anyone?

ROLAND RESTAURANT
Welcome to the birthplace of chilli crab. Or as our photographer put it, the "OG chilli crab".
Roland Restaurant began life in the mid-50s by the Kallang River as a humble seafood stall, with just few wooden tables, stools and kerosene lamps.

Run by husband-and-wife team Cher Yam Tian and Lim Choon Ngee, business began booming with Madam Cher's signature creation of crabs stir-fried in a combination of tomato and chilli sauces. 
The stall evolved to a restaurant initially called Palm Beach along Upper Changi Road and in 1985, their son Roland took over the family business. The eponymously named restaurant has made Marine Parade home ever since.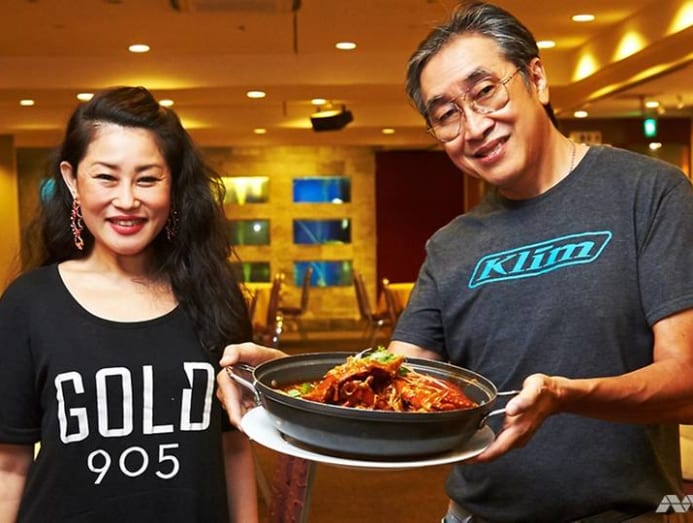 The chilli crab served at Roland Restaurant is still made according to inventor Madam Cher's recipe and she even makes an appearance now and again in the kitchen (usually when the camera crews come knocking).
So if you're hankering after a taste of those good ol' Bedok Beach days, you know where to find it. Long-time customers still return to ask for this off-menu item. According to Roland, his mother's original recipe was sweeter, with more of a tomato ketchup flavour, and always served with a side of crusty local-style French loaf.
However, their signature on-menu chilli crab has gone through some minor tweaks. "Moving with the times. We always listen to customer feedback," explained the affable Roland.
These days, the sweet tomato ketchup has been dialled down, the chilli paste ramped up for a kick, and egg has been added for extra texture. The French loaf is also gone, having made way for the now requisite mantou (Chinese wheat flour buns).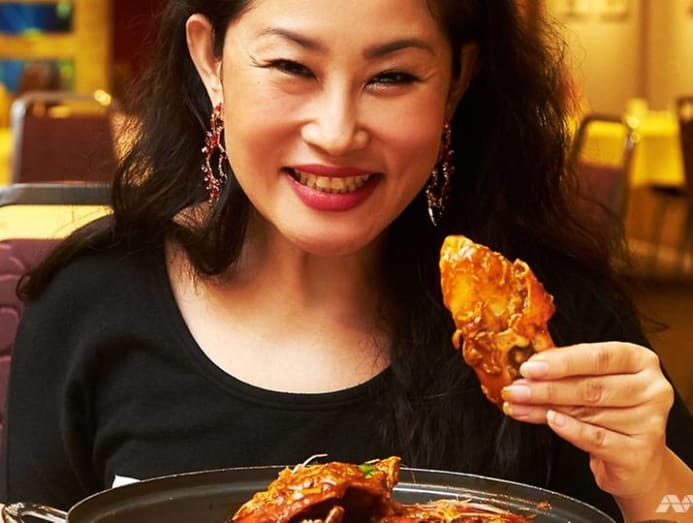 In truth, I'm not really a fan of chilli crab, which is usually too heavy on tomato ketchup for me. But a couple of friends, determined to change my mind, dragged me to Roland Restaurant more than a decade ago and made a convert out of me.
Their chilli crab is all about a better balance of flavours. The first thing I noticed was the aroma. The thick sauce smelled of the sea – a little bit funky, deeply earthy and savoury.
"This is what the younger generation prefers. We try to keep all the flavours very natural, yet true to my mother's recipe," Roland pointed out. Indeed, their gravy wasn't excessively ketchupy or sugary and its fiery chilli heat tickled the back of my throat in the most stimulating way.
Brininess, spiciness, a touch of tang and a hint of sweetness all worked harmoniously in the gravy, expertly thickened by threads of egg white. Its deep, rich colour, so unlike other neon orange sauces I've seen, told me there was more culinary magic going on than met the eye.
Even after sitting on the table for a good 30 minutes, the dish stayed hot and the sauce did not turn into a gelatinous goop. I appreciated their judicious use of cornstarch, testament to how natural they try to keep the recipe.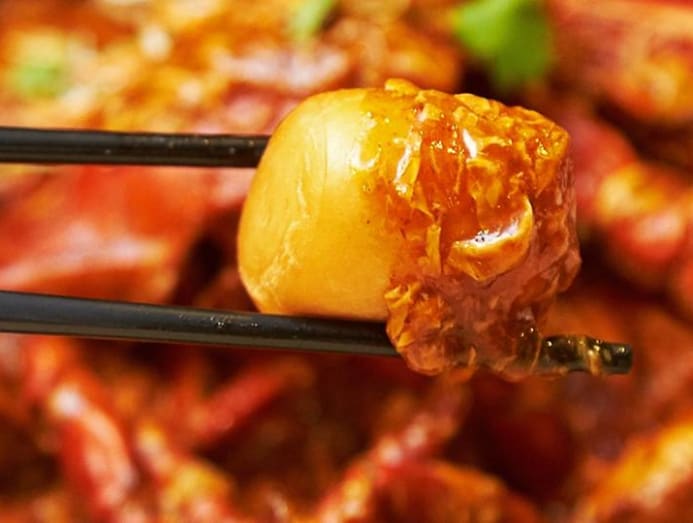 To truly enjoy chilli crab, mantou is a must for conveying gravy to mouth. At Roland, you can order the buns either steamed or deep-fried. But chilli crab is already such an indulgent feast, you might as well go all the way with the deep-fried variety, for added taste and textural dimensions.
Those buns (S$2.40 for four) were dainty and pale, but quite the opposite flavour-wise. The thin, fried crust of the bun was like a crispy candy shell that shattered on contact with teeth, melting away to reveal a soft, fluffy centre. Dipped into chilli crab sauce, the sweet buns drank up the savoury, spicy elixir and released a lovely milkiness that made a wonderfully balanced combination.
As for the crab itself, full marks for freshness, flavour and size. Roland Restaurant usually serves a mix of Sri Lankan crabs and mud crabs, depending on the season – mine were Sri Lankan and perfectly cooked. The naturally sweet crustaceans had a kissed-by-the-wok smokiness, with juicy yet firm pincers, all lovingly bathed in the excellent sauce.
Best of all, the price. They have a current promotion – S$78 for two crabs. The waiter warned us they'd be smaller, but on arrival, they were surprisingly substantial and very meaty.
"When you do a promotion, customers must not feel like they've been cheated. I told my chefs, each serving of two crabs must weigh 1kg or more, then it's worth it," said Roland. I couldn't agree more. At a little over 500g per crab, my serving was ample, delicious and great value for money.
There's always something quite ceremonial and special about sharing a meal of chilli crabs, especially at a stalwart like Roland Restaurant, which calls to mind classic Chinese banqueting halls and childhood family feasts.
Eating chilli crabs is such a sensuous experience – you have to be prepared to get hands-on messy, cracking through shells, sucking out hidden morsels from nooks and crannies, sopping up pools of gravy.
By the time I was done, there was probably as much sauce on me as there had been on the crabs. Thank God for piles of napkins and those little finger bowls of calamansi lime tea. Or if you prefer, you can ask for disposable plastic gloves. But where's the fun in that? It can be such an investment of time and effort, but Roland Restaurant's chilli crabs are definitely worth getting your hands (and everything else) deliciously dirty for.
Located at Block 89, Marine Parade Central, # 06-750 Singapore 440089. Opening hours daily from 11.30am to 2.30pm for lunch and 6pm to 10.30pm for dinner. Call 6440 8205 for reservations or to order takeaway.
WOK IN BURGER
For an updated version of chilli crab, American fast food meets local zi char in Wok In Burger's decadent, deep-fried softshell crab burger with chilli crab sauce and fries.
The resturant-within-a-restaurant concept shares the same space as sister eatery Keng Eng Kee (KEK), which has a Michelin plate for its famed zi char dishes, including traditional chilli crab.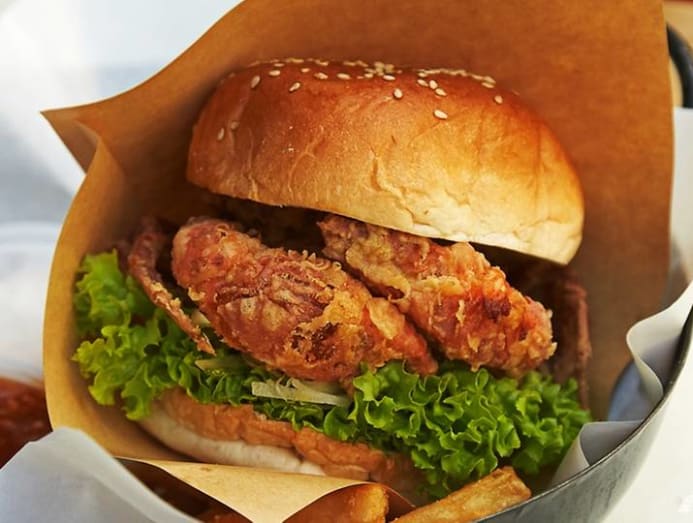 The brainchild of KEK's third generation chef Wayne Liew, the chilli softshell crab burger is just one of several zi char dishes presented in burger form at 19-month-old Wok In Burger, using the same traditional cooking techniques and flavours found at (nearly) 50-year-old KEK.
Before you eschew this as another hipster food fad, the concept works. Close your eyes and you can imagine it really is traditional chilli crab you're eating, albeit crispier and sans tooth-breaking shells (all the elements are there – crab, sauce, bun).
Served piping hot in an on-brand mini-wok, an entire softshell crab was lightly battered and fried till crisp, then sandwiched between lightly toasted, Planta-smeared sesame seed buns, along with lettuce leaf, shredded cabbage and a slice of tomato.
The chilli crab sauce was served warm, in a little container on the side – a touch I appreciated, because who wants cold, soggy deep-fried crab?
They say the sauce can make or break the dish, so that was the first thing I tried before even drizzling it on the burger.
My mouth was immediately invaded by the sweetness of the glossy sauce, which had a viscous consistency. With generous ribbons of egg white and flecks of chilli giving off a gentle heat, the sauce was like a high-octane ketchup.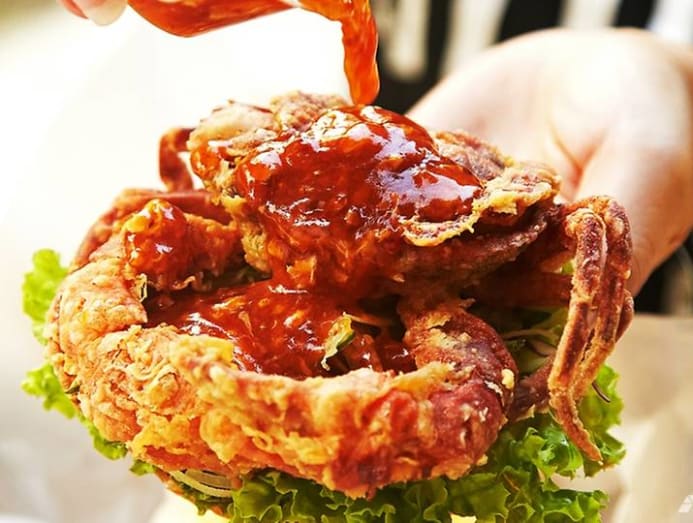 Apparently, this is the same chilli crab sauce they use in their zi char kitchen, but I found it too sweet for my liking. However, once I combined it with the softshell crab burger, it started to make perfect sense.
Naturally briny and juicy, the softshell crab was tasty on its own and its light batter was also very well-seasoned. The combined saltiness of the crispy crustacean held up marvellously to the sweetly spicy sauce. The acidity in the sauce also lightened the fatty richness of the deep fried crab, which itself was a study in textures.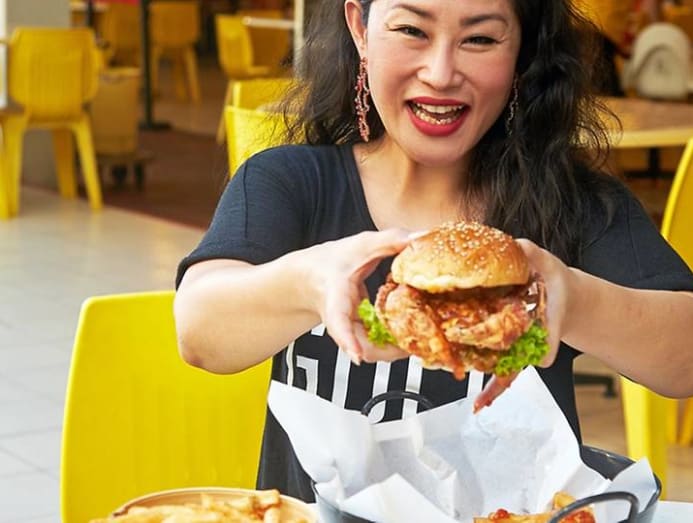 There was crunch from its batter, snap to its soft shell exterior and tender bite to its firm, moist meat. The burger buns functioned in much the same way traditional mantou do – for maximum surface area to soak up sauce and crab juices.
Be prepared to get very, very messy. There is absolutely no elegant way of eating a chilli crab burger drenched in sauce, so my advice is to control how much you pour on.
And definitely save some for dipping their gloriously crispy fries in. Their deep-fried fingers of potato had an especially salty, crunchy coating, with lots of little jagged edges for the sweet sauce to cling to. Just like with the burger, it was all about that perfect balance between textures and salty-sweet flavours.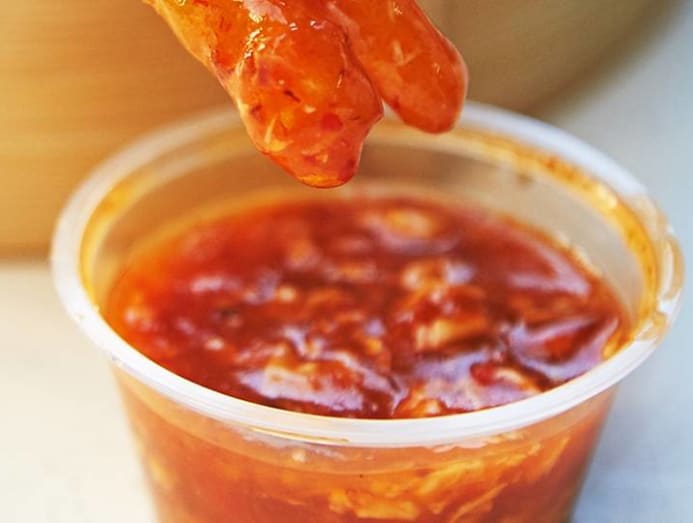 Surprisingly, both the fries and softshell crab retained their crispness, 20 minutes into their saucy bath, that little pot of eggy gravy holding everything together in its syrupy hug. I must stress, however, that the burger meal is best eaten fresh and hot on the spot. It won't hold up to a steamy, soggy delivery journey.
It's been said, if it ain't broke, don't fix it, but I'm glad Chef Wayne didn't get the memo. Wok In Burger's chilli soft shell crab burger is a laudable attempt to update a time-honoured zi char classic.
This is one extremely filling, indulgent zi char-burger hybrid that's worth dining-in for and at just S$15.80, you can enjoy a chilli crab experience at a fraction of the usual price. Also order traditional chilli crab from KEK, for the best of both worlds. Just remember to bring lots of tissues and wet wipes!
Located at 124 Bukit Merah Lane 1, #01-136, Singapore 150124. Opening hours daily from 11:30am to 2:30pm for lunch, 5pm to 10pm for dinner. Call 6272 1038 or order via Oddle. Second outlet located at JCube #02-08.