Best eats: Possibly the spiciest wanton mee in Singapore
Good news for fans of Dunman Food Centre's famously fiery wanton noodles – they now have a Eunos branch. In this instalment of Makan Kakis, GOLD 905 DJ Denise Tan discovers the burn there is just as potent.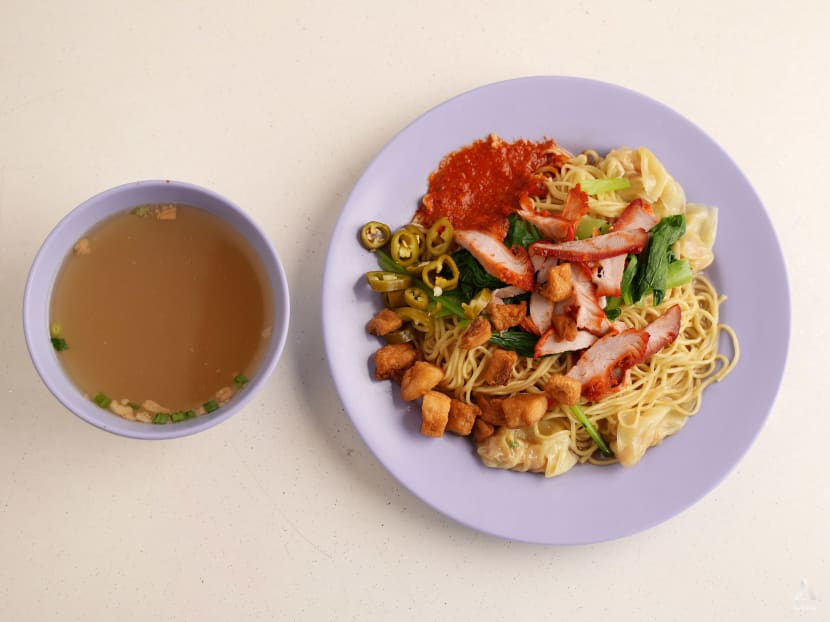 If you think spice is nice and you're looking for dishes that really turn up the heat, then this wanton mee stall is for you. Fellow "hothead" and foodie friend Chef Shen Tan of OG Lemak recommended I try the Eunos branch of a Dunman Food Centre stall that's famous for serving up some of the spiciest noodles in Singapore.
I gamely placed my asbestos taste buds at the mercy of Sam Ng, whose family owns the two Dunman Char Siew Wan Ton Mee outlets. He's in charge of the Eunos branch, which opened in March 2019.
Is Dunman Char Siew Wan Ton Mee's wanton mee the spiciest in Singapore? In this instalment of Makan Kakis, GOLD 905 DJ Denise Tan visits the Eunos branch of Dunman Food Centre's famously fiery offering and discovers the burn there is just as potent.
"I've been here at this kopitiam for the longest time. Other stalls have come and gone, but because of our brand name, customers flock here from all over to eat my noodles," he told me in Mandarin.
Ng assured me that the same recipes are used both in Eunos and at the Dunman stall, which is operated by his mother and younger brother. Every morning from 4am, crispy lard, handmade wantons and their signature chilli sauce are prepared over at Dunman Food Centre, before being delivered to Eunos.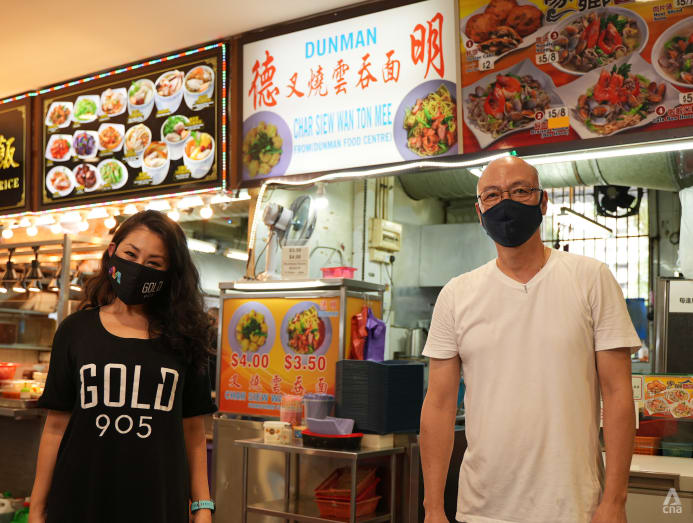 Best known for their super-spicy chilli sauce, Ng is understandably secretive about what goes into its making, only revealing that they use dried red chillies procured from a special supplier.
Their main ingredient is soaked in water then cooked very slowly for five hours along with just a few seasonings, including salt. "We don't add oil or hae bee (dried shrimp), we just mix, mix, mix and cook for a long time. You can't find this anywhere, not in any supermarket," he added.
The extreme burn is what longtime customers crave for, but Ng has made one small concession for newer customers – a less spicy version of their chilli sauce.
He explained: "When I first opened, 90 per cent of customers couldn't take it. They would say 'your noodles are very good, but the chilli? Too hot!' No choice, I had to innovate."
So, exclusively at the Eunos branch, there are two chilli sauces to choose from. Clearly, Ng knows variety is the spice of life. And spice is the life of their wanton noodles (S$3.50 or S$4).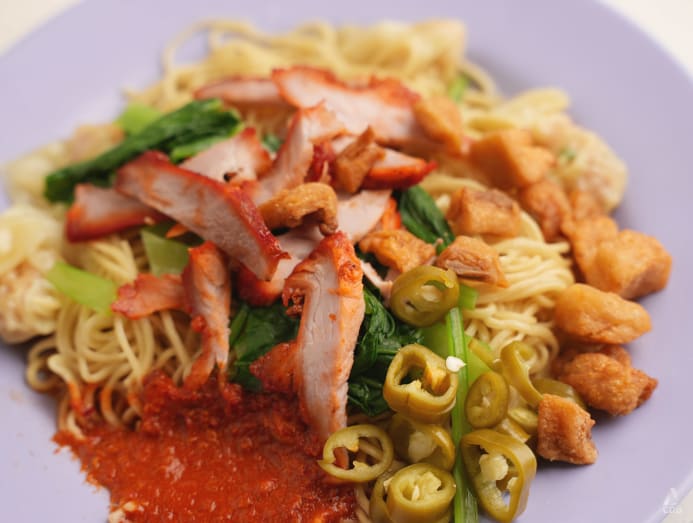 When served, the dish was visually striking. Glossy-pale noodles strewn with green vegetables, pickled chillies, red-tinted char siew (barbecued pork), golden lard crisps, yellow wanton and brown seasoning sauce all sat on a purple plate, generously spattered with a dollop of bright orange chilli sauce. A matching purple bowl of soup waited in the sidelines to douse the anticipated chilli flames.
Eaten alone, the famous chilli sauce was indeed fiery, singeing its way across my tongue, tickling my nose, stimulating my tear ducts, scorching a path down my gullet to my stomach. It had Scoville scale-busting spiciness that lived up to its reputation, packing a heat that felt almost cleansing, with none of the usual ingredients like oil or belacan to interfere with its pure, unadulterated intensity.
Thirty minutes after that trial by fire, my lips and nose were still burning. Be warned, a little chilli sauce goes a long way. Either that, or stick with the less spicy version.
Thankfully there were lots of other goodies on the plate to distract my flaming senses. The noodles were particularly good, slightly thicker than the usual wheat flour and egg variety so often used to make wanton mee.
Ng revealed the reason: "These are the exact same noodles we've always used from the very beginning, made by only one factory in Singapore. We signed an exclusive deal with them."
Specially made for Dunman Char Siew Wan Ton Mee, the noodles remained wonderfully springy even after they had sat under a fan for close to an hour and had turned cold. Not a soggy or mushy strand in sight, the noodles didn't lose their "QQ" texture.
"Others add too much 'kee' (alkaline lye water) to their noodles and they are too yellow," he said. "I make your noodles to order, so they're very fresh. Nothing is kept overnight."
As for the wantons, they were small, rustic and, frankly, very plain to look at. Ng informed me that just like their chilli sauce, the dumplings were made from a few simple ingredients – just a little seasoned minced pork pinched within a wanton wrapper. But they turned out to be tasty, fatty meat morsels swathed in a thin, silky-smooth skin. These were not your usual hefty dim sum restaurant dumplings, but the old-school local types – petite but powerful.
I was surprised to learn that their char siew is not made in-house, but by an external supplier. Ng admitted they are dependent on the quality of the day's delivery of barbecued pork and also lamented that these days, customers prefer leaner cuts, though more fat is important for flavour and juicier meat.
Good thing then, a garnish of crispy homemade lard bits was present to round off the trio of porky products perfectly. Cut into sizeable chunks, seasoned then deep-fried, the lardons were then seasoned again with ingredients Ng would not disclose.
Eaten all together, it was a well-balanced dish. The noodles with their smooth, al dente bite, were tossed in their house-blend soy sauce, then kissed with liquid lard and the lard chunks for extra fragrance and crunch.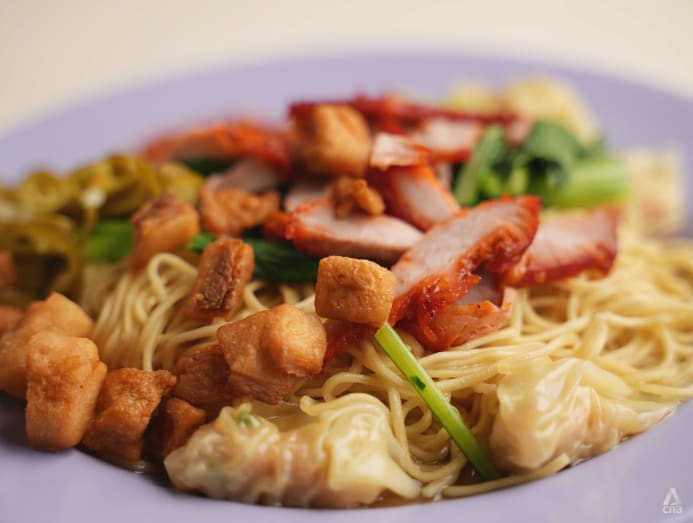 That day's batch of char siew was thankfully decent. The meat-to-fat ratio of the pork slices was good, with a tender, crunchy bite and they brought a little sweet to the savoury and the spicy of the dish.
Mimicking the noodles and char siew, the little wantons added pops of porky, carb-y contrast. Fresh cai xin and zingy pickled green chillies provided relief to the overall richness, as did the palate-cleansing soup, which was light and flavourful from its base of Ikan billis and pork ribs.
Dunman Char Siew Wan Ton Mee is the antithesis of your luxury dim sum palace noodles and that's not a bad thing. They serve up a humble, yet hearty heartland favourite that's tongue-tinglingly, stick-to-the-ribs good.
Ng is especially keen on keeping things as uncomplicated as possible. "I focus on simplicity," he told me firmly. "On an average day I can sell over 200 bowls, that's why by 3pm I close shop. It's very tiring for me alone."
His menu is far more streamlined than the flagship stall's – he only serves one type of noodle and he doesn't do the usual you cai (blanched greens with oil and oyster sauce), stewed chicken feet or deep-fried version of wantons. His wantons (also $3.50 or $4) are strictly boiled and served in soup or with chilli sauce. Period.
Dunman Char Siew Wan Ton Mee (branch) is located at 7 Eunos Crescent, Singapore 400007. It's open daily from 6.30am to 3pm. Catch Makan Kakis with Denise Tan every Thursday from 11am on GOLD 905.
Editor's Note: At the request of Mr Sam Ng on Oct 8, this story has been updated to remove all references made by him to the late Ng Ba Eng from Eng's Noodle House and his wanton noodle recipe.