Best eats: Tasty economic bee hoon breakfast fit for royalty in Joo Chiat
In this week's Makan Kakis, GOLD 905 DJ Denise Tan pampers herself like a queen with a delicious plate of Mei Wei's deep-fried goodness at the Poh Ho Restaurant coffeeshop.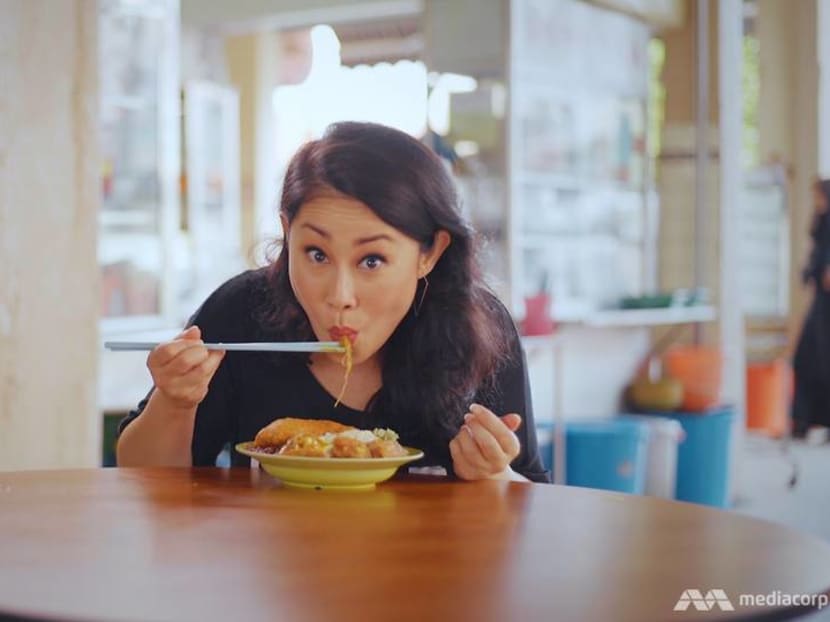 There's a saying that goes: "Eat breakfast like a king, lunch like a prince and dinner like a pauper." Bonus points if your first meal of the day gets the royal treatment without having to pay a king's ransom.
For a breakfast that's affordable, filling and offers up variety, economic bee hoon is an excellent choice. Its name is a Singaporean quirk – "economic" because we love efficiency and cost-effectiveness. And if you want an inexpensive fried noodle breakfast served fast, my Makan Kaki Lyn Lee of Awfully Chocolate and Sinpopo Brand recommends a stall located in a charming old coffeeshop called Poh Ho Restaurant on Crane Road.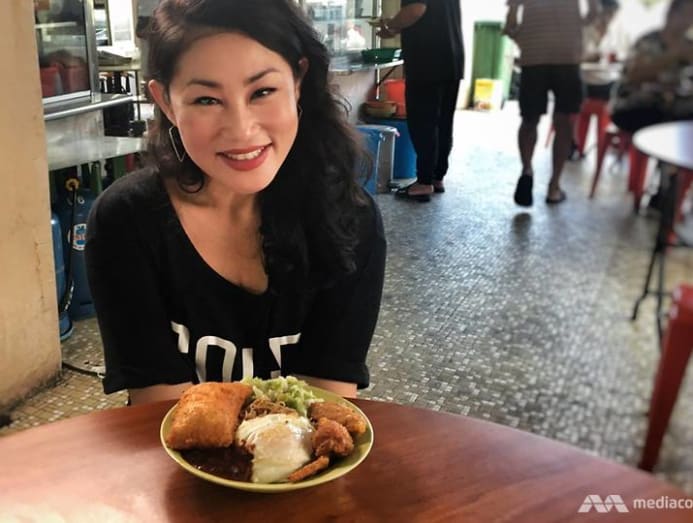 Its name, Mei Wei, means delicious in Mandarin, an apt description of the food there. I went for a plate of their signature fried bee hoon (fried mixed kway teow and yellow noodles or nasi lemak coconut rice are also available – all for S$1.20), along with a whole array of deep fried delights.
It took a lot out of me not to order everything from the extensively golden-brown menu. Tray upon tray of glistening luncheon meat, hot dog sausages, tau kwa (firm tofu) and sotong balls (all deep-fried and 50 cents each) beckoned. 
Wondering if I needed a cardiologist on-call, I finally pointed at a fried egg (50 cents), fried fish fillet (80 cents) and fried chicken wing (S$1), which was swiftly cut into pieces with a pair of sharp scissors. These sat on top of my bee hoon, along with a dollop of sambal chilli and a consolatory portion of stir-fried cabbage.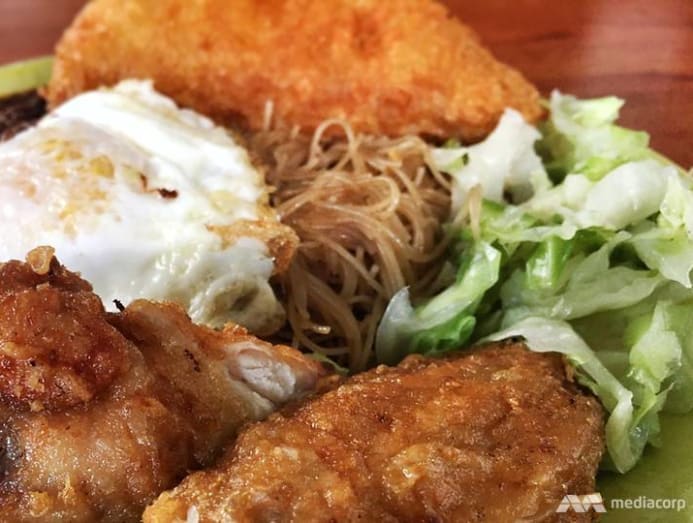 For the princely sum of S$3.50, this breakfast was already checking all the boxes. The mouthwatering aroma wafting from plate to nose was so palpable it felt like I'd already had an appetiser even before I was seated. Just one initial bite of food and I was slipping down a slick slide into the delicious kingdom of crisp, where I met its monarch.
Reigning supreme over the kitchen was 76-year-old Madam Ng Eng Neow, wielding a wok in one hand and her sceptre in the other. Okay, it was actually a very large ladle, but she cut a striking figure ruling over her sizzling pan of hot oil, rows of sauces, seasonings and ingredients.
Madam Ng tirelessly tossed bee hoon till it was a tasty shade of caramel before transferring it into a large insulated container with a lid. Chicken wings and fish fillets were dropped dramatically into the bubbling wok for burnishing, then arranged on metal display trays. She had been up and at it since 4am for the morning crowd, which starts gathering to pay homage from 7am.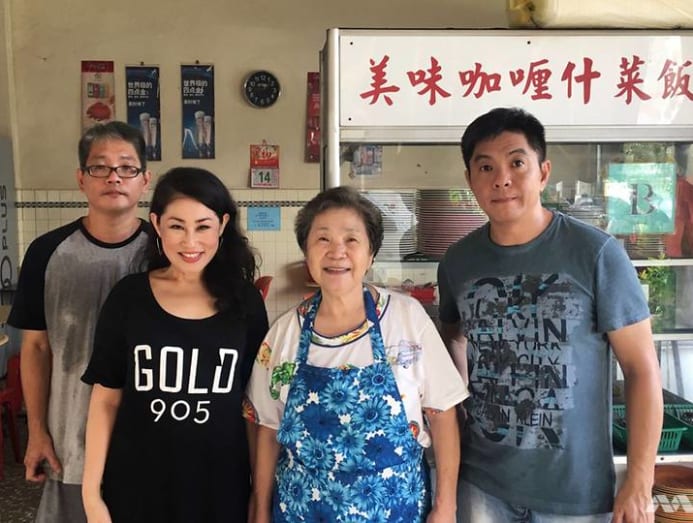 To ease her load, Madam Ng's sons Paul and David Liu have been indispensible to the family business, with Paul helping out in the kitchen at the back, while David mans the stall out front. As he stepped in to stir-fry vegetables, Paul told me he joined his mother and brother only six years ago, after leaving behind a job in student care to fufill the wish of his late father.
Their stall has been Crane Road for over 20 years, but before that, Madam Ng had honed her skills cooking and selling everything from char kway teow to chye tow kueh to laksa. "She even used to sell yong tau foo at a coffeeshop in Geylang Lorong 40," Paul said.
But when they moved into Poh Ho Restaurant, she decided to follow her heart and open an economic rice stall. Yup, they do double duty and stay open for lunch, selling a variety of cooked dishes with steamed rice. That certainly cleared up the mystery of why their signboard says "Mei Wei Curry Vegetable Rice" in Chinese characters – but more on that later. Back to breakfast.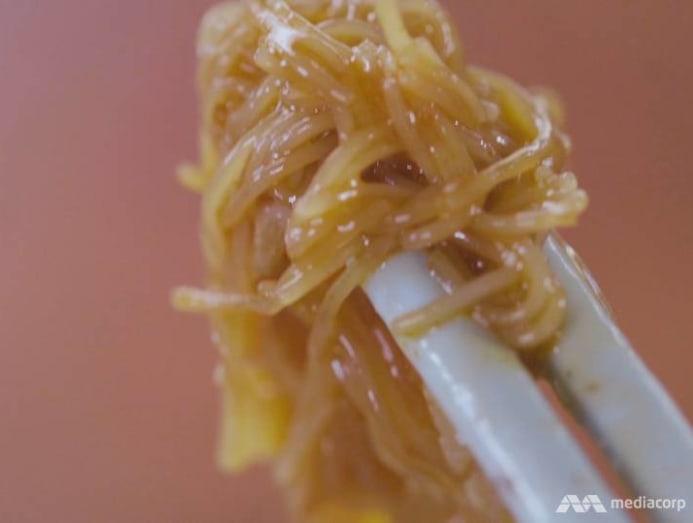 The bee hoon was very springy, fried till al dente so that a bit of bite remained. In spite of all the oil I had seen in the kitchen, it wasn't too greasy, and the savoury, earthy flavours came through nicely.
Seasoned perfectly with Madam Ng's trifecta of sauces (black sauce, soya sauce and oyster sauce), the bee hoon would make for a simple but tasty breakfast if eaten on its own. However, there were too many goodies on my plate for the bee hoon to go lonely. I tackled the fried egg first, poking it open with my chopsticks to release its runny yolk. Each strand of bee hoon that got coated in its golden glossiness was immediately made more luxurious and silky. Then there was the soft, tender egg white fried to lacy crispness on the edges. This was a dish of buildable textures and flavours.
The spicy sambal chilli livened things up significantly – I detected the sweetness of onion, the tang of lime and something deeply piquant. It was so good, I had to ask David what that special something was. Teasingly tight-lipped about their sambal recipe, he would only say that it wasn't made with belacan.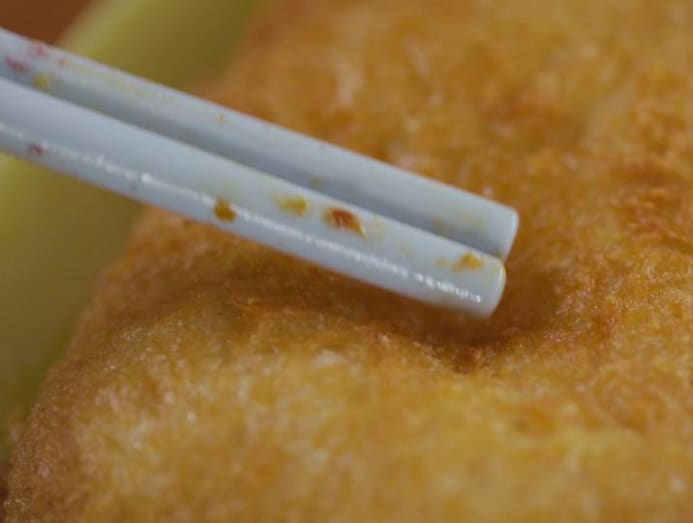 He also told me that the fish fillet, a glorious, golden puff containing a promise of the sea, was one of their most popular dishes. My first bite explained why. A wonderfully crunchy, battered exterior crumbled under my teeth to reveal a light and airy fish cake with a "QQ" (bouncy) texture. David told me that even though they get their fish fillets from a supplier, the secret lies in his mother's special batter. Madam Ng hand-dips each rectangle of fish before deep-frying for a homemade touch.
That personal attention to detail may be the reason why Mei Wei's food tasted better than average. It showed care and comfort that spoke of her years as a housewife and home cook. And although she has been in the food business since 1980, her culinary style hasn't strayed far from her own household. She shops and cooks much the same as mothers do, except on a larger scale, making sure her food is fresh for customers by cooking everything in small batches according to demand.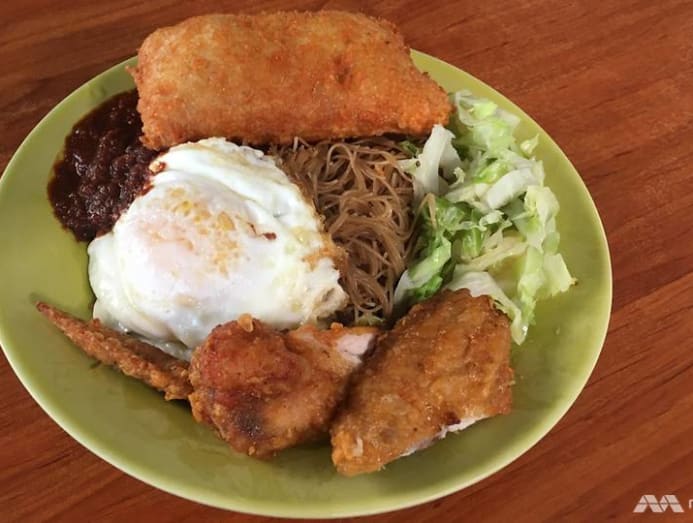 She does her marketing first thing every morning at the nearby Geylang Serai market, but is willing to go out of her way for good produce. "Fresh ingredients are more expensive, but you must be willing to pay for quality," Madam Ng explained. To her mind, fresh meant tasty and tasty meant happy customers.
She definitely walked the talk of freshness – to maintain their standards, they never reuse their oil; all of it gets thrown away each afternoon. That's why Madam Ng chooses to cook a fixed number of dishes every day. Once they're sold out, they close shop for the day.
Thank goodness then, I had arrived early enough to try the jewel in her crown – the best-selling deep-fried chicken wings. Fresh out of the wok, these were dangerously addictive, especially since these were in short supply. Madam Ng only makes about a hundred a day.
Chomping down on a juicy piece, I realised the kingdom of crisp was asserting its full power, launching a takeover of my taste buds, shaking my senses with crunchiness and lashing my tongue with complex, umami flavours that penetrated straight to the chicken bone.
Was it a stealth attack of prawn paste in Madam Ng's secret batter? I suspected the same fish fillet batter, with a few little tweaks, had been used for these crispy chicken wings. David, ever the Prince of Privacy, joked that if he told me, he would have to kill me.
That is, if a heart attack didn't do the job first. Because after gobbling up a plateful of fried everything, the combination of protein, carbs, sugar, salt and fat was starting to assert itself imperiously. It had been a meal to begin a hard day's work, but really, the only thing getting a workout was my digestion. It was only 9am, but I had to wave the white flag of surrender. I had officially been conquered by the queen of hearty and heart-stopping breakfasts.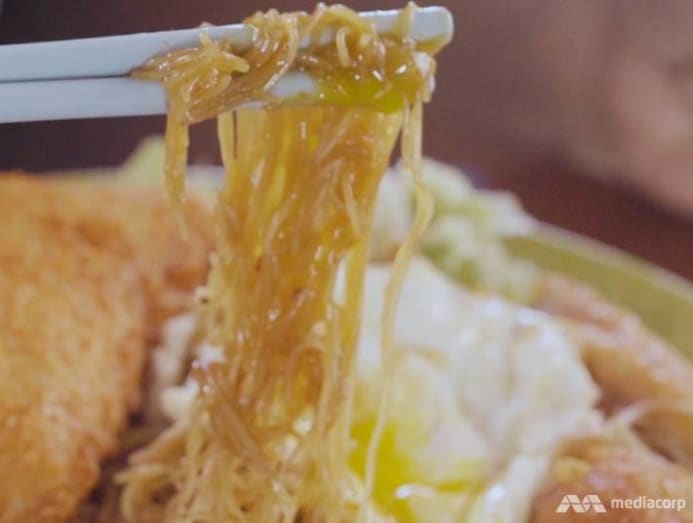 But because a ruler's work is never done, Madam Ng roused her regal self from a little snooze and started prepping for their lunchtime switch to economic rice stall.
The day's second menu included their popular whole fried fish, her home made yong tau foo and stir-fried long beans. Watching over her simmering pots of tau you bak (braised pork belly) and curry chicken, the indomitable matriarch told me, "I'm used to the work. I feel weird when I'm not cooking, so I don't intend to stop."
And that is how you hold culinary court for over two decades, serving up meals fit for a king or queen.
Mei Wei (Economic Bee Hoon and) Curry Vegetable Rice is located at 7 Crane Road, Singapore 429356, in Poh Ho Restaurant. It's open Tuesdays to Sundays, 6.30am to 4pm (or while stocks last). Closed on Mondays. Catch Makan Kakis with Denise Tan every Thursday from 11am on GOLD 905.