Best eats: Ultimate 'Indian fishball mee experience' in Toa Payoh
Makan Kakis is back! This week, GOLD 905 DJ Denise Tan visits a noodle stall that became a viral sensation – and finds out if cross-cultural Lina Fishball Noodle is worth the hype.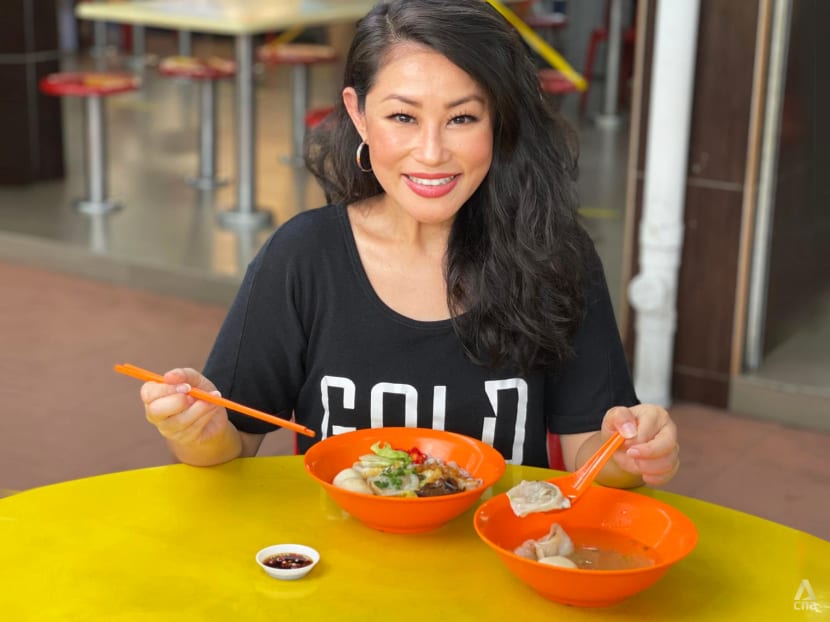 I'm always on the hunt for a satisfying bowl of fishball noodles, especially if it includes quality, handmade her giao (fish dumplings), which are notoriously hard to find.
Call it destiny, but it was the song Sunny by Boney M that brought me to one stall. For months, I had been playing on radio the requests of a couple who would text me on occasion from their workplace.
I was delighted to discover that they actually made and sold my favourite hawker food for a living. I was doubly delighted to realise that their stall was already on my "to-try" list.
In this week's Makan Kakis, GOLD 905 DJ Denise Tan visits Lina Fishball Noodle. It's become known for handmade her giao (fish dumplings) and the couple behind it: Jeevan and May Ananthan, whose marketing hashtag #TheIndianFishballMeeExperience got people curious.
Excellent taste in music and food aside, the owners of Lina Fishball Noodle had already created quite an online stir because these hawkers of traditional Chinese noodles are young, attractive and surprise-surprise, not Chinese.
Newlyweds May and Jeevan Ananthan are a couple who wear their mixed heritage with pride. She's in charge of business development and makes a mean fishball, while he's in charge of operations and does the main bulk of cooking.
But what does a young Indian man know about making bak chor mee and fishball noodles? Indeed, 30-year-old Jeevan, who looks more at home in a gym or the corporate world of trading and investments (his previous job), is the last person you'd expect to see in a Toa Payoh kopitiam, putting together your order of bak chor mee.
In the words of his equally youthful wife, May Leena (the stall is named for her, using her Mandarin appellation) Krishnan: "Our start really wasn't easy – we had to overcome a lot of odds to get where we are today."
Their newly opened stall was met with both curiosity and suspicion. "Nobody knew what was going on at first.  We also didn't know!" May laughed.
Lack of knowledge certainly didn't hinder the budding hawkerpreneurs from taking the plunge into an industry they had zero experience in.
Jeevan explained their motivation: "When we had our corporate jobs, we hardly saw each other. We wanted to start our own business to work together and thought, why not go into F&B? We only ever ate hawker food when we went out and after brainstorming, we decided on our common favourite, fishball mee."
And just like that, Lina Fishball Noodle was born. When they first started, they hired someone with experience to pass on some basic culinary skills, but after the first couple of weeks, May and Jeevan were on their own. For everything else they didn't know, they taught themselves from Internet videos and their own kitchen experiments.
"It was all trial and error. Make mistakes. That's fastest way to learn!" May revealed. She remembered their very first customer well, smiling as she recalled, "A Chinese lady on a gloomy morning was the daring one! She didn't know what hit her!"
Jeevan even tried snapping a picture on his phone to commemorate the occasion. "It was of her back, but I still have it somewhere," he laughed.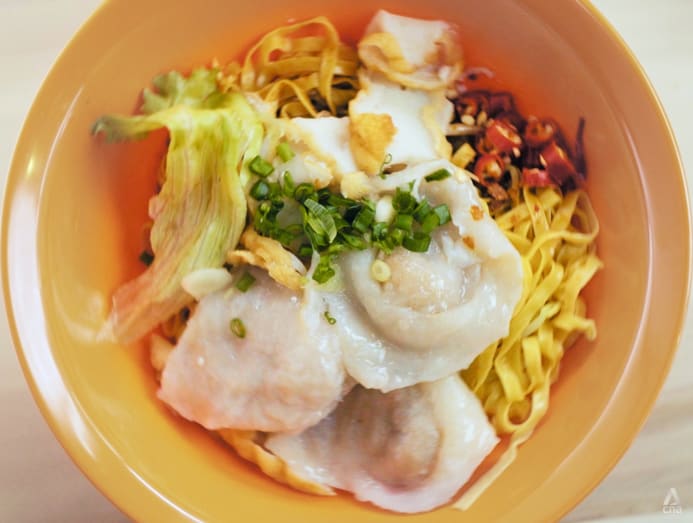 But on a more serious note, Jeevan stressed that listening closely to feedback from diners and constantly trying to improve their recipes and methods were what got them through those tough early days.
Their youthful gamble seemed to have paid off and, after almost two years and one move (just down the road from their original stall), Lina Fishball Noodle has gained a loyal and regular customer base, along with the expected gawkers, still surprised by the sight of Jeevan manning the stall.
May initially leveraged on that surprise factor and a video she posted on Instagram of Jeevan cooking his signature noodles went viral. 
Her digital marketing background in full play, May hashtagged the video #TheIndianFishballMeeExperience and with the subsequent online buzz came the media attention. It was exactly what they needed to give their business a boost.
But what about naysayers who think the couple are just getting by on their good looks and Internet fame?
"Come and try," was May's immediate reply. Jeevan added: "We've heard that before, but look, our food does the talking, not us. Just come, try and see if you want to come back or not."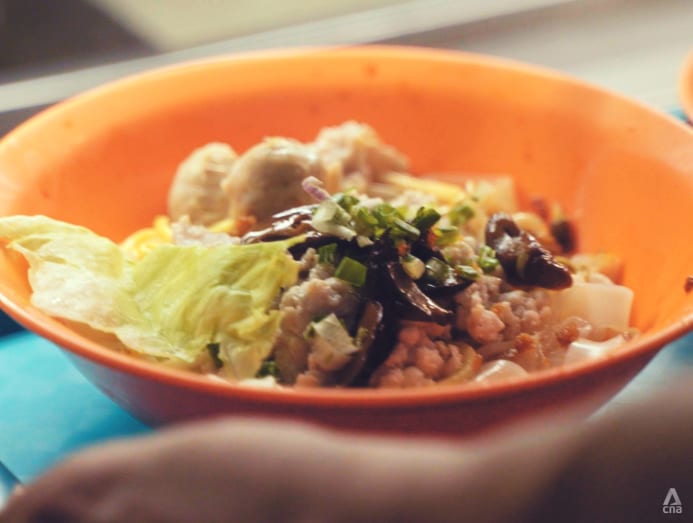 And that was exactly what I did. Lina Fishball Noodle's menu has remained the same since they opened in August 2019, featuring the four main options of fishball/fish dumpling soup, fishball noodle, mushroom minced meat noodle (all S$4 or S$5) and their signature noodle version (S$5 or S$7).
Going with their recommendation, I ordered the latter, which according to Jeevan, "has the best of everything in it".
Simply put, it was a perfectly balanced bowl of dry bak chor mee (minced meat noodles) with extras. Springy, al dente mee pok tossed with a flavourful sauce concocted from liquid lard, black vinegar and their own blend of chilli paste, studded with minced pork, sliced pork, braised shiitake mushrooms, two fishballs, one her giao, sliced fishcake, beansprouts, lettuce, spring onion and crispy lard.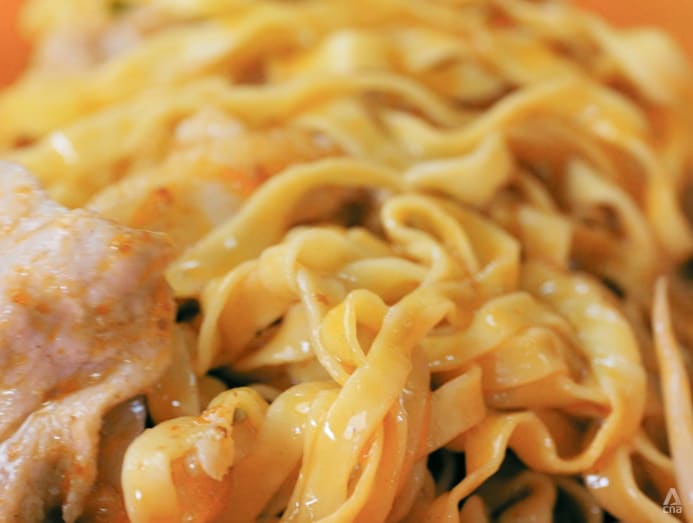 All the umami and savoury flavours came from their chilli paste alone. No added soya sauce or fish sauce necessary. Secret as their recipe was, Jeevan did reveal they used "the usual" red chillies, belacan (fermented, dried shrimp paste), hae bee (dried shrimps), "tweaked and calibrated it till the taste is just right".
The earthy tang of black vinegar blended well with the spiciness of the chilli paste and the fragrant, emollient liquid lard, which had just been freshly rendered from pure pork fat in a large wok.
"Our lard is as simple as you get. No magic seasonings, just fresh, quality ingredients," Jeevan added. For extra heat and flavour, the little side dish of sliced red chilli padi in light soya sauce came in handy. Also, it's not part of their standard recipe, but if you like ketchup with your noodles, they can add it in for you.
For me, it was an absolute no to ketchup, but a big yes to fish dumplings. I was really there for their handmade her giao, eager to see how Lina's matched up to classic favourites like Song Kee's at Yio Chu Kang Road and Soon Wah's at Newton Food Centre.
Besides, I needed more than the single dumpling in my bowl of noodles. So I ordered a full portion of mixed fishball and her giao soup, which was a great accompaniment to the dry mee pok.
I was happy to discover their her giao were comparably good to my favourites. The heft and girth of each fat little dumpling were promising signs of what was to come. The dumpling skin was delicate, with a pleasant chewiness that yielded pure fish flavour – a good indication that it wasn't just made from flour, but combined with fish paste.
I gleefully bit into a sizeable ball of minced pork and fish inside, intensified by umami tee po (dried flat fish). Neither too gooey or slimey, but smoothed in a glossy coat, each slippery her giao was a pleasure to eat both in taste and texture.
Affectionately called "UFO spaceships" by the couple because of their shape, Jeevan admitted that though they really loved to eat her giao, they didn't know how to make them at all and they initially made many costly mistakes.
"Our her giao skin is very delicate. And it took us about eight months to finally get it right," May elaborated.
Fishballs are also notoriously difficult to create. Traditionally, hand-scooped spheres of fish paste are thrown repeatedly from height on to a work surface to get the perfect shape and texture.
Theirs weren't handmade to begin with, but sourced from a supplier. However, May soon put an end to that, conducting her own R&D before perfecting their recipe and technique. The result was bouncy, dimply fishballs that were neither too mushy nor too firm. One bite brought a good snap and bouncy, fishy crunchiness.
Jeevan and May now make it a point to painstakingly make by hand all their fish products –  fishballs, fishcake and her giao – from fresh yellowtail. Once May had established all the base recipes and methods, they hired help and took over a central kitchen to produce in bulk. Now they are doing brisk business selling frozen packets of their meatballs, fishballs and her giao online and at their stall.
"We used to sell them for Chinese New Year then realised it's a good thing to have year-round because people do enjoy cooking for themselves at home," May explained. However, making everything by hand has been time- and labour-intensive, so even with extra helpers, the couple are now toying with the idea of using machinery to aid the process.
Some purists might baulk at the thought of machine-made her giao and fishballs, but the couple are confident of their products' quality even if they decide to automate.
"As long as the recipe is yours and you have control over that, whether you do it by hand or by machine won't make that much of a difference," said May. "People have this assumption that if it's machine-made, it's not traditional. But for our case, machines are just an aid and a better use of our resources, so we're exploring how we can transition into that."
That's just one thing possibly in the pipeline, as Jeevan continued to brim with ideas for their business – he's eager to open more Lina Fishball Noodle stalls across Singapore "to become your good ol' go-to neighbourhood bak chor mee" stall. May's fully supportive of those plans, but for now, wants to take things one day at a time and work with what they have first.
And what they have is an already delicious dish that was constantly evolving for the better. But there's one thing that won't change. I asked if they ever thought of melding Indian and Chinese flavours together to create a hybrid fishball mee and an emphatic "no" was the immediate response.
"We've been asked why we don't try adding curry powder. That's like desecrating the dish!" laughed May.
"Never, never, never! If we ever wanted to, we'd start a separate Indian food business. We've never been into fusion. It's not for us," insisted Jeevan.
"Not that there's anything wrong with it, but that's not really our passion. It's already so hard to find traditional Singaporean food these days," May continued.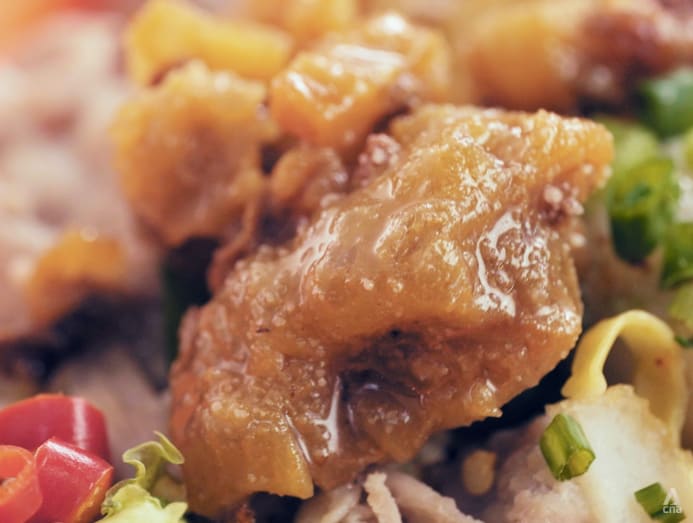 So for this young, ambitious couple, it's about carrying that torch for future generations and the main reason they went into the food business.
According to May, "Because we really believe in the quality of local traditional food, we really wanted to do our part and preserve it bit by bit. It doesn't matter that he's Indian making traditionally Chinese food. This is Singapore culture and cuisine."
Jeevan continued: "And we really love the multi-culturalism of the coffeeshop and hawker centre." May agreed: "We chose to keep it close to home, where you can be yourself, mix with people of different cultures, different races. There are just no airs here. That's what really drew us to this industry."
In their determination to preserve the taste and tradition of a beloved noodle dish, it's also wonderful to see their food transcending cultural borders. Catering mainly to Chinese residents in the area at first, May's spoken Mandarin (her mother is Chinese) came in handy.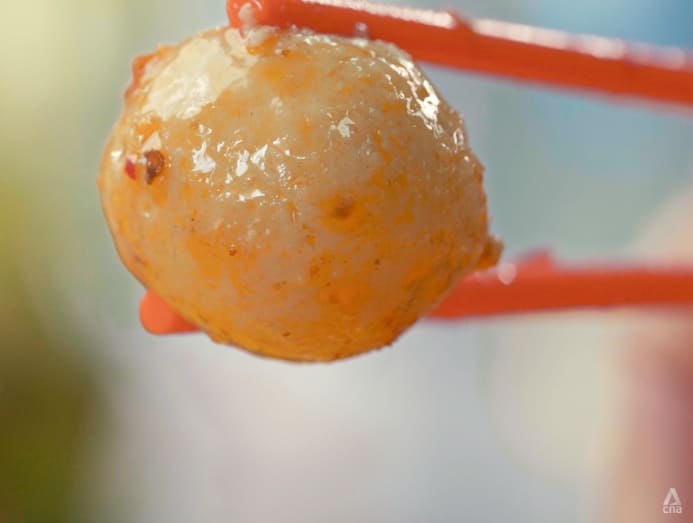 "It does help to gain customers' trust and once you get through that barrier, it's a lot easier to follow through. Now it's really lovely to see different cultures converging on this kopitiam for their noodles. People have remarked they've never seen such a big Indian customer base for a Chinese dish. I think that's really uniquely Singaporean and we're really proud of that," she said.
For Jeevan, the ultimate compliment a customer can give them is "seeing them back to eat again. They don't have to say anything. Just return, sit, enjoy, clear your bowl. That's the best feedback any food business can get. Repeat customers who bring their families and friends. Seeing them all eating gives us satisfaction".
No words necessary, but a nice thumbs up always makes their day too. I gave them two.
Jeevan and May are the new generation of hawkers determined to blow expectations out of the water, break down barriers and preserve our hawker heritage one fishball at a time. They might not be whom you expect to be selling bak chor mee, but rest assured they're not just all about style – they've got the substance to back it up. Their online fame may be what draws people to Lina Fishball Noodle, but it's the quality of the food that makes them stay.
Lina Fishball Noodle is located at Block 125, Lor 1 Toa Payoh, #01-523, Singapore 310125. It's open daily, 7.30am to 7.30pm. Catch Makan Kakis with Denise Tan every Thursday from 11am on GOLD 905.