Best eats: 'Heavenly' appam with spicy tomato chutney at Ghim Moh Market
CNA Lifestyle kicks off a brand new Makan Kakis series with GOLD 905 DJ Denise Tan to find the yummiest local food in Singapore. This week: Absolutely divine appam.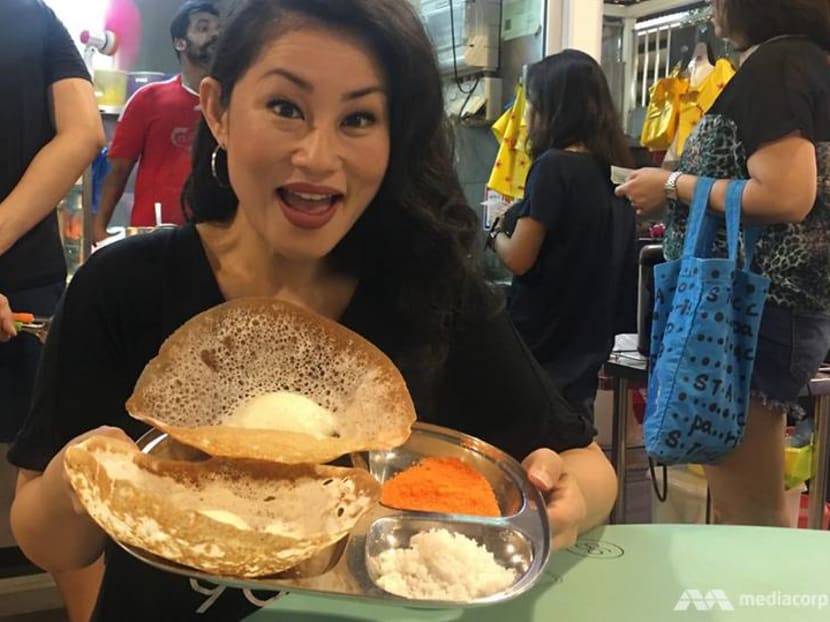 If you live in the West, chances are you're already familiar with Ghim Moh Market. It's a veritable treasure trove of all things delicious, including chwee kueh, Hokkien mee and roasted meats.
But there's one breakfast option that has come highly recommended by our GOLD 905 Makan Kaki, The Fabulous Baker Boy co-owner and chef Juwanda Hassim. He swears by the appam found at a stall called Heavens, which has garnered a steady following since it opened back in the '90s.
Appam may look deceptively simple, but these require the right timing and lots of talent to make; something Heavens' Madam Muthuletchmi Veerapan – or Madam Letchmi to regulars – and her son Suren have in spades as they showed us how to do it.
First, the batter has to be of the right consistency, so that one deft splash into the pan coats the sides with a thin layer that crisps up beautifully, while the remaining batter collects at the rounded bottom and cooks to fluffy perfection. Flavour-wise, there is a hint of sweet, rich coconut milk that cuts through the delightful zing from the fermented dough. 
The result is a light, tangy pancake that has lovely, paper-thin crisp edges and a pillowy centre that puffs up due to the fermentation at work.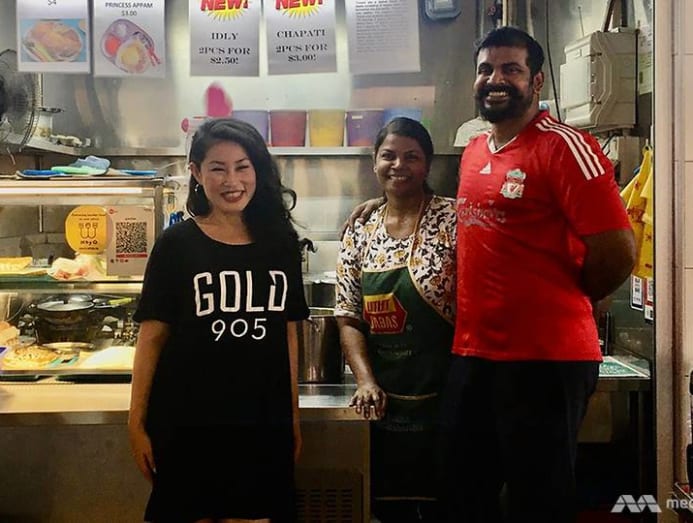 When paired with orange sugar and freshly grated coconut, you get a dish that is simple and comforting, yet complex in flavour.
Heavens' appam (S$2 for two pieces) is very savoury with a slight tang, while also offering different textures to enjoy – from its lacy-crisp edges to the steamy-spongy centre that is perfect for dipping into the sugar and coconut, for an added sweet and fragrantly creamy layer of taste.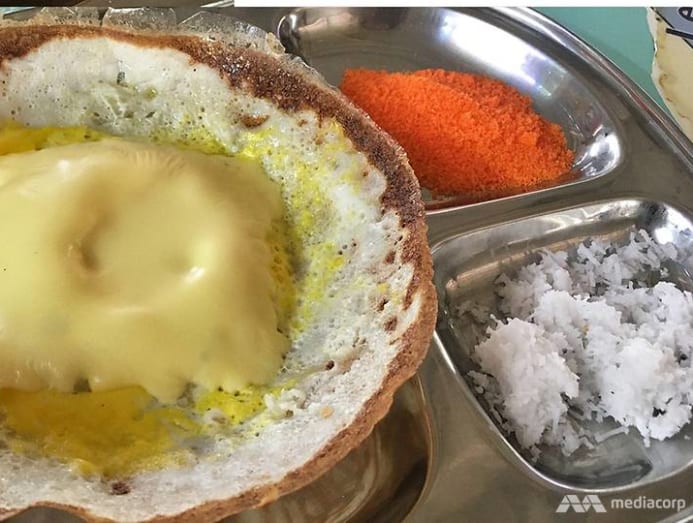 If you want a less traditional way of enjoying appam, there are more savoury options, such as cheese, egg and butter variants (S$2 per piece). Or you can have it all – the irresistibly decadent "Princess" appam (S$3 per piece) features melted cheese, butter and a fried egg to top it off – like a crown, hence the royal title.
Heavens' curries are the perfect accompaniments to the appam and on our recent visit, we had eager regulars fighting to tell us what to order and why they love having breakfast there.
"It's the best Appam you'll find in Singapore," one of them said. 
"I come here all the way from Serangoon to eat here once a week!" another chimed in. 
"You must have it with the dhal and the spicy tomato chutney! Taste and you'll see why," said a third.
We can confirm the dhal was light, flavourful and not too spicy, with generous chunks of potato along with the lentils. But the star, for us, was the chutney that had a robust flavour from the tomatoes, deepened with the richness of onions, dried red chillies and other spices. Taking it to another level was the char that came through, lending this sweet, savoury and spicy chutney a delightfully deep smokiness.
If you still have room after all that appam, their putu mayam (S$2 per two pieces), thosai (S$2 per two pieces) and thosai variations (S$2 to S$3 per piece) are popular, too. In fact, on the morning we visited, half of the customers ordered masala thosai (S$2.50 per piece).
Heavens certainly lives up to its name with food that tastes divine.

Catch Makan Kakis with Denise Tan every Thursday from 11am on GOLD 905. Heavens is located at 20 Ghim Moh Rd, #01-26, Singapore 270020. It's open from Tuesday to Sunday, 6am to 1pm. Closed on Mondays.