Best eats: There's authentic, handmade Hakka yong tau foo in the Little India area
In this week's Makan Kakis, Gold 905 DJ Denise Tan receives a nourishing bowl of soupy succour from the Chia family, whose yong tau foo at Syed Alwi Road features some delicious surprises.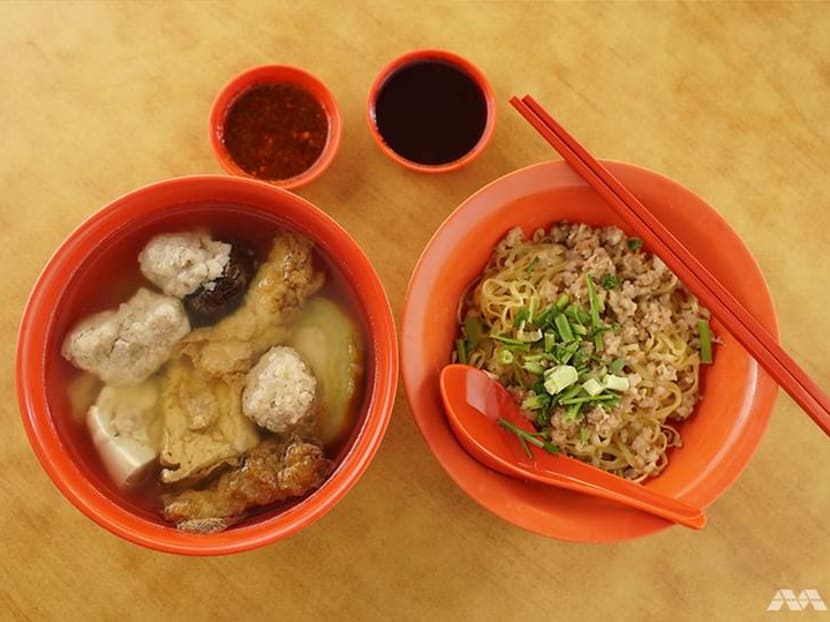 The last thing I expected to find in the Little India area was authentic, hand-made Hakka delicacies. But following a hot tip from my Makan Kaki Lyn Lee of Awfully Chocolate and Sinpopo Brand, I went looking for a stall that's been run by one family for more than three decades, located in a coffee shop along Syed Alwi Road.
One of two side-by-side stalls run by the Chia family, customers have been flocking there for a taste of authentic Hakka yong tau foo since 1984. I met Mr Chia Teck Kwang who was busy serving up his few remaining bowls to straggling lunchtime customers. It was a little past 2pm and I was thankful he had enough for my maiden taste of his famed dish.
In this week's Makan Kakis, Gold 905 DJ Denise Tan receives a nourishing bowl of soupy succour from the Chia family, whose yong tau foo at Syed Alwi Road features some delicious surprises.
There are several variants of yong tau foo in Singapore, a dish of predominantly tofu-based ingredients stuffed with meat or fish paste, ranging from the dry to the saucy to the soupy. The proudly Hakka Chia family celebrate their heritage by serving the lattermost version, in a nod to the Motherland.
According to Mr Chia and evident in the Chinese characters depicting the name of the stall, his ancestors came to Singapore from Dapu. A county in the eastern Guangdong Province of China, it is considered by many to be the very heart of Hakka culture.
First started by Mr Chia's late father, who was still making yong tau foo up to the ripe old age of 91, the business has operated out of their current coffee shop for over 20 years. Mr Chia told me that together with their father, his four brothers and two sisters have always sold their yong tau foo in and around the same area.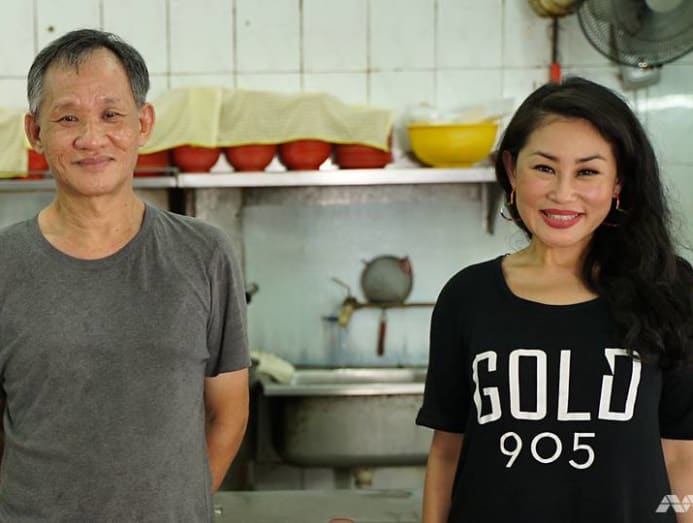 Quite the chatty, gregarious character, he encouraged me to have more drinks while I waited for him to prepare my S$3 set of yong tau foo in soup, with an accompanying side of dry minced meat noodles (S$4 and S$5 sets also available).
"It's all family here. My siblings help out in the food business and my cousin runs the drinks stall!" he shared in Mandarin. Housed within the same coffee shop was their other stall selling beef ball noodles (which also comes highly recommended) and an economical rice stall ("not related to us!"). I made a mental note to return for both on a later date and realised that Mr Chia had already placed two bowls before me on the table.
One was chock-a-block with stuffed tofu ingredients and other goodies, submerged in steaming broth. The other contained an attractive pile of glistening noodles topped with minced meat and herby green garnish. 
Deciding to let the soup cool, I dove into the noodles first, giving them a quick toss. The sauce was fragrant with lard and the perfectly al dente noodles were like a cross between thin mee kia and thick, flat mee pok (egg noodles).
"These are Hakka noodles. Very hard to find! Only one or two factories make these in Singapore. We get ours specially made," Mr Chia was quick to point out.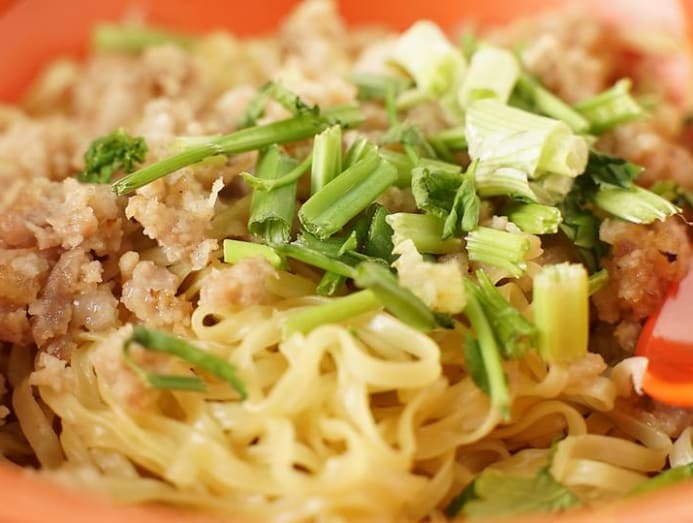 The springy, twisty noodles were lovely and firm to the bite, with lots of little sauce-catching kinks to deliver maximum flavour. The minced pork topping was well-seasoned and just fatty enough to give it moist tenderness.
More than tasty on their own, the noodles came alive with the addition of Mr Chia's spicy, homemade chilli sauce, which was an absolute flavour bomb. He informed me that they fried up a batch every fortnight, using chilli, garlic and hae bee (dried shrimp).
Then, referring to the yong tau foo, he said: "We make everything using quality ingredients. Our suppliers make their deliveries from 1am every morning and we start making it from 2am. It's hard work to hand-make each piece, so we can only serve a limited number. Nothing is kept overnight because we make fresh daily."
I took this to mean I was very lucky to have bagged one of his precious last servings and dutifully picked up the first thing I saw in the bowl.
It was unlike anything else I'd encountered at other yong tau foo stalls. A dark grey lump sitting on a paler grey clump, I confess it wasn't the prettiest of things to eat. However, one bite put to bed my initial reservations.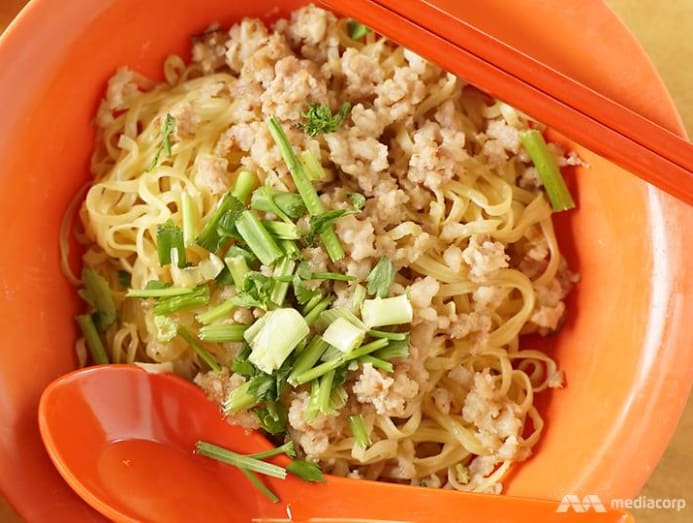 A hit of brine gave way to gloriously soft, unctuous meat. It was an oyster meatball, featuring a plump Korean oyster snuggled in a jacket made from a mixture of minced pork, fish paste and salted fish. The distinctive oyster flavour brought out the umami of the salted fish in meatball beautifully. Sadly, there was only one in the bowl and all too quickly, it was gone.
I asked Mr Chia if customers had the option to choose their ingredients like many typical buffet-style yong tao foo stalls. "Each bowl is standard. Sorry, no choice," he said firmly, but with a smile. Understandable, given their limited, hand-made quantities. So I decided to take inventory of the remaining contents of my bowl.
All the familiar stuffed tofu favourites were there, along with a few other delicious surprises. From what I could see, there were two kinds of stuffing for the variety of yong tau foo. One was the abovementioned minced meat and fish paste mixture, with the vital salted fish for added fragrance and flavour. The other was a painstakingly made-from-scratch fish paste.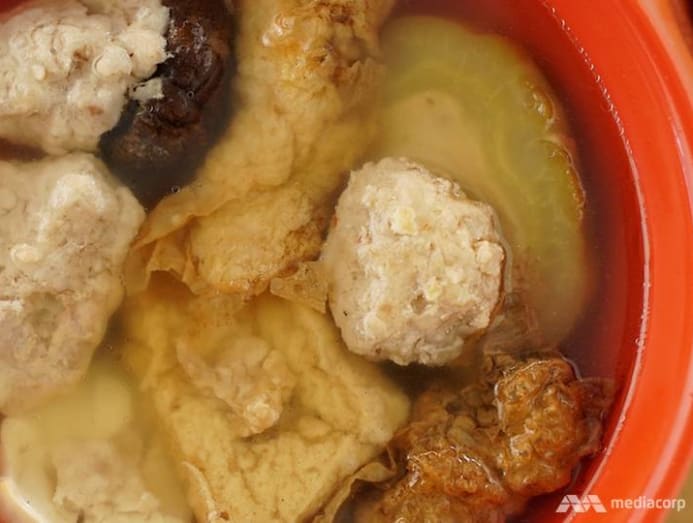 In the bowl, I found an irregularly shaped, yet bouncy fishball, bearing the mark of having been hand-shaped. Next came a fat roll of beancurd skin stuffed with the fish paste then deep fried, while a ring of filled bittergourd drifted like a green lifesaver in the soupy pool. 
Granted, the melon's acquired taste can be quite off-putting, but not for this writer. Its bitter punch was soothed by a tender crunch and savoury sea-taste of the fish paste.
The rest of the ingredients – fried tau kwa (firm tofu), silken tofu, a crispy fried dumpling and a shiitake mushroom – were filled with the pork and fish mixture. 
Rounding off the delightfully crowded bowl was a meatball and ngoh hiang (fried beancurd skin roll stuffed with five-spiced meat). I appreciated that Mr Chia had only popped the deep-fried goodies in at the very end, so they didn't get too soggy and still retained a little texture.
I was particularly enamoured by the stuffed shiitake, which I lovingly dubbed "Mount Mushroom", on account of the large, meaty mound resting on its disproportionately tiny fungus float. The shiitake was voluptuous and firm, releasing its earthy juices to mingle with the meltingly soft pork and fish meatball.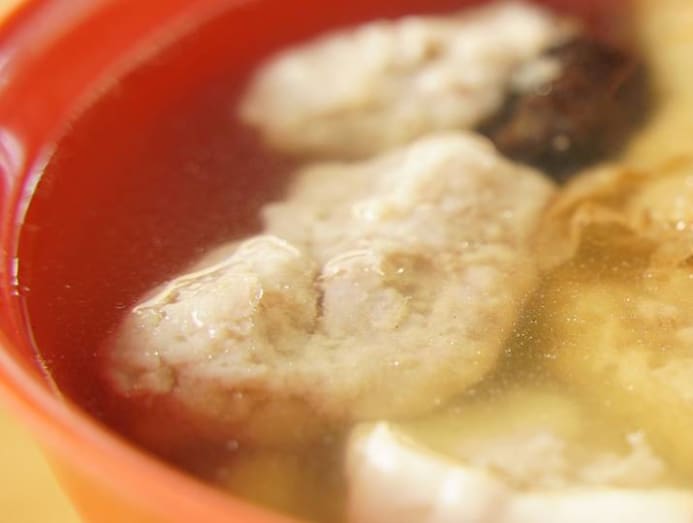 From the different types of beancurd products used, the soybean theme was very prominent in the entire dish, right down to even the soup. Like sunken treasure, a very generous cluster of soybeans congregated at the bottom of the bowl, whispering the secrets of their soupy environment.
Mr Chia confirmed the stock was made from lots of fresh soybeans, which when bitten into, added a certain sweet, creamy robustness to the otherwise light, clear soup. To enhance its naturally sweet and savoury flavour profile, he also used salt, rock sugar and the most surprising ingredient of all, "fishball water".
"It's the water we soak our fishballs in after they are made," he explained helpfully, noticing my blank look. "We don't use MSG."
I was impressed. I would never have guessed their clever, zero-waste ingredient was the source of the fulsome but not overpowering seafood flavour of the soup. Particularly proud of the fact, Mr Chia stressed again that they do not use any MSG at all in their fresh and delicate yong tau foo.
There really wasn't any need for the artificial flavour enhancer, not when the natural flavours of the soup and ingredients were allowed to take centre stage.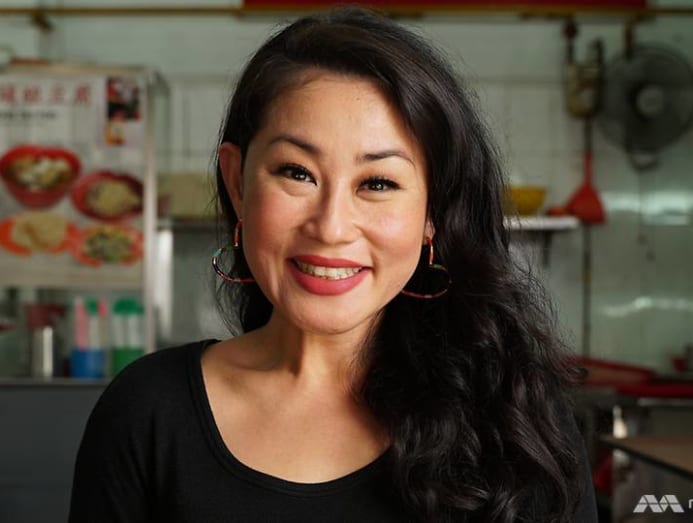 But for those in need of some extra oomph in the taste department, that's where the homemade chilli sauce came in handy yet again. Along with the ubiquitous hoisin-esque sweet sauce (which they buy ready-made, then tweak), you've got a meal that covers all bases – sweet, salty, tangy and bitter; carbs, meat, seafood and vegetables, along with a wholesome soup to wash it all down.
If you were wondering about the stall's name, its signboard simply reads "Hakka Yong Tau Foo" in English, a reflection of the Chia family's approach to their heirloom dish.
Their yong tau foo doesn't need bells and whistles. It works because of its sheer simplicity. Clean, but not bland; simple, but not without effort. The hard work that goes into each handmade element speaks volumes (without shouting) of this family's history and commitment to making consistently good food for their customers. And there are many.
Mr Chia revealed that before the circuit breaker, he could sell 400 bowls of yong tau foo on weekends, because more families were out and about. Even so, these days, the yong tau foo is usually sold out by 11am, just three hours after they open for business.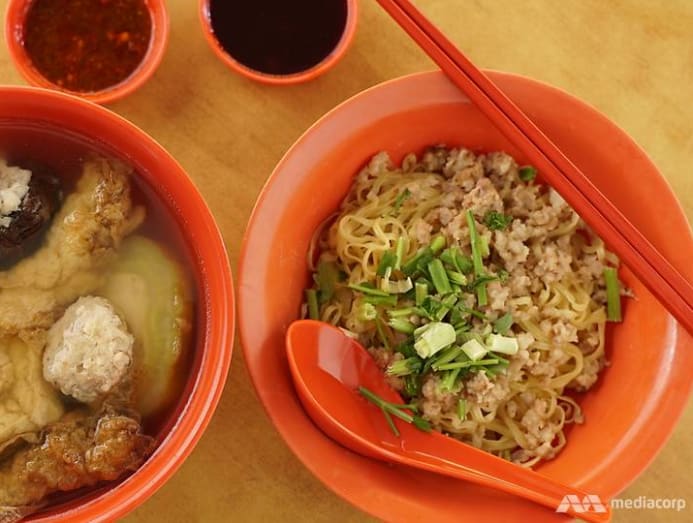 But that's not all on their menu. Customers also love the Chia family's other authentic Hakka delicacies like suan pan zi (or abacus seeds, because of their resemblance to the real thing, for S$3), which are hand-shaped yam dumplings stir-fried with dried shrimp, black fungus, minced mushroom and pork. 
Mr Chia also generously insisted that I take his gift of soon kueh (steamed bamboo shoot dumplings made from yam and tapioca flour, S$1 each) home to try. They were good even when eaten cold.
Between running the two stalls, along with hand-making the soon kueh and abacus seeds, Mr Chia seemed to do it all with single-minded dedication and much aplomb. But he wasn't doing it all alone – the back kitchen was a hive of activity, hiding the support of his camera-shy family.
Speaking of which, I'm part Hakka on my mother's side of the family but, regretfully, have never really connected to that part of my heritage. 
It sounds trite but truly, after my satisfying yong tau foo meal, I felt a little closer to home thanks to the Chia family, who tirelessly continue to keep their Hakka food culture alive, providing soupy succour to those in need of home comforts, one nourishing bowl at a time.
Hakka Yong Tau Foo is located at Gar Lok Eating House, 217 Syed Alwi Rd, Singapore 207776. It's open from 8am to 5pm, Saturdays to Thursdays (closed on Fridays).
Catch Makan Kakis with Denise Tan every Thursday from 11am on GOLD 905.