Best eats: Our Hokkien mee picks in Singapore – with crunchy lard, fiery sambal
In this week's installment of Makan Kakis' "national dish" mini-series, GOLD 905 DJ Denise Tan visits Toa Payoh and Whampoa and discovers two places that pack in the flavour.
Our celebration of the top local eats as voted by Gold 905 listeners continues with that quintessential noodle dish – fried Hokkien prawn mee.
A rich stock made from prawns and pork is the key to the making of a great plate of Hokkien mee, wok-fried with a mix of seafood, meat, and yellow and rice noodles. 
Personal preferences run the gamut – some prefer a wetter consistency, some expect lots of wok hei (breath of the wok), while others think a good chilli sauce is essential. But everything pivots around that delicious saucy stew the noodles are sauteed in.
While there are several Southeast Asian versions, this variety has its roots firmly in China's Fujian (Hokkien) cuisine, before reaching its evolutionary peak in Singapore, thanks to the culinary resourcefulness of early settlers.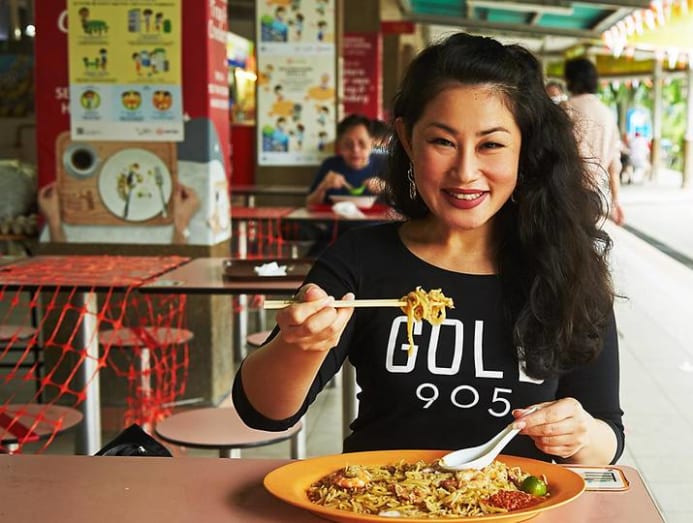 Before it got its current name, it was known as Rochor mee for the stretch of road where the dish was first created and sold by Chinese immigrants from the Fujian province.
One origin story mentions Chinese sailors who congregated along Rochor Road and thriftily used excess noodles from factories in the area to create the dish using flavours from home.
Though this romantic historical account can't be verified, most won't dispute that Rochor Road was synonymous with the early days of Hokkien mee. 
Such noodle stalls are now found all across the island, though only a few really stand out. Thanks to recommendations from Gold 905 listeners, I checked out two popular stalls. One brought the fat, one brought the fire, but both absolutely brought the flavour.
COME DAILY FRIED HOKKIEN PRAWN MEE
A literal translation of its Mandarin name (Tian Tian Lai), this famous Toa Payoh stall unabashedly ups the fat factor of their signature Hokkien mee with lashings of lard – crispy, crunchy cubes of pure pork fat.  
Loyal customers also rave about the exceptional gravy, which engulfs the noodles in a deluge of deliciousness.
If you like your Hokkien mee on the wetter side, you'll love Come Daily's, which was a delightfully sloppy mess, swimming in a runny, viscous pool of gravy that was thick with egg and other tasty little morsels.
One taste and I understood why customers return in droves. It was all in that glossy, deeply umami sauce. Time had been taken to allow pork bones, prawn heads, shells and other secret goodies to stew together, for maximum extraction of sweet, briny, meaty flavour.
Indeed, Come Daily's master stock and Hokkien mee has been more than five decades in the making. I met Jason Huang, the third generation chef in this family business, who explained that their stall was first set up in 1968 by his grandfather, who then passed his skills on to Jason's father, Steven Ng.
Ng is currently the main chef, lording over his hot wok with his mad mee-frying skills. Jason's mother Jessie Teo helps with taking and serving orders. Loyal Toa Payoh-ians, they've always plied their trade in this beloved part of Singapore.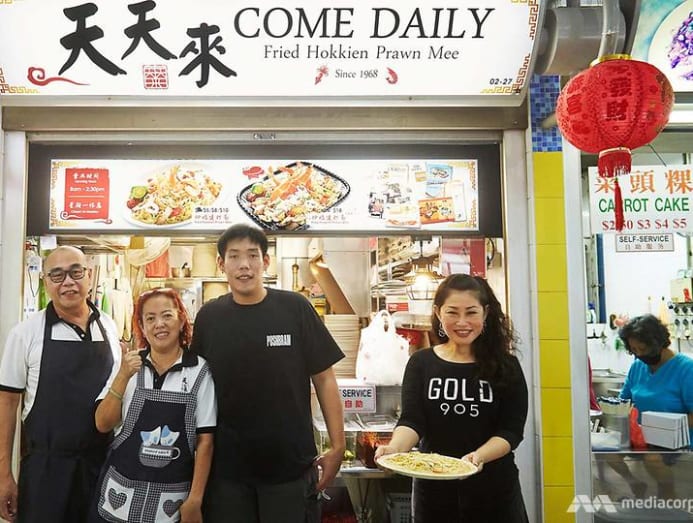 "You can still see where my grandfather's stall used to be," Jason told me, pointing to the field downstairs, clearly visible from their stall on the second floor of Toa Payoh West Market and Food Centre. 
It struck me that the Ng family literally had a clear vision of where they had come from, which fuels what they're doing now, and with Jason's contributions, where they're headed in the future. 
"Actually, my dad and I take turns to fry the Hokkien mee, but during the circuit breaker I had to focus more on organising all the deliveries, as he's not as familiar with that side of the business," Jason added.
Certainly, his agility with online orders and deliveries kept their customers well-fed even through Singapore's phase of stay-home measures. He's the digital-and-tech chef who will continue to take Come Daily into the next generation.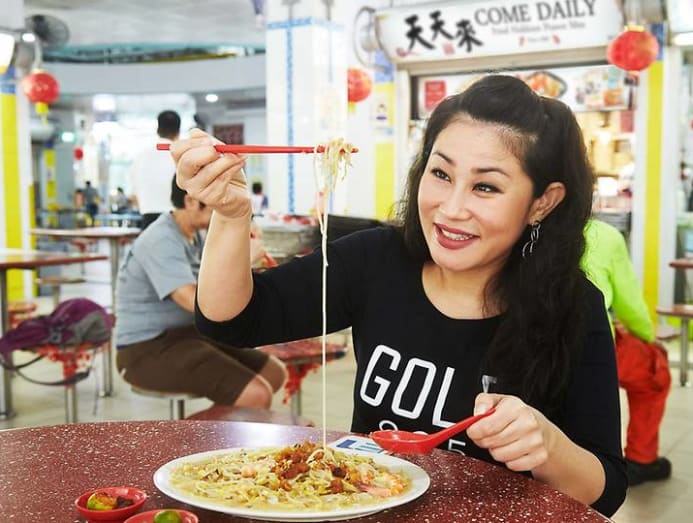 Facebook? Check. Instagram? Check. To top off their impressive operation, they even have a pager system for crowd control. And believe me, they need it. 
At 8am, several customers were already patiently waiting for their orders to be prepared. I grabbed a buzzer that looked like a hockey puck emblazoned with their branding and settled down for the wait. 
Twenty minutes later, olfactory senses buzzing as vigorously as the pager, I finally collected my freshly-fried plate of Hokkien mee.
At S$8 for a medium-sized order (also available in S$5, S$10 and S$18 portions), the large oval platter was almost overflowing with saucy yellow noodles and thick rice vermicelli, which had completely drunk in all those lip-smacking flavours, without becoming mushy.
The gravy was robust and rich, with the flavours of prawn and pork playing prominently on the palate. Allowed plenty of time to naturally thicken and develop in the wok, there was lots of texture in the sauce, including beansprouts and tiny, tender gobbets of pork disintegrating into the eggy voluptuousness.
A scattering of bouncy squid, pork slivers and fresh prawns echoed the gravy's glorious surf-and-turf essence. The prawns were particularly surprising – they looked small and ordinary, but turned out to be really juicy and crunchy, with good snap and natural sweetness. Usually overcooked and chalky, these tail-on, de-shelled crustaceans were a reflection of Mr Ng's expert wok-handling skills.
Their deep red chilli paste – spicy with the salty-sweet funk of hae bee (dried shrimp) – and a squeeze of zingy calamansi lime, piled on even more layers of flavour. 
But the piece de resistance came in the form of an eye-popping, heart-stopping pile of crispy lard chunks. These were clearly homemade, rustic little jewels of pork fat that had been lovingly deep-fried to the very edge of being burnt, though not quite.
Their charred crispiness was a masterstroke in adding smoke to the gentle wok hei of the Hokkien mee. Each golden-brown lard bit had a crunchy-thin shell that melted in the mouth, releasing a luxurious rush of porky flavour to the sauce-slicked noodles.
Honestly though, Come Daily's Hokkien mee was so well-balanced, that it could have been eaten entirely on its own, without those extra condiments. And that is the true mark of a really superior sauce. 
Paler than my usual preference, I had thought it might turn out to be bland. But one spoonful and the surge of flavour completely flooded my senses.
So don't be fooled by its appearance. The proof was in the eating and this was one Hokkien mee that lived up to its name. With their heaped servings of crispy lard and flavour-packed gravy, Come Daily Fried Hokkien Prawn Mee will make you want to do just that. Three slurps to a decadent noodle treat you'll crave to eat every day.
Located at Blk 127, Lorong 1 Toa Payoh, #02-27, Singapore 310127. Opening hours from 8am to 2.30pm (closed on Mondays). To pre-order take-away, call 9671 7071.
SINGAPORE FRIED HOKKIEN MEE
For a different but no less delicious Hokkien mee experience, this Whampoa institution brings the fire, in both their superb sambal chilli and their feisty cook, who wasn't too pleased I had stuck my head in her kitchen to make my order.
Unusually, orders are taken by someone perched on a stepped platform round the corner from the storefront. I had unwittingly jumped the (unseen) queue by ordering from the wrong side of the stall. Another customer had to talk me through their system before I realised there already were several people ahead of me.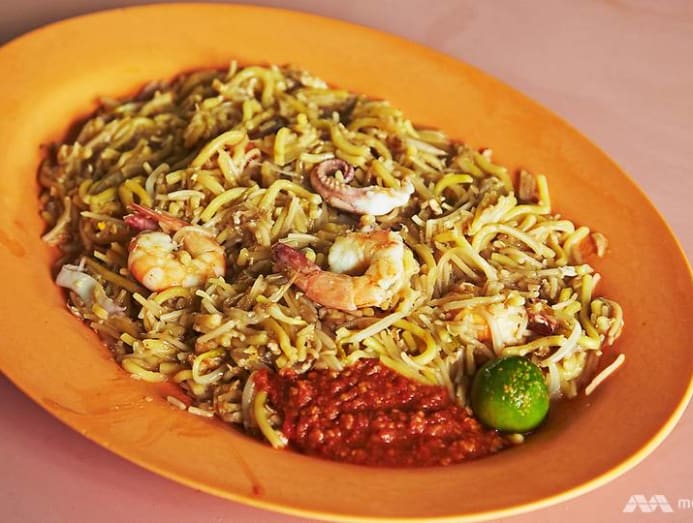 Order finally restored, I sheepishly slunk away to wait for my noodles, observing that there always seemed to be a steady stream of three to four customers placing their orders. And the stall had only been open for 15 minutes! 
I could only imagine what the crowds would be like at dinner and supper time. Late-night eaters, rejoice: Singapore Fried Hokkien Mee opens till 1.30am.
A huge platter of fragrant noodles, enough for four to share, cost just S$8 (also available in S$4, S$5, S$6, S$10 and S$15 portions). This Hokkien mee looked to be of a less soupy, more creamy consistency. 
As time ticked on, the sauce and noodles started to meld seamlessly into one cohesive mass. Small prawns, squid tentacles and bean sprouts swam in the saturated ooze that seemed to hover in a state between wet and dry. 
In this state, chopsticks were completely redundant. The absorbent noodles, having reached critical sauce capacity, were tender and moist enough to be eaten with just a spoon.
Dotted by tiny bits of char from the wok, the Hokkien mee had an attractively deep hue, almost as if it had been branded by a screamingly hot wok. 
In fact, I had smelled it even before I located the stall. Wafting through the air was the thick, almost palpable aroma of smoky frying, mingled with the enticing pungency of treasures from the sea. Was it fish sauce? Was it belachan (fermented, toasted shrimp paste)? Whatever it was, my mouth was watering.
As they say, where there's smoke, there's also fire. This was perfectly encapsulated by their tongue-tingling chilli sauce. It looked really appetising – a bright vermillion sambal, loose and chunky with belachan, red chillies and calamansi lime. It tasted as good as it looked, flavour after flavour pinging through my mouth.
Pungent, salty belachan brought a boatload of umami, chilli padi brought a powerful burn, calamansi limes brought a refreshing brightness. 
The searing stuff was addictive and had me diving back in for more. Each spoonful of Hokkien mee got more and more intense, more and more flavourful when slathered with that killer sambal belachan.
Singapore Fried Hokkien Mee started off as just another plate of tasty noodles, until paired with dollops of their chilli sauce. The dish was absolutely transformed from decent to extraordinary by its star condiment. That sambal belachan alone is worth paying this stall a visit.
Located at Whampoa Makan Place, 90 Whampoa Drive, #01-32, Singapore 320090. Opening hours from 3.30pm to 1.30am (Mondays to Fridays, closed on Thursdays) and 2pm to 1.30am (Saturdays and Sundays).
Catch Makan Kakis with Denise Tan every Thursday from 11am on GOLD 905.