Best eats: These UFO-shaped Fuzhou oyster cakes in Jalan Besar are out of this world
Gold 905 DJ and Makan Kakis foodie Denise Tan finds out why Fu Zhou Poh Hwa Oyster Cake has seen business skyrocket because of their flying saucer-like fried snacks.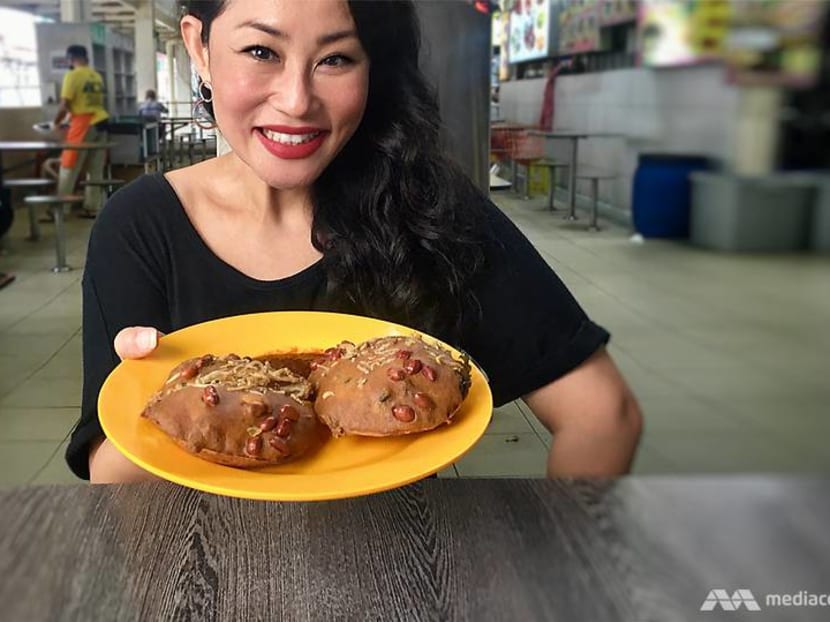 Space: The final frontier. This is the voyage of my appetite. The mission: To explore strange new foods, to seek out new flavours and new places, to boldly go where no stomach has gone before.
Glutton's log: Following a tip-off from my Makan Kaki, Chef Anthony Yeoh of Summer Hill French Bistro, contact was finally made with target. Something previously never seen or heard of before. Something deep-fried, savoury and shaped like a flying saucer.
Gold 905 DJ and Makan Kakis foodie Denise Tan finds out why Fu Zhou Poh Hwa Oyster Cake has seen business skyrocket because of their flying saucer-like fried snacks.
With apologies to Captain Kirk and the crew of the Starship Enterprise, that marked the beginning of my culinary adventure into the heart of Jalan Besar. There at Berseh Food Centre, I made a delicious discovery – Fuzhou oyster cakes. A traditional snack brought to Singapore from the capital of China's Fujian province, Chef Anthony described them as a Chinese version of French beignets or Indian vadai.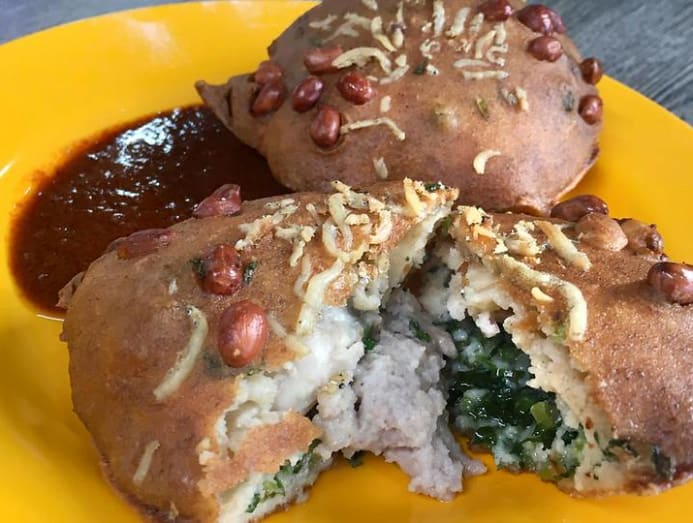 Imagine edible pastry pockets stuffed with tasty little treasures of minced pork, prawn, Chinese celery, and yes, oysters. At Fu Zhou Poh Hwa Oyster Cake, crispy peanuts and whitebait garnished each puffy golden disc, which was eaten with a zingy chilli sauce.
According to owner Madam Ong Poh Hwa, her eponymous stall was set up in memory of her grandmother, whom she grew up helping at a back street stall near Bugis in the 1950s.
"My grandmother came from Fuzhou to Singapore, bringing the recipe with her," she shared, in Mandarin. "From the time I was a baby, I was always by her side, watching and learning. By the age of 12, I was already selling oyster cakes with her near Queen's Street."
However, when her grandmother's house was destroyed in a fire in 1970, the business was put on hold and for a long time, they didn't return to the trade. 
But after much cajoling from neighbours who missed the taste of their oyster cakes, Poh Hwa decided to use the skills inherited from grandma and set up her own stall in 1986 at Sam Leong Road.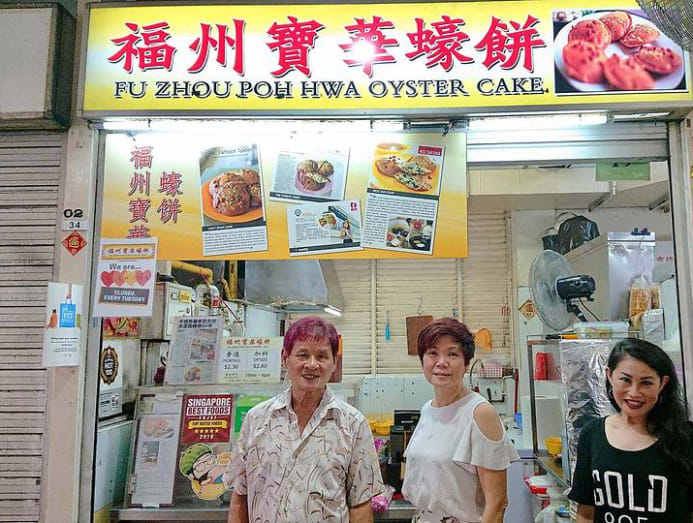 "I wanted to preserve my grandmother's craft but was advised to name the stall after myself. That's called branding right?" Poh Hwa said, with a smile.
When rentals increased, she moved and started over at Berseh Food Centre. It's been six years now at their current location and business has picked up considerably by word-of-mouth.
They now see a steady stream of customers all through the day, which means breaks are rare. Each oyster cake has to be painstakingly put together in a special ladle and gently deep-fried in what looks to be a very time-consuming process.
Poh Hwa agreed: "It's very hard work, but it's okay because when customers tell me how much they enjoy my food, I have a real sense of accomplishment and satisfaction. From a few customers bringing more customers, that's how my business gained momentum."
On an average day, a whopping 300 oyster cakes might get sold, so it's no wonder Poh Hwa has roped in the help of her family to cope with the brisk sales.
Her husband, Tan Hock Teck, is at the stall early every day to start with prep, before Poh Hwa arrives at 10am, after a hectic morning of looking after her grandchildren.
The 65-year-old Mr Tan said: "On the weekends, we are so busy that we get no rest at all. We're on our feet all day! That's why our children finally convinced us to take one day off per week."
It boggled my mind that this was a decision made only after more than three decades in the business, a firm testament to their unquenchable work ethic.
From 10am to 6pm, six days a week, Poh Hwa and her husband (along with occasional help from relatives) are stationed at their stall, ready to create oyster cakes ala minute. The snacks are made-to-order in small batches, which accounts for the queues.
When things get especially hectic, their convenient portable pager system kicks in for customers. However, the wait is well worth it, once you sink your teeth into an oyster cake fresh from the wok.
These crispy-on-the-outside, fluffy-on-the-inside snacks were irresistibly moreish and generously protein-packed. Each "normal" oyster cake cost S$2.30 and consisted of an oyster, a prawn, an ample ball of minced pork and Chinese celery. The "upsize" version cost S$2.80 each and came with double the ingredients. Of course I went for the latter.
Each oyster cake was allowed to drain for just a few moments on the wire rack in the display window, to shed their excess coats of grease. This also allowed for all the juices within to redistribute evenly, resulting in snacks that weren't too oily, yet still enticingly succulent, hot and crisp.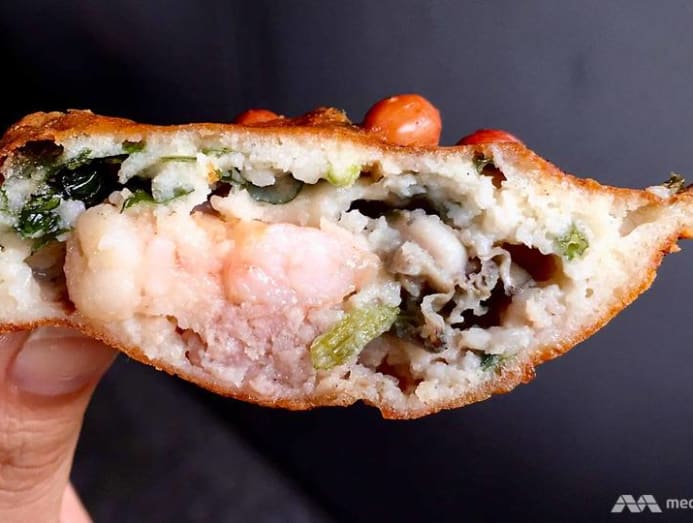 My first bite of the edible flying saucers spun me into orbit and I found myself crash-landing on Planet Delicious. Fat, briny oysters, lean minced pork and naturally sweet, bouncy prawns robustly dominated the interior of each plump, pillowy pocket. Chopped Chinese celery lifted the intense flavours of land and sea with a peppery, herby freshness.
Poh Hwa imports her fresh, voluptuous oysters from South Korea because "quality is very important and customers can tell if we compromise". 
The batter was also quite a game changer for me – how did it stay so thin and crunchy on the outside, yet not claggy or soggy on the inside?
A delightfully crisp shell had formed, with just enough airy batter to hold the filling together. Each crunchy, yet luscious bite yielded more oyster and meat than cake, which to me, were in exactly the right proportions.
Poh Hwa explained that the batter was made from her grandmother's secret recipe and remained unchanged since her early street hawking days. Three types of flour were used, including soybeans and water, to create its unique texture. A single, no-frills blender sat on the work surface, whizzing up the batter to the perfect viscous consistency, one jug at a time.
For such a stellar snack, their kitchen set-up was decidedly down-to-earth. A table for containers of ingredients, a large wok of oil and a metal ladle seemed to be all that was needed.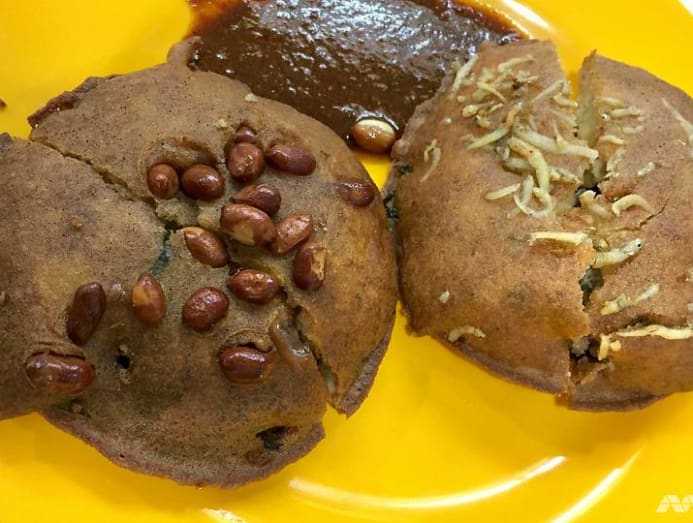 According to Poh Hwa, the ladle was probably the most precious and important implement at hand. Specially shaped to give the oyster cakes their distinctive UFO shape (two shallow domes joined by a protruding seam), the ladle belonged to her grandmother, who brought it to Singapore from Fuzhou more than 60 years ago. 
This same ladle has been used in the family business since as a treasured heirloom.
Poh Hwa half-filled the ladle with batter, deftly sprinkled on her array of fillings, spooned on more batter, added a garnish of whitebait and peanuts, then lowered everything into the bubbling oil.
It was mesmerising to watch the doughy discs lift off the ladle, hovering just like little UFOs in the wok. "All you need is eight minutes for a perfect oyster cake," Poh Hwa shared, watching her floating fleet of foo fighters carefully, turning them when one side reached a shade of deep golden-brown.
The toppings helped to differentiate between a "normal" and "upsize" oyster cake. A normal cake only had one kind of garnish – either peanuts or whitebait. An upsized cake, understandably, featured both toppings.
"Actually, during my grandmother's time, we only used peanuts. But one day when I was eating whitebait with porridge, I thought it would also be a good pairing for my oyster cakes," Poh Hwa disclosed.
The crispy little fish embedded in the surface of each elliptical puff did provide the perfect, aromatic hit of umami. The upsized version was the best choice because together with the earthy, toasty crunch of peanuts, the two toppings launched bags of extra taste and texture.
Delicious and addictive as they were on their own, lashings of Poh Hwa's homemade chilli sauce shot the oyster cakes straight into the flavour stratosphere.

Traditionally, her grandmother's oyster cakes were sold plain, but due to customer demand, Poh Hwa started experimenting in her home kitchen and came up with a condiment that was the perfect balance of sour and spicy. Her special-blend chilli sauce had a vinegary kick and a gentle burn which cut through all the deep-fried, meaty richness. Its tanginess really stimulated the tastebuds and made the dish even more appetising.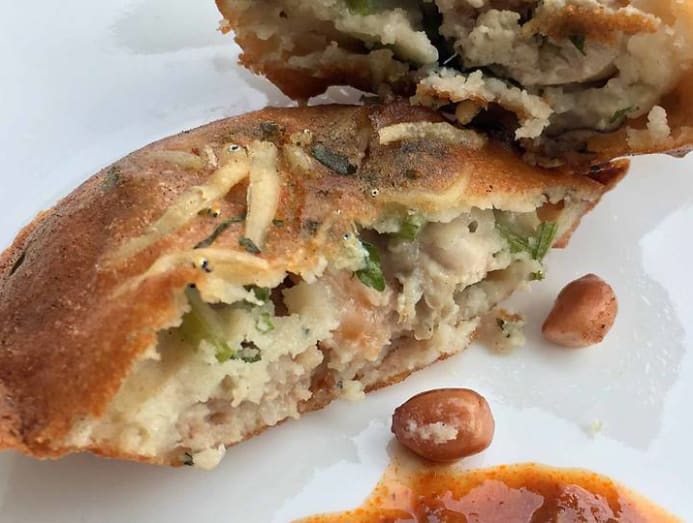 Best of all, Poh Hwa's oyster cakes were customisable. Extras cost a little more and she was willing to exclude any ingredients according to customer preference. When I complimented Poh Hwa on her culinary prowess and customer service, she laughed and said: "If people think it's good, I'm very happy that they're happy."
As for what the future holds, Poh Hwa is proud to have passed on grandma's secrets to the next generation. For now, her eldest daughter comes in to help at the stall, but she prefers her three graduate children to remain in the corporate world because "being a hawker is tough and tiring".
Thankfully for now, the youthful 56-year-old remains fuelled by her mission to honour her beloved grandmother's legacy, one deep-fried mini-flying saucer at a time.
Only a handful of traditional oyster cake stalls remain in Singapore, so make your next food expedition count. Hurry at warp speed to Berseh Food Centre and grab yourself at least a dozen of Fu Zhou Poh Hwa's astronomical pocket rockets. You'll devour them faster than you can say UFO – Unbelievable Frying Object!
Editor's Note: This article has been updated to correct the number of oyster cakes that Fu Zhou Poh Hwa Oyster Cake sells every day. We apologise for the error.

Fu Zhou Poh Hwa Oyster Cake is located at Berseh Food Centre, 166 Jln Besar, #02-34, Singapore 208877. It's open 10am to 6pm, Wednesday to Monday. Closed on Tuesdays. GrabFood delivery available. Catch Makan Kakis with Denise Tan every Thursday from 11am on GOLD 905.