Best eats: Taiwan porridge with pork belly and fresh steamed cod in Joo Chiat
In this week's installment of Makan Kakis series, GOLD 905 DJ Denise Tan heads back to the East for some familiar comfort food at Old Place Seafood Taiwan Porridge.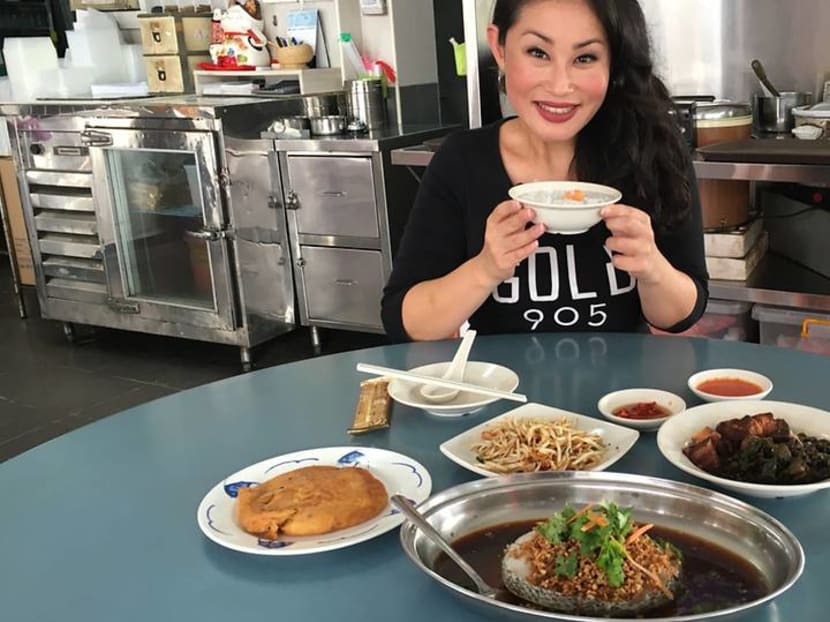 As Singapore's weather gets wetter and cooler, we instinctively start seeking out meals that serve up maximum warmth and comfort. And nothing says, "Hello, monsoon season," better than a steaming bowl of porridge.
Any excuse, really, for me to try out a porridge place in the East recommended by my Gold 905 Makan Kaki and owner of Awfully Chocolate, Lyn Lee. And this seven-year-old stall in a no-frills Joo Chiat coffee shop delivered on two counts: Warming Taiwanese-style porridge and the comfort of freshly prepared, home-style dishes.
In this week's installment of Makan Kakis series, GOLD 905 DJ Denise Tan heads back to the East for some familiar comfort food at Old Place Seafood Taiwan Porridge in Joo Chiat.
At Old Place Seafood Taiwan Porridge, the concept was simple. Free-flow porridge came at S$1 per head and you paired it with your choice of meat, seafood and vegetable dishes. The piping hot porridge was bulked up with chunks of sweet potato – the perfect plain base for a menu that boasted over 30 dishes to choose from, most of which are cooked a la minute.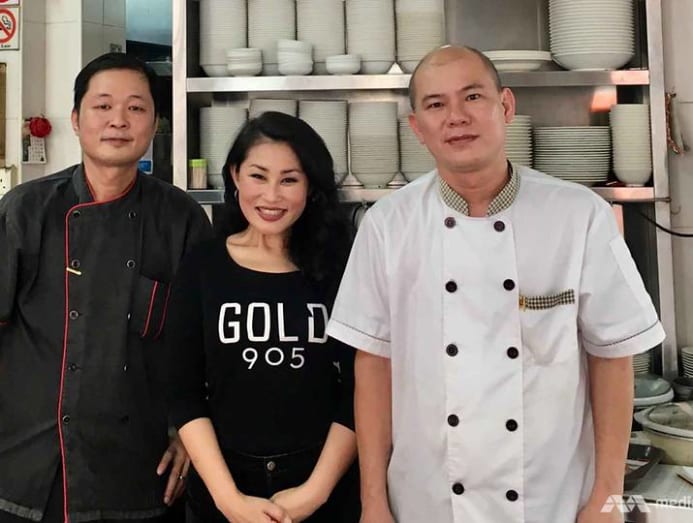 Excited by the prospect of freshly prepared food served hot, straight out of the kitchen (I confess I don't like eating my food cold), I knew exactly what I wanted. I immediately homed in on the classics I've been eating since I was a child – and was delighted to discover from chef-owner Yong Wee Hiang that these classics also happened to be their signature dishes.
Within minutes, he and his business partner, chef Chua York Foo, whipped up a veritable feast for one. The table was covered with steaming plates of chye poh (savoury preserved radish) omelette, mei cai kou rou (steamed pork belly with preserved mustard greens), bean sprouts with salted fish and steamed cod.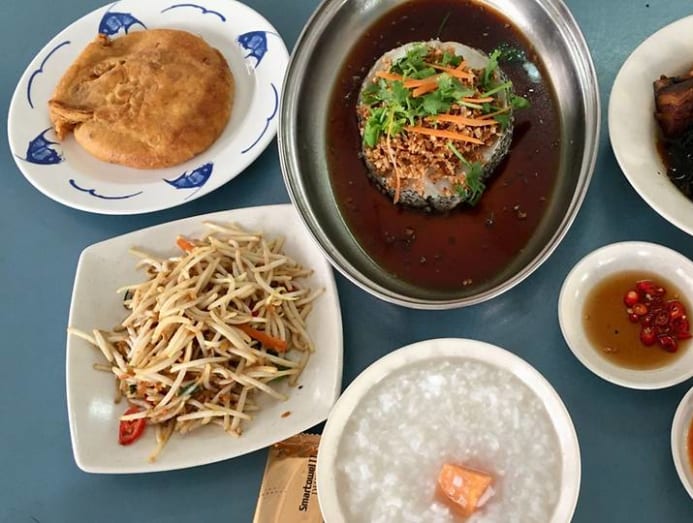 The latter was a revelation and explained the "seafood" in the stall's name. Simply put, the fish was perfection. Steamed then sauced, the smooth, slippery, firm flesh flaked beautifully with a gentle touch of my chopsticks. The savoury soy-based sauce had a hint of sweetness that played well with the pure taste of the fresh cod.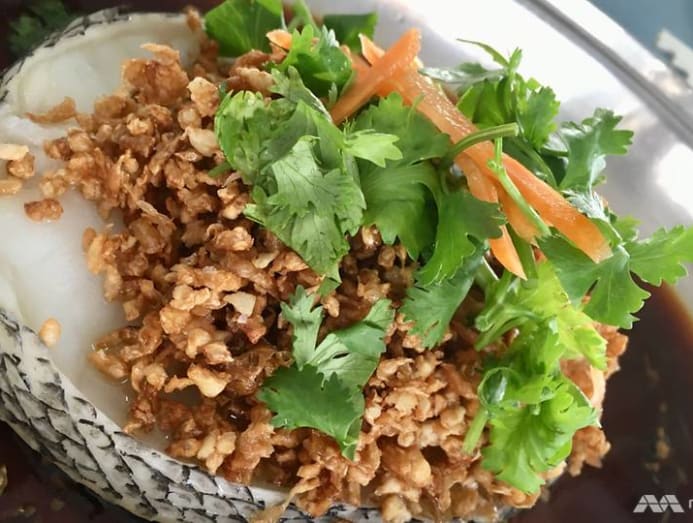 A ring of cross-hatched skin circled the fish with a layer of fatty richness that was enhanced by a smothering of deep-fried chye poh. This crispy topping of salted radish bits was an irresistible contrast of flavour and texture to the oily, almost creamy cod in its gelatinous coat and saucy bath. I couldn't scoop up fish and sauce to mix with my porridge fast enough.
Coriander and julienned carrot added another dimension of freshness and crunch. At S$27 a portion, the cod was considerably pricier compared to the other dishes, but I would be willing to pay for such quality, especially if shared.
Chye poh omelette (S$5) was an iconic accompaniment to plain porridge and theirs was a sight to behold: A bronzed disc resembling a thick pancake. A crisp, golden-brown exterior yielded a fluffy yellow interior to probing chopsticks.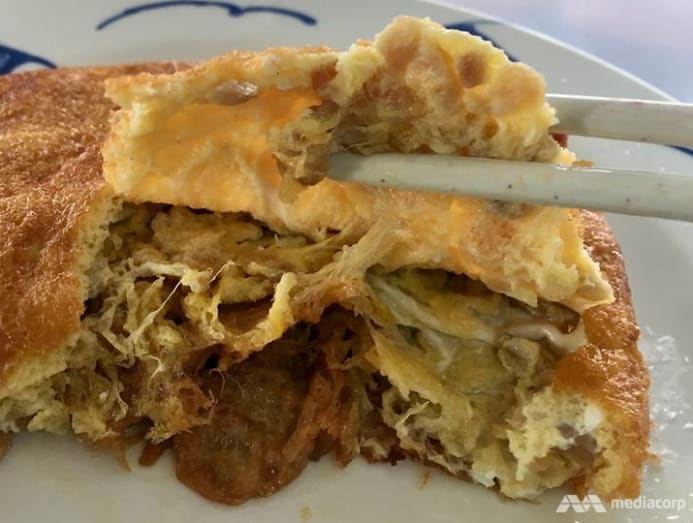 It would require some mad wok skills to create such a perfectly-shaped masterpiece, but clearly not a problem for both chefs who have over 20 years of culinary experience between them. This omelette didn't just look good, it tasted great, too. Its aroma was alluring, with an underlying butteriness and the perfectly cooked egg was studded generously with the umami-packed chye poh.
It's so good that I'd be happy just to eat this omelette on its own for breakfast, simply dipped in its sweet-and-sour chilli sauce. However, when paired with a spoonful of porridge, the tastebuds hummed from the combination of flavours and textures. The clean taste of the porridge balanced well with the crisp-outside-tender-inside egg, as well as the little bursts of salt and crunch from the chye poh.
Another iconic porridge pairing was mei cai kou rou (S$6) – preserved mustard greens and pork belly were steamed till tender in a tasty gravy deepened and darkened with soya sauce with hints of aromatic five spice and Chinese wine. I enjoyed the wobbly layers of belly fat with the sweet and salty mei cai that also exuded a unique hint of herbaceous bitterness.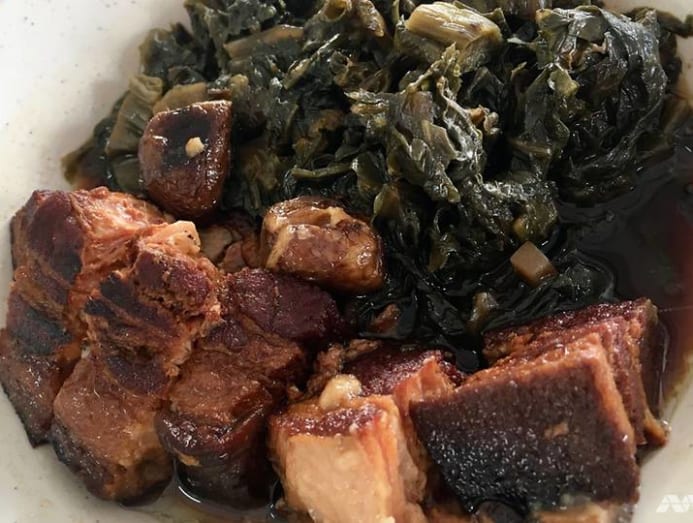 Chef Yong told me that one of their best sellers was their signature bean sprouts with salted fish (S$6), a deceptively simple dish that was done absolutely right here. Fat bean sprouts, red chilli slices and spring onion were wok-fried in a flash to retain their crisp juiciness. Bits of salted fish permeated the veggies with extra flavour and intense fragrance of the sea. The funky saltiness of the fish was mellowed by the porridge, making it another ideal pairing.
Don't let the name Old Place Seafood Taiwan Porridge mislead you – if porridge isn't your thing, you can opt for steamed white rice instead. This stall operated almost like a zi char stall and is at its best when dining there family-style. Going in a larger group ensures you'll get to try more of the dishes on their menu and for me, the biggest sell was that almost everything was cooked to order, so the small plates all arrived piping hot and tasty.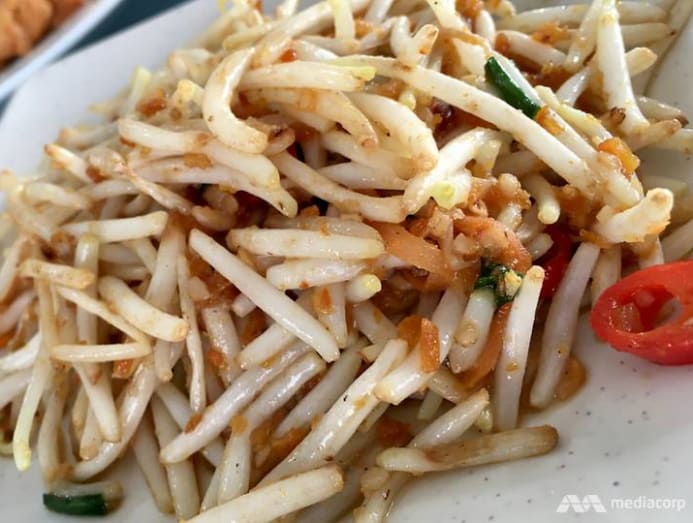 Ultimately though, the two stand-out, must-try dishes for me were the omelette and the cod. It's obvious that they handled their fish dishes extremely well and many customers also went for the deep-fried pomfret with black bean sauce (S$19). I made a mental note to return for a taste of my favourite fish.
Another deep-fried favourite I shelved for my next visit was the crispy nam yu (fermented chilli bean curd) pork (S$8), which was a flavour-packed textural choice after all the soft, saucy, steamed and stewed delicacies.
Simple, satisfying and warming for both stomach and heart, Old Place Seafood Taiwan Porridge served up a meal of my childhood, along with a side of nostalgia. I slurped down another spoonful of porridge and thought fondly of my grandparents – it tasted just like family dinners from a distant past.
Old Place Seafood Taiwan Porridge is located at 59 Joo Chiat Place, Singapore 427783. It's open for lunch 11am - 3pm and for dinner 5pm - 9.45pm. They close fortnightly on Wednesdays. Catch Makan Kakis with Denise Tan every Thursday from 11am on GOLD 905.