Best eats: Our top 3 picks for a bowl of luscious, lemak laksa in Singapore
In this week's installment of Makan Kakis' "national dish" mini-series, GOLD 905 DJ Denise Tan heads north, south and east (sorry, Westies!) for some of Singapore's most celebrated laksa.
I had an enthusiastic argument with a friend recently about laksa. I was so sure that besides being a phonetic translation, "la sha" also meant "spicy sand" in Mandarin.
Not the most palatable of comparisons, but I was adamant because laksa is indeed spicy and a good gravy often is shot through with so many finely minced ingredients from the spice paste and dried shrimp, that it does have a texture that resembles wet sand.
Also, sand calls to mind the sea, and the sea calls to mind seafood, the flavours of which are front and centre in laksa. Right?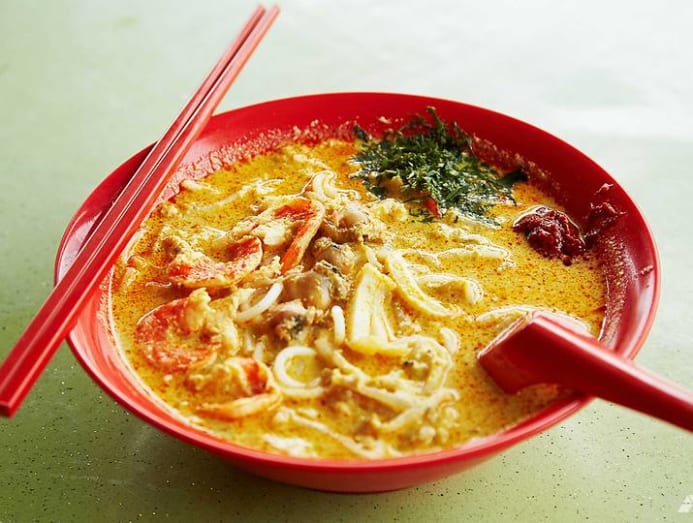 Actually, I was wrong about the Mandarin translation, but that's my story and I'm sticking to it.
In much the same way, when it comes to where the best laksa can be found, foodie feuds and fierce debates abound – everybody has their own opinion.
So when Gold 905 listeners voted for a National Day series featuring Singapore's best local dishes, laksa came in a solid second with several favourites coming to the fore.
To be clear, we're referring to laksa lemak – noodles in a coconut-based curry soup and often served in proud Peranakan homes.
Recipes may vary from kitchen to kitchen, but most agree that the spice paste, or rempah, has to have the right balance of herbs, spices and seasoning (my mother's laksa lemak recipe has 15 ingredients for the rempah alone!), along with good quality coconut milk, hae bee (dried baby shrimp) and seafood stock (fish or prawn), to make a rich, tasty curry soup.
Tau pok (fried beancurd puffs), fishcake, cockles and beansprouts have also become standard ingredients, along with thick bee hoon (rice vermicelli) and a sambal (chilli paste) as a condiment on the side. But perhaps the most important ingredient, known for its distinctive aroma and flavour, is daun kesum. The herb is also known as laksa leaf for good reason.
Over the years, different hawkers found fame with their own special version of laksa lemak. So whether you prefer your laksa without hum (cockles), or a gravy that's thick and creamy, or noodles eaten with a spoon instead of chopsticks, here are three recommended places we think are noteworthy.
KATONG LAKSA
First of all, let's address the elephant in the room. Yes, there are several laksa stalls all bearing the name of the East Coast area from which they started, each with their own fanatical following.
But let's not argue which is the best or the most original. This is just one of many delicious laksa experiences worth enjoying, especially when you meet the chatty man behind Katong Laksa, located at a row of shophouses along Changi Road.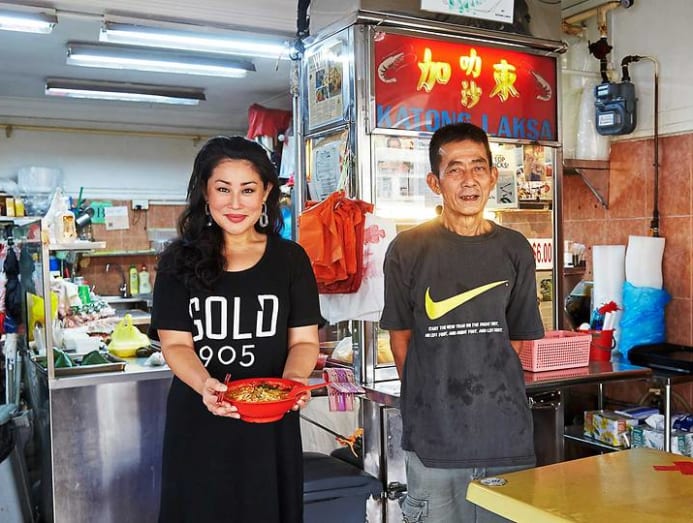 George Ng is friendly and enthusiastic about his signature noodles, and even at 8.30am on a rainy day, he treats everyone like an old friend, calling out greetings to customers as he prepares their orders.
This particular Katong laksa was started in 1955 by Ng's father, who learnt the recipe from one of the original purveyors of the dish, who was nicknamed Janggut, aka Bearded One.
Ng's family has operated out of many locations in the East and were previously at Telok Kurau Road, before moving to their current location two and a half years ago. Katong Laksa now shares the space in a coffeeshop with a drinks stall and a bak kut teh stall.
The second generation hawker revealed he has three secrets to preparing laksa, based on Janggut's orginal recipe. He won't share those with anyone but he was willing to reveal this little nugget though: No pre-packaged coconut milk.
Instead, he extracts it himself daily with a special machine that saves him time and effort. George told me proudly: "I bought it for S$8,000 from China. Coconut milk must always be fresh, otherwise the laksa gravy won't be as rich or tasty."
Indeed, it was exactly as he said – a really enticing bowl of steaming hot laksa that carried the glorious fragrance of spices and shrimp. It had good colour, brightened by shiny orange spheres of oil floating atop a creamy broth that was absolutely jampacked with goodies.
"Every week I have to sit down for hours and skin 20 kilograms of lengkuas (galangal in Malay), onions, all by hand," said Ng. "Everything has to be made from scratch. Turmeric has to be fresh, not powdered. And you have to control how much you use, for the right colour."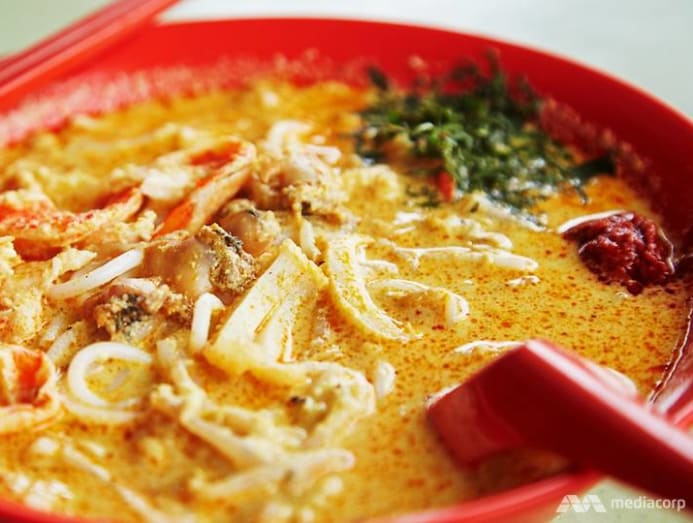 Even so, those 20 kilos only yield three pots of gravy, which he then has to heat very slowly over a fire – a testament to how labour-intensive making a good laksa is.
In my bowl, I could see the rempah had cooked down, leaving a fine sediment that mixed beautifully with lots of umami ground hae bee (dried baby shrimp) to really thicken the coconut milk. Little curds had formed, white specks dispersed throughout the broth, which Ng said was deliberate. "My fresh coconut has a lot of good fats and I want to see all those little white dots forming."
I'm no culinary chemist, but I did think those coconut milk solids enhanced the chunky texture of his laksa gravy.
Ng took his time to blanch his thick bee hoon in the broth before pouring lots more over. For S$5, a medium-sized bowl was filled with beansprouts, four slices of prawns, a spoonful of cockles and thinly-sliced fried fishcake.
To finish, he garnished with a generous portion of fresh shredded laksa leaf and a dollop of his homemade chilli paste. It had a very pure chilli taste and a slight tang to lift the richness of the gravy. "It's just dried red chilli, season, add a little bit of the laksa rempah, grind to a paste and that's it," Ng shared.
I enjoyed the thick bee hoon and aromatic soup so much, it wasn't till I'd reached the bottom of the bowl that I realised this laksa doesn't come with tau pok. I hadn't missed it though, even though it's one of my favourite ingredients.
Another thing sets this Katong laksa apart from the rest – the noodles weren't cut up for eating only with a spoon. Instead, my chopsticks were put to good use, navigating through the delicious flotsam and jetsam of the outstanding gravy to extract delicious morsels for tasting.
Rich, creamy and super flavourful, George Ng's Katong Laksa puts the luxe in laksa. You don't need extras like lobster or abalone for that touch of luxury, it's all in his lemak gravy, baby!  Also, as he explained: "Passion. You don't have that, forget it!"
Located at 307 Changi Road, Singapore 419785. Opening hours from 8am to 3pm (closed on alternate Tuesdays). Call 9023 7360 to order in advance or for pick-up.
SUNGEI ROAD LAKSA
For those who want a lighter, milder laksa, Sungei Road Laksa is a name that really needs no introduction. Their popularity is obvious from the constant queues and barrage of signs that greet customers.
"Declaration: there is no other branch for Sungei Road Laksa." "Self-service." "Consume 2 hours after purchase." "Takeaway minimum $4 (Big) + 20 cents per container upon request."
"No separate packing of gravy and noodles." "No pork no lard." "No chopsticks."  "No photography and videography."
Intimidating guidelines, until you realise these are answers to questions they've probably been asked too many times!
In contrast to their rather curt signage, service was polite and efficient, honed from years of experience. Sungei Road Laksa was an extremely well-oiled machine, run with absolute precision and calm.
The day I visited, three ladies were hard at work preparing for the start of business. Bowls were being portioned with thick bee hoon, ingredients carefully laid out, large battered silver pot full of their famed gravy at the ready, sitting over a charcoal stove that was being stoked.
Guided by retractable queue barriers, complete with safe-distancing floor markers, customers had gathered even before the stall was open. We all watched the flames flare and bank in impatient anticipation.
Loyal customers will insist that cooking over charcoal makes the laksa taste superior, but I didn't detect any unique smokiness in the gravy myself. Perhaps the effect is psychological, the traditional cooking method playing on feelings of nostalgia.
I would concede though, that we eat with all our senses, beginning with our eyes and nose, so perhaps the sight and smell of burning charcoal heightens the overall taste experience.
Served in light pink bowls on dark blue trays, the Sungei Road Laksa was cut into shorter strands and eaten with a spoon. Their gravy had a thinner, soupy consistency, with a hint of coconut milk.
At first, I thought it wasn't anything to shout about, but the savoury crustaceous broth base really developed in natural sweetness with each spoonful. The flavour took a more subtle approach, gently coaxing tastebuds awake. 
Then said tastebuds came roaring to life when their hae bee-heavy chilli paste was mixed in, along with finely julienned laksa leaf, which was by far the freshest and most aromatic I had tasted.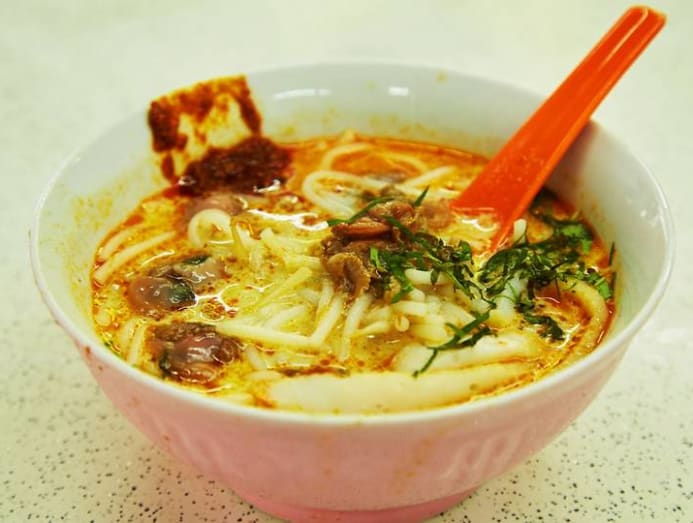 Their noodles were very tender from several dunks in the soup pot. I watched as they were blanched and strained several times, allowing the soup to be fully absorbed into each strand. Ingredients like cockles, thick slices of fried fishcake and beansprouts were included in generous portions. 
For an additional S$1, I ordered extra cockles, which were really plump, juicy and very fresh. Those little jewels of briny-sweetness were definitely a highlight.
Ultimately, Sungei Road Laksa is a great choice if you appreciate a more delicate, less cloying experience. This is a good bowl you can slurp down to its last drop without feeling guilty or uncomfortable. And at just S$3 per dainty serving, it was easy on the wallet and the stomach.
Located at 27 Jalan Berseh, #01-100, Singapore 200027. Opening hours from 9.30am to 4pm (closed on Wednesdays).
928 YISHUN LAKSA
Head to Yishun Central for what many say is the best laksa in the North of Singapore. And after enjoying two bowls in one day, I have to agree.
928 Yishun Laksa gets its name from its location at a block of flats. The 20-year-old family business operates out of a ground floor space tucked away in a corner. You might miss it if not for the persistently long lines. Good thing too, because their brightly-lit signboard features desserts, not laksa.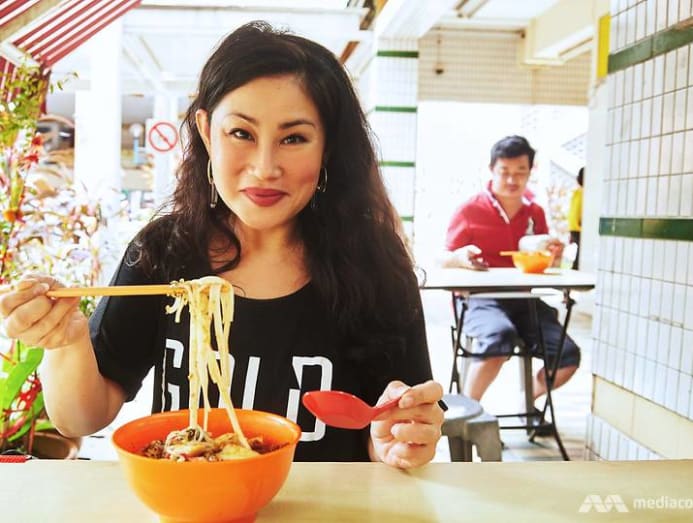 But believe me, no one was there for sweets. I arrived after lunch at 2.45pm and there were already 11 customers ahead of me. And they just kept on coming. Fortunately, the queue moved pretty fast, because this was clearly another tightly-run operation.
One lady took orders from queuing customers, relaying them to another in the kitchen, who prepped the bowls and by the time I reached the cramped corner counter, my order was ready on a tray, primed for self-service garnishing.
Warning: The steely gentleman behind the counter doesn't suffer fools. I was the fool who had to be told to help myself to the chilli paste and chopped laksa leaf. I was the fool who asked which bowl was big and which bowl was small. I was the fool who dared to ask for a receipt.
So make sure you know your orders well and pay up as briskly as they serve you – they have a never-ending stream of customers to feed.
Counter hiccup aside, this is one laksa that is, quite simply, delicious. At just S$3.30 for a big bowl, I was pleasantly surprised at how many ingredients they packed in. 
Besides the hearty portion of chewy, al dente thick bee hoon (yellow noodles and thin bee hoon were other options), I found thick slices of fishcake, cockles, half a boiled egg, surimi (imitation crab stick), beansprouts and my favourite fried tofu puffs (finally!). Add S$1 for extra cockles and 50 cents for all other ingredients.
Their laksa gravy had the boldest seasoning of the lot, aromatic with herbs, spices and dried shrimp, which were amplified by the superb chilli paste. This was the most significant component, showcasing the deep, funky brine of hae bee chased by a spicy kick. Though not as lemak as some Nyonya laksa, there was enough coconut milk in the gravy for it to have a silky richness.
The laksa leaves, however, didn't have much flavour. They had been cut into such tiny pieces that they had shrivelled & dried up. It could have been my post-lunch timing, so I had to make do with the tasteless herbal confetti left on the counter. Finishing up, I noticed that the queue had grown even longer. I fervently hoped they had replenished their laksa leaf bowl for the hungry horde.
Still, the long lines can't be wrong. 928 Yishun Laksa's affordable prices, punchy flavours and plentiful ingredients keep customers coming back and so would I. Even after a 25-minute drive to Yishun and 20-minute wait in line, I would brave Grumpy Uncle to empty two solid, satisfying bowls in just ten minutes again.
Located at 28 Yishun Central 1, #01-155, Singapore 760928. Opening hours from 8.30am to 7pm (closed on Wednesdays).
Catch Makan Kakis with Denise Tan every Thursday from 11am on GOLD 905.