Best eats: Peranakan nasi ulam and Melaka chendol at Siglap
In this week's Makan Kakis, GOLD 905 DJ Denise Tan discovers Chendol Melaka's special herb rice salad and finishes off with a refreshing dessert.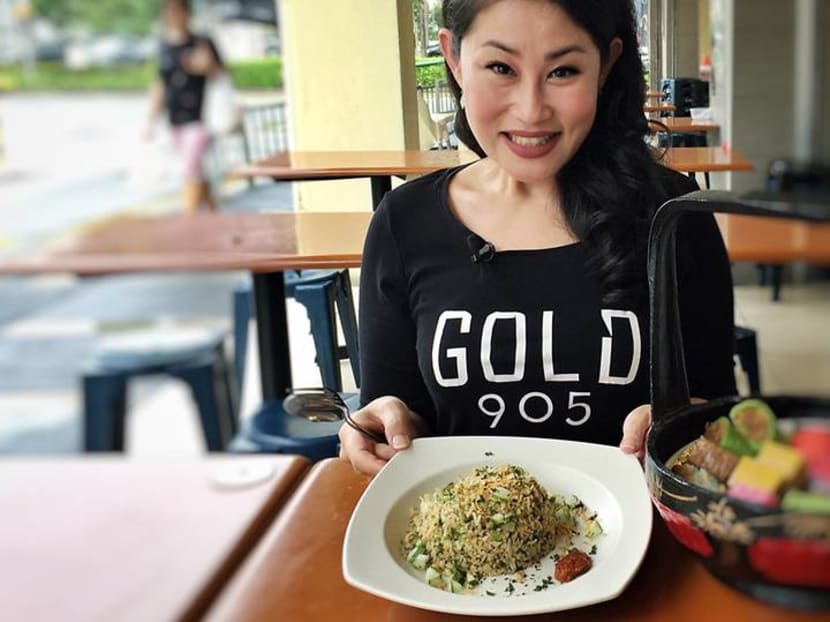 Babas and Nyonyas, stop me if you know this one: What do you get when you cross a herb salad with rice? Any true-blue Peranakan will tell you the answer is nasi ulam.
The combination of aromatic Asian herbs, rice and, sometimes, seafood, is what makes nasi ulam such a wonderful, cool dish for our Southeast Asian climate. 
Found all over southern Thailand, Malaysia, Indonesia and here in Singapore, recipes for nasi ulam differ from location to location, family to family, but this Peranakan version was recommended to me by KF Seetoh, the founder of renowned food guide Makansutra.
In this week's Makan Kakis, GOLD 905 DJ Denise Tan discovers coffee shop stall Chendol Melaka's special herb rice salad.
Ask any Straits Chinese cook and they will tell you this traditional dish is so laborious to make, nasi ulam often ends up as a "special-occasion-only" dish. Indeed, it's so much work that in my own Peranakan household, my mother has made it for the family only four to five times in my entire lifetime.
That's why I was delighted to discover that someone else was willing to do all the hard work and we can now taste this delicacy at a little stall in the East.
Chendol Melaka at Soy Eu Tua Coffeeshop along Upper East Coast Road is run by the irrepressible Daisy Tan and her husband Colin Yam. Once the regional director of a shipping firm, this self-confessed "200 per cent" bibik is now wholly dedicated to preserving her Peranakan culture through her culinary delights, like delicious chendol, kueh-kueh and her signature dish, nasi ulam.
The husband-and-wife team has been in the food business for a decade and Tan's nasi ulam was a family recipe – heirloom, if you will – inherited from her grandmother. Daisy recalled sitting in the kitchen, prepping the herbs with her cousins as a child, and said with a laugh: "If we didn't cut the herbs fine enough, we'd get knocked on the head by grandma!"
Watching Tan in action, it looked like those years of hardcore training in grandma's kitchen paid off. As she deftly chiffonaded herb after herb, she told me that many of them have to be prepared two to three days in advance, as they needed to be thoroughly washed and dried, then shredded by hand or painstakingly chopped as finely as possible. These herbs included daun kesom (laksa leaves), torch ginger flower (rojak flower), kaffir lime leaves, daun kunyit (turmeric leaves), galangal and lemon grass.
Obviously there were more, but all she would reveal was that her nasi ulam required a whopping 17 ingredients in total. No wonder it took a further few hours to prepare, especially when you factored in other raw greens such as delicately diced kacang botol (four-angled wing beans), long beans and cucumber. These were added for extra crunch and freshness, but only at the last minute to retain the pleasantly raw, exquisite herb and vegetable flavours.
In fact, Tan stressed that the steamed rice had to be completely cooled, otherwise the herbs ended up being cooked, or worse, burnt by the heat, turning unpleasantly bitter. That's why the herbs were added last of all and also why it's a rice salad that must be served chilled or at room temperature.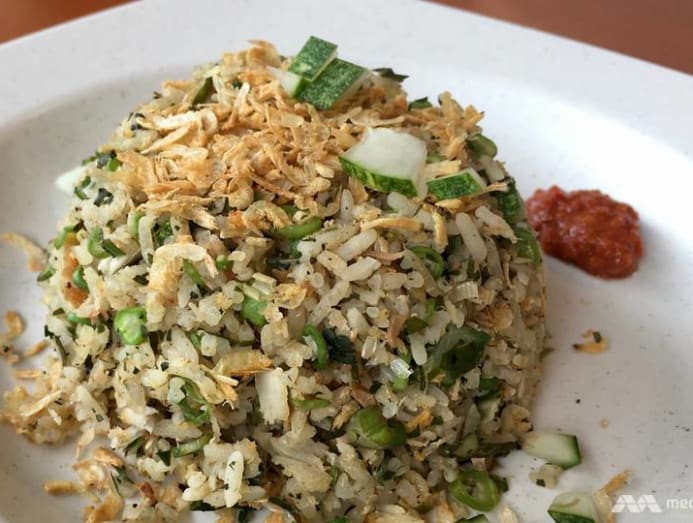 There was a definite sequence to which the many ingredients of nasi ulam were tossed. "Just like lo hei, Peranakan-style," joked Tan. Fish stock and flaked, fried ikan tenggiri (mackerel) marinated in turmeric were added to the cooled rice, then mixed with a fragrant rempah (a paste made from different herbs and spices) similar to the one used in her buah paya masak titek (peppery Peranakan papaya soup) recipe. The rempah included aromatic ingredients such as candlenut, red chilli and shallots.
She then added the fresh herbs and veggies to create a dish that's an absolute labour of love. "If done systematically, the flavour of the nasi ulam will be well-balanced and you'll be able to taste and smell each individual ingredient," Tan explained
She was right. The ingredients were chopped into small, even pieces so you got a bite of everything in one mouthful – nothing stood out or over-asserted itself. Each spoonful of herby nasi ulam was cool and light, with an undercurrent of umami from the spiced fish flakes.
For extra oomph, the dish was garnished liberally with crisp grago (baby krill) and fragrant kerisik (toasted grated coconut), for a creamy-chewy nuttiness, crunchy crustacean texture and a cloak of robust shrimp flavour.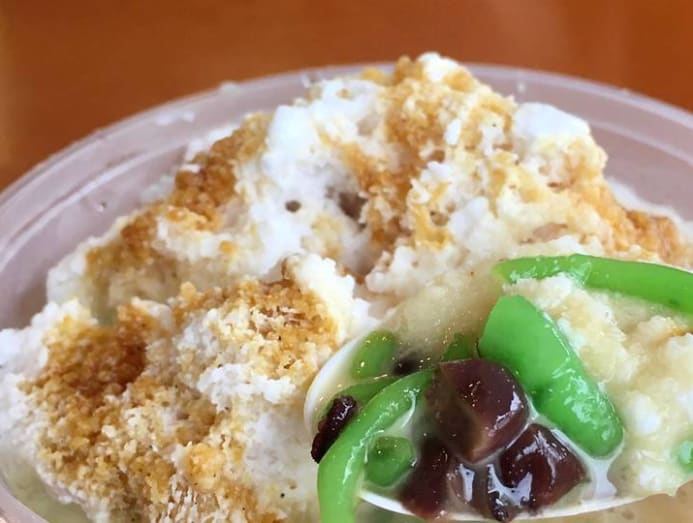 But the nasi ulam wasn't complete without a dollop of Tan's pungent, fiery, homemade sambal belacan. The rice salad popped powerfully on the palate – fresh and fragrant, spicy and mouthwateringly savoury – as you got layer upon layer of piquant flavour.
Only limited portions of nasi ulam (S$5.30 for dine-in, S$5.50 for takeaway) are made daily so you have to get there early to indulge, especially on weekends. Best advice is to call them ahead of time and "chope" your portion. While you're there, finish off your savoury with sweet – assorted kueh-kueh like ondeh-ondeh (rice cake filled with liquid palm sugar and coated in grated coconut) and kueh salat (pressed sticky rice layered with coconut egg custard) go for S$2 a box and the Melaka-style chendol (S$2.30), in particular, was light and refreshing, with a beautiful balance between the rich, treacly gula Melaka and slightly savoury hand-squeezed coconut milk.
And it turned out that the chendol recipe came from Tan's late business partner, veteran Malaysian actor and Melaka chef Datuk Kenny Chan, which explained the name of the stall, Chendol Melaka. But don't let the name mislead you, as excellent as their icy dessert was, it's their nasi ulam that gets my vote and deserves equal billing!
Chendol Melaka is located at Soy Eu Tua Coffeeshop, 15 Upper East Coast Road, Singapore 455207. It's open 10am-5pm (Tuesdays to Fridays) and 9am-5pm (Saturdays and Sundays). Closed Mondays. Catch Makan Kakis with Denise Tan every Thursday from 11am on GOLD 905. To "reserve" your nasi ulam, call Colin Yam at 9777 6471.