Best eats: Our top picks for 'ugly delicious' Chinese and Indian rojak in Singapore
In this week's installment of Makan Kakis' "national dish" mini-series, GOLD 905 DJ Denise Tan mixes things up with two of the best Chinese & Indian rojak spots known to Westies.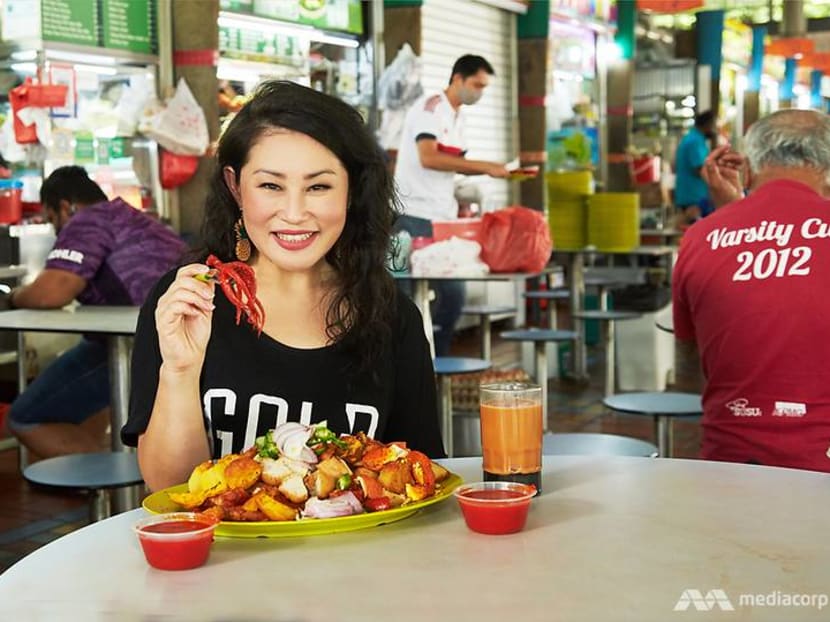 Of all the dishes in the world that can be classified as "ugly delicious", rojak comes pretty close to the top of the list.
In Singapore, Chinese rojak consists of cut fruit, vegetables and fried dough sticks obfuscated by a sticky dark sauce dusted with crushed peanuts. 
Malay rojak usually has the addition of tempeh (fermented soybean cakes) and tauhu goreng (fried firm tofu). 
Indian rojak is best described as a deep-fried smorgasbord of ingredients, from prawn fritters to potatoes, dressed or dipped in a spicy-sweet sauce.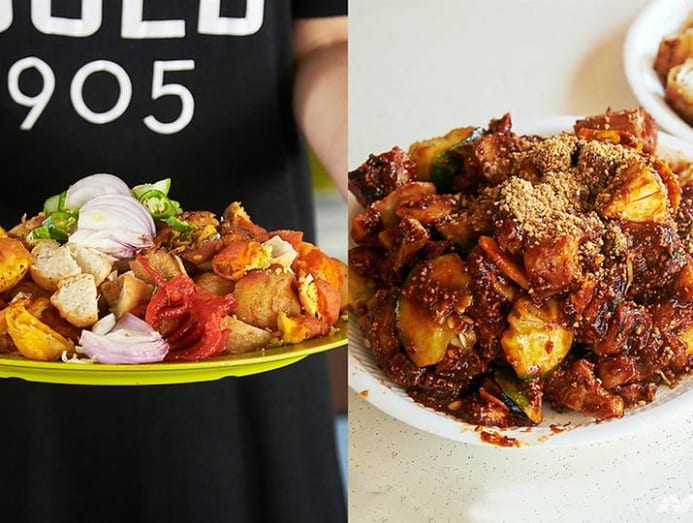 Rojak, in all its various forms, may not be the most visually appealing of dishes, but looks aren't everything when taste and texture more than make up for it. Perhaps more importantly, rojak has also gone beyond the menu to mean something greater.
Symbolically, rojak reflects the Singaporean culture and identity – a little bit of everything thrown together with a pleasing result. In colloquial Malay, rojak also means "mixed". 
No wonder then, that GOLD 905 listeners voted the dish as one of the top five local eats that best represents Singapore. Of all the recommendations we received, these two rojak stalls in the West prevailed – one serving Chinese style and the other serving Indian style.
BROTHERS ROJAK (CHINESE ROJAK)
The duo behind this relentlessly busy Clementi stall really are brothers, and the balancing act driving a family business that has spanned more than six decades, three of which at its current location.
Tan Boon Hwa and Tan Boon Heng are possibly the two most jovial hawkers I've ever had the pleasure of meeting, with the younger Tan sibling (on rojak-making duty at the time of my visit) calling out to each customer with a smile and a "Hello, lao ban" (boss in Mandarin).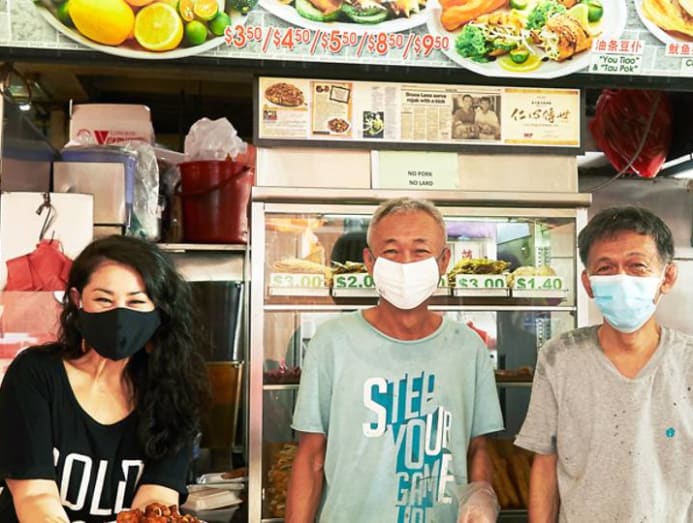 When I pointed out I should be the one addressing him as boss, Boon Heng said humbly in Mandarin as he prepared my order: "Actually, we're just apprentices, still trying. Our father taught us how to make rojak. He was the true master."
Even so, their own mastery over the craft was evident. They managed to keep up banter with the steady stream of customers (even at 3pm), without breaking their smiles or their rojak-making stride.
The line moved quickly, with the brothers working compatibly cheek-by-jowl within the confines of their tiny space, shared with a kueh tutu stall and a popiah stall.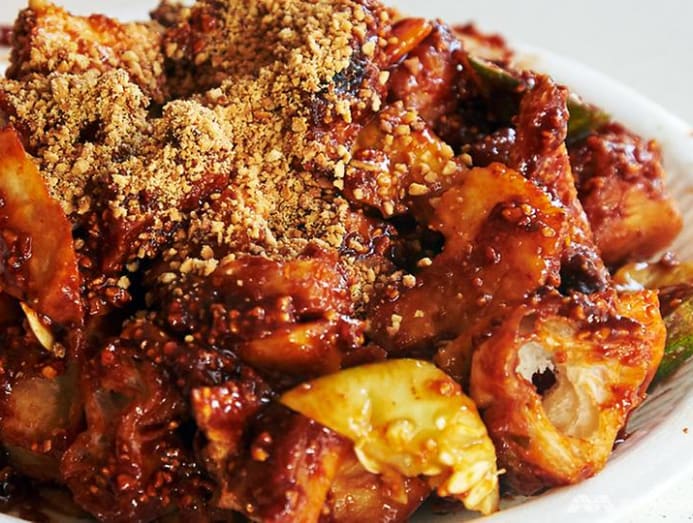 Nothing seemed to faze the Tan brothers, not the long queue or my finicky ordering – two plates for dine-in, two packets to takeaway – one without sugar, one with more chilli and extra ingredients. Surely a test of their patience, but they passed with flying colours. Thumbs up for their service, but would their rojak match up?
In a word, yes. Especially if you prefer a gentler rojak. Let me explain.
The very antithesis of subtle, rojak is a love it or hate it dish. In my mind, it tends to launch a punchy assault on the senses, a full-on mix of sweet fruit clashing with the savoury funk of pungent prawn paste, spicy notes combating with smoke from a charcoal grill.
But at Brothers Rojak, they have managed to mellow that battle into a well-rounded, beautifully balanced dish, with all of the familiar flavours, but none of the jagged edges. Nothing really jarred or competed for attention on the palate.
For a standard plate of rojak (prices range from S$3.50 to S$9.50, I ordered a S$5.50 portion), I got a heaped serving of thinly-sliced bang kuang (jicama), pineapple, cucumber, scissor-snipped torch ginger flower and you tiao (fried dough cruller), all tossed in a sticky concoction of hei ko (prawn paste), chilli sauce, assam (tamarind) and sugar. The oozy mound was then sprinkled liberally with crushed peanuts.
Part of the fun was watching the Tan brothers prepare the dish. They took turns, like DJs spinning and grooving at a silent disco, each with their own style and rhythm, spooning ingredients from an array of bowls arranged around their large central bowl, in which everything was mixed vigorously.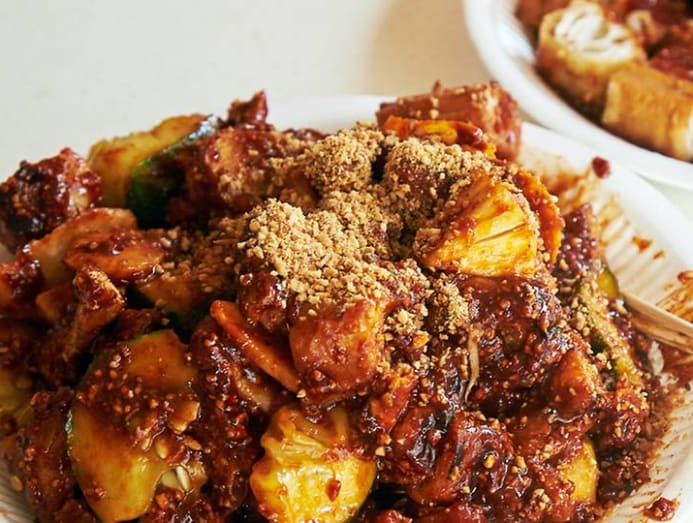 The joy of eating Brothers Rojak came from the harmonious mingling of flavours and textures. As expected of a fruit salad, there was the refreshing burst of crunchy cucumber, sweet and tart pineapple and the earthy jicama.
That juicy freshness was chased by the toasty peanuts, charred you tiao with crispy edges and the briny caramelised flavour of prawn paste. The sour zing of tamarind and gentle hint of chilli rounded the dish off beautifully. The glorious marriage of flavour profiles, that didn't fight or overwhelm, played most agreeably on the palate.
Good as is, I highly recommend the menu extras to really enhance your standard rojak experience. I added pressed sheets of cuttlefish, taupok pau (fried beancurd stuffed with cucumber and bean sprouts), more you tiao, as well as century egg with pickled ginger on the side. These came on a separate plate, tossed in the same moreish rojak sauce and garnished with more crushed peanuts.
The taupok pau, you tiao and cuttlefish all had a good sear from the grill and came away pleasingly striped with char marks, which added a further smoky toastiness and warmth. The crispy corners of the deep fried you tiao and dried bean curd gave the saucy rojak much-needed textural contrast to the beansprouts and cucumbers in the taupok pau. 
I also appreciated how the grilled cuttlefish echoed the savoury-sweet flavour of the prawn paste, its salty taste of the sea developing more and more as I chewed.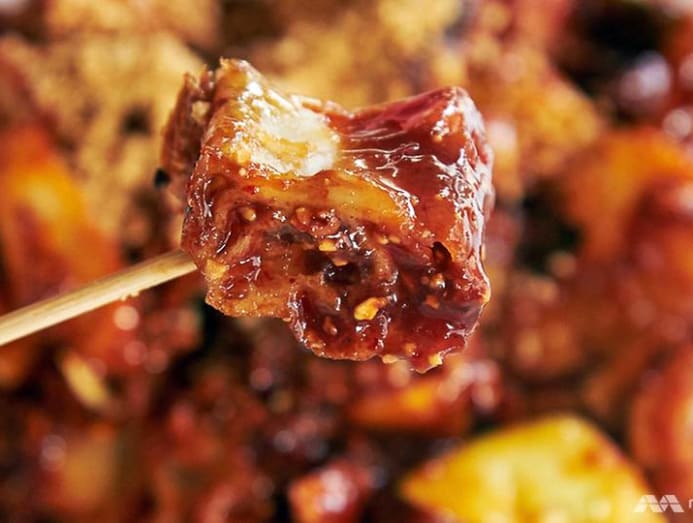 However, it was the century egg that really elevated the rojak. Its super-charged green-grey yolk added a luxurious creaminess and unique earthy-ammonia whiff to the dish. Meanwhile, its gelatinous soy-brown albumen teased with its jiggly coolness. 
Eaten with the pickled ginger, each mouthful of rojak had a bonus sweet, spicy and floral bite, which made up for what I felt was a smidge lacking in the torch ginger flower. I had seen it being added into the mixing bowl, but the fragrance and flavour seemed to have dissipated into the milieu.
Interestingly (though not unwelcome), their prawn paste was more understated than others I have encountered, with just a modest waft of pungency. It didn't reek of fermented shrimp, but had an almost yeasty, Bovril-esque quality, which was by no means unpleasant.
Perhaps therein lies its popularity. Brothers Rojak isn't overpowering or olfactorily offensive. Mild, with a good balance of fresh, chewy, crispy and juicy textures, as well as sweet, salty, sour and spicy flavours, it definitely had mass appeal. Just as appealing was the uplifting, happy vibe the brothers exuded, which made this rojak experience all the more gratifying.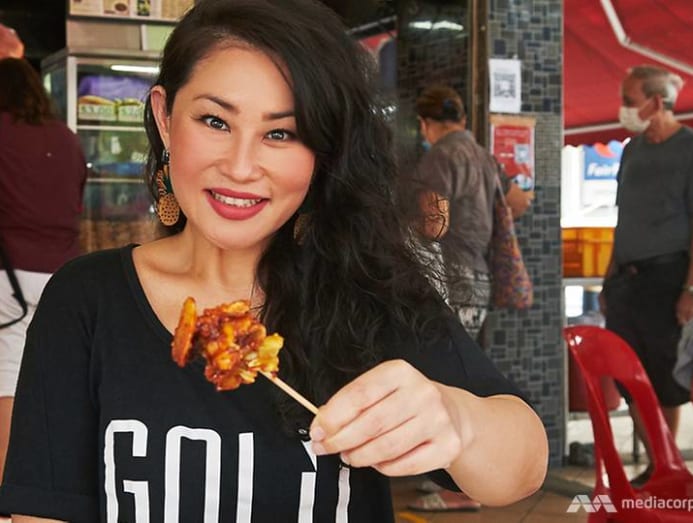 As I left, takeaway packets in tow, the brothers flashed their toothy grins and Boon Heng called out, "We're happy if you're happy! Come back and support us! Thank you, lao ban!"
With a farewell like that, how can one refuse?
Located at 449 Clementi Ave 3, #01-211, Singapore 120449. Open from 10am to 9.30pm, Mondays to Saturdays (closed on Sundays). For pre-order and pick-up, call 9710 2700.
ABDHUS SALAM ROJAK (INDIAN ROJAK)
It's also all in the family at this Indian rojak stall, which has become quite the household name at Ayer Rajah Food Centre.
Started in the 1960s by Akber Ali, his legacy continues under the management of the stall's namesake. Formally trained as an electrical engineer, Abdhus Salam is the son of the late Mr Akber. After a stint in the corporate world, he decided to fulfil his father's dream and stepped in to take charge of the business he'd been helping out at since he was 16.
Abdhus has been preserving and improving on his culinary heritage since 1994 and even kick started his Indian rojak empire with an extension called Ministry of Rojak at Northpoint City.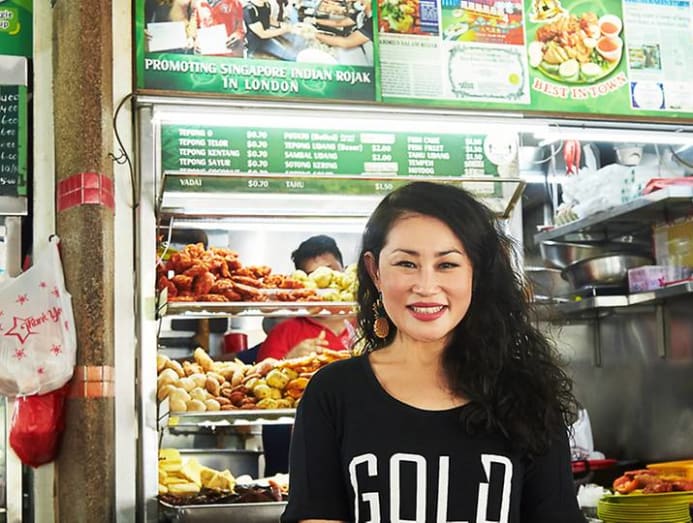 But because I'd been promised that this would be a different and outstanding Indian rojak experience, I was eager to pay a visit to the original stall that started it all.
The first thing I noticed on arrival was the mind-boggling array of deep fried things on display. Battered, golden-brown and stacked high in tightly packed piles, they beckoned. Relieved I'd come armed with a very empty stomach, I grabbed a large plate, tongs and picked one of everything. Yes, all 19 items.
Everything was sizzled in a giant wok of hot oil, then chopped into bite-sized pieces and arranged like a mini mountain, its patchwork of browns and oranges only broken up by the green of fresh chillies, cucumber and the purple of raw onions. These garnishes were a wise addition, just to freshen everything up and cut through all the oil and sugar.
Two tubs of warm, thick, syrupy sauce accompanied the platter of deep fried wonders. Their hot oil bath had revitalised their crispiness so what I had was twice-fried goodies, double-dipped in hot fat for double the flavour. Thankfully, there were none of the tell-tale signs of re-used oil. Everything smelt freshly fried, without being over-saturated by grease.
Not actually knowing what I had picked, I reached out to the extremely friendly and obliging staff. Both cook and server talked me through exactly what was on my plate.
These were – brace yourselves  – crispy prawn fritter, big prawn fritter, two-in-one tofu and prawn fritter, vegetable flour fritter, plain flour fritter, egg flour fritter (battered hard-boiled egg), potato flour fritter (battered boiled potato), coconut fritter, battered tempeh, lentil fritters (dhal vadai), hotdog sausage, hard-boiled egg, fried firm tofu, fried fish cake, breaded fish fillet, boiled potatoes, fried beef lung (paru), cuttlefish and squid.
Each menu item ranged from S$0.70 (for a vegetable dough fritter) to S$2 (for a hotdog sausage), which took my total bill to S$27. A bit of a shock, until I remembered I had ordered everything on their menu and the serving was huge enough to satisfy at least five ravenous eaters.
Of all the ingredients balanced precariously on my platter, their selection of prawn vadai stood out. My favourite was the crispy prawn fritter – a cluster of little prawns dipped in a bright orange batter and deep-fried. This was an absolute flavour bomb - deeply umami, with crunch after crunch of batter and small, but whole prawns giving off maximum brininess.
The regular prawn vadai didn't disappoint either, boasting two big, naturally sweet, shell-on prawns on bouncy fried dough.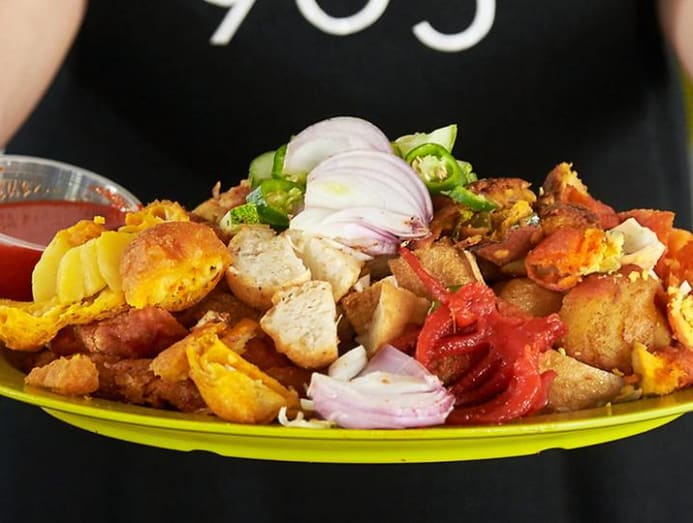 Texturally, the lentil fritter was a winner that featured densely packed lentil paste within a mealy, super-crunchy exterior that was really well-seasoned and full of fragrant spices and curry leaf.
The coconut fritter was also a unique savoury-sweet discovery. These deep-fried pointy-ended cylinders of grated coconut had a lovely crisp exterior and a fluffy, spongy interior that tasted very fresh, with a hint of sweet coconutty creaminess.
I also enjoyed the contrast of the chewy and crunchy boiled cuttlefish, whose psychedelic orange colour belied its clean, natural taste. Munching on the moist morsels of mollusc provided a welcome respite from all the crispy fried tidbits.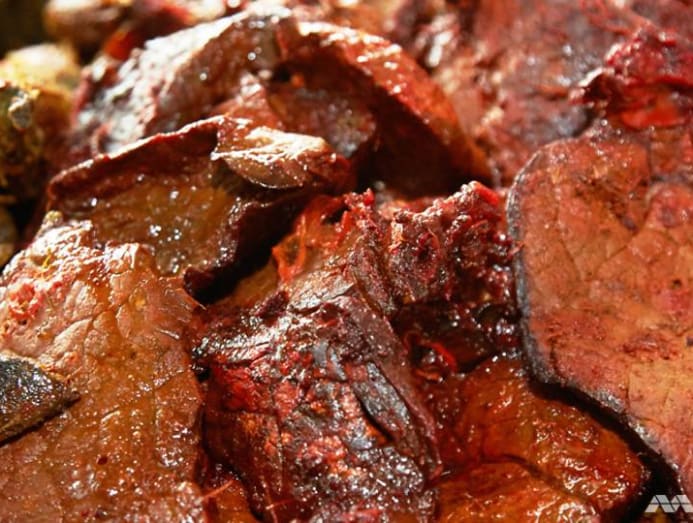 And finally, a firm favorite, albeit acquired taste, was the beef lung. Thick slices of the organ were heavily spiced and seasoned, red chilli paste still clinging to its charred surfaces, giving a real hit of mouth-watering, meaty flavour along with springy chew, without an overt taste of offal.
What I enjoyed most about the entire dish was the surprise of finding something briny like the prawns, or salty like the paru. Those flavours just popped, lifting an otherwise quite sweet and fatty dish. 
Crunching through a deep-fried crust to discover what it was hiding underneath became a bit of a game. Would it be the firmness mildness of tofu or the waxy creaminess of a potato or the fluffiness of a fried dough fritter? Each forkful was the equivalent of a culinary lucky dip and dip I did, over and over, from platter into those tubs of sauce. 
From my observations, there were two kinds of Indian rojak eaters – dippers and slatherers. I fell firmly in the latter category, as I preferred some control over how much of that neon orange, sweet and spicy sauce would coat my ingredients. 
Personally, I would have liked it to be saltier and spicier, but the sweetness seemed to be a real highlight for customers, seen blanketing their platters with the viscous, glossy gravy.
The chatty cook was happy to let me in on a few ingredients that go into their signature Indian rojak sauce, but stopped short of giving away trade secrets. A blend of sweet potato, peanuts, chillies and sesame seeds, the roasty nuttiness of the sauce came across in both fragrance and flavour.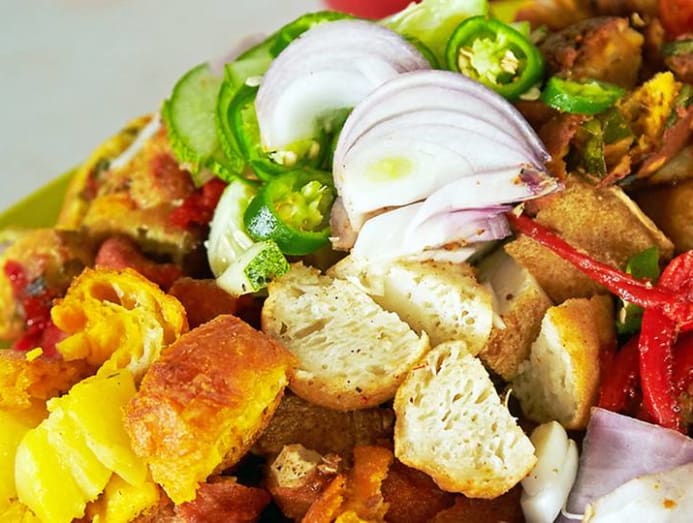 Overall, Abdhus Salam Indian rojak was very exciting for the whole palate because of those contrasting tastes and textures. An extragavanza of fat, carbs and sugar that delivered ultimate comfort and indulgence, this was a dish that encourages glorious gluttony, especially if you're indecisive, hungry, or want to share.
I encourage all of the above, so go with your family or friends (remember, no more than five people!) and share the calories. You'll get friendly service from the youthful, energetic staff and you'll be spoilt for choice by the sheer variety of delicious ingredients.
Located at 503 West Coast Drive, Ayer Rajah Food Centre, #01-73, Singapore 120503. Open from 11am to 9.30pm Sundays to Fridays, 12 noon to 9.30pm Saturdays. Available on Grabfood, Foodpanda, Bungkus apps for delivery.
Catch Makan Kakis with Denise Tan every Thursday from 11am on GOLD 905.