Best eats: This satay bee hoon in Bukit Timah is a taste of Teochew history
Having never tried this local food invention before, GOLD 905 DJ and Makan Kakis foodie Denise Tan paid a visit to Sin Chew Satay Bee Hoon at Bukit Timah Food Centre and discovered that what she thought would be weird was actually quite wonderful.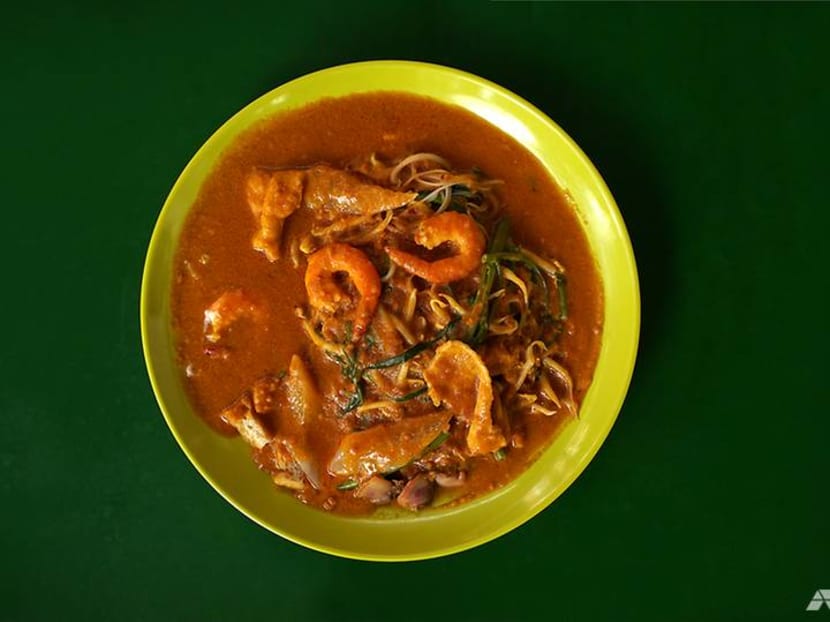 For someone who prides herself on being an adventurous diner, the latest makan recommendation from my foodie friend Lyn Lee of Awfully Chocolate absolutely confounded me. A hawker dish I had never tried before?
Sorely in need of a palate readjustment, I had to investigate Lyn's childhood favourite – a particular slice of Bukit Timah nostalgia and the tasty history of Sin Chew Satay Bee Hoon.
It's all about the sauce! GOLD 905 DJ and Makan Kakis foodie Denise Tan pays a visit to Sin Chew Satay Bee Hoon at Bukit Timah Food Centre and discovers that what she thought would be weird was actually quite wonderful.
The disbelief was still acute as I headed over to Bukit Timah Market & Food Centre – how did my tastebuds manage to spend an entire lifetime untouched by satay bee hoon?
Truth be told, it's never been on this noodle-lover's radar, not when there's always been char kway teow, bak chor mee and laksa to be had at hawker centres. But I was determined to rectify my culinary misstep.
Hearing stories of the queues for this in-demand dish sent me to Sin Chew Satay Bee Hoon way before its official opening hours, so I could chope my very first plate early and also watch husband-and-wife team, Mr Tay Que Huak & Madam Koh Git Tia, in action.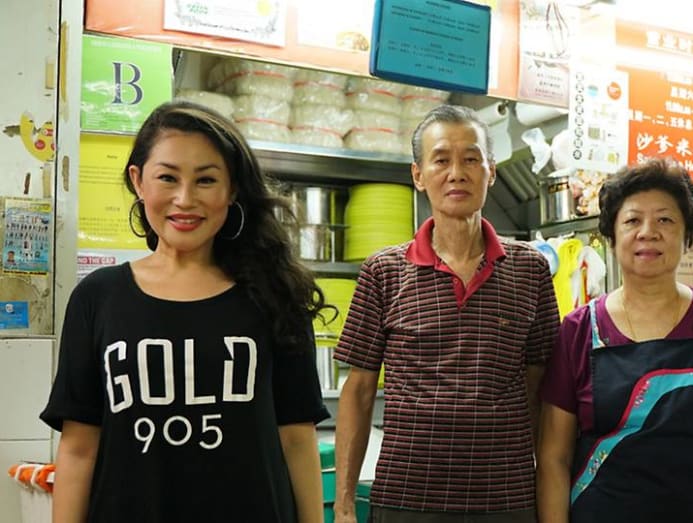 Although the exact origins of the dish are unknown, satay bee hoon is said to have been invented by Teochew immigrants to Singapore, who fused elements of Javanese and Chinese cooking. They combined noodles with a peanut gravy not unlike the sauce that grilled meat skewers, or satay, are dipped in.

When I checked this with the busy couple, Madam Koh agreed in Mandarin that it is indeed a Teochew dish – they should know, being Teochew themselves. Their satay bee hoon has been around since 1956, when Mr Tay's father first started selling it on the streets of Bukit Timah.
According to him, their secret recipe is really old. "My father was born in 1891! I stopped schooling at 14 years old to learn the trade from him. By the time I was 16, I was on my own selling satay bee hoon. My father was already in his 70s then," he said.
As the story goes, their signature dish was the result of a happy accident. Madam Koh explained: "The family actually used to sell fishball mee but switched to satay bee hoon because one day, my father-in-law brought home satay and there were leftovers. My mother-in-law said not to waste the sauce, so she cooked it with bee hoon and they discovered it was actually very tasty together!"
The early days after making the switch weren't all smooth sailing for the family, though. "When my father first started selling satay bee hoon, it took a few starts and stops before he found success," Mr Tay said, with Madam Koh relating how it was their customers who helped perfect the recipe.
"For example, when some Nyonya customers tried the satay bee hoon, they told my father-in-law what extra spices and ingredients he should add to make the dish more fragrant. That's how the flavours were developed over time," she shared.
Isn't that how many of our local delights were invented? Born out of frugality and a little bit of culinary creativity, Sin Chew Satay Bee Hoon has roots in Bukit Timah Market & Food Centre that go back more than four decades. They are considered one of the few remaining pioneer heritage hawkers who moved their street food stalls from along Bukit Timah canal into the food centre.
It's always been a family business, beginning with Mr Tay's father, who passed it on to his children and now his granddaughter. One of Mr Tay's sisters used to help at the stall, until she got married and decided to retire from the family business. The Tays themselves are semi-retired now, with their daughter shouldering the bulk of duties at their stall.
"Our daughter started helping us right after graduating from Ngee Ann poly. She's taken over for ten years already," Mr Tay said proudly.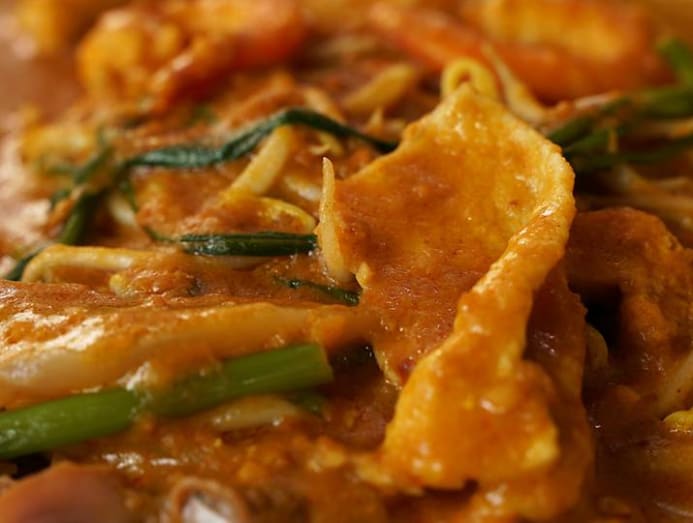 These days, Sin Chew Satay Bee Hoon's success has afforded them the luxury of scaling back operation hours to just lunch and dinner (with a break in-between) four days a week. This has only served to increase customers' appetite for their saucy signature, with regulars often forming a queue before opening times.
What makes their satay bee hoon so popular? Without missing a beat, Madam Koh replied, "Our ingredients are always fresh and our sauce is homemade from scratch using our secret spices and seasonings."
The secret to their success was literally in their sauce. Both husband and wife were extremely tight-lipped about what went into their famous satay gravy, but Madam Koh did toss out a few morsels of information. They use over 10 different special ingredients, peanuts being the mainstay.
"Last time, the sauce used to be a bit sweeter," she said. "My father-in-law was also more heavy-handed with the spices. But over the years, we adjusted the sauce to suit customers' changing palates. Not too sweet, not to spicy, everything is done to standard. Now everything's just right."
Good to know their gravy had been calibrated according to the Goldilocks standard. Their secret sauce paste, whizzed up in a blender, was packed full of peanuts and their secret blend of herbs and spices. It looked like a solid, deep-red block of mysterious flavour as it was emptied into a large stainless steel pot.
Water was then added and after a low simmer, the dark scarlet paste slowly transformed into a rich, golden-brown colour. The satay sauce had started to develop, thickening and bubbling invitingly. When it was ready, the contents of the pot were transferred into a large thermos container to keep warm.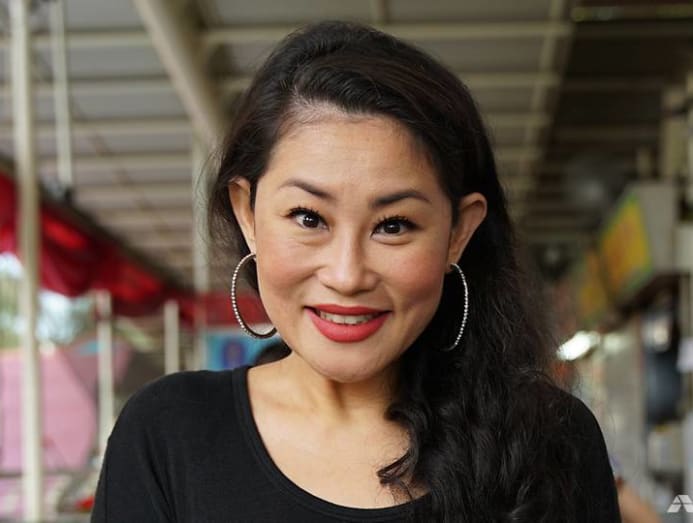 I ordered the largest portion for S$6 (smaller portions are available at S$4 or S$5, add 20 cents for each takeaway packet) and watched it being prepared by Madam Koh.
Lightly-blanched bee hoon, a handful of cockles, chopped cuttlefish, three whole prawns, thin pork slices, tau pok (fried tofu puffs), eng chye (water spinach, or kangkong) and beansprouts were arranged on plate before the hot gravy was ladled over generously. It wasn't really necessary, but I could also order extra gravy at 50 cents per portion.
Tasting it for myself, I agreed with Madam Koh, who had assured me: "Others' satay bee hoon doesn't taste the same. Ours is very light and smooth."
Their careful tweaking had resulted in a well-balanced sauce, with none of the ingredients screaming for attention. Regulars will tell you it has the perfect consistency – neither too thick nor chunky and neither too thin nor diluted.
The slightly sweet and savoury peanut taste of the satay sauce was mild and mellow, with just a hint of heat from red chillies. It walked the line between luscious (but not heavy) and clean (but full of natural flavour). Creamy and toasty, it coated my mouth and all the ingredients on the plate with a buttery, nutty aroma that wasn't too cloying. No wonder Mr Tay informed me that they eat their own satay bee hoon at least once a week.
To be honest, I hadn't expected the satay bee hoon to be that good. Sweet and spicy peanut sauce with seafood, pork and noodles seemed like an odd combination to me, but it worked. Its contrasting textures and flavours weren't odd, but rather just enough to make the dish interesting for the palate.
The springy, absorbent rice vermicelli, along with all the other ingredients, provided a neutral canvas for the subtle, yet complex sauce. Gripping everything in its nutty embrace, that sauce enhanced the freshness of each ingredient and brought everything together in one lush, harmonious mess.
Indeed, blanketed in brown, the satay bee hoon wasn't the most elegant of dishes, but more than made up for its appearance with its taste. The freshness of the ingredients shone, from the bursts of briny cockles to the never-frozen, naturally sweet and juicy prawns, to the fresh crunchiness of kangkong and beansprouts.
The cuttlefish brought a different dimension to crunchy freshness – smooth and bouncy, with firm bite and a gentle scent of the sea that complimented the prawns and cockles. The scattering of taupok pieces had sponged up lots of sauce and thin slices of pork added extra meaty oomph. The protein also served as a reminder of its distant connection to satay. It was a tad on the dry side, but nothing more sauce couldn't fix.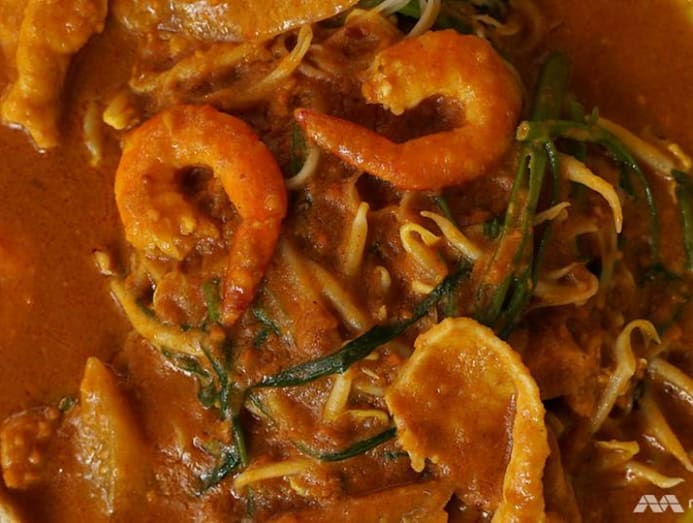 If the spice level needed fixing, Sin Chew had a homemade sambal chilli paste for those who enjoyed a bigger kick of heat. But for once, I was content to slurp up my satay bee hoon unadulterated.
The healthier option of whole grain bee hoon was also available, but Madam Koh was quick to point out it wasn't as tasty and customers preferred the original, for obvious reasons.
There's also another dish comprising cuttlefish and kangkong (S$4, S$5 or S$6), with or without bee hoon, on the Sin Chew menu.
A colourful concoction of beansprouts, pickled vegetables like carrots and cucumbers, mingled with cuttlefish and kangkong in a pool of vibrant orangey-red sauce. It was sweet and sour, quite different from their satay gravy. Yet the generous sprinkle of finely crushed peanuts held echoes of its culinary counterpart. After a good mix, the dish was a lighter, more refreshing foil for the satay bee hoon.
It struck me as no coincidence that Sin Chew is the traditional Teochew name for Singapore. After plying their trade in Bukit Timah for more than 63 years, their satay bee hoon in particular, was a microcosm of our uniquely Singaporean heritage.
Harmoniously blending ingredients and flavours from different cultures had produced a study in oxymorons – rich yet delicate, light yet hearty – a pleasing meeting of seemingly disparate contrasts.
Full of fascinating little surprises for the tastebuds, weird yet wonderful satay bee hoon initially didn't make sense in my head, but ended up making a whole lot of sense in my mouth. Which just goes to show, you can't argue with taste or history.
Sin Chew Satay Bee Hoon is located at Bukit Timah Market and Food Centre, 51 Upper Bukit Timah Road, #02-162, Singapore 588172. It's open from 11am to 1.30pm, and 5pm to 10pm on Wednesdays and Thursdays (and morning opening hours are until 2.30pm on Saturdays and Sundays). Closed on Mondays, Tuesdays and Fridays. Available on food delivery platforms. Catch Makan Kakis with Denise Tan every Thursday from 11am on GOLD 905.