Best eats: Durian mousse with scoops of D24 flesh at Serangoon Gardens
Craving for an off-season durian fix? GOLD 905 DJ Denise Tan visits Dessert Bowl for this week's Makan Kakis installment.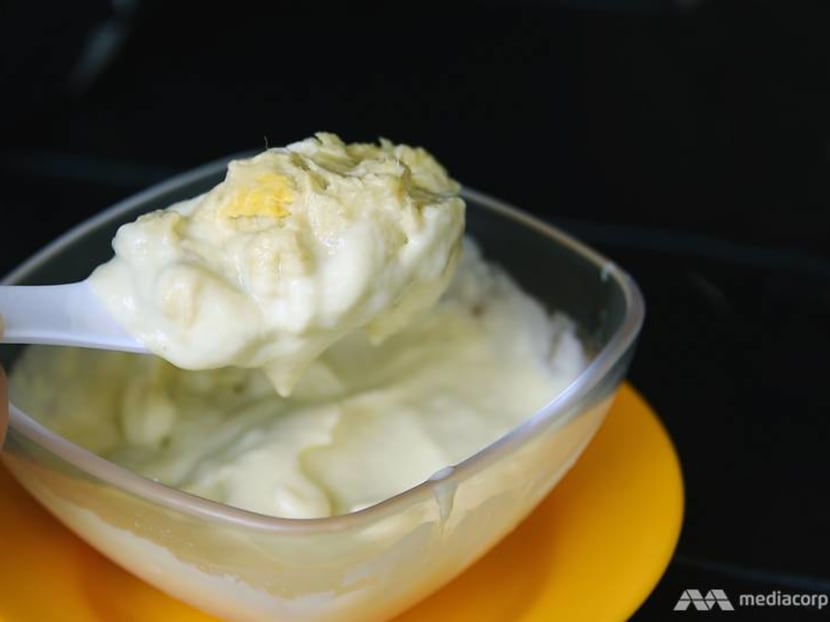 Spiky and odoriferous, no other fruit can divide a room (or clear it) quite like the durian. But if you're a dedicated devotee of the King of Fruits and find yourself searching for an off-season durian fix, we have a royal treat for you. 
In this week's Makan Kakis, GOLD 905 DJ Denise Tan visits Dessert Bowl to try their signature Durian Mousse, which comes topped with dollops of durian flesh – all sourced from Malaysia and available the entire year.
My Gold 905 Makan Kaki, dessert expert and chef-owner of The Fabulous Baker Boy cafe and restaurant Juwanda Hassim, recommended paying Dessert Bowl a visit for their must-try signature Durian Mousse.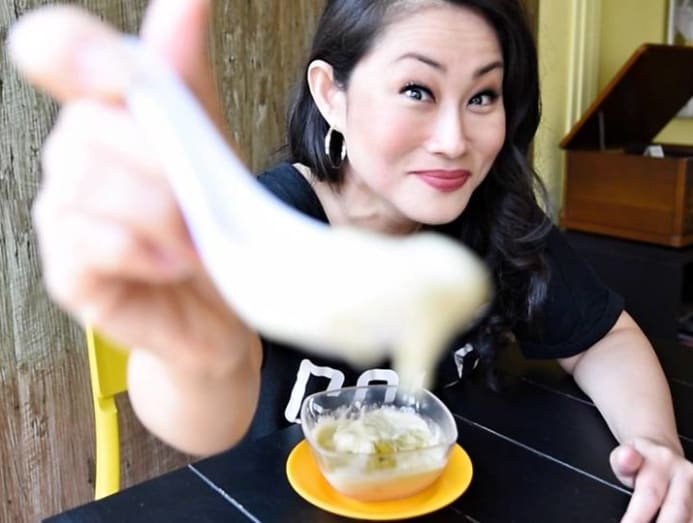 Tucked away in a sleepy corner of Serangoon Gardens, Dessert Bowl isn't the easiest to find – but you simply need to follow your nose up to the second floor of a row of shophouses. Once you open the door, the alluring smell of durian hits you square in the face, and it gets more intense as you close in on their distinctive best seller.
I sat down and ordered what the majority of customers come for – Durian Mousse ($5), which comes topped with a scoop of durian flesh. Dessert Bowl's co-owner Serene Ng recommended I try their Double Shot ($6) instead, which is their mousse topped with not one, but two dollops of durian flesh. This durian lover took no convincing at all and as I waited for my dessert to be served, I contemplated the extreme reactions durian incites.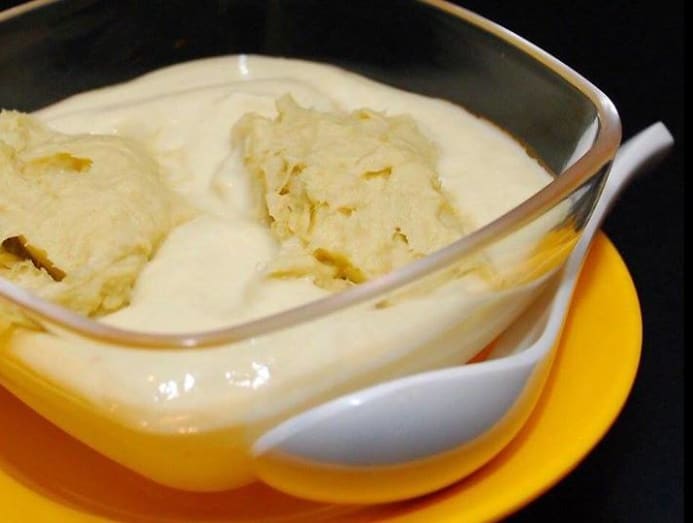 There are the durian haters who baulk at the sight and smell of the spiked fruit. Then there are the durian purists who prefer their fruit 100 per cent unadulterated, straight from the shell. These are the ones who wouldn't dream of consuming their beloved durian in cake, ice cream, cream puff or any other form.
And then there are people like me – durian equal opportunists who are willing to take durian in any guise, especially when it's dressed up in silky swirls and fleshy fibres, like the Durian Mousse.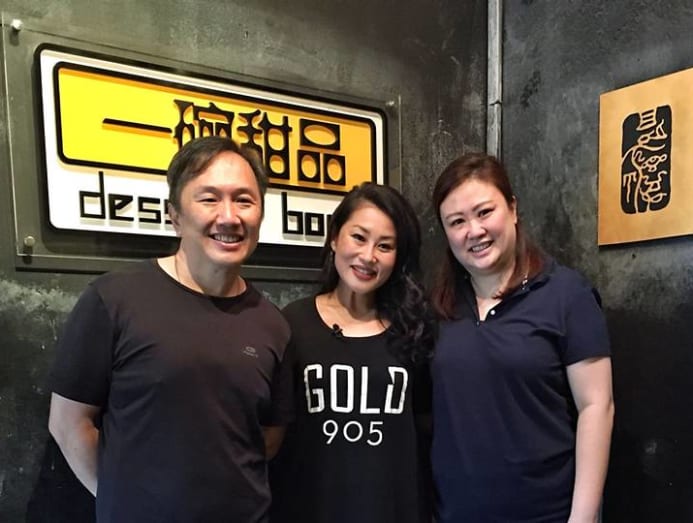 A waft of pungent perfume announced its arrival – I inhaled deeply then dug in. The mousse was thick and creamy, with a rich durian flavour that belied its light, airy texture – like if a custard, a Slurpee and the King of Fruits had a threesome.
The double-shot topping is 100 per cent D24 durian flesh, another heady layer of pure durian flavour that added depth to the icy mousse underneath. I tried it on its own and then stirred vigorously to mix it in with the mousse. Both ways are delicious and I'm glad I have two dollops to play with.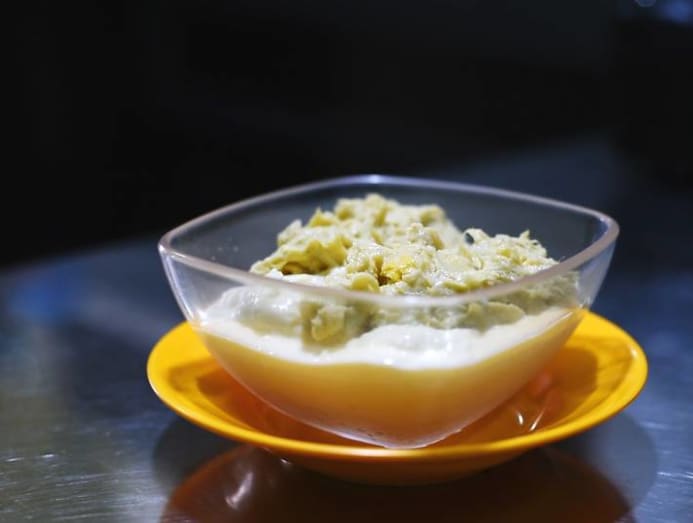 On a hot afternoon, this Durian Mousse was the perfect silky-smooth, frozen fruit treat. Hard to believe that it's made just by finely blending what looks like a durian paste and ice together. When pressed, Ng said they also add other secret ingredients to the durian paste before blending. Is it sugar? Cream? Magic pixie dust? She's not telling. But the result was delicious and undeniably durian-y without being too sweet or cloying.
Serene was a little more forthcoming when it came to their main ingredient, which they get from a trusted source in Malaysia. After a decade in the dessert business, they've established a good relationship with their durian supplier, who keeps them well-stocked 365 days a year.
The fresh fruit is harvested and then chilled or frozen, depending on the season, which ensures Dessert Bowl is never without a constant supply – a fact not lost on the throngs of customers who gather at the bustling cafe to satisfy their durian cravings in the evenings and on weekends.
If you want a calmer, quieter Durian Mousse experience, visit them on a weekday afternoon and you'll be able to savour your dessert unhurriedly, like I did. If you want to up the decadence factor, you can even add a scoop of ice cream and make it a Durian Snow Mountain ($5.80). Vanilla is the usual flavour they serve, but coconut ice cream sounds like a great pairing, if my belly had the room for it.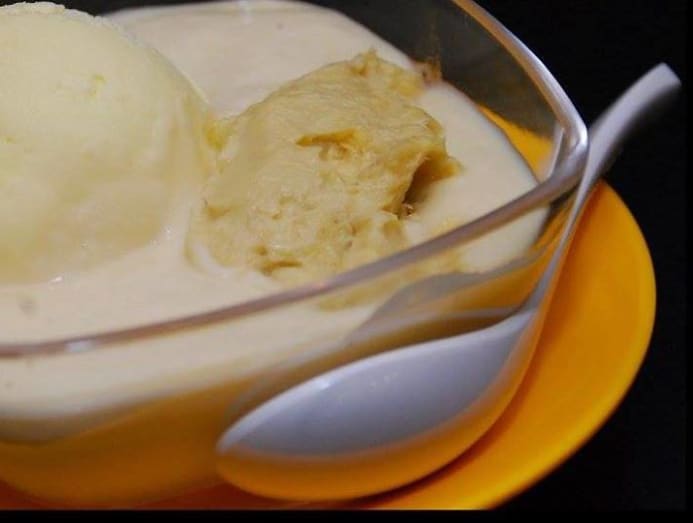 If you abhor durian, this place probably isn't for you, on account of the smell – even though they have many other delicious non-durian desserts. But if you're willing to brave the confronting aromas of durian (and the occasional jackfruit) that permeate the air, you will be rewarded with a vast array of other choices, like their traditional Glutinous Rice Balls in Hot Ginger Soup ($3.50) or their second bestseller, Mango Pomelo ($4.50), which is a Hong-Kong-style mix of sago, coconut milk, fresh mango and pomelo.
But really, it's all about the Durian Mousse that packs a powerful punch of full-on flavour. With it, they seem to have hit on a winning formula – just a few simple, top quality ingredients and you've got the best of both worlds, real durian fruit and an icy-sweet indulgence in one glorious Dessert Bowl.
Dessert Bowl is located at 80A Serangoon Garden Way, Singapore 555976. It's open from Tuesday to Thursday, 1pm to 10.30pm; Friday and Saturday, 1pm to 12.30am and Sunday 1pm to 11.30pm. Closed on Mondays. Catch Makan Kakis with Denise Tan every Thursday from 11am on GOLD 905.