Best eats: Nourishing traditional Teochew fish porridge in Bukit Timah
In this instalment of Makan Kakis, GOLD 905 DJ Denise Tan pays penance for overindulging with a trip to Quan Xiang Fish Porridge, where two types of fresh fish and a tasty stock make this stall a go-to.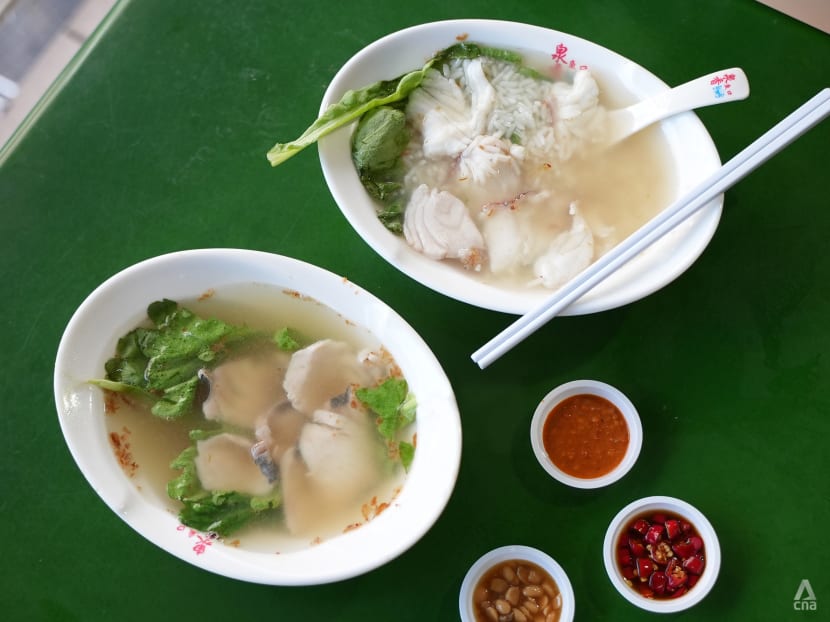 After weeks of excessive eating, my stomach was protesting. I have to admit I was ready to throw in the fork, spoon and chopsticks.
Imagine the relief to hear from my Makan Kaki, Chef Heman Tan of Moonbow at Dempsey, who suggested I reset my body with something pristine and nourishing.
As a chef of modern European cuisine, one particular stall in Bukit Timah Food Centre has been his first stop when he's in need of a respite from the rich foods he usually whips up in the restaurant.
So in times of overindulgence, pay penance at Quan Xiang Fish Porridge with a bowl of their palate-cleansing Teochew-style signature dish.
In this instalment of Makan Kakis, GOLD 905 DJ Denise Tan pays penance for overindulging with a trip to Quan Xiang Fish Porridge, where two types of fresh fish and a tasty stock make their stall a must-visit.
Under the stall's name, a menu board with the words "lao zi hao" printed in large Chinese characters greets you. Roughly translated to "renowned old brand or established enterprise", both are true for Quan Xiang, a proudly Teochew family business that had its beginnings in 1966 as a roadside pushcart.
The stall owner, Mr Loh Chee Song, told me that his father first began selling his signature fish porridge at the now-defunct Beauty World Market, until frequent fires encouraged the move to their current location in Bukit Timah Food Centre in 1976.
The business, along with their closely-guarded family recipe, was passed down to Mr Loh in 1999 and, for over two decades, he has been perfecting his father's legacy. "We still have a lot of customers from my father's time; they remember the flavour so it's very important for me to preserve tradition," he said in Mandarin.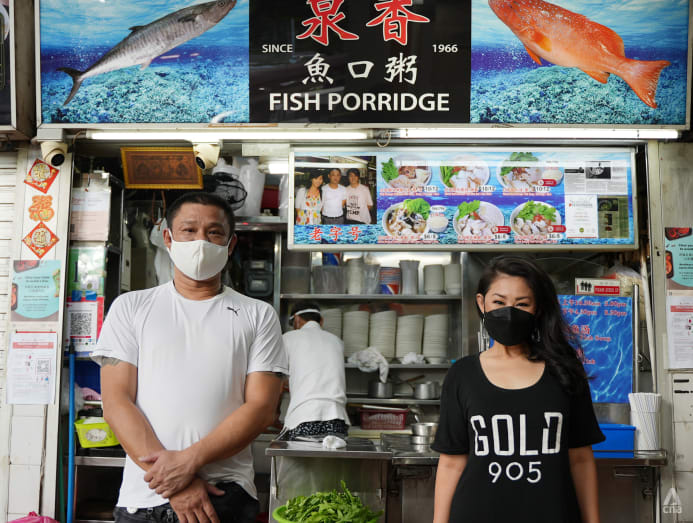 When it comes to traditional Teochew-style fish porridge, the emphasis is on retaining the fresh taste of fish, without any overt seasonings or extra ingredients to sully its purity.
Unlike other types of Asian fish soup or porridge, no tofu, tomato, seaweed or lard is added. It needs to be very clean and unadulterated so as to let the main ingredient shine. In Quan Xiang's case, they use either batang (Spanish mackerel) or the less common wild red garoupa. The freshest they can find.
Mr Loh has his fish delivered fresh daily first thing in the morning and then the hard graft begins. Between 6am and 7am, whole fish have to be broken down into serving portions and thoroughly washed. Just before the stall opens for business at 10.30am, the fish parts are rinsed again in a salt and water mixture to prevent them from sticking. They are then carefully laid, within easy reach of the stove, on top of cloth-covered ice for a protected chill in the display box.
Of the two, the red garoupa sells out fast, even though it is substantially more expensive. "One bowl is S$10 because 1kg of fish costs me between S$20 to S$30!" Mr Loh revealed. Despite the price, customers enjoy it because it's "fresh, sweet and has a finer texture".
As for the equally popular batang fish, Mr Loh warned: "You have to make sure it's of excellent quality, otherwise it spoils the taste of the soup when you cook it."
Said soup is boiled for at least three hours to extract maximum flavour from a combination of the freshest fish meat, fish bones and their own house-made fish sauce blend.
Eager for a taste, I asked Mr Loh for his best-selling dish – the red garoupa fish head soup (S$10 or $12). To my surprise, he discouraged me from ordering it because the fish head is full of bones and definitely not for novices like myself.
Greedy yet grateful for the heads up, I then decided to try both types of fish, in the form of (boneless) sliced red garoupa porridge (S$10 or S$12) and an extra bowl of (boneless) sliced batang fish soup (S$6 or S$8).
The assembly of a single bowl of soup was a precise, practised endeavor. Firstly, in went aromatic fried shallots and astringent tang oh leaves (garland chrysanthemum greens, also popular in steamboat). Mr Loh was quick to add that not many hawkers use the vegetable because it's expensive and spoils easily, but he continues using it, just as his father did, because it is a very traditional Teochew ingredient.
Next in the bowl were the double umami bombs of tang chai (salted, preserved cabbage) and powdered tee po (bottom-dwelling flat fish like flounder or sole, traditionally sundried for a concentrated sea flavour).
Meanwhile, at the stove, slices of batang fish were cooked lightning-fast in a saucepan of the beautifully boiled fish broth. This was then ladled over everything in the bowl and given a final tweak with their special fish sauce.
The method was much the same for the porridge, except that specially treated rice grains were mixed in the fish broth first, before red garoupa slices were added. In less than 60 seconds, it was ready to be poured into the waiting bowl of the above-mentioned tang chai and tee po.
By the way, Teochew fish porridge is very different from the sticky Cantonese version. Congee requires rice to break down into a thick and creamy consistency, whereas Teochew porridge has quite a different preparation and cooking process.
According to Mr Loh, it's not as simple as just pouring soup over rice, even though it looks like it. Cooked white rice has to be laid out to dry in a basket with a damp towel placed over it. The porridge is made-to-order by adding the dried rice into the pot with fish stock to cook.
"Where normal rice is rough and sticks together, our porridge grains are separate, smooth and don't absorb too much liquid. It has a totally different mouth-feel," he explained.
I didn't know what magic was in their method, but certainly each individual porridge grain somehow held its shape in the hot soup and didn't dissolve into mush.
As for the fish, I could see why some people prefer the smoother, more delicate texture of the red garoupa. Edged in its distinctive red-tinted skin and defined by large flakes, the white fish flesh was appealingly striated like the contour lines of a topographical map. Because of its higher oil content, the fish slices were incredibly moist.
However, I must admit that I preferred the cheaper batang for its firmer, more muscular flesh, almost resembling chicken breast. I especially liked its mild taste and its silvery-smooth, scaleless skin, which added extra flavour and textural silkiness to the dish.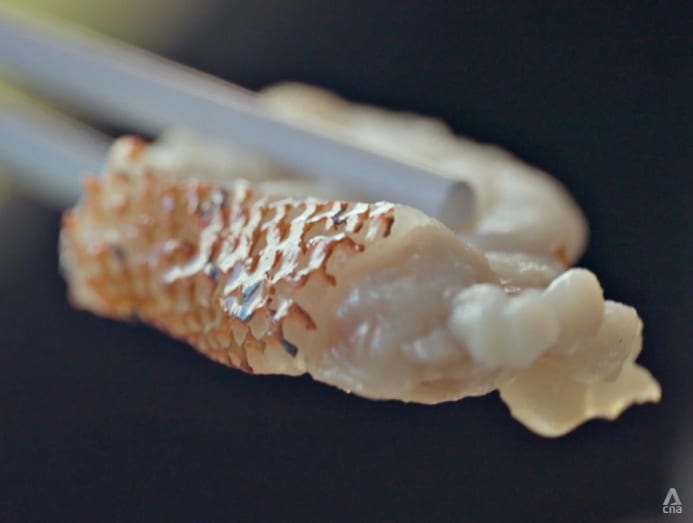 Pure simplicity in a bowl, the soup was flavourful but not fishy. Taking in large spoonfuls of the steamy stuff was almost spiritual. Comforting and cleansing, it cleared my head, it cleared my nose and it soothed my overworked digestive system.
Appropriately, the stall's name, Quan Xiang, literally means fragrant spring or well in Mandarin. It was like drinking from a healing fountain of delicately scented fish soup. It was tonic to my excesses – one sip and it felt like all was right with the world again.
If the aim is to feel wholesome and virtuous, have the fish soup plain as a restorative. But if you want to completely transform the experience, wake things up with the three accompanying sauces.
At the most basic level, the sliced red chilli padi in light soya sauce added a pleasantly salty, spicy kick. Next level up, the saucer of tau cheo (fermented yellow soy bean paste) was small in size, but dished out massive flavour. The intensely salty condiment bumped up the umami and the chunky beans added creaminess and earthiness.
But the surprise winner at this humble fish porridge stall turned out to be their sambal. Sore stomach be damned, the fiery stuff was addictive! This secret recipe chilli sauce was packed with powerful shrimp flavour, which I guessed was from belacan (fermented shrimp paste) and hae bee (dried shrimp). One taste and it was like NDP fireworks in November – unexpected, explosive yet absolutely delightful. Just like the tau cheo, it was especially good stirred into the porridge or as a dip for the fish slices.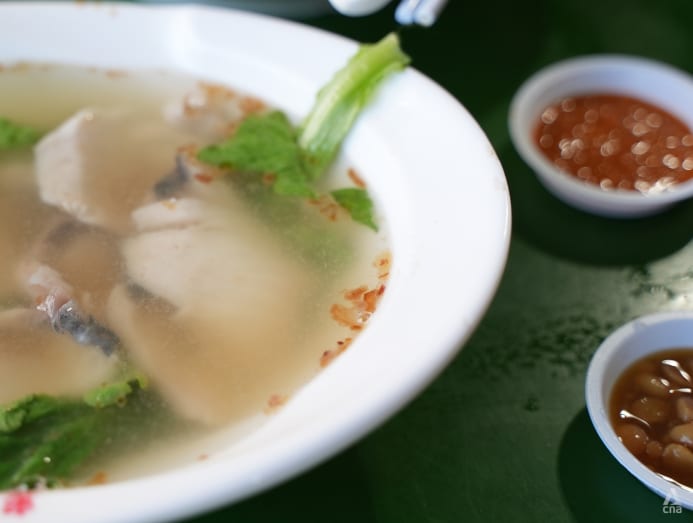 For something so simple, Quan Xiang still managed to make it special with lots of variety. Those sauces, that fish stock, the fresh fish – red garoupa or batang, sliced fish or fish head –  with soup, rice, mee sua, bee hoon or porridge. There were permutations galore to keep things interesting.
Unsurprising then, that Quan Xiang sells about 200 bowls on a good day. So good that Mr Loh also runs a branch in Bukit Batok Crescent, splitting his time between his two stalls with the help of his wife and trusted stall assistants.
Mr Loh explained there aren't any secrets to his success, just that he provides nostalgic, time-honoured food that people need and love. So he works hard, always uses the freshest fish and continues to follow his father's original recipe closely.
"My dad is already over 80 years old and retired, so he trusts me to do things right. Sometimes I do a takeaway for him and he tells me it's good." High praise, surely, from a fiercely traditional patriarch.
Quan Xiang's fish dishes may not look like much, but who says plain has to be bland or boring? Their soup and porridge are full of personality, every layer of flavour carefully calibrated to nourish and soothe. Each time you enjoy their comfort in a bowl, you're also celebrating five decades of tasty Teochew tradition.
Quan Xiang Fish Porridge is located at Bukit Timah Market and Food Centre, 116 Upper Bukit Timah Road, #02-146. It's open Tuesdays to Sundays, 10.30am to 3pm; then 4.30pm to 8.30pm, closed on Mondays. Catch Makan Kakis with Denise Tan every Thursday from 11am on GOLD 905.