Best eats: This nutty vegan rice bowl in Bukit Timah strikes like a thunderbolt
GOLD 905 DJ and Makan Kaki foodie Denise Tan discovers Living Wholesome Vegetarian's non-traditional thunder tea rice that's no storm in a teacup – it's more like a typhoon of taste.
Tired of healthy hipster grain bowls? Yearning for more comforting local flavours? Thunder tea rice (lei cha fan in Mandarin) is a dish that combines the best of both worlds.
With a catchy name that allegedly comes from the sound of the ingredients being pulverised, this age-old Hakka invention of veggie-garnished grains in an astringent pour-over soup is certainly healthy, comforting and local, even with additional toppings of tofu and ikan bilis.
GOLD 905 DJ and Makan Kaki foodie Denise Tan discovers Living Wholesome Vegetarian's non-traditional thunder tea rice that's no storm in a teacup – it's more like a typhoon of taste.
However because of its bitter herbal taste, traditional Hakka lei cha fan isn't everyone's cup of tea, literally. Enter a crowd-pleasing version that's been given a surprising vegan twist.
I first discovered this humble Bukit Timah stall in the throes of Singapore's "circuit breaker" when I was trawling the Internet for comfort food delivery that was close to home. What arrived (delivered personally by stall owner Wayne Tan) far exceeded my expectations. His vegan thunder tea rice may not have meat, dairy or garlic, but bland and boring it was not.
Impressed by how rich, aromatic and packed with protein the dish was, I plotted my visit to Living Wholesome Vegetarian at Bukit Timah Market & Food Centre when restrictions were lifted.
There, I met Wayne again, along with his girlfriend Agatha Teo, as they were busy serving the last of their lunchtime customers. Dressed in casual athleisure gear and looking very much like millennial urbanites, I was intrigued. How did this young couple get into the hawker food business?
In the break before dinner service, Wayne sat down to tell me his story. Almost on cue, lightning flashed and thunder rumbled. The afternoon had taken an aptly stormy turn, as we talked thunder tea rice.
Interestingly, as the owner of a vegan thunder tea rice stall, Wayne isn't vegan nor Hakka himself. Rather, it was a business opportunity he took up when the previous owner (his mother's ex-yoga student) decided to emigrate.
Previously from the IT industry, with his own web-hosting business in Kuala Lumpur, Wayne was already thinking of swopping the late nights and heavy entertaining for a more regular, balanced lifestyle when Living Wholesome opportunely beckoned.
It seemed almost like kismet, so with zero F&B experience, Wayne sold the IT business to his partner in KL and took the plunge. He spent a month learning the ropes from the previous owner and then he found himself on his own.
Even after paring down the previous menu to just focus on thunder tea rice, he found the initial going really tough. All the regular customers had left along with the previous owner, business was slow and he was a one-man-operation slogging for survival.
For the first five years, Wayne had to keep the stall's opening hours short just so he had enough time to focus on the labour-intensive food prep, cooking, cleaning and business management. Going it alone, Wayne stayed the arduous course, welcoming feedback from customers and taking on pointers from mentors in the industry.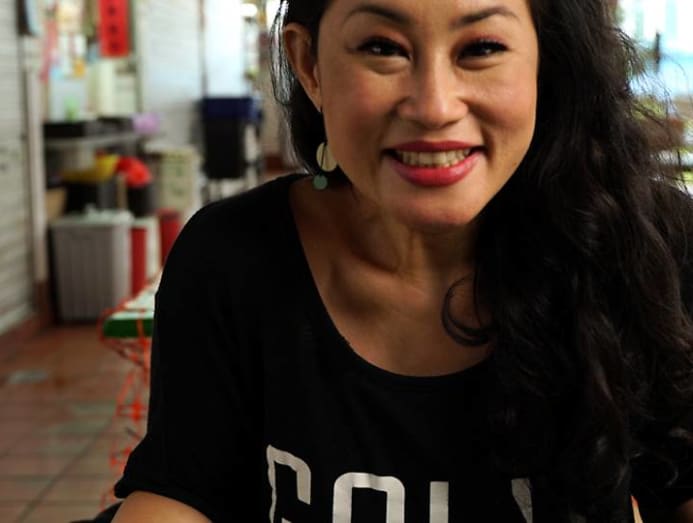 And now after seven years of hard graft, he feels grateful, saying: "People gave me really good advice, on how to scale things down and work smarter. I've been able to learn so much and not just about F&B. I actually found my passion through this experience."
But that's not the only thing Wayne has found. His girlfriend Agatha has been helping for the past year and shares his passion for serving healthy food.
Affectionately calling her his "greatest asset", Wayne explained that when he was single, he would have to close shop for the entire duration of his annual reservist training. But now, in Agatha's capable hands, Living Wholesome is able to stay open while he's away.
Learning to ask for help has indeed been a learning milestone and even Wayne's father, Mr Ayam Tan, has been lending a hand with island-wide food deliveries since the start of the circuit breaker.
Perhaps one of the biggest lessons learned was to take what he was taught and make it his own. Wayne's enthusiasm was palpable when he described how he made the necessary changes at Living Wholesome.
"I wanted to create a thunder tea rice my generation would enjoy eating. I don't feel tied down to any particular tradition, so I totally changed the previous owner's cooking method and tweaked the recipe to save on labour, but not sacrifice taste," said the 33-year-old.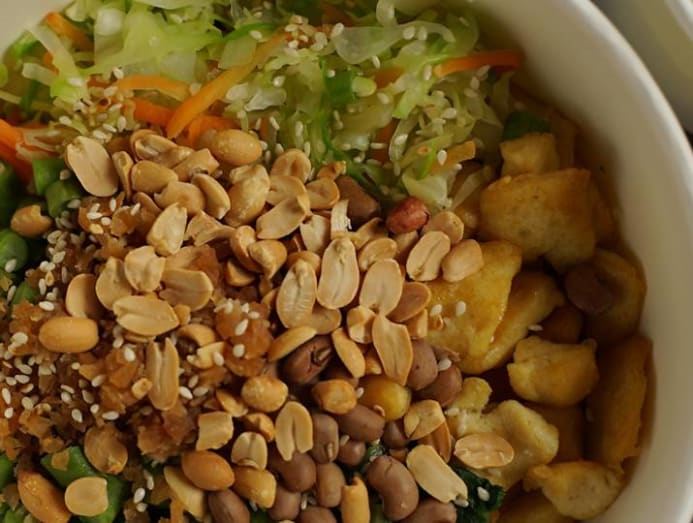 "It felt good to just simplify, innovate and experiment. As long as the end product tastes good, I'm happy."
A happy Wayne seems to have attracted happy customers and while it took almost three years to build up his own customer base, they now return specifically for Wayne's signature thunder tea rice. He had thought hard about how to give a niche dish like that mass appeal, but yet keep it vegan to boot. His solution? Nuts. Lots and lots of nuts for fragrance and flavour.
Peanuts and sesame seeds are a given in most thunder tea rice recipes, but Wayne decided to really bump up the variety by adding cashews, walnuts, almonds, pumpkin seeds and sunflower seeds to the "tea" component of the dish. This green soup is traditionally made using tea leaves, but this was one element Wayne chose to exclude, based on customer feedback.
Making the name of his stall his motto seems to have become a priority, as he reasoned, "I think the nutty flavour of my soup makes it a bit more modern, but it's still healthy to eat. I don't add oil. Also, I found out quite a few of my customers have heart issues and insomnia, so I thought if I removed the tea, they wouldn't be affected by the caffeine. Besides, it didn't really affect the taste of my recipe."
Purists may balk at this approach, but according to Wayne, it doesn't seem to be an issue with customers who actually are Hakka.
"I've learnt a lot about thunder tea rice from them. One told me in the kampung days, they used to pound the ingredients with a branch from the jackfruit tree. But I use a blender instead," he said with a sheepish smile.
Perhaps his Hakka customers are so forgiving because these days, even they might choose to use the convenience of a blender over a mortar and pestle.
Besides the generous selection of nuts, Wayne blends herbs like mint, basil, coriander, mugwort and ku li xin (three-leaved Acanthopanax, or literally, bitter toil heart in Chinese) into a concentrated paste that is then diluted with hot water to create the requisite green soup.
Yet again turning tradition on its head, Wayne prefers to eat his undiluted blend like an Asian pesto, tossed with rice and veggies.
He revealed: "Actually, my family, friends and a lot of my customers prefer to eat it that way too. I even have those who buy extra sauce to take home."
It wasn't difficult to understand why. Whether served thick or diluted with hot water, the sauce was lush and creamy, intensely fragrant and undeniably delicious.
It delivered maximum nutty flavour and a wonderful balance between savoury, sweet, and mildly bitter notes, thanks to the clever combination of the aromatic herbs. All the sharp edges had been knocked off, leaving a rounded, crowd-pleasing flavour profile that paired beautifully with the rice and vegetables.
The regular S$6.30 rice set (S$8.30 for a large one) made for an attractively-arranged bowl, with soup on the side. The vibrant colours of finely chopped orange carrot, string beans, cabbage and cai xin in varying shades of green, mingled with whole brown beans, golden-fried firm tofu and preserved radish burnished a glossy bronze.
A scattering of whole sesame seeds and peanuts completed the picture-perfect display, enough to rival any hipster grain bowl.
The vegetables served vary with the seasons, but freshness and contrasting pops of texture are the deciding factors for Wayne when he sources for them. In fact, his supplier is conveniently located one floor below his stall, in the wet market.
"I trust them to quality control for me. Take our winged beans for example. They are very seasonal so when they're available, I select them very carefully because they need to be tender," Wayne said earnestly.
The day I paid Living Wholesome a visit, winged beans weren't on the menu, but the veggies in my bowl were perfectly seasoned and cooked just right to retain a juicy crunch. In contrast, the brown beans were creamy-soft and the cubes of tofu were bouncy and crisp-edged.
Going with the traditional way of eating thunder tea rice, I poured some soup over, gave everything an energetic mix and greedily sampled a large spoonful.
A song immediately took up residence in my brain: Thunderbolts and lightning, very, very satisfying me! Mangled Bohemian Rhapsody lyrics aside, what struck me was how the garnish of sesame seeds and peanuts amplified the gorgeous nuttiness of the soup.
Ditto the toasty fragrance of the organic brown rice, which had been formidably flavoured with a little sesame oil. The bits of preserved radish emanated sharp little bursts of umami, compounding the exciting play of flavours and textures. "I only use a Thai brand of chye poh, because it's sweeter than what I could find locally," Wayne shared.
Everything that makes traditional thunder tea rice a popular choice for the health-conscious –  the combination of fresh vegetables, grains, nuts, seeds and herbs that are full of healthy fats, protein, fibre, vitamins and minerals – was in no way lost in Wayne's vegan version.
For variety, rice could be substituted for bee hoon (S$5.30 for a regular rice vermicelli set, S$7.30 for a large one) – an unexpected and no less delicious bonus for noodle lovers like myself.
Braised in a mouth-watering mushroom sauce, the bee hoon recipe was invented when Wayne ran out of soy sauces and decided to do a little experimentation in the kitchen. During the circuit breaker, he applied that same innovative spirit and came up with limited edition thunder tea burgers that completely sold out.
Wayne's non-traditional thunder tea creations may be a brow-raising tribute to the Hakka classic, but not being tethered to customs or rules has given him the freedom to continue breaking new ground.
"I'm quite a dreamer," he confessed, "and I have a lot of plans for the future. My goal is for my vegan thunder tea rice to achieve the same recognition as chilli crab or chicken rice. When people talk about it, I want them to instantly think of Singapore. I want to explode the idea of tradition."
But make no mistake, Wayne isn't just some young gun trying to create a storm in a teacup. He's also committed to feeding the needy on the first Monday of every month, preparing 60 free meals for anyone to takeaway from his stall, no questions asked.
Making food that does good, tastes good and is good for you? I'd say Wayne already is the embodiment of Living Wholesome.
Living Wholesome Vegetarian is located at Bukit Timah Market & Food Centre, 51 Upper Bukit Timah Rd, #02-188, Singapore 588172. It's open Tuesdays to Sundays from 10.30am to 2pm & 5.30pm to 7pm. Closed on Mondays. For deliveries, text 84266033. Catch Makan Kakis with Denise Tan every Thursday from 11am on GOLD 905.