Best eats: Crispy, fluffy vadai that's a pasar malam favourite
Miss the night market? For this instalment of Makan Kakis, GOLD 905 DJ Denise Tan met the father-daughter duo behind Mr Vadai, which has found brick-and-mortar homes in the East and a future online.
The connection between food and nostalgia is a powerful one. With hawker stalls closing due to the pandemic and a lot of activities we previously took for granted often not possible for now, we crave simple comforts we remember from better days more than ever before.
Take the simple joy of exploring a night market. From the sprawling Geylang Serai Hari Raya pasar malam to the kind you find in the heartland at the foot of your HDB block, it's been a long time since we've been able to enjoy the riot of sights and sounds, goods for sale and best of all, naughty foods loaded with salt, sugar, fat and carbs.
If you're looking to rekindle the thrill of biting into a hot, fresh pasar malam snack, wander no more – one of Singapore's most popular prawn vadai experts has set up shop in the East.
Miss the night market? For this instalment of Makan Kakis, GOLD 905 DJ Denise Tan met the father-daughter duo behind Mr Vadai, which has found brick-and-mortar homes in the East and a future online.
Those familiar with pasar malam stalwarts Mr Vadai will tell you how addictive their signature deep-fried snack is. They'll also tell you it was a game of chance hunting down which night market the vadai stall would pop up at.
Those days of playing hide and seek are over, now that Mr Vadai has three brick-and-mortar locations you can visit.
To chart the progress of these famous prawn vadai from pasar malam to permanent home, I arranged to meet the man behind the legendary puffs at a cosy cafe along Changi Road, which was named for his next-in-line, daughter Logeswaari (nicknamed Yeh Yeh).
Often finishing each other's sentences, the father and daughter tag team Samraj Ahsockan ("call me Sam") and Yeh Yeh were both enthusiastic about sharing their story and their food with me.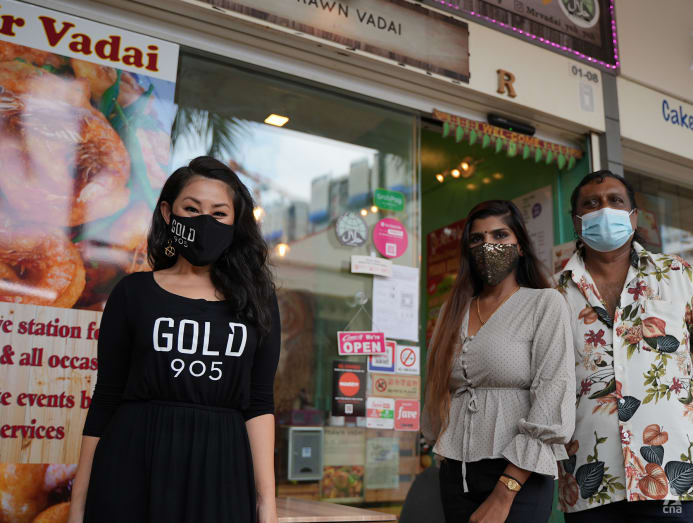 Taking us back to Mr Vadai's humble beginnings, Sam related: "The basic vadai recipe came from my mother. She used to make epok-epok (curry puffs) and plain vadai to sell in the Farrer Park area. From the age of nine, I was helping her. Last time, we sold one for just five cents. Back then, there was also a man who sold very good prawn vadai from his pushcart."
In possible tribute to those childhood food memories, Sam developed his now-famous prawn vadai recipe when he was striking it out on his own at night markets in his twenties.
"Back then, business was very good," he reminisced. "We roamed the pasar malams like nomads from 1985, before Yeh Yeh was born. We would move every 15 to 30 days all year round."
"We worked 365 days a year, non-stop!" Yeh Yeh agreed. After being trained by her dad, she began helping him out from the tender young age of 10, and at the end of 2017, they had the foresight to open Yeh Yeh's Cafe before COVID-19 became a pandemic.
Their second outlet, also in the East, at Joo Chiat Road, opened in March this year. A third, in the works at the time of our chat, has finally opened just down the road from Yeh Yeh's.
The motivation for setting up a physical shop was a practical one – so that their regular customers could find them even if a pasar malam hadn't been organised.
"The first thing people would say to me is 'your vadai is very delicious, but where's your shop?'" Sam explained.
For Yeh Yeh, it was also a matter of pride. "For over 30 years, we had no base. We just travelled and travelled. We couldn't even tell people who we are. They would say 'Mr Vadai who? You have a shop?' We had no restaurant, no nothing. We were just street hawkers. We're upgrading ourselves from nothing. Now from one outlet, we have two, then three. That's something to be proud of," she said passionately.
Another point of pride is their secret recipe vadai batter, which both Sam and Yeh Yeh insisted is different from all others. "Our dough makes our vadai special. We cook with love and passion, using my grandma's basic recipe, which my father then took and improved to make the formula last longer," she said.
Sam is especially proud of his dry batter mix, which he meticulously proportions and seasons. Theirs is a carefully calculated formula consisting of plain wheat flour, salt and spices like jeera (cumin) for fragrance.
"You can bring our pre-mixed flour anywhere – to Africa, South America – and the taste will remain one hundred per cent the same," Sam claimed.
The difficulty is in getting the correct consistency when water is added to the dry mix. "This is very important. Some add less water and it becomes too hard," he added.
Curry leaves, fresh coriander, chilli, onion and spring onion are mixed into the thick, sticky batter before handfuls are fried in vegetable oil. Yes, handfuls. No cooking utensils necessary. The batter is skillfully scooped up and shaped by hand, a single prawn then pressed on, before being gently lowered into the sizzling oil to puff up and cook.
When the vadai is finally lifted out to drain, the result is a pillowy golden disc that's crisp on the outside and fluffy on the inside. "You can't stop at one, you have to keep on munching," said Yeh Yeh, describing their addictive bestseller. "And chilli lovers will love our green chillies," she added.
Stubby, thumb-sized and specially imported from India, the fiery fruits are named bullet chillies for good reason. Be warned – just one bite brought a fresh, juiciness that gave way to shots of vicious heat. True to their name, the innocuous-looking green chillies released an inferno of spice that ricocheted around my mouth, each direct hit setting off mini explosions on my tongue. The relentless bombardment could only be tempered by bites of the doughy vadai, its spongy texture absorbing the flaming onslaught.
"The bullet chillies have a very high spice level that all my customers love. If there's no chilli that day, they'll actually walk out without buying the vadai," Yeh Yeh said, with a laugh.
Such is the devotion of us hotheads, the pain is part of our pleasure. I found alternating between bites of searing chilli spiciness and soothing vadai airiness brought the best balance of flavour and texture.
In itself, the crispy exterior of the fried puffs and the lightness of the interior dough were a beautiful contrast, made even better by the crunchiness of the prawn stuck to the surface of the vadai. The whole crustacean was so expertly fried that its shell near melted away, leaving just a shrimpy umami taste on the tongue.
For sure, Mr Vadai's signature prawn vadai (five for S$6) is a must-try and if you like, they also have ikan bilis, vegetable, chilli, sardine and plain versions to suit every palate.
However, standing out from the competition has always been Sam's quest. From running several pasar malam stalls to offering up live station services for events, he was keen to share another accomplishment. "Day and night I always think about how to improve. I pioneered the mini-vadai – that's my innovation! Other people's are copies of mine."
"We were the first in Singapore," Yeh Yeh was quick to second her father's claim. "I'll it put it this way – if I ask for three mini-vadai and he makes me 10, I'll still end up asking for more. It's the combination of the meats, the flavours, all in one bite."
The round, fishball-sized mini-vadai (10 for S$4) are made from the same batter as their larger cousins and come in an assortment of flavours like chicken, fish, prawn ("no need to peel or de-shell"), crab, ikan bilis, vegetable and quail's egg (Yeh Yeh's creative culinary contribution).
Craving a salty crunch, I chose the ikan bilis version and threw in an order of the quail's egg for fun. The latter was given a little extra treatment and coated in breadcrumbs for added texture, which both Sam and Yeh Yeh said went down best with children. "It's perfect for tea time with our pandan tea. And it's easy even for children to eat."
The joint achievements of father and daughter were perfectly represented in that one mini-vadai plate and just like their prawn vadai, the bite-sized flavour bombs were light, tasty but somehow not too oily or heavy. The only hazard was the tendency to eat far too many because of their diminutive size.
When the unique mini-vadai was first rolled out at the pasar malams, Mr Vadai became the stall that attracted long queues. "That's how I wanted to make a statement, to be memorable and get people to show special interest in my stall," Sam said gleefully.
"We got so tired of frying vadai non-stop!" Yeh Yeh finished.
To this day, they still hand-fry their vadai with their own technique. Sam revealed: "Other people keep turning their vadai in the oil, we don't." Just one minute in the bubbling oil and their golden delicious snacks are ready for immediate eating or delivery. A large part of Mr Vadai's business is conducted via online orders, so I expressed my concern that the product tended to get soggy along the journey.
Yeh Yeh informed me that their vadai has a 30- to 45-minute window for staying hot and crispy, but her solution is to let freshly fried vadai cool a little before packing for shorter delivery distances. She also offered up this tip: "My advice is to air-fry our vadai when it arrives and you will get back the same taste and texture."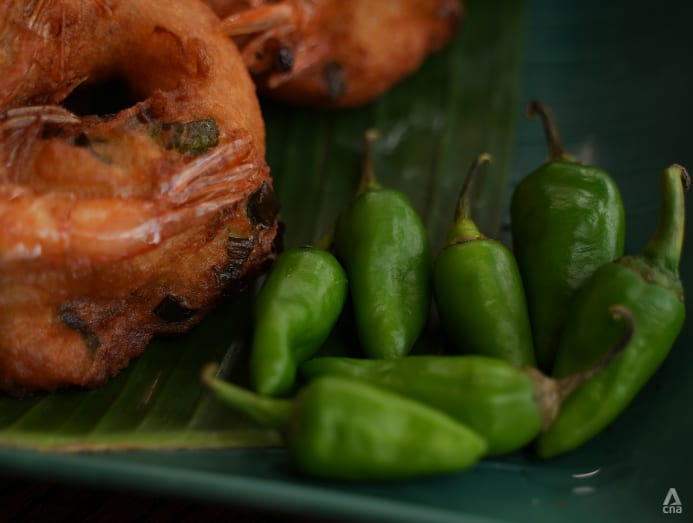 Always the innovator, Sam added: "But you can even eat it cold! Put it in the fridge and the next day, enjoy it as a fantastic cold dish." Apparently, one of their customers has developed a fondness for tearing up cold vadai and sprinkling it over salad, much like crispy croutons.
Hot or cold, regular or mini, Mr Vadai has gone from selling 500 pieces of vadai on a brisk day of business to about 1,000 daily at just this one branch alone, including online orders.
In fact, successfully digitising their business contributed to Yeh Yeh's proudest moment at The Singapore Indian Business Leaders Awards, where she was the youngest entrepreneur to be recognised in 2017. Proud papa Sam said: "I'm 101 per cent very happy to hand the business over to her now I know she's got the ability to run the show."
But together, the duo is determined to reach more customers, pushing on with more plans to develop the brand and have set their sights on expansion. "My next proudest moment is when we managed to open our second outlet. And now the third and subsequently I hope it will continue to grow," said Yeh Yeh.
This burning desire to lay down roots is also fuelled by the need to leave a legacy. When I asked father and daughter if there was going to be a third generation to take over the family business, Yeh Yeh's swift and firm reply came even before I could finish my question – "Yes, definitely! My boys started following me here to the shop from nine years old and now they can do everything. They can look after the shop if I have a day off!"
"Now they are vadai specialists already. One is 13, one is 14 years old, they can fry like nobody's business!" interjected proud grandfather Sam. With Yeh Yeh's sons showing an obvious interest in the family business, looks like Mr Vadai is all set for the next generation and beyond.
They even have plans to turn Mr Vadai into a global brand, starting as a franchise in Singapore first. But for now they are taking their time to consider proposals, as they want to maintain quality control over their prized product and recipe.
"All our outlets get the same pre-packed vadai flour mix sealed in bags. Everything is prepared at Yeh Yeh's Cafe then sent out. All you have to do is add water and the vadai will stay 100 per cent consistent," explained Yeh Yeh.
World domination aside, extroverted Yeh Yeh admitted a certain sentimentality for the pasar malam days. "I got to meet lots of different people then, so who knows? Maybe one day Mr Vadai will send one team back to rove."
One day. Hopefully. COVID-19 may have killed the pasar malam for now, but you can still relive a little part of the night market through your tastebuds. From their previous nomadic lifestyle, to creating a name and permanent base for themselves, Sam and Yeh Yeh have big plans for the future of Mr Vadai. You could say this family's ambition, powered by their signature snacks, is deep fried and justified!
Yeh Yeh's Cafe by Mr Vadai is located at 116 Changi Road, WIS@Changi, #01-08, Singapore 419718. It's open Tuesdays to Sundays, 12pm to 7pm. Catch Makan Kakis with Denise Tan every Thursday from 11am on GOLD 905.