Best eats: North Vietnamese food in a Pasir Panjang industrial building
In this week's Makan Kakis, GOLD 905 DJ Denise Tan realises there's more to Vietnamese food than we think – and hidden gem Uncle Ho Tuckshop serves the northern variety.
When it comes to Vietnamese food in Singapore, we might think spring rolls, banh mi and beef pho are all there is to it. But a meal at Uncle Ho Tuck Shop just might make us think again. Cheekily named after Vietnamese revolutionary Ho Chi Minh, this place was recommended by my Makan Kaki, award-winning cookbook author and founder-owner of Shermay's Singapore Fine Food, Shermay Lee.
In this week's Makan Kakis, GOLD 905 DJ Denise Tan realises there's more to Vietnamese food than we think – and hidden gem Uncle Ho Tuckshop serves the northern variety.
Quite the go-to workday lunch place for West Coast office workers, Uncle Ho Tuckshop is a casual, self-service eatery with the perks of free Wi-Fi, air-conditioning, and tonnes of natural light flooding in from their large windows. But don't expect the usual menu items – they serve predominantly Northern Vietnamese cuisine, with a focus on dishes from Hanoi.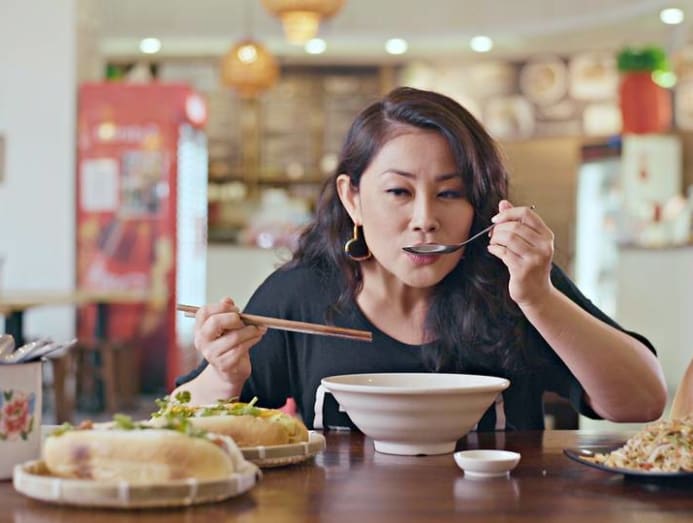 What's the difference between North and South though? I only had to order the ubiquitous beef pho (rice noodle soup) to find out.
I was expecting a bowl of noodles in a murky, robust broth with fresh herbs and veggies on the side, until I was told that's Southern style, which we Singaporeans are probably more familiar with.
Instead, I was served a large, steaming portion of silky-thin, flat rice noodles luxuriating in a clear broth, and no side of greens. The greens were already added into the bowl – a simple, but generous trio of sliced onions, spring onion and coriander. No beansprouts, mint or basil. I wondered if this would make the pho less tasty. But one slurp and my reservations were washed away in a tidal wave of pure beefy flavour.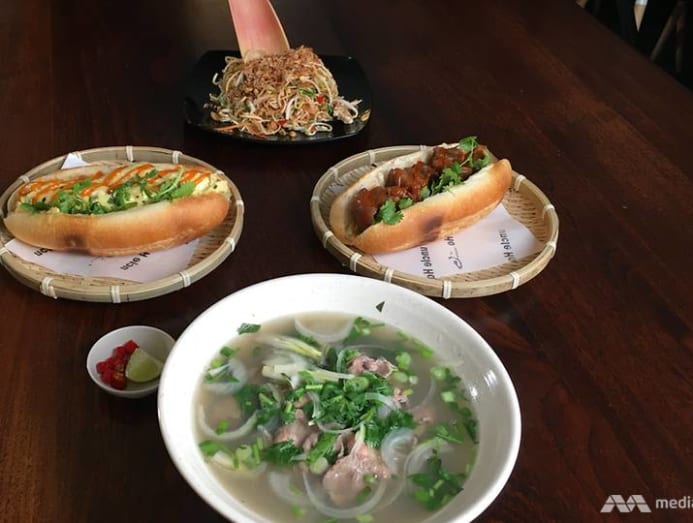 Made according to a family recipe from their Vietnamese chef, where beef bones were boiled overnight to extract all the meaty goodness, the broth was most certainly the backbone of this dish. 
Without the competing flavours of too many herbs, the broth's natural sweetness (no sugar is added) and beefiness were allowed to shine. A judicious sprinkle of their volcanic sliced chilli padi for heat (this was clearly a local touch) and a liberal squeeze of zesty lime, brightened the broth without interfering with its clean finish.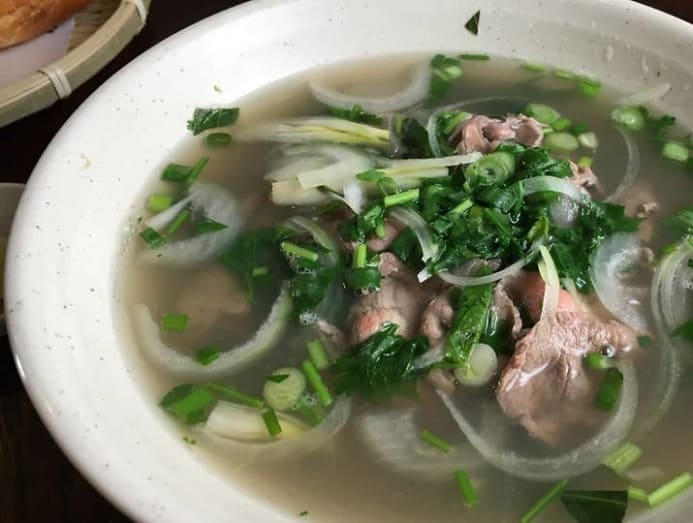 ​​​​​​Despite having been steeped in boiling broth, the paper-thin slices of beef weren't overcooked and gave the dish another delectable dimension of the bovine. Clearer and lighter than the Southern version, but no less delicious, this was a S$9.90 bowlful of comfort I could happily indulge in without guilt.
For the soup and noodle fans, another must-try Northern Vietnamese dish is their signature bun cha ($13.90), which is very popular in Hanoi. You might remember it from a now-iconic episode of the late writer and TV host Anthony Bourdain's travel show Parts Unknown, in which he and then US President Barack Obama share beer and bun cha.
It was a dish I'd never tried before and it was outstanding. Grilled, caramalised pork patties, thinly-sliced pork belly, rice noodles, fresh herbs and pickled greens, were served with a unique sweet and sour dipping broth made from carrots and green papaya. The tangy, mouthwatering dip balanced out the rich, fatty pork, making the bun cha complete and an utter flavour bomb. If it was representative of Northern Vietnamese food, I had to have more.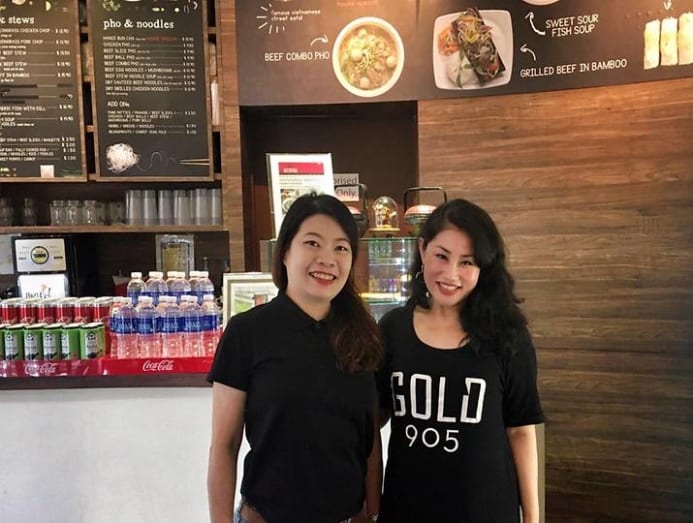 The owner of Uncle Ho Tuckshop, Janet Tan, would also love to introduce more in Singapore to the flavours of that region. Passion clearly drove the switch from her previous career in telecommunications to F&B without any prior experience.
Why Hanoi-style cuisine? "I love the food because it's very fresh, there's little use of dairy so it's lighter and healthier. Different provinces have different flavours," she explained. Indeed, where Southern dishes may be sweeter and spicier given their proximity to Thailand and Cambodia, northern dishes are lighter and more influenced by Chinese cuisine.
Janet's pursuit for the tastiest Vietnamese dishes has seen her travel there often, bringing back dishes she enjoyed the most and recreating them authentically for their expanding menu. "I even source my products from Vietnam and have them brought in for my Vietnamese chefs," she told me with pride.
Perhaps it was that dedication to authenticity which brought success to the first-time restaurateur within just five short years, enough for her and husband Alan Koay to open their second outlet in Raffles Place just four months ago. With a laugh, Janet said her move from corporate life to culinary business was like "jumping from a frying pan into the fire!"
However, said frying pan has been put to excellent use for producing their gorgeously fluffy omelettes. Eggs were fried a la minute then folded piping hot into bread to create their fantastic spring onion omelette banh mi (S$7.90).
Sounds like a noodle dish to local ears, but it's actually a sandwich that fuses East with West. The French introduced the Vietnamese to their famous baguette, who in turn made it entirely their own – most recognisably, by creating a sandwich filled with pate, pickled vegetables and fresh herbs. That was the kind of banh mi I thought I knew, but a Vietnamese-style egg-filled baguette was a version I had never encountered before.
Sinking my teeth into the crusty baguette (freshly baked in-house every morning), I was overcome by the lusciousness that followed. The omelette was soft and custard-y, delicately fragranced throughout by chopped spring onion, which gave the eggs both colour and crunch. The baguette was lined with lightly pickled carrot and daikon for even more crunch and a touch of acidity to lift the richness of the egg. Lots of coriander and squiggles of sweet and sour chilli sauce rounded off the perfect hot lunch on the go. An example of simplicity done well, egg and bread had never tasted so satisfying.
Up the decadence with their house special, if you dare – caramel pork banh mi (S$8.90). Crisp-on-the-outside, airy-on-the-inside baguette was stuffed with coriander, pickles and generous chunks of fat-striated pork belly that had been stewed in a dark soy marinade till sticky-sweet. The thick cap of fat on each hunk of meat had absorbed all the umami of the sauce, sinfully enhancing a sandwich already singing with taste and texture.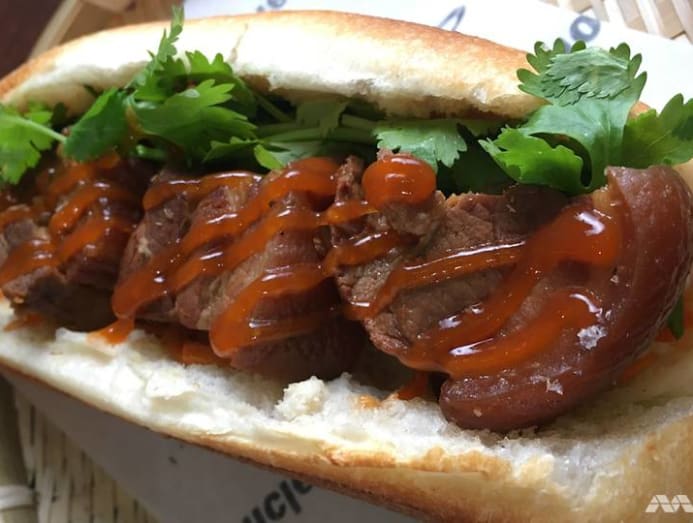 In fact, those two elements were elevated and celebrated in Uncle Ho Tuckshop's banana flower salad with chicken (S$12.90). I wondered how a bunch of veggies could end up being the priciest of all the dishes I ordered. But when confronted by its size and flamboyant plating, I soon understood why.
Like an extravagant sculpture, this culinary work of art was served with a whole banana flower petal protruding jauntily from the mountain of salad. Using this massive garnish as a spoon, I shoveled the mixture of shredded banana flower, salad leaves, mixed herbs, shredded chicken and peanuts into my eager mouth, rewarded by pop upon pop of taste and texture.
If the caramel pork banh mi had been singing, this banana flower salad was the whole choir, orchestra and concert hall.
My taste buds were blitzed by the crisp, juicy, freshness of beansprouts, julienned carrot, coriander and banana flower, the latter glazing my tongue with a pleasant floral perfume that was, thankfully, not too overpowering. Tender shreds of sauce-soaked chicken gave the dish a comforting earthiness.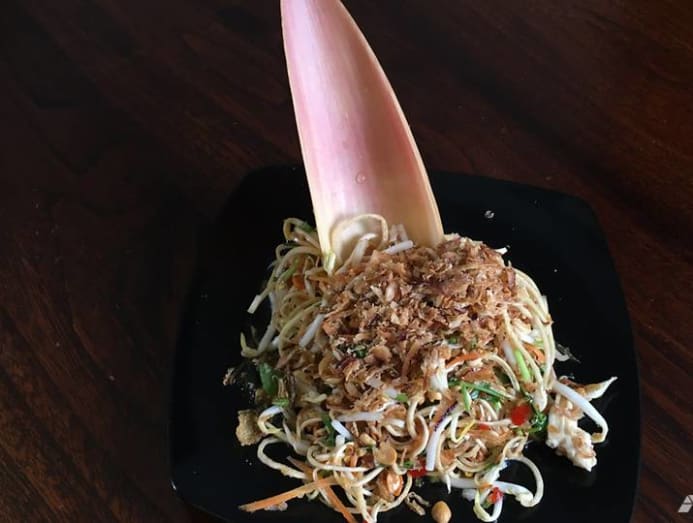 For added crunch, deep fried shallots were scattered in abundance all over, as were the peanuts, which were toasty from being roasted then crushed, their nuttiness grounding the zingy salad. The chef's secret dressing brought every together in a salty, spicy, bitter, sweet and sour symphony – was it chilli, lime and jaggery elevating the ingredients? This unusual salad was all substance, all style and the absolute star of the show.
I finished my lavishly varied meal with a glass of condensed milk sweetened iced Vietnamese drip-coffee (S$4.80). As I enjoyed its full-bodied, buttery, dark chocolate flavours, I came to several conclusions.
One: Uncle Ho Tuckshop was such a revelation because it serves hearty, surprising food in a surprising location – who knew it was tucked away all along in an industrial building along Pasir Panjang Road? Two: It shouldn't stay a hidden gem any longer. And three: Previously, I hadn't known much about Northern Vietnamese cuisine, but ignorance was bliss. Tasty, tasty bliss.
Uncle Ho Tuckshop is located at 100 Pasir Panjang Road #01-04, Singapore 118518. It's open Mondays – Saturdays, 11am – 9pm, closed Sundays and public holidays. Catch Makan Kakis with Denise Tan every Thursday from 11am on GOLD 905.