Best eats: Extra crispy prawn paste chicken in Yishun is a 'wing-wing situation'
GOLD 905 DJ and Makan Kakis foodie Denise Tan couldn't stop eating Ah Tan Wings' har cheong gai – a true celebration of local surf and turf.
Fried chicken is, undeniably, a universal favourite. Who doesn't enjoy tender marinated meat coated in a crispy seasoned batter?
The USA has Southern fried chicken, Japan has karaage, Taiwan has da ji pai (XXL chicken cutlet), South Korea has Yangnyeom chicken and Indonesia has ayam penyet.
It's a "wing-wing situation" for GOLD 905 DJ and Makan Kakis foodie Denise Tan, who tries out Ah Tan Wings' famous prawn paste chicken, a true celebration of local surf and turf.
But here in Singapore, har cheong gai (literally "shrimp sauce chicken" in Cantonese, but also often referred to as prawn paste chicken) deserves some time in the spotlight.
Usually found among other dishes on zi char stall menus, one up-and–coming name has instead made this fried chicken dish its sole focus.
Nicknamed after himself, Ah Tan Wings was set up in Yishun Avenue 11 by 28-year-old Tan Wee Yang, whose obsession is har cheong gai.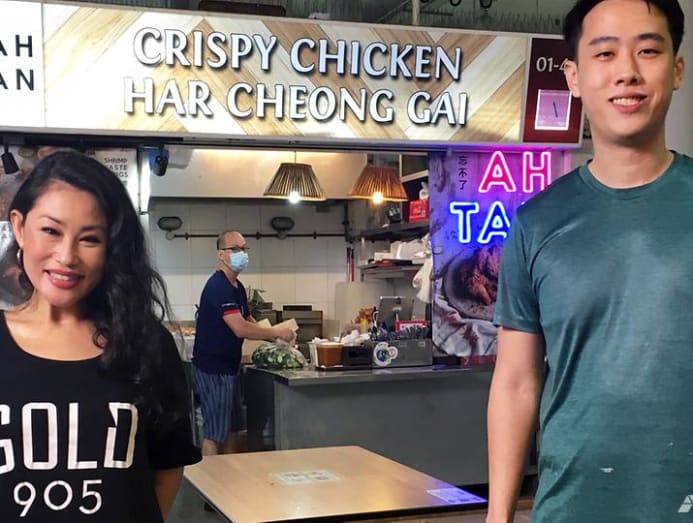 This quintessentially local version of fried chicken stands out because its odiferous namesake gives it intense favour and its batter also doubles up as an all-in-one marinade.
"It really is my favourite dish and I went around all of Singapore trying the best before opening my stall," Wee Yang said when asked how a young guy like himself got his start.
Using his tastebuds and empirical intel, he came up with his own recipe and tested the market by catering to pop-up events on weekends, while juggling his full-time job in heavy machinery sales.
When his har cheong gai started selling out at those pop-ups, Wee Yang knew he was ready to turn his weekend passion into a full-fledged business, one specialising only in his favourite local chicken dish.
"At zi char stalls, you have to order a whole plate, a full size serving of har cheong gai, and that got me thinking," he explained. "I couldn't find a place where if you went alone, you could just have two or three pieces, or eat it with rice as a meal."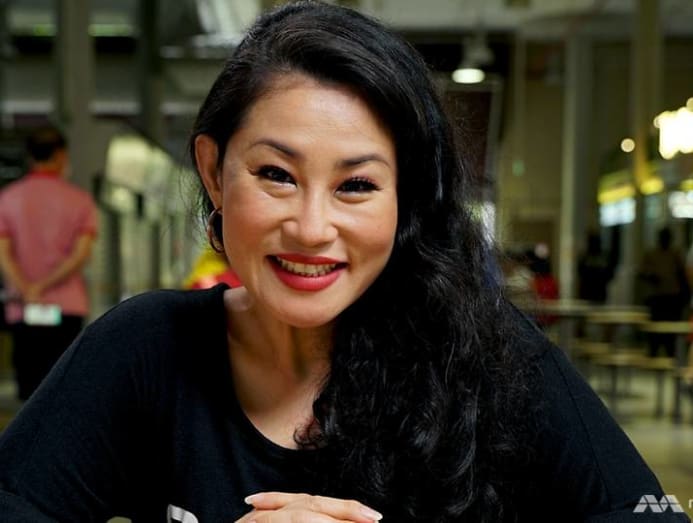 And as most savvy entrepreneurs know, if you can't find it, create it yourself. And so he did. Ah Tan Wings was hatched three years ago at the buzzing Yishun Park Hawker Centre.
From the get-go, Wee Yang's crispy, fragrant and flavour-packed chicken wings were a hit, which allowed him to set up shop at another location across the island – Timber+ Food Park in Ayer Rajah Crescent.
Business has been pretty good, he admitted, and now Ah Tan Wings goes through a feather-ruffling 600 chicken wings on a week day, Wee Yang reckoned, and "up to a thousand" on weekends.
That's a lot of shrimp sauce chicken being gobbled up, so I had to ask Wee Yang what made his wings so popular. The secret to his success, he reckoned, was "room to experiment and double-frying the chicken".
Without having to adhere to any har cheong gai traditions, he was free to play, and through trial and error, he discovered that giving his marinated wings a second fry produced a far superior, crunchy texture that customers love.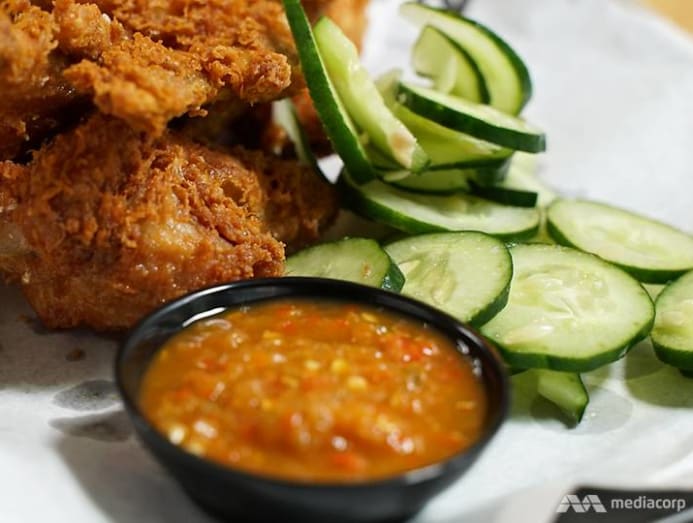 Just before getting their second sizzle in temperature-controlled deep-fat fryers, the wings were drizzled with a second layer of seasoned batter, made mainly of egg, flour and baking powder. "We do it almost tempura-style for that extra crispiness on the chicken, so that's where we're a bit different from other stalls," he added.
The half-dozen wings (S$1.80 each, minimum order of two) I ordered came direct from the fryer to the table, sitting pretty on brand-name parchment paper, with sliced cucumbers and a litte dish of housemade chilli sauce.
Each wing was served whole (drumlet, mid joint and wing tip all intact) and gift-wrapped in a craggy, golden-brown crust. Crunching through the incredibly hot and crisp batter, I got smooth, tender meat that was moist and marinated perfectly.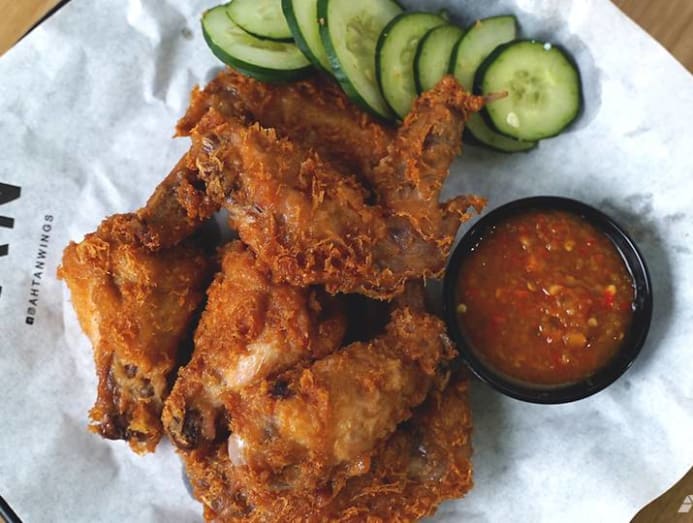 The fermented funk of the shrimp sauce was distinct, yet not overpowering, and its pervasiveness gave the chicken a deep umami without being too salty. Petite in size but big in flavour, these wings were dangerously addictive. I made two, three, then four wings disappear before pausing to ask what else was in the batter-marinade.
The recipe is one that has gone through much incubation, as Wee Yang had to create his own from scratch. Like most next-gen hawkers, having nothing passed down to him, this meant scouring the internet for inspiration and even approaching the chefs behind some of his favourite har cheong gai for their recipes. 
"Of course they won't share everything. Normally, they'll just tell you bits and pieces, then it's up to you to put it all together," Wee Yang said of his encounters with said chefs.
Likewise, he would only reveal that his personal recipe contained a blend of ingredients including sesame oil, hua diao jiu (Chinese cooking wine), aromatics and other secret seasonings. "Every stall has their own formula and ingredients are mixed in different proportions. But the key has got to be the shrimp sauce," he said.
Wee Yang went through several brands before settling on the one he currently uses, which is from Hong Kong. On its own, the pink-grey potion of salty, fermented krill was nose-searingly powerful, but when used in the right measure, its putrid pungency transformed into prawny perfection, bringing complexity and dimension to otherwise plain ol' chicken.
But the transformation didn't happen overnight. Ah Tan Wings were so tasty because they had been bathing in their marinade for two whole days before being twice-fried. Those 48 hours were necessary for the flavour to penetrate right down to the bone and permeate the meat thoroughly.
Six snackable wings later, I was still craving more. As an extra option, Ah Tan Wings also have chicken and aromatic rice sets complete with runny fried egg, for a more filling har cheong gai experience.
A lighter version of Hainanese chicken rice, Wee Yang had created the ideal accompaniment to his deep fried chicken – a rice that was fragrant with lemongrass and not too oily, served with two wings (S$5.20), or an "atas" crispy cutlet made from a whole boneless chicken leg (S$6.80).
For added spice, a chilli sauce was specially concocted to go perfectly with the marriage of prawn and poultry.  The most inspired ingredient was the cincalok (another krill sauce fermented with salt and rice) that augmented the har cheong gai flavour.
The subtle whisper of shrimp mingled with the varied heat of red chillies, chilli padi and green chillies, along with ginger, garlic, onions and fresh lime juice they squeeze themselves.
The chunky sauce was a little sweet with a chilli heat that built and lingered. But its bright zinginess danced boldly on the tongue and rescued the deep-fried, deep-flavoured chicken from being too cloying.  Ever the enterprising young hawker, Wee Yang has also made S$10 jars available for takeaway or online delivery.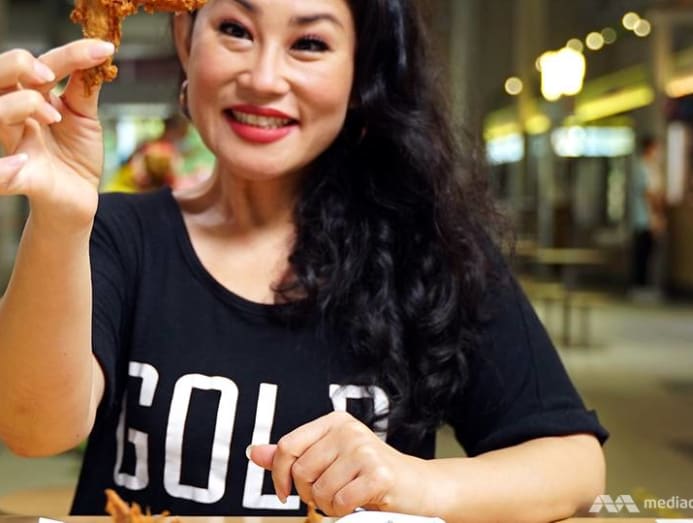 When asked what other plans he has for the future, Wee Yang answered modestly: "In an ideal world, I would like to open a stall close to each neighbourhood – North, South, East, West, Central, you know? Not too many to oversaturate the market, but close enough to my customers so they don't have to travel so far. It should only take them a 10- or 15-minute drive to reach us."
With Yishun and Ayer Rajah covered, that's two down, three more to go for this young hawker who personifies Ah Tan Wings – local, down-to-earth, relatable.
Determined to stay true to his roots and the heartlanders he serves, Tan Wee Yang is no jack-of-all-trades, but the master of one. His signature shrimp sauce chicken is surf and turf exemplified, uniting the best of the sea and the land in one crispy celebration. True to the words printed on his apron, that's a "wing-wing situation" for everybody.
Ah Tan Wings is located at Yishun Park Hawker Centre, #01-40, 51 Yishun Ave 11, Singapore 768867. It's open daily from 11am to 8pm. Available via online food delivery platforms. Catch Makan Kakis with Denise Tan every Thursday from 11am on GOLD 905.