Best way to enjoy Mao Shan Wang durians right now? Order online, eat at home
Eating out is part of the experience during durian season, but 99 Old Trees' Kelvin Tan suggests relishing the king of fruits safely at home, for now.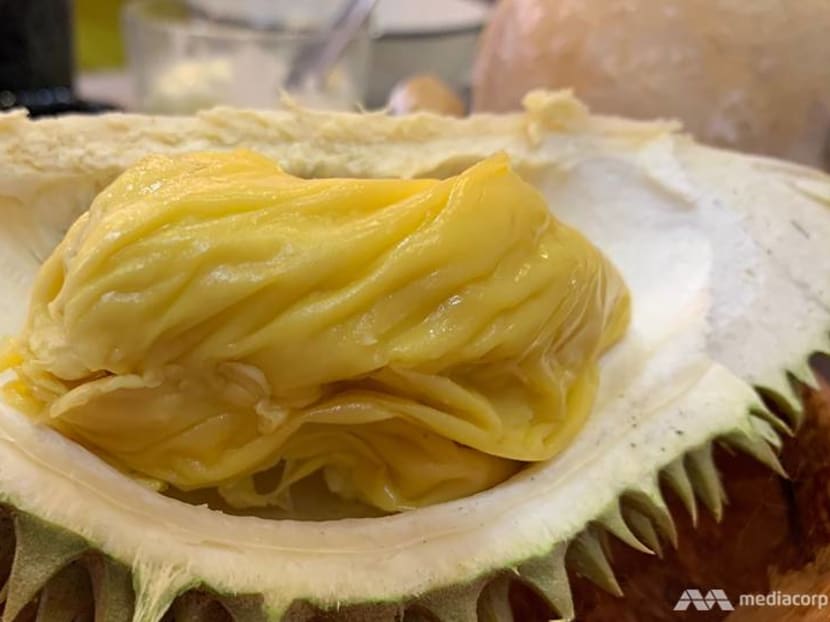 It's that time of the year again, when we're deliciously thick into Singapore's annual durian season and indulging in our national obsession.
With the durian season's second wave coming up in August, CNA Lifestyle got a crash course in picking the best durians from Kelvin Tan of 99 Old Trees.
But with the pandemic still ongoing, it pays to be extra cautious when enjoying the king of fruits. While eating outside by durian stalls on makeshift tables and sitting on plastic red stools surrounded by shells has long been part of the experience, it might be for the best to head inside this year.
Kelvin Tan, director of durian retailer and cafe 99 Old Trees, reckons that even though Phase Two allows dine-in options with safe management measures in place, the best option is to self-collect or get durians delivered to your homes.

That's what they've been doing: "This season, we are geared towards delivery. Hence, all our available dine-in space has been used to facilitate the higher volume of deliveries."
Indeed, many durian sellers have pivoted to accommodate this new normal and started offering delivery services – where your durians get sent right to your doorstep in handily sealed boxes after a simple text or phone call – when they previously haven't.
Tech-savvier brands like Jojo Durian, Durian Papi and even 99 Old Trees themselves have upped their website game, making the choosing and ordering process smoother and easier.
GrabDurian is also back this year, where you can order Spike Empire's durians – known for its farm-to-door fresh preparation process – through GrabFood. They also have merchant-partners like fruit stalls Heavenly Guo and 1321 Fruits offering popular durian varieties from Mao Shan Wang to D24.

Some other establishments like Combat Durian at Balestier and Ah Seng Durian at Ghim Moh market are also allowing for self-collection, which would give the pickier durian lovers among us a chance to inspect the goods before purchase.​​​​​​​
Of course, being physically there to ensure you get to pick your durians is the best option. But how do you do that online?
The first thing to note is to watch out for scammers, warned Tan. "When purchasing online, it's important to look out for reviews and ask around for recommendations. There are increasing cases of durian scams and inferior durians being sold online this season."
Once you've decided a seller's legit, know what's the best. According to Tan, it's all about Pahang durians now, especially with the current Johor season ending. 
"In Pahang, the best quality will be Mao Shan Wang (MSW) grown in the highlands," he said, adding that it makes up at least 65 per cent of 99 Old Trees' total sales volume at the moment.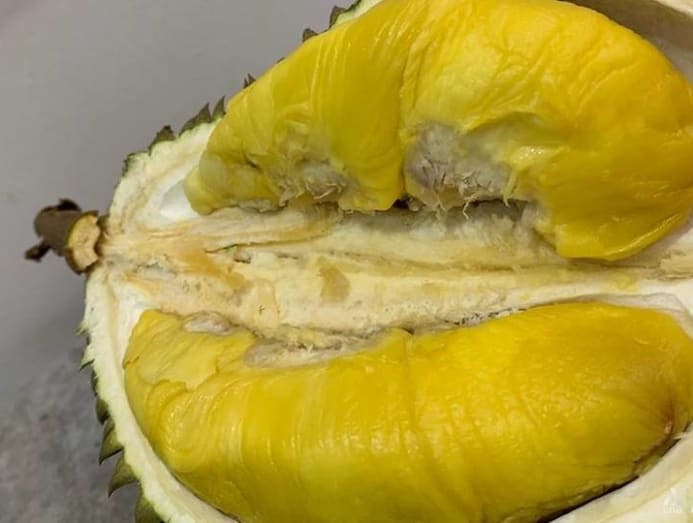 And the cream of the crop? "The Black Gold variety is essentially MSW of exceptional quality. It tends to have black greenish veins running throughout the flesh," explained Tan. 
"But this is a pretty rare breed. If you can't get Black Gold quality, the usual MSW variety is still pretty good."
For durian lovers looking forward to something other than MSW and a wider variety in the coming months, the Tekka, Hor Lor and Red Prawn durians are expected to make their appearance in August, along with a limited haul of Black Thorn. 
Tan also had some useful tips on how to enjoy your pricey purchases at home. Firstly, he recommended using leak-proof containers with silicone lining to keep the durians before putting them in the fridge.
"Also do try to consume durians within two days of purchase, or keep them in the freezer if you want to keep them for a longer period of time," he advised, adding that a month should be the max.