6 new brunch spots in Singapore: Danish meatballs, souffle pancakes, Peruvian-Mexican brekkie and more
Go on, plan that meal that stretches lazily from late morning to early afternoon. Brunch will never go out of style.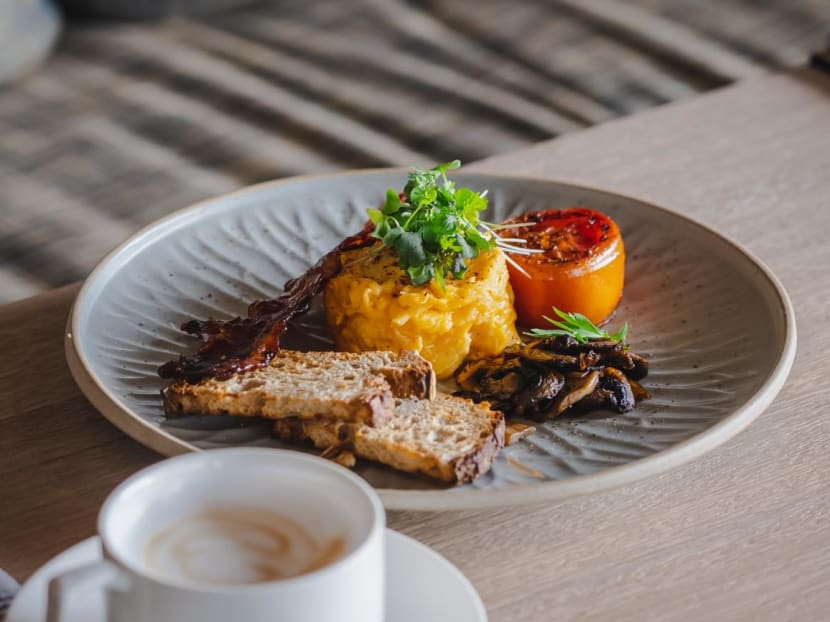 It's 2023, and we're not above using the b-word: Brunch.
Say what you will about being basic, but sometimes, nothing but the gentle rebellion of a meal that's neither breakfast nor lunch can hit the spot, especially when you're enjoying a well-deserved weekend break from the daily grind – or weekday, if you're "working from home"; we won't tell.
And, yes, it always helps when the space, the tableware and the embellishments look pretty, too. If you had brunch and didn't document it, did it really happen?
For you brunch managers looking for some new spots to hit up when the craving for some fancy toast hits, here are six: From pastries by a fine dining chef in the heart of Orchard Road to island vibes with free-flow booze and even Hainanese classics with a modern twist.
A toast to everyone's favourite neither-here-nor-there-but-millennially-everywhere meal.
1. SENG HOUSE
No, it's not a kopitiam, although the two-month-old cafe's name certainly sounds like one. This should give you a clue that you won't find avo toast or activated muesli here. Instead, the quirky-retro cafe, opened by the same people behind Seng Coffee Bar at Changi Road, boasts a hearty menu with some interesting Hainanese influences.
For instance, on the Seng Breakfast Club plate (S$20.80), in addition to eggs, sausage, ham, button mushrooms and charred tomatoes, you'll find luncheon meat and charcoal-grilled toast with homemade kaya.
On the breakfast menu, which is available until 5pm, there's also chicken curry served in a sourdough bread bowl (S$16.80).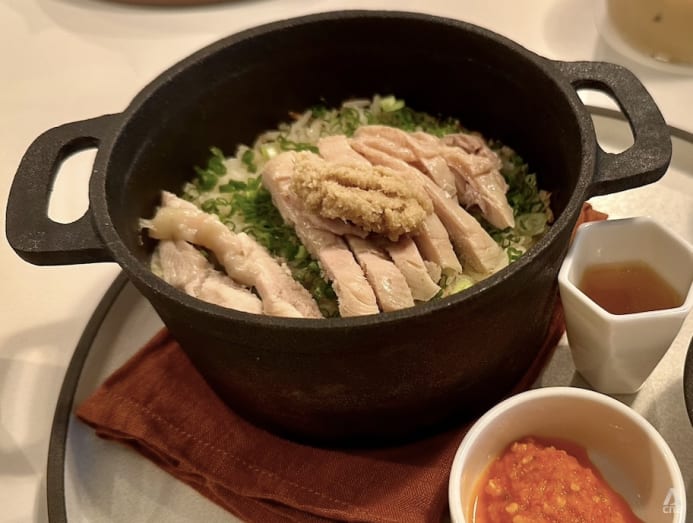 And from 11am, you can order items from the lunch menu like Hainanese Pork Chop (S$22.50) using Iberico pork deep-fried in cream cracker crumbs; Wat Dan Hor (S$24.80) or flat rice noodles with tiger prawns, mussels and fried squid; and Claypot Chicken Rice "served with Seng's family chilli" (S$18.80).
Okay, so it's an S$18 chicken rice, but it comes piping hot in a little casserole pot, with a tiny cup of concentrated chicken consomme, and it's the dude's family chilli, and who says chicken rice can't be an occasion?
There are pretty legit sandwich options, too, like the Dirty Steak Sandwich (S$28.80) with cheddar, arugula, tomatoes and black pepper sauce; and the Pork Swiss Sandwich (S$23.50) with creamy mushroom, emmental and crispy pork skin.
214 Tanjong Katong Road. https://www.senghouse.sg
2. OVERBROD
Way out of left field comes a little Scandinavian-inspired cafe at Anchorpoint, opposite IKEA Alexandra.
Here, you'll find beautiful hot and cold smorrebord or open-faced sandwiches (S$15 to S$26); tender meatballs and mash in beef jus with housemade lingonberry jam (S$18); hay-smoked potatoes with saffron aioli and tobiko (S$9); and liver pate with pickled beets and bacon on toasted rye (S$12), all executed with unpretentious finesse.
Owner Gordon Tan was a chef at Middle Eastern-Japanese izakaya Habibi-san, but after honeymooning in Denmark, he saw a market in Singapore for simple Scandinavian classics done well, and decided to take the plunge. Overbrod started out as a home-based business in March last year, and in December, opened its physical cafe, which is still in its soft-launch period.
There's one thing Tan's palate identifies as missing from traditional smorrebord, and that's umami. So, he brings a touch of it into his dishes by marinating salmon in soya sauce, for example, and using mentaiko mayonnaise in the shrimp sandwiches, resulting in flavours that are clean yet dimensional.
Meanwhile, his business partners Benjamin Tan and Daniel Chia look after the coffee programme, customising their grinds, blends and cold brews; and also bake yummy florentine biscuits, which the cafe offers for sale.
If you like pastries, definitely try the cinnamon knots (S$6): Freshly baked and redolent with spices, they're perfect with a hot cup of joe. And for those who thirst, there's also lingonberry soda, schnapps and craft beers.
Anchorpoint Shopping Centre, #01-14A, 370 Alexandra Road. https://www.instagram.com/overbrod
3. CAFE NATSU
Cafe Natsu has a spanking new outlet at Clemenceau Citadines Connect Hotel, opening just six months after its first outpost at Joo Chiat.
Under the auspices of chef Lewis Barker of Michelin-starred Sommer, Natsu serves up the dishes you'd normally think of in association with brunch, but with a Japanese touch.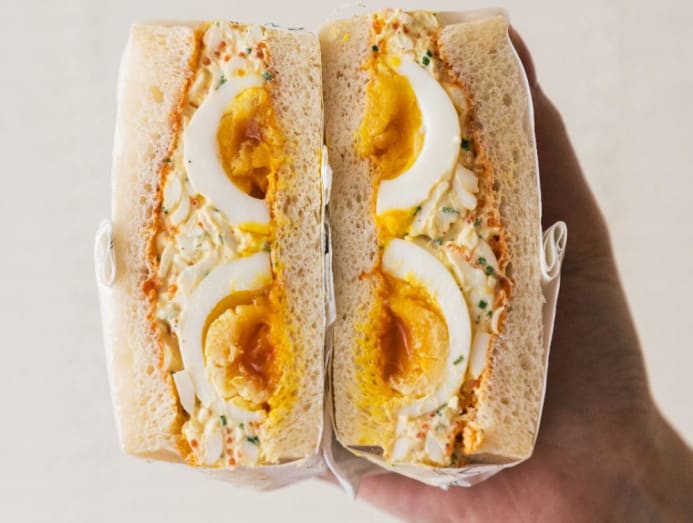 So, instead of regular pancakes with maple syrup, you'll find souffle pancakes with seasonal peaches, roasted almond Hokkaido milk ice cream and litchi honey (S$23); the classic eggs Florentine are reinvented with dressed crab, wasabi spinach and miso Hollandaise (S$25); and the Wagyu Beef Shortrib Sando (S$30), where the beef is slow cooked for 48 hours then roasted over a binchotan, is seasoned with shishito pepper ketchup and yuzukosho mayonnaise, and served with Togarashi fries.
For Easties, the Joo Chiat outlet has some new dishes, too, like Wagyu Hamburg with Okonomiyaki (S$26), Shortrib Ragu Kare Casarecce (S$24), Cold Somen with Confit Egg Yolk and Soy Dashi (S$14) and BBQ Shirobuta Don with Soy Caramel and Shishito Peppers (S$24).
Cafe Natsu Clemenceau is at 182 Clemenceau Avenue. Cafe Natsu Joo Chiat is at 283 Joo Chiat Road. cafenatsu.com
4. LE MATIN PATISSERIE
You know of the famous pastry boxes that chef Mohamed Al-Matin launched at the height of the pandemic; now, you can sit down and have all the fresh, hot pastries you want for brunch at Le Matin Patisserie's new cafe at ION Orchard.
Brunch purists – if there's such a thing – will enjoy the fine simplicity of the Black Truffle Scrambled Eggs Croissant (S$34): Fluffy eggs with black truffle aioli on a round croissant burger, topped with sliced black truffles.
Other luxuriously decadent brunch options include a Smoked Beef Cheek Banh Mi (S$18), a Fried Chicken Croissant (S$22), a Wagyu Bresaola and Ox Tongue Croque Monsieur (S$24) and waffles with crab and caviar (S$24).
Wash it all down with some homemade kombucha, coffee brewed with an exclusive blend created in collaboration with Nylon Coffee Roasters or a selection of wines and cider.
The cafe takes walk-ins only, so be prepared to brave a queue, since it's only been a few days since it opened to frenzied fanfare.
ION Orchard, #B2-49, 2 Orchard Turn. https://www.instagram.com/lematin.sg
5. SOL & ORA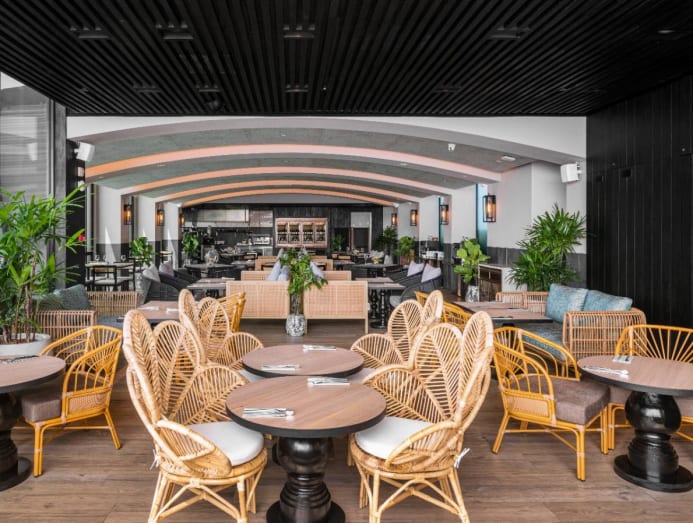 Think of the most ideal brunch situation in the world. Does it involve laid-back island vibes and free-flow booze? Well, if it does, this new Latin-Mediterranean restaurant on Sentosa Island is just what the doctor ordered for you.
Located on the rooftop of The Outpost Hotel, the food here reinvents the classic cuisines of Italy, France, Spain and Greece. Weekend brunch is an occasion here, with its own special menu featuring things like fried chicken waffles (S$28) and scrambled eggs with fontina cheese, crispy bacon, and roasted mushrooms and tomatoes (S$22).
But weekday brunch is just as luxe: Roasted octopus (S$27) with smashed fingerling potatoes, serrano ham and romesco sauce; Imam Bayildi (S$18) or woodfire-scorched eggplant; Tagliatelle 'Corsican' Carbonara (S$24) featuring fresh, hand-crafted pasta tossed in free-range egg yolk, pecorino and guanciale; and lots more. For vegetarians, there's moussaka (S$18) and avocado toast (S$22).
Top up S$78 for the Bottomless Brunch beverage option with two hours of free flow Prosecco, red and white wines, spirits such as gin, rum and whisky, and a seasonal cocktail. Hic!
Level 7, The Outpost Hotel, 10 Artillery Avenue, Sentosa Island. https://www.solandora.sg/
6. CANCHITA
Canchita isn't new, but brunch at Canchita is. The restaurant, located at Dempsey, launched their Latin Power Brunch menu in November, a weekends-only affair full of the Peruvian and Mexican classics that chef-couple Daniel and Tamara Chavez grew up enjoying.
Come for organic eggs done South America style – with plantains and pork belly; huevos rancheros; or traditional Peruvian-style grilled prawns in an omelette. Vegetarian options include the Spring Vege Omelette (S$25) and the cauliflower tostadas (S$20).
Needless to say, we aren't going to mention brunch without sangria. Canchita's is made with Pisco Quebranta, sweet vermouth, lemonade and their homemade sangria mix. Or, why not a tamarind margarita, or a classic pisco sour? Go wild and get a creamy, comforting horchata off the non-alcoholic drinks menu.
At weekend brunch, you can also have Canchita's star dishes like their zesty ceviches made with fresh fish and seafood; Mexican street eats like octopus tostadas with smoked chilli mayo (S$28), grilled baby corn (S$14) and the super yummy tapioca and potato chips (S$14); Peruvian-style meat skewers; Mexican tacos; rice dishes; and meat and fish dishes.
9A and 9B Dempsey Road. Latin Power Brunch is on weekends from 11.30am to 3pm. https://canchita.sg/