Elevated Colombian street food, prawn 'noodles' and more: Best new spring menus
We love new menu season, which is now in full swing. Here are some of our favourites so far.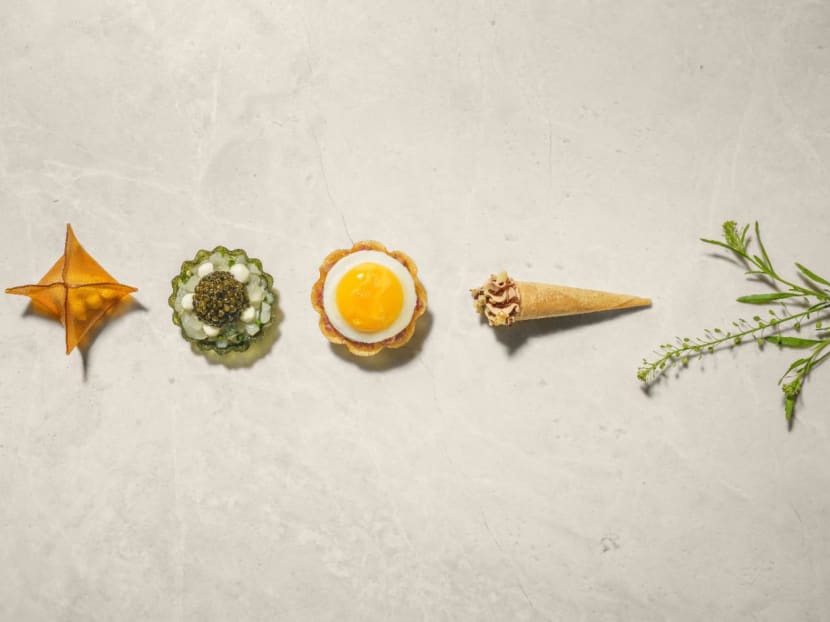 In the same way that fashion junkies anticipate the debut of fashion houses' seasonal collections, hardcore foodies look forward to chefs' new spring menus.
In our eternal summer, an allegorical "spring" brings the promise of an exciting new escapade at the table, whether it's at a restaurant we're visiting for the first time or one we're already fond of.
Eating our way through the year, here are some of our favourite new menus thus far. Some chefs are obliging their guests with the flavours they already love and want, dressed up in novel outifits; others have gone out on a limb in the spirit of adventure. All, of course, put their hearts on the plate.
PRELUDIO
Preludio is known for completely overhauling its menu every year for a new "chapter" in its book of "author's cuisine" – a superlative feat for any kitchen – but this year's chapter is less cerebral than previous years'. Colombian chef-owner Fernando Arevelo has gone back to his roots for inspiration, serving up his elevated takes on classic Colombian food from street snacks to what his mother would cook for the family.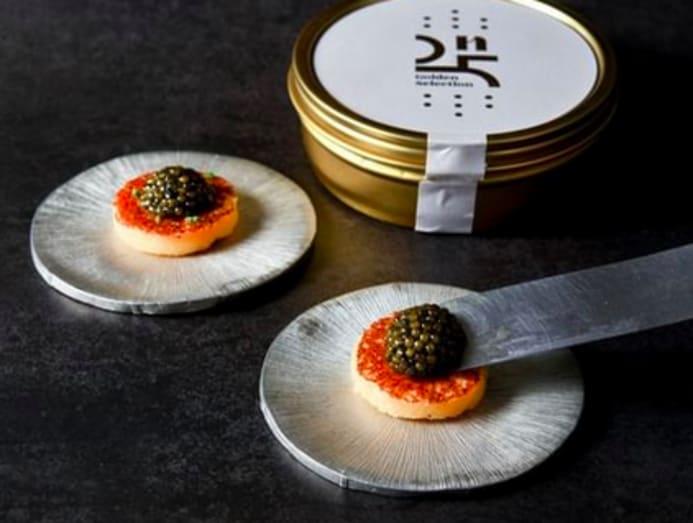 A blini-like cake of Japanese white corn with smoked butter and chives, served with a dollop of caviar, for example, is a flavourful tribute to the ubiquitous Colombian arepa, a street snack of fried cornmeal dough.
Chicharron or pork crackling is celebrated in a dish of sawara or Japanese Spanish mackerel, given a touch of sweet acidity with blueberry and sprinkled with espelette pepper.
A dish of hokkigai clam gets a twist of chimichurri, the piquant South American sauce of parsley, garlic, oregano and olive oil; and is paired with white asparagus and salty fingers.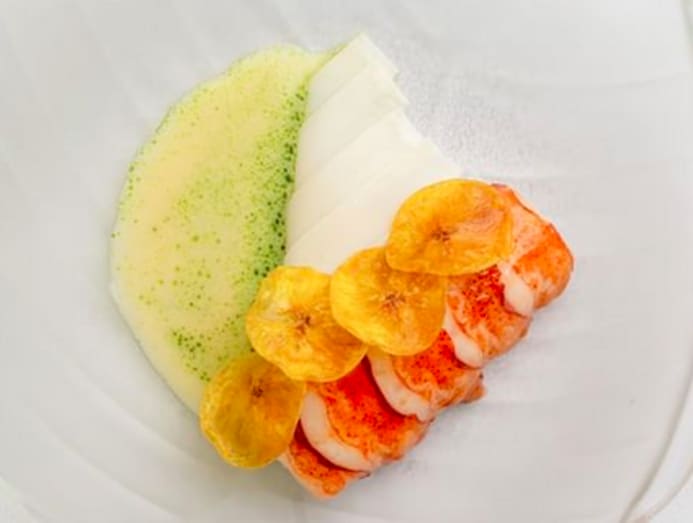 And a dish of lobster tail, acquerello rice, hearts of palm, coconut and sweet onion broth is served with patacones, a common Colombian snack of fried plantains.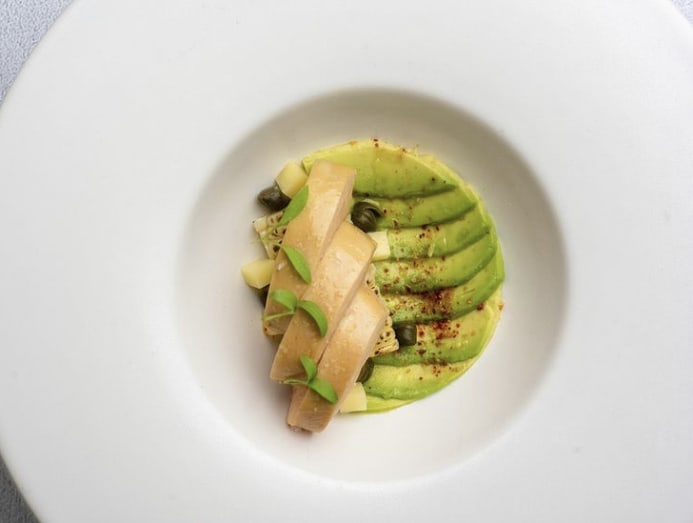 Our favourite, though, is perhaps the Ajiaco, Arevalo's interpretation of one of his own best-loved dishes from his home country. Traditionally a hearty chicken and potato stew, this ajiaco features tender Bresse chicken marinated in Japanese corn and butter, with avocado and a savoury three-potato foam perfumed with the herb guascas – deceptively simple and so delicious.
Preludio is at 182 Cecil Street, Frasers Tower #03-01/02. For more information, visit https://preludio.sg.
MARGUERITE
We are convinced that Marguerite's chef-owner Michael Wilson is some kind of mad genius. The man could put ants on his menu and we would tuck our napkins into our shirts in preparation to eat.
In fact, that's just what he did – one of the new lunch-only dishes features wood-grilled Domaine Saint Vincent asparagus, wild garlic, kale and black ants for a touch of acidity. Hooray for alternative proteins.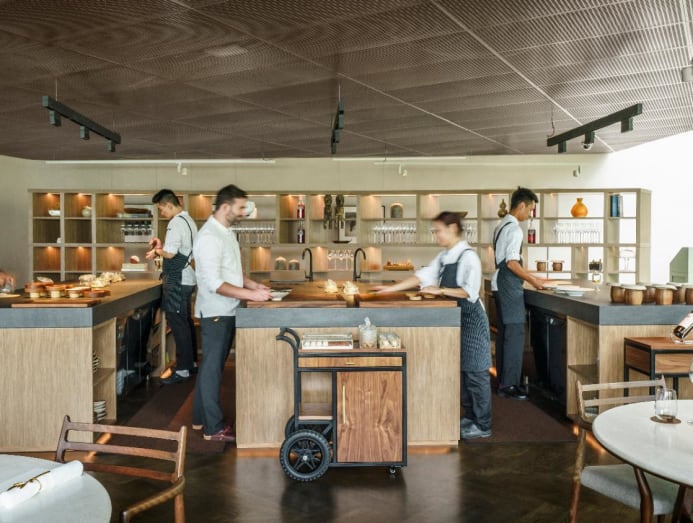 Inspired by a garden that's just starting to bloom, the new spring menus at Marguerite – both "Omnivore" and "Herbivore" versions – showcase Wilson's tremendous dexterity with flavours, ingredients and textures.  
                                                                                           
Dungeness crab is served as a cliff-hanging two-parter: The first a use-your-hands dish of crab atop a savoury cucumber meringue with pickled shallots; the second, a cucumber sorbet with a lettuce gazpacho made from 10 different vegetables and herbs.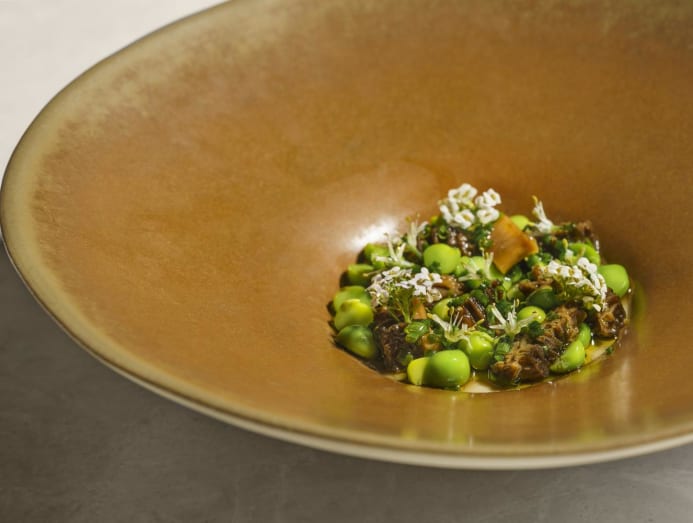 Then there's an umami-rich morel mushroom egg custard with morel mushroom broth and house-made mushroom garum, topped with asparagus, spring peas, lovage oil, burnt butter and garlic flowers.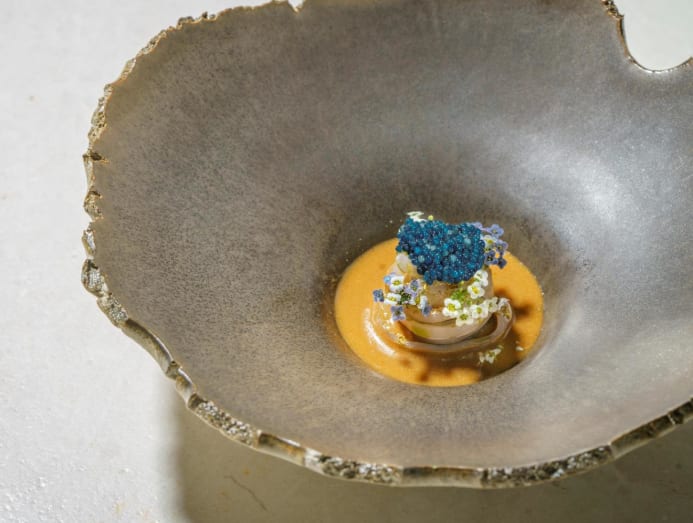 The dish you will go home and think about again and again is the New Caledonian blue prawn: Appearing as smooth yet bouncy noodles, the prawns are blended into paste and fashioned into tagliolini, onto which is poured a bisque flavoured with the pan-roasted heads. Unforgettable.
One thing we particularly like here at Marguerite is the non-alcoholic temperance beverage pairing of house-made clarified juices and fermented jun teas, a light but no less interesting alternative to complementing the meal with wine.
Marguerite is at Flower Dome at Gardens by the Bay, 18 Marina Gardens Drive #01-09. For more information, visit www.marguerite.com.sg.
 
ART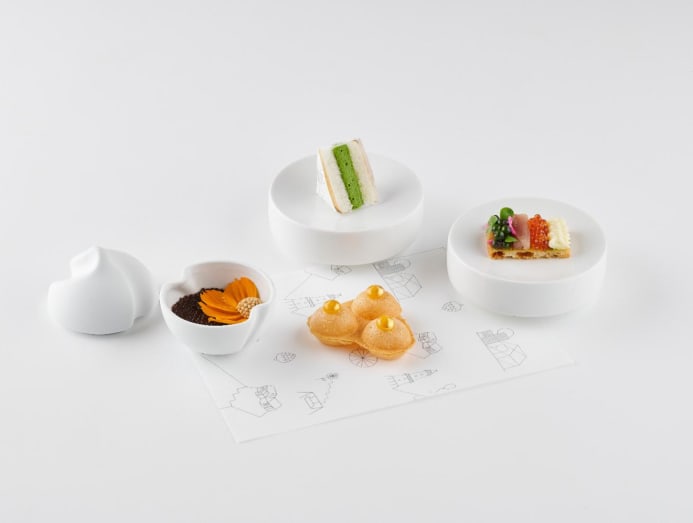 At Art, executive chef Daniele Sperindio has put together one of the most elegant modern Italian fine dining experiences that's also embued with flair and fun.
This season, he takes us on an almost Murakami-esque journey through his life, from the quirks of his childhood growing up in Italy to personal moments of epiphanic significance.
A dish called "Scarpetta", for example, is named after the very Italian action of mopping up the pasta sauce that's left on your plate with a piece of bread. Sperindio, knowing that scarpetta is the most satisfying part of the meal, elevates it to a ritualistic experience in itself with a dish of only sauces – San Marzano tomato cream, Bolognese and puttanesca – served with Altamura bread. Is it faffy? Maybe. Is it fun? Absolutely.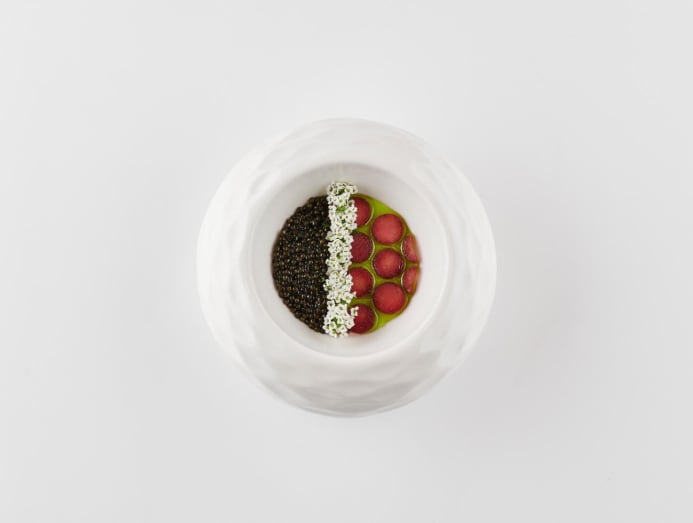 Other dishes are fond riffs off quintessentially Italian childhood experiences: "Cameo" is a dish of caramelised cauliflower panna cotta, smoked royal oscietra caviar and drunken apple that spoofs a commercial brand of DIY panna cotta – think Italian Jell-O – and "Crescendo" is a dessert of stracciatella, black olive, blood orange and pistachio that mimics a breakfast bowl and is inspired by "frutollo", a kind of kids' yogurt.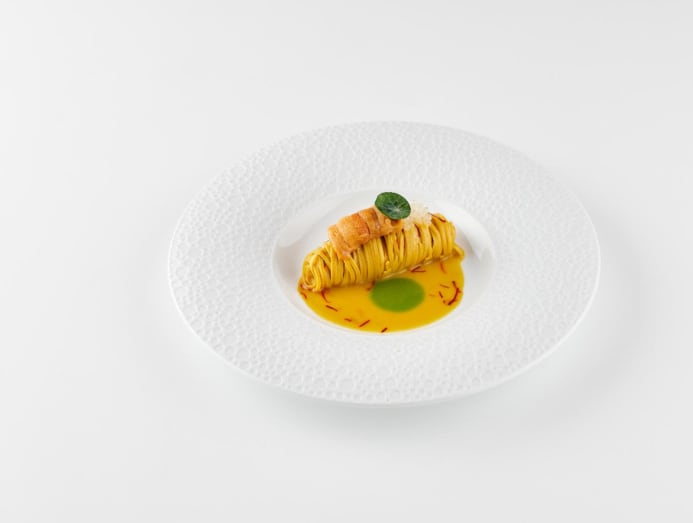 Still more dishes reference his time in Asian cities like Hong Kong and Kyoto, while the pasta dishes are a 32-egg yolk taglierini in celebration of saffron, served with spanner crab sauce and uni; and culurgiones stuffed with leek cream in brodo with toasted corn and girolles, named "Christmas dinner" after Sperindio's fondest holiday memories.
Art is at 1 St Andrews Road, #06-02, National Gallery Singapore. For more information, visit https://www.artrestaurant.sg.
JAAN BY KIRK WESTAWAY
Executive chef Kirk Westaway continues to be stolidly "Reinventing British" at JAAN, and in this new spring iteration, he again throws the spotlight on seasonal ingredients in dishes inspired by his home country of the UK and interpreted through his lens of elevated modernity.
Nothing is taken too seriously, as can be seen from the snacks that reference dishes like fish and chips, cheese and onion pie and the hallowed cucumber – except for the sacrosanct sourcing of the best of British produce.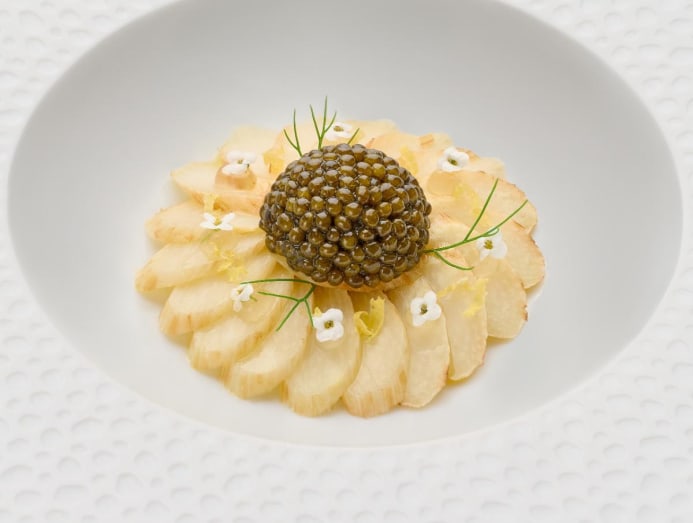 New this season is a dish of white asparagus and caviar, in which the seasonal vegetable is braised in milk and served cold atop an asparagus custard, with a heaping of Kristal caviar.
There's also Cornish Seabass, a lightly poached fillet served with tender, roasted Scottish scallops and finished with a sauce of seabass trimmings and bones with fresh parsley, chives and chervil.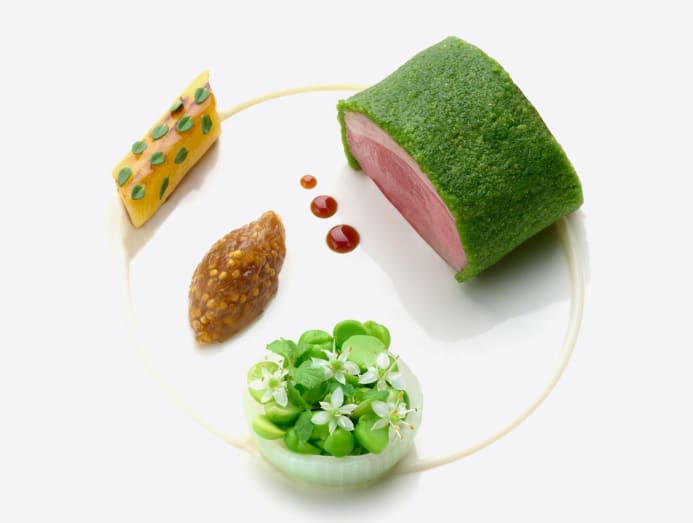 Welsh lamb with English peas features spring lamb sourced from the Rhug Estate, an award-winning organic farm in Wales. The lamb, having fed on herbs and grasses like chicory, clover and cocksfoot, is tender and toothsome; it's roasted and coated with herbed crumbs. And it's perfectly paired with the peas, which are cosily tucked up in a soft, sweet onion.
JAAN by Kirk Westaway is at 2 Stamford Road, Level 70, Swissotel The Stamford. For more information, visit https://www.jaan.com.sg.