The 10 best pasta dishes in Singapore: Lobster spaghetti, 'prawn mee' and a Korean take
Keto dieters, turn away now – CNA Lifestyle has the lowdown for the tastiest plates of noodles and more that will make you go "Mamma mia!"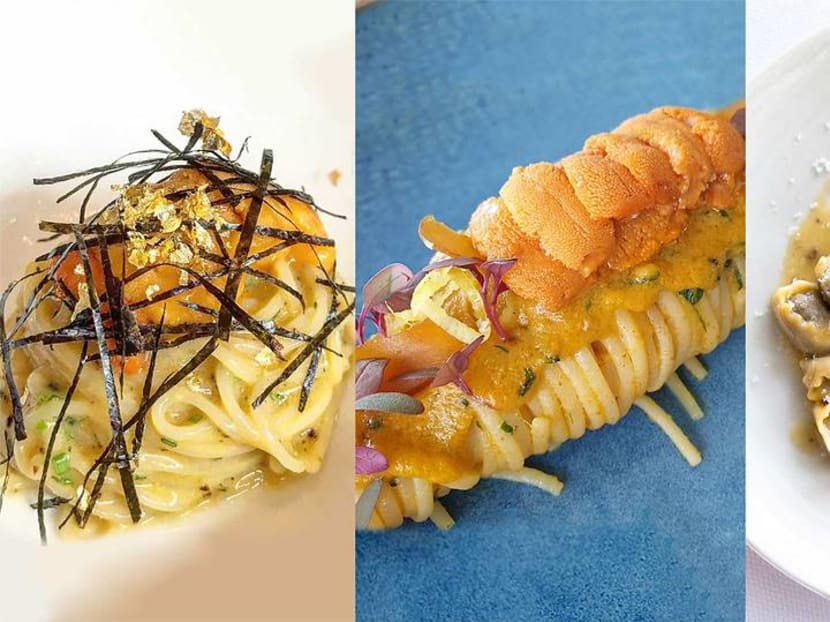 It's not a great leap from Asian noodles to pasta, which probably explains the popularity of the Italian staple in Singapore. When a pasta craving strikes – as it often does – these are some of our top spots to make a beeline for.
SPAGO DINING ROOM'S AGNOLOTTI WITH PORCINI MUSHROOMS, S$29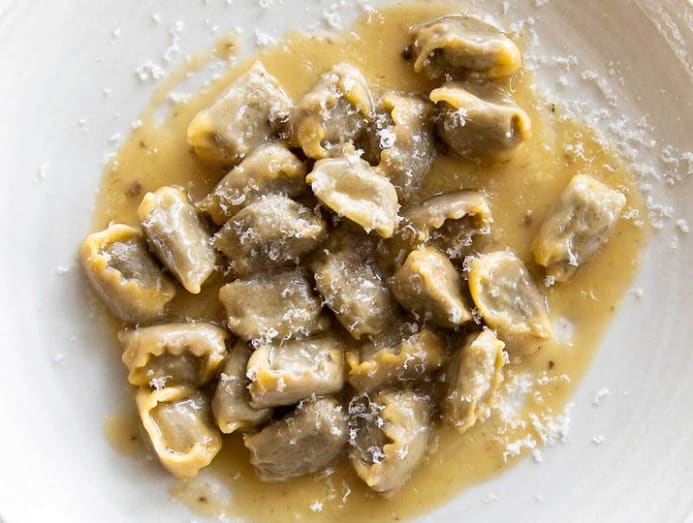 This stylish restaurant at the top of Marina Bay Sands always delivers with its take on inventive Californian cuisine. But if you ask us, no dish here impresses like the stunningly simple mushroom agnolotti. These springy pasta pillows are filled with a divine paste of creamed porcini, garlic, shallots and bay leaves, and sauced with a velvety emulsion of butter, chicken and mushroom stock. While you'll only find it on the Express Prix Fixe Menu (S$48 for three courses) at lunch, it's really available a la carte at lunch and dinner – all you have to do is ask for it.
https://www.marinabaysands.com/restaurants/spago.html
BAR CICHETI'S BEEF CHEEK AGNOLOTTI, S$19/S$29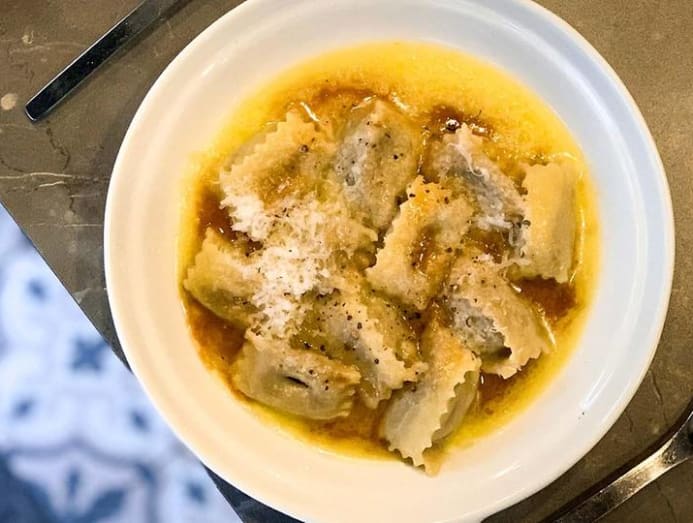 There is plenty of good pasta at this cavernous pasta bar, but the dark horse here are these agnolotti pockets stuffed with velvety beef cheeks that were braised in a vegetable stock for 10 hours, pureed and hit with Parmigiana cheese. An austere sauce of butter and a drizzle of beef jus bind it all with delectable elegance. The best part is, it's available in two sizes, so you can sample a small plate before deciding if you want another. Most times, we do.
LA STRADA'S CHITARRA ALLA CARBONARA, S$22/S$34
Carbonara gets fancy with a dollop of truffle butter, crispy and salty ham crumble, lashings of Parmigiana, and a slow-cooked egg on top. The result: A glugging, satiny mix that's full of delicious texture and deep, savoury flavour.
GUNTHER'S' COLD ANGEL HAIR PASTA WITH OSCIETRA CAVIAR, S$60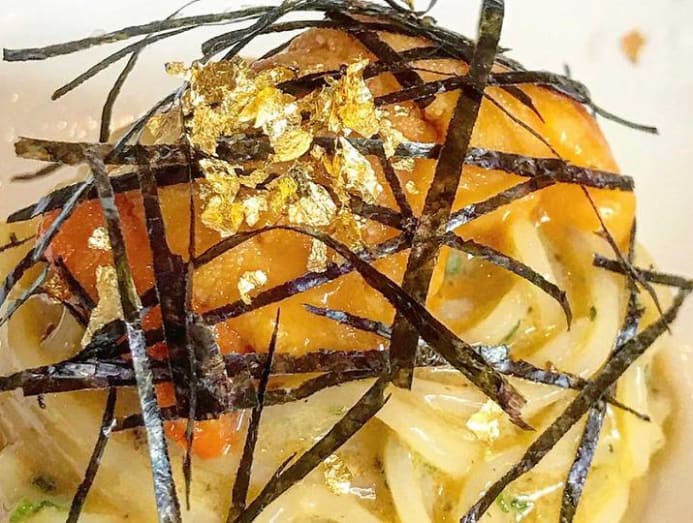 Cold, slippery noodles – exactly the kind you want to eat in our punishing heat – suffused with the resonant umami of konbu (Japanese kelp broth) and anointed with a hearty dollop of oscietra caviar. No wonder this has been a popular hit with diners at this swanky establishment since 2005. These days, when it's in season, you can ask for the "cold angel hair pasta 2.0" (S$95), which sees the same dish enriched with uni and accented with the zip of yuzu. Evidently, perfection can be improved.
KIMME'S KING PRAWN AND HOMEMADE XO CAPELLINI, S$30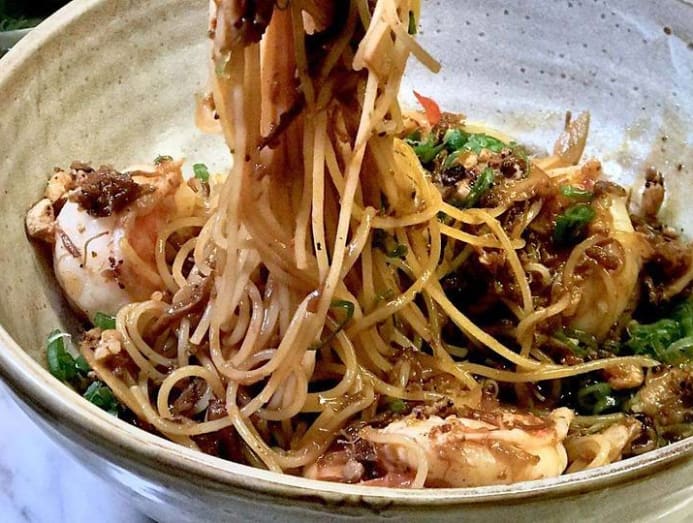 A contemporary Korean restaurant is hardly the place you'd expect to find great pasta, but chef Louis Han's king prawn with homemade XO sauce capellini really knocks it out of the park. The luscious umami-packed sauce coats perfectly cooked noodles, with added texture, sweetness and smokiness courtesy of fat grilled king prawns that top the dish.
FORLINO'S LINGUINE WITH HOKKAIDO SEA URCHIN, SARDINIAN BOTTARGA AND AMALFI LEMON, S$46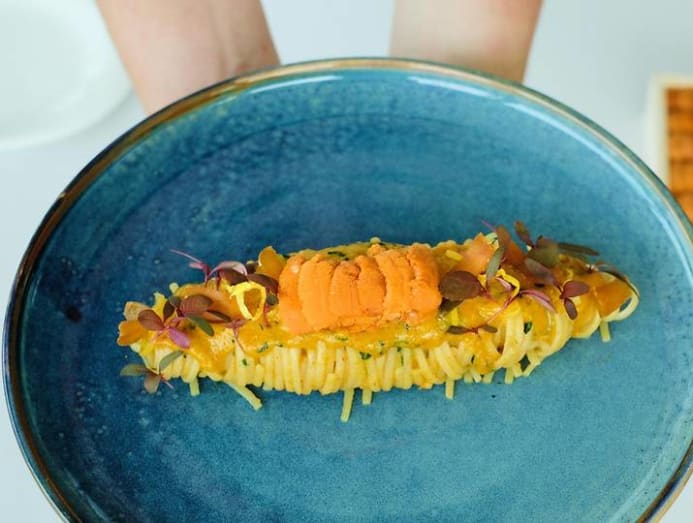 Its posh plating belies soulful fare. In this dish, Giuseppe Cocco linguine (touted as some of Italy's best pasta) is tossed in a tasty sauce made of garlic confit, white wine and a paste of onion, garlic and celery. When the pasta has sucked up all that flavour, it gets a flurry of shaved Sardinian bottarga (cured mullet roe) for a proper umami kick and plump coral tongues of sea urchin from Hokkaido. A quick sprinkle of grated Amalfi lemon zest lends brightness and acidity. This isn't the cheapest plate of pasta, but it's worth the money… plus it comes with a stellar waterfront view.
PUBLICO RISTORANTE'S LOBSTER SPAGHETTI, S$43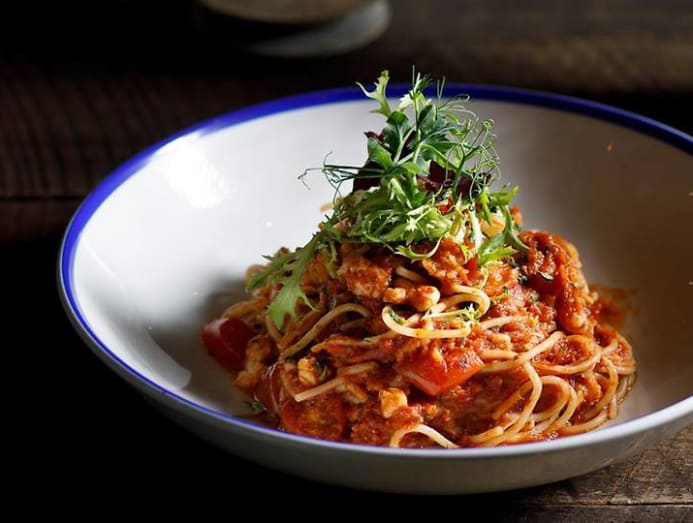 The deep pleasures of a lobster bisque find their way into the supple strands of spaghetti in this dish. It's almost as salty as an estuary, save for the splashes of white wine, the sweetness of cherry tomatoes and the pungency of garlic that make this lobster-flecked number taste as indulgent as it sounds.
CAFFE FERNET'S MAFALDINE CACIO E PEPE, S$26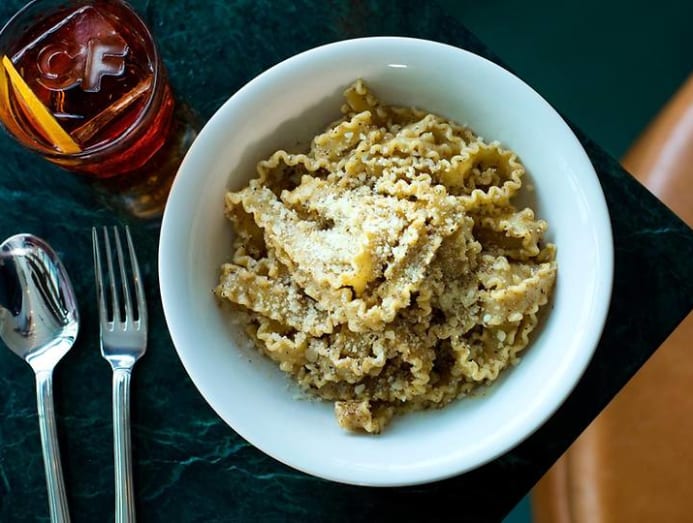 Simplicity rules when it comes to this bare-bones classic, which at this chic waterfront osteria, is served with a ribbon-esque mafaldine pasta. Their frilly edges allow the silky sauce of pecorino and Parmigiano cheeses spiced with a colourful blend of ground peppercorns to cling to them, yielding a bowlful of comfort that really satisfies.
PASTA BAR'S PAPPARDELLE WITH RABBIT RAGU, S$30
Audaciously seasoned ribbons of pasta serve as a noodle base for the gently gamey rabbit ragu made spoon-tender thanks to 24 hours of slow cooking. It's so rustic-ly good, it'll transport you to an old Italian village even if your real-time surrounds are as modern as a space in Singapore's Chinatown can be.
ART'S SPAGHETTI MONOGRANO FELICETTI, SCAMPI AND GINGER, S$39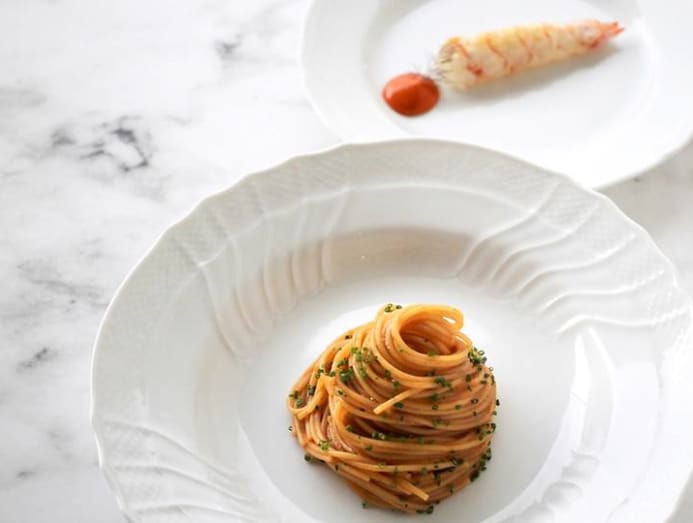 Made from single-grain organic Pugliese wheat and pristine water from the Dolomites, the top-notch Monograno Felicetti pasta in this dish is infused with the briny depth of scampi spiked with ginger so that it tastes like a denser, richer, fine-dining version of Chinese prawn mee. Served alongside it is a perfectly cooked curl of scampi (Italian prawn) and a coral dollop of an aioli-like sauce made from the juices of the scampi's head.