Don't fancy herbal mutton soup? This Teochew-style version in Bukit Timah will change your mind
In this week's Makan Kakis, GOLD 905 DJ Denise Tan visits a branch of the well-known Hong Wen Mutton Soup stall in Beauty World for a satisfying bowl of healthy goodness that's not too medicinal in taste.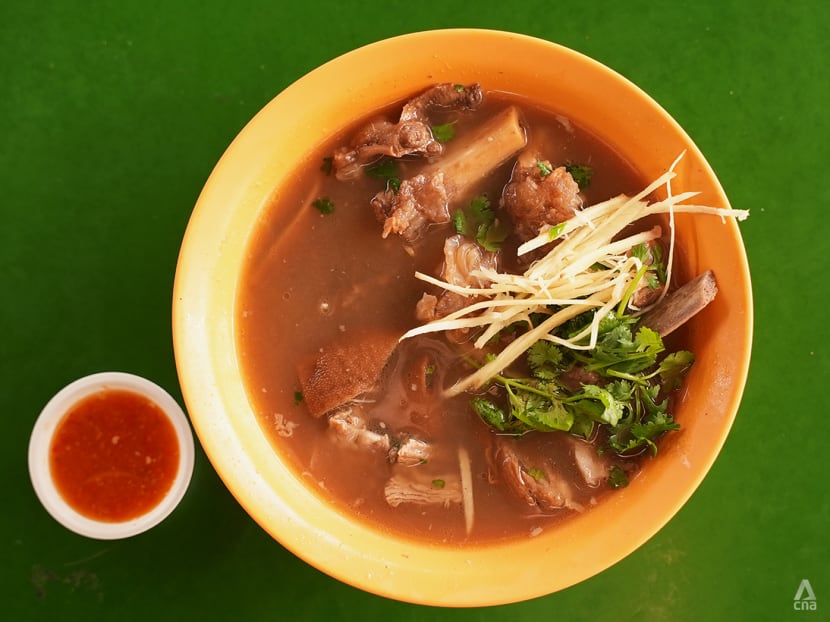 I've always enjoyed a bowl of mutton soup, so when my Makan Kaki, Chef Shen Tan of Newton nasi lemak stall OG Lemak recommended I try one in my neighbourhood, I was more than keen.
Until I realised it wasn't the spicy sup kambing I had assumed. She was suggesting a mutton soup of the Chinese herbal variety, which brought flashbacks of unpleasant previous encounters with bitter traditional Chinese medicine, or TCM, concoctions.
However, Chef Shen proclaimed it hearty, heart-warming and not overtly herbal, so in the name of adventurous eating, I agreed to pay Hong Wen Mutton Soup a visit.
Not a fan of herbal mutton soup? This might change your mind. In this week's Makan Kakis, GOLD 905 DJ Denise Tan visits a branch of the well-known Hong Wen Mutton Soup stall in Beauty World for a satisfying bowl of healthy goodness that's not too medicinal in taste.
Fans might be more familiar with the stall at Beauty World Food Centre, but when I stopped by, they recommended I check out their other branch instead, with the promise that both stalls were run by the same family, using the same recipe.
So I traipsed diagonally across the road to meet Tan Voon Kui, 61, who told me they expanded the family business to Bukit Timah Food Centre around eight years ago in 2013.
A large sign at the front of his stall was emblazoned with the words "Old Beauty World", in a nod to Hong Wen Mutton Soup's heritage and his father's beginnings as a street hawker in the area more than 50 years ago. His younger brother still operates the Beauty World stall, where they've been since the mid-1980s.
Tan started helping his father sell homemade mutton soup at his street stall (located where Beauty World MRT is now) from the age of 10 when he was still in primary school. Till today, he is proud he's still following the same recipe he learned from his father all those years ago, especially since "many customers who remember us from the old days still come by for a taste of our mutton soup".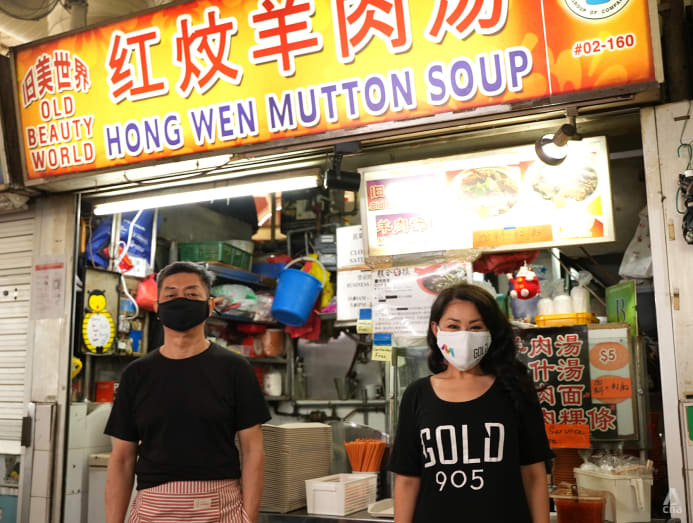 Theirs is a legacy passed down from father to sons, and Tan in turn has taught his own son how to make their family's signature mutton soup. However, the possibility of a successor for the stall remains uncertain, as his son already has a job outside of the family food business.
For now though, on opposite sides of Upper Bukit Timah Road, the two brothers persevere to preserve what was bequeathed to them by their father.
The senior Mr Tan's original recipe ("why change what has already been perfected?") differs from, for example, Hainanese-style mutton soup, which Tan described in Mandarin as "a darker soup with more soya sauce and more herbs".
He said: "We are Teochew so ours has its own flavour. It's lighter, to suit our own family's tastes. This is just our own traditional way of cooking. Mutton is braised slowly with more than ten Chinese herbs to produce a soup that's very healthy and nutritious."
More than 10 herbs? Frankly, I was very concerned that the mutton soup would be too medicinal for me. Sensing my hesitation, Mr Tan assured me, "Our selling point is, after you drink our soup, you'll realise there's no strong smell. You have to taste for yourself. It's not overpowering at all."
To his credit, I detected no odour of acrid herbs or pungency of old sheep, though a huge stainless steel pot of soup was brewing away at the back of his stall.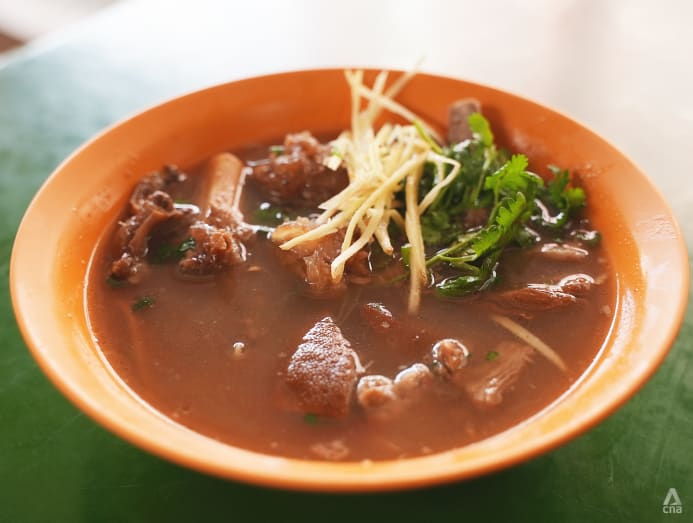 To buy time and courage, I decided to watch how the dish was made first. Their signature soup was packed full of ingredients, including many whole garlic cloves, fragrant pandan leaf, star anise and cinnamon. To season, a little MSG and soy sauce were added, along with some rock sugar. Mr Tan hastened to explain, "But not too much sugar. My soup leans towards more savoury flavours than sweet for balance."
For warming spiciness, a trio of white peppercorns, yellow ginger and old ginger were also added into the bubbling brew, along with health-boosting herbs including dang gui (angelica root), gan cao (licorice root), chuan xiong (Szechuan lovage) and dang shen (dried codonopsis root).
Traditionally in mutton soup, the herbs serve two purposes – to temper the gaminess of mutton and to create a nutritious tonic for the body. "All Chinese herbs have medicinal properties, so of course our soup can build up the body and invigorate your qi. For example, ginger is very good for digestion," Mr Tan elaborated. In TCM, qi is believed to be the life force, or vital energy circulating the body.
Literally adding body to the herbal broth, various mutton parts including tripe (sheep stomach) were thoroughly washed and slipped into the pot to simmer (usually for about an hour). Once tender, the meat was hooked out and sliced into bite-sized pieces.
Mr Tan uses a special cut of mutton (mature sheep by definition) from New Zealand or Australia known as lamb flap. Consisting both ribs and belly, it benefits from low and slow cooking. The resulting meat is more tender and most of the fat is removed so the soup doesn't end up too oily.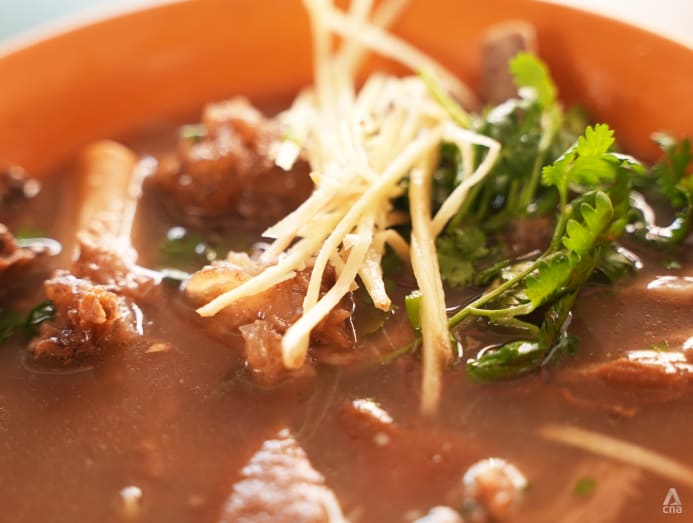 I went with an order of Tan's best-selling mixed mutton soup. Ribs, tendon and tripe came in a steaming bowl of soup garnished with chopped Chinese parsley (wan sui) and julienned raw ginger. My first spoonful of the rich brown broth brought with it the immediate savoury taste of meat, but true to Tan's word, it wasn't too gamey or medicinal.
Next came a delicate herbal flavour and aroma that didn't scream Chinese medicine. The herbs infused the broth with a slightly bitter aftertaste, but this was balanced by a natural sweetness and the judicious addition of the rock sugar. None of the ingredients competed for attention. Everything in the robust yet cleansing soup came together in a mellow mingling of flavours.
A generous rib protruded from the bowl, its meat fall-off-the-bone tender. Very little oil was seen floating on the surface of the soup, but surprisingly, the lean chunks of mutton had the soft, juicy mouth-feel of fatty meat, despite having had most of its fat rendered and removed.
Earlier I had witnessed Tan separating a whole cooked rack with his gleaming cleaver, breaking it down into individual ribs for serving, along with chopped slices of freshly boiled tripe.
Sheep stomach is definitely not a sight or flavour for the faint-hearted, so it might be laughable this writer was more afraid of Chinese herbs than offal, but the tripe was enjoyable in both taste and texture. Studded with tiny nubs, its surface resembled sandpaper but had a pleasantly springy chew and a sponginess that absorbed lots of flavour from the mutton broth. It was a tad more intense in aroma than the meat, but I didn't find it off-putting.
The same can't be said for the sight of me attacking the tendons with bare-handed gusto. Each serving came attached to a bone full of gelatinous marrow, best slurped up without reservation. Soft, slippery and full of collagen, the marrow and tendons glided down my gullet smoothly, leaving a film of slick flavour on my lips.
It wasn't difficult to understand why the mixed mutton bowl was a bestseller. For S$5, a whole variety of meat textures from just one animal made for a good deal. For those who prefer a less challenging bowl, opt for just meat at the same price of S$5. Eaten with rice (S$0.50) it made for a very satisfying, carnivorous meal.
Lifting an otherwise earthy dish was the freshness of the astringent Chinese parsley and the juicy crunch of the shredded ginger. The spicy bite of the latter was mirrored in the chilli dipping sauce, made from red chillies, garlic and zingy white vinegar.
Additional condiments like thick black sauce and white pepper were also on hand so diners could tweak their bowls according to preference. Other soup-pairing options included kway teow (flat rice noodles, S$0.50) and extra meat (S$2 to S$3 depending on cut).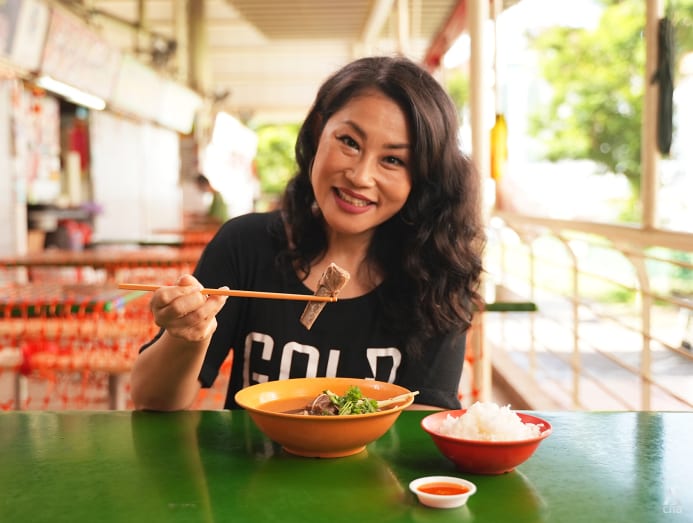 Every drop of soup drunk, bottom of the bowl scrapped clean, it suddenly occurred to me that I had been lured into finishing my first dose of Chinese medicine. It was indeed medicinal, but in the sense that it felt healing and comforting.
Disguised as a meaty treat, gaminess dialled down, with none of the dreaded bitterness I had anticipated from TCM herbs, Hong Wen Mutton Soup's selling point indeed was its dish's careful balance of herbs and spices coalescing into a tasty, harmonious brew.
For your dose of this invigorating and warming tonic, it's best to get there for breakfast or lunch, though it's open till 8pm. 
Perfectly content with his solid but smaller customer base, Mr Tan also revealed, "Mutton is quite expensive. I use only just over 10 kilograms of meat a day. I may not sell many bowls, but 10 out of 10 of my customers say it's good. Even if seven or eight out of 10 say it's good, I still consider that a success!" Just like its maker, you'll find a modest and mild dish in Hong Wen Mutton Soup.
Hong Wen Mutton Soup is located at Bukit Timah Market and Food Centre, 51 Upper Bukit Timah Road, #02-160, Singapore 588215. It's open Sundays to Fridays, 10am to 2pm and 5 to 8pm. Closed on Saturdays (information correct at time of writing). Catch Makan Kakis with Denise Tan every Thursday from 11am on GOLD 905