Best Thing We Ate This Week: Tomato and ricotta bruschetta at Summer Hill
This marinated tomatoes-on-toast number (S$12) at this cosy neighbourhood bistro is an example of how something simple can be extraordinarily good.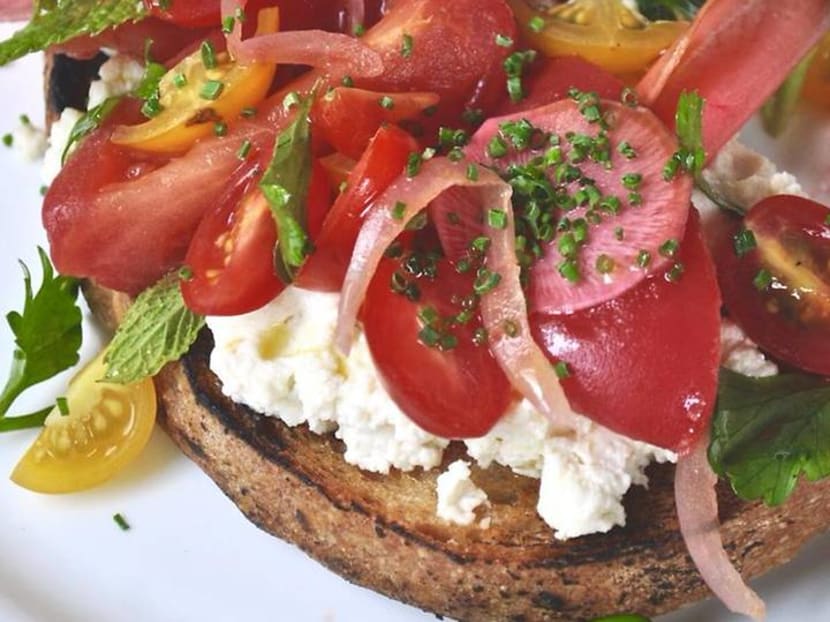 It is really just marinated tomatoes on toast, but this is a shining example of how something so simple can be made special with a few choice ingredients.
In this case, it was sweet, succulent wedges of cherry and Roma tomatoes dressed in the likes of sherry vinegar and tarragon, and set on a thick slice of chargrilled sourdough slathered with homemade ricotta. This is the kind of food we crave in the sweltering weather of late – cool and refreshing, with sweet, tart and perky flavours.
When chef Anthony Yeoh opened this charming neighbourhood bistro last January, all he served were some excellent roast chicken, a too-hearty quiche, croque monsieur, and a bit of cake. Fast forward 10 months, and his menu is now as comely as an iced cocktail on a hot desert night.    
What steered us halfway across the island, through peak hour traffic, was a photo Yeoh had posted on Instagram of duck and brie toasties (S$14) – triangular pockets of toasted white bread stuffed with duck rillettes and creamy brie, and served with a port wine and cherry compote on the side. The real thing did not disappoint. There is something irresistible about a crisp-edged sandwich giving way to a core of creamy-salty earthiness. A dab of the sweet-mellow compote rounded it off nicely.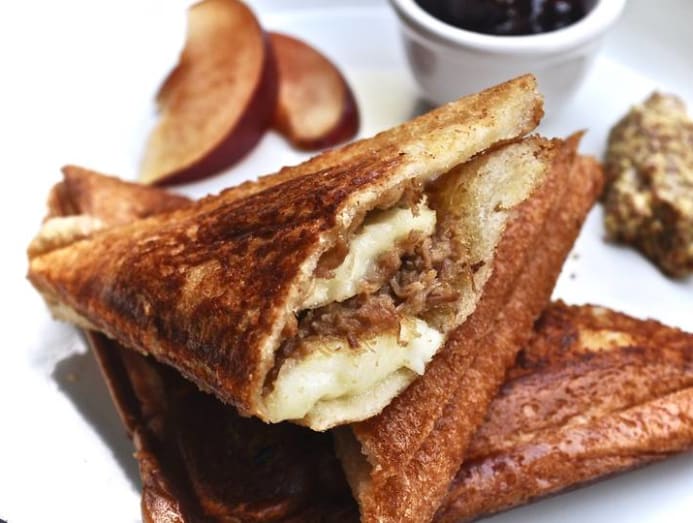 Other dishes that impressed were the grilled tiger prawns (S$18) dappled with a coral-hued lobster creme that tasted like the love child of a lobster bisque and Bearnaise sauce; and the roast pork collar (S$29) that was first cooked sous vide (vacuum-sealed in a low-temperature water bath) for 12 hours, followed by quick sear before serving. The meltingly tender slices were garnished with a sharp, savoury and creamy sauce made from mustard, chicken stock, caramelised onions and garlic.  
Summer Hill has all the trappings of a humble neighbourhood joint – set beneath a block of HDB flats, it has a tiny air-conditioned dining room, a larger outdoor dining area appointed with cheery-coloured cushions, and a common water station where guests can help themselves to a drink. The food, however, is made with as much finesse as one might expect from a good restaurant in the city, and the prices are reasonable for the quality of fare.
In other words, the residents of Sunset Way have really lucked out.
Summer Hill. Block 106 Clementi Street 12, #01-62. Summerhill.sg