At S$450 per head, this might be Singapore's most expensive restaurant
Feted Swedish chef Bjorn Frantzen's Zen occupies an entire three-story Bukit Pasoh shophouse, and serves up New Nordic cuisine inspired by Japanese kaiseki.
The first thing Bjorn Frantzen said as he strode into his new restaurant 15 minutes late for our scheduled media tour was: "Wow, you're on time". When asked why that surprised him, he replied: "Singaporeans are never on time".

It's not the most endearing statement, especially coming from a man who will charge diners in Singapore upwards of S$450 for a meal when his much-anticipated restaurant Zen opens today (Nov 21). This stratospheric starting tab ranks it among, if not as the most, expensive restaurant in Singapore.  

For that price, guests get the pleasure of a meal that traverses the entire three-storey shophouse it occupies on Bukit Pasoh Road. On the ground floor, guests are served five exquisite snacks at a stone counter that fronts the open kitchen. Here, Scottish head chef Tristan Farmer and his team will also introduce them to the premium ingredients that would go into the evening's meal.

Dinner is served on the second floor, where brushed wood furnishings are accented by ash-hued wainscoting and a copper-lined ceiling. Every table is flanked by its own pale-wood trolley upon which chefs and servers will finish each dish before serving.

Eight courses later, diners are shepherded upstairs to the gorgeous living room, appointed with low-slung armchairs and sofas, to end off the experience with dessert, drinks and petits fours.

FROM SWEDEN TO SINGAPORE
Chef Frantzen is the owner of his eponymous restaurant in Stockholm, which has the honour of being the only three-Michelin-star establishment in Sweden. A little more than a year ago, a mutual friend introduced him to Loh Lik Peng, the Singaporean founder and director of food and lifestyle group Unlisted Collection, which led to a trip to Singapore to check out the shophouse that once housed the now-defunct Restaurant Andre.

"I had a look at this fantastic townhouse and loved it," Frantzen told us as we meander through the sun-drenched living room. "I love the architecture and heritage feel of this area. I felt that we could really do something with it."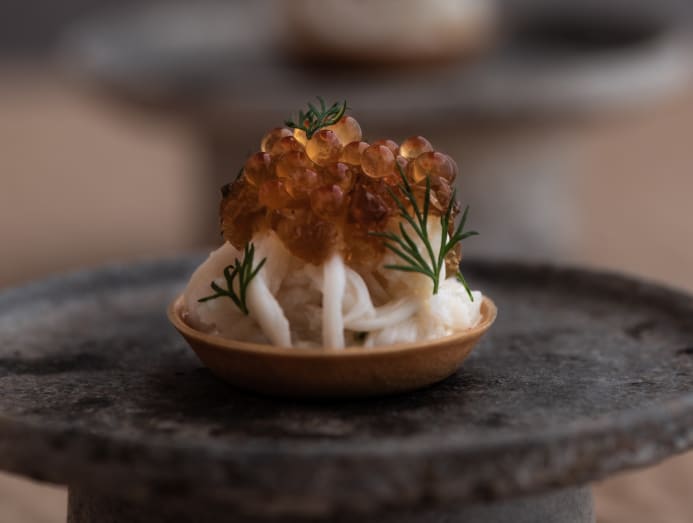 Much like the Frantzen mothership in Stockholm, Zen will serve fine food without the stuffy trappings of a traditional fine dining restaurant.

"I want for it to be like you've come to a house party," said Frantzen. When you enter the restaurant, there is music and everyone is talking and sharing. That's the vibe I love. I don't see why you need to take that out of fine dining. I want people to relax and have fun."

NEW NORDIC KAISEKI
While Frantzen is a part of the New Nordic cuisine wave that has taken hold in the last few years, he prefers to describe his food as ingredient-driven, informed by his French culinary experience, and inspired by Japanese kaiseki.

"My cooking style is more towards Japanese because that's where the tasting menu came from. The French stole the idea from kaiseki, but spoiled it by putting so much gluten and lactose and fat (into the meal)," he declared.
A handful of signatures like Frantzen's French Toast, which comprises cubes of sourdough bread stuffed with caramelised onions and Parmesan custard, are on Zen's menu, but a large part of the offerings will be inspired by the premium produce that the kitchen will source from the likes of Japan and organic farms in Hong Kong. 
Frantzen said his team will work towards using more produce from Singapore and the region, "but we are still new here, so we have to build relationships".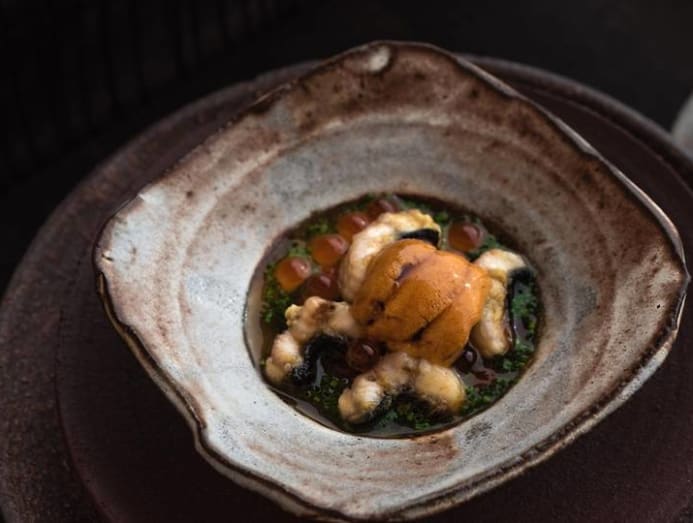 Apart from ingredients like pickled cloudberries, sea buckthorn and vendace roe (the roe of freshwater salmonid, considered a delicacy in Sweden), what Frantzen has also imported from his native country is its traditionally flat organisational structure. "Manpower is so expensive in Sweden, so we have learned to be pretty good at organisation in order to compete on an international level," he explained.

"In that sense, we've learned to have everyone do everything. For example, the front of house and kitchen staff are dressed the same way. Everyone in the restaurant should be able to finish the dishes by the tables, and conversely, the kitchen team should be comfortable pouring water for guests."

This will inadvertently drive the convivial atmosphere, eliminating boundaries and keeping guests engaged, sated and happy. At its crux, that's all it boils down to for Frantzen. 
"My biggest hope for this restaurant is that it's a feel-good place where people will have fun. I'm humbled and proud that people are so interested in the restaurant and what I am doing, but it's all in the experience, you know?

"People have to come in and experience it to really understand what we've put together for them. It's expensive, but it is worth the money."

Zen is located at 41 Bukit Pasoh Road. www.restaurantzen.com