Bad ideas, good ideas, bread sushi: Why is Chef Bjorn Shen pairing raw fish with pizza dough?
The new theme for the year at the chef and MasterChef Singapore judge's gastronomic playroom Small's is "bread sushi" – but it was almost chicken nugget sushi.
When chef and MasterChef Singapore judge Bjorn Shen opened Small's, a four-seat omakase pizza bar, in early 2020, the goal was always the freedom to be creative.
"My thing now is pizza, but one day we could be doing champagne and chicken nuggets. Or meatball sandwiches. Or whatever is the next stupid thing," he'd told us back then.
Well, as it turns out, the "next stupid thing" is "bread sushi".
With a new omakase theme for the new year and even a new space that's no longer all that small – the new restaurant at King George's Avenue seats 12 – Shen is now serving what he calls a "doughmakase" menu of fish on bread (and all the accompanying bells and whistles).
As you take your seat at the counter, each piece of bread sushi is served to you as a course, just like a Japanese sushi omakase meal. Each one features a different type of dough calculated to pair best with the premium ingredients, which include tuna belly, sea urchin and prawn.
Wait a minute, you say – isn't this just an open-faced sandwich?
"I would say you're exactly right. But it's not so sexy to call it 'open face sandwich omakase'," Shen quipped, adding that much of the culinary inspiration comes from  Spanish pintxos, Italian crostini, French tartines and especially Danish smorrebrod.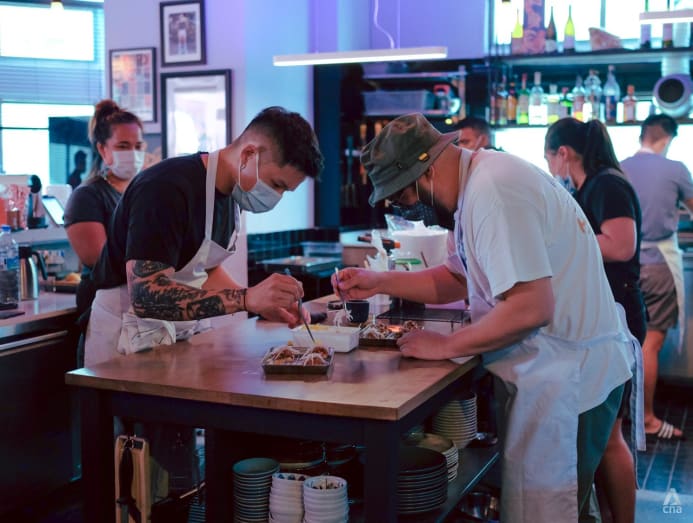 And of course, while much of the produce comes from Japan, "we're not trying to do it the Japanese sushi way", which emphasises the freshness and purity of fish flavours paired with shari or vinegared rice.
Small's, after all, is all about big, bold flavours and lots of condiments, dressings, herbs and toppings.
So, expect to find courses like a "California roll" of crab, avocado and perilla wrapped in deep-fried dough in the style of Naples fried pizza; otoro or tuna belly tartare tossed in bulgogi dressing and served with nacho pear and chrysanthemum petals on 85 per cent hydration schiacciata; and a "chirashi" of mixed fish, scallop, tamagoyaki, pickled cucumber and uni cream on a lavosh.
It's an homage to sushi, of course, but also a bit of an ironic visual chuckle because, well, it's bread. And not just any bread, as these dough recipes are straight out of Small's experiments with pizza dough.
"While we were doing pizza omakase, we found that a lot of our favourite pizzas were the ones with raw fish on them. There was a sea urchin pizza and a raw tuna pizza – things like that. I was always joking with people, 'This is bread sushi.'" So, it was a natural next step in Small's journey.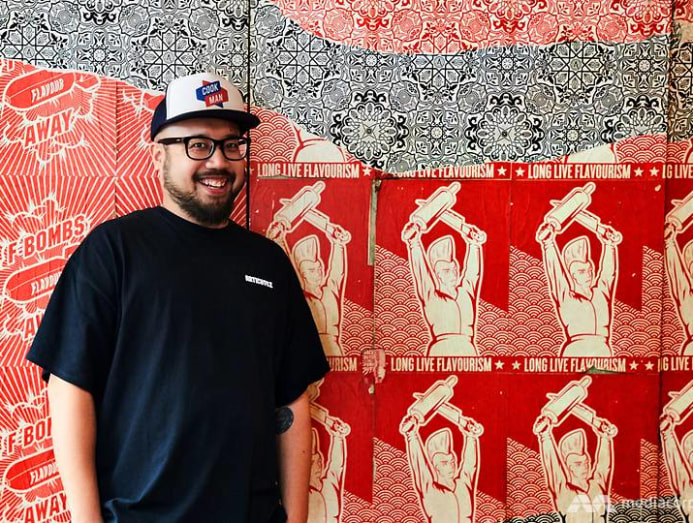 Here's a fun fact, though: It was almost "chicken nugget sushi" instead.
"And we're not talking, like, a house-made artisanal chicken nugget. We're talking about frozen supermarket chicken. I mean, there's a small group of people in the world dysfunctional to like that sort of thing. Like, there were some real supporters.
"That was the worst idea I've ever had, where you put fish on top of chicken nuggets. One of the dishes that I used to do, when Small's was a four-seat thing – put chopped fatty tuna on top of chicken nuggets. It worked for that dish in particular but then I tried it with other fish and it sucked." Anyway, "the name of that dish was Banned From Japan. Because obviously, I'd be banned from Japan after doing that."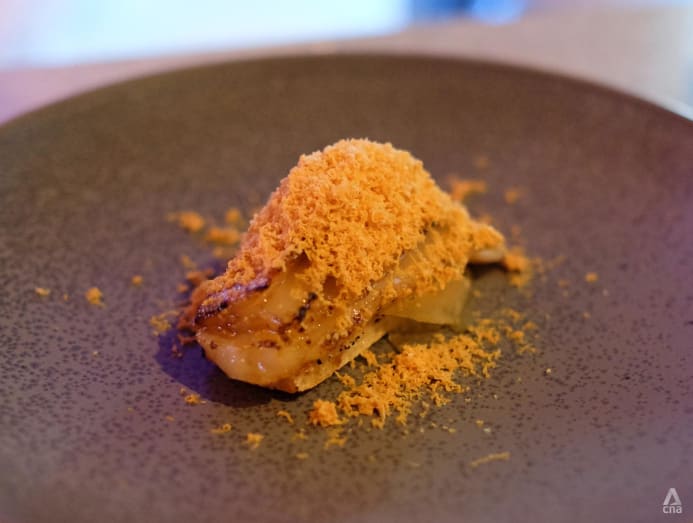 Some other great ideas for new themes, put on the back burner for now, include "hotpot omakase" in which everything is cooked in front of you; a "konbini omakase" spoofing Japanese and Taiwanese convenience store foods like onigiri, fried chicken, steamed buns, iced coffee and milk puddings; a "dumpling omakase" paying homage to dumpling styles the world over; and a "curry omakase" – "another one that I thought was bad but actually, after I'd thought about it for one night, was quite good, because curry is very, very diverse as well."
Better catch "bread sushi" while you can.
Small's is at 115 King George's Avenue #02-02.