McDonald's BTS Meal lands in Singapore – without the band-themed paper bag
It's just the BTS-branded Chicken McNuggets box and drink cup, ARMYs. And after some online ordering hiccups earlier on Monday, some packaging is already being sold on Carousell.
The highly anticipated BTS Meal from McDonald's finally hit Singapore's shores on Monday (Jun 21) at 11am, available only through delivery services McDelivery, GrabFood and foodpanda.
Several customers left complaints on the fast-food chain's Instagram page on launch day, saying they faced problems such as glitches on the website and not being able to place an order after waiting for some time.
There were also complaints that the meal was sold out, although some customers were able to purchase it after those posts were made. McDonald's Singapore told CNA Lifestyle via email on Monday that the meals were not sold out. "We'd like to assure our customers and BTS fans that The BTS Meal is still available for order via delivery." 
The BTS Meal – a nine-piece Chicken McNuggets set with sweet chilli and Cajun sauces, large fries and a large Coke – was originally meant to launch in Singapore on May 27 but was delayed due to a spike in COVID-19 community cases. It costs S$8.90 a set and you won't be able to get them in-store or via the drive-thru service. 
In Singapore, the BTS Meal comes with the purple BTS-branded Chicken McNuggets box and drink cup, but not the BTS-branded brown paper bag, which is not available here, according to the McDonald's website.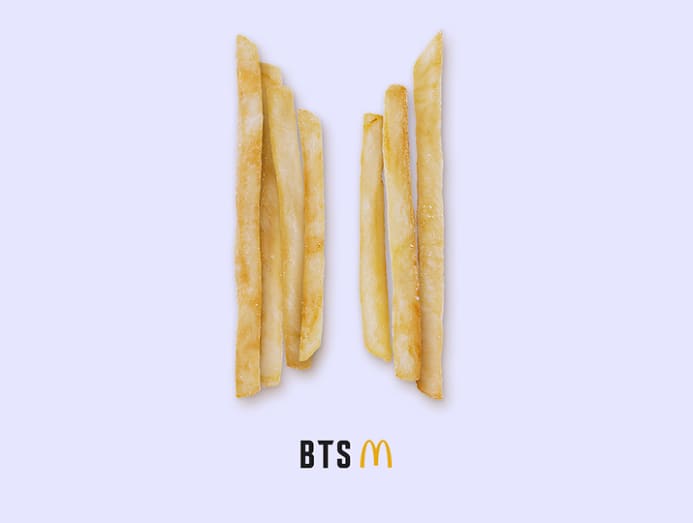 The BTS Meal will eventually be rolled out to 49 countries and territories worldwide. It has been sold in several other countries, including Malaysia, where it launched on May 26 to long lines at McDonald's outlets. 
Several outlets in Indonesia were also temporarily closed when the meal launched on Jun 9 because of huge crowds. The police in Jakarta released a statement saying that 32 branches were closed across the city. There were other closures across the country as well.  
BTS fans have gone the distance trying to preserve the BTS-branded packaging the meals come with, including washing and drying and then framing them.
As probably expected, the BTS-branded packaging can already be found on Carousell, just hours after it first went on sale here. How much? One Carouseller's "selling it" for S$10,000,000,000, there's one that's obviously been eaten for S$888 – and a whole bunch of other listings. We're assuming it's all in good fun.