Free-flow char kway teow, sambal stingray and durian at National Day buffets
We love a good hotel buffet spread – make it a feast with unlimited servings of local favourites and it's the perfect way to celebrate Singapore (and our food).
Few things get a Singaporean feeling more patriotic than food. So it's only fitting to celebrate the nation's 54th birthday with an epic feed featuring all our local favourites in one sitting.
From unlimited servings of durian and char kway teow to ice kachang, sambal stingray, white pepper crabs, salted egg yolk lobsters and beyond, these hotel buffet restaurants have pulled out all the stops to give us reason to indulge for our country.
We hear the call of those smouldering woks – do you?
CARROT CAKE STATION AND IBERICO CHAR SIEW AT RISE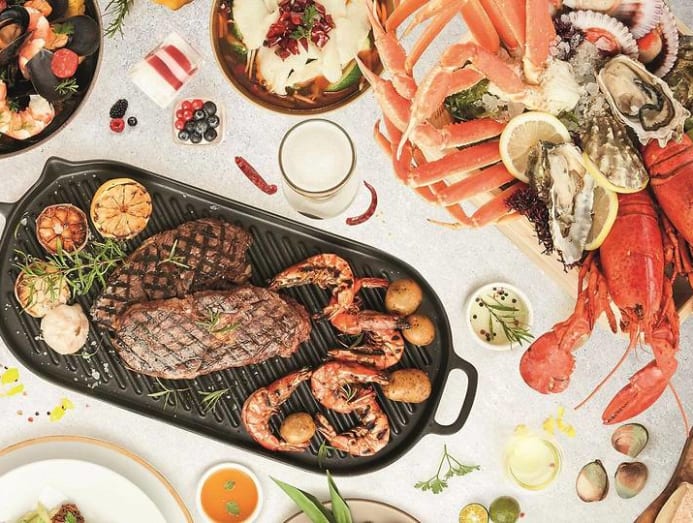 To celebrate the occasion, Marina Bay Sands' international buffet restaurant Rise will be serving its sumptuous buffet dinner at a special price of S$54 (the regular price tag sits at S$72) from Aug 5 to 8.
On these dates, the spread will include local favourites like a live fried carrot cake station, chilli crabs, chicken murtabak and satay.
The spread on National Day (S$88 per adult; $38 per child) gets even more lavish with deluxe offerings like Iberico pork shoulder char siew, saffron-infused mutton biryani, and a whole steamed barramundi with sambal at the carving station. 

WHITE PEPPER CRAB AND MILO CAKE AT EDGE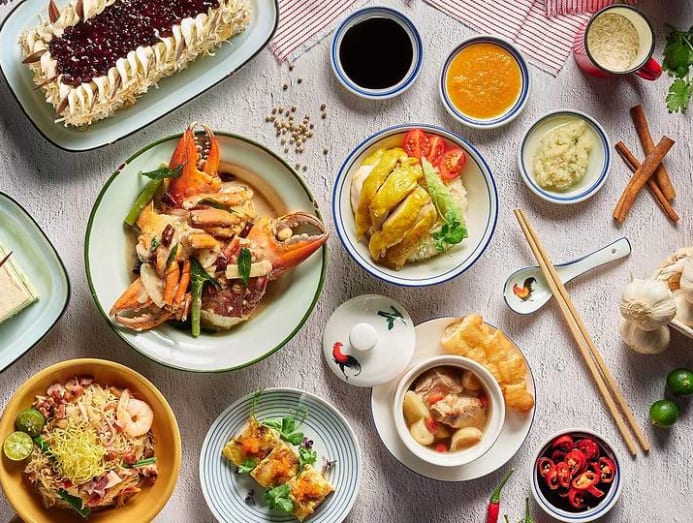 The already lavish selection at popular buffet restaurant Edge gets amped up with a bevy of Singaporean classics.
Gird your bellies for the likes of pan-fried carrot cake with chai po, eggs and tobiko, xing zhou bee hoon, white pepper crabs, and grilled seafood served with cincalok and lime. At dessert, familiar favourites are given an elegant twist in the form of things like pulut hitam lapis entremets and Milo cake.
Adults pay S$92 while children pay S$46 for dinner between Aug 2 and 11. The meal comes with a free flow of orange juice, teh tarik, bandung, coffee and tea.

CHIM'S SATAY AND SAMBAL STINGRAY AT TOWN RESTAURANT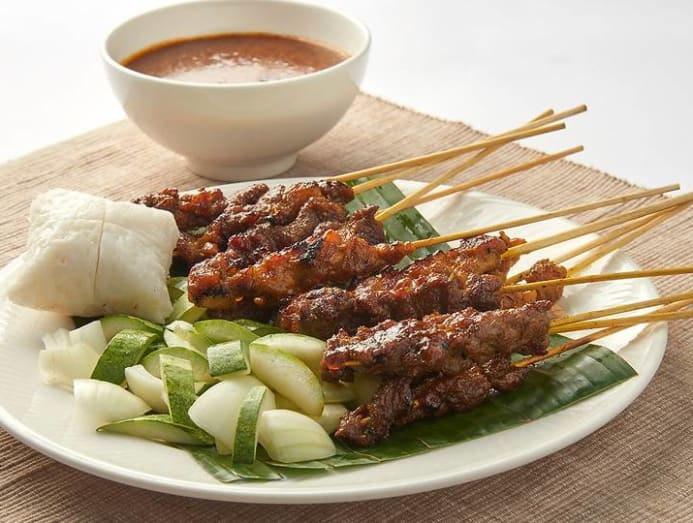 The Fullerton Hotel Singapore's well-loved buffet restaurant pays tribute to the vibrant street food scene that once lined the Singapore River, right across from where it sits today.
Available from Aug 1 to 11, the Soiree by the River buffet will be anchored by charcoal-grilled favourites like sambal stingray, barbecued king prawns and satay by popular family-owned brand Chim's Satay. Naturally, there's plenty more on the spread, including evergreens like Hainanese chicken rice, laksa, char kway teow and beef rendang.
Bringing the selection up to date is the addition of Chef Chan's signature salted egg yolk lobster (only available on Fridays and Saturdays) – because what Singaporean doesn't love a salted egg dish?
Priced at S$59 per adult and S$30 per child from Sunday to Thursday, and S$85 per adult and S$43 per child on Friday and Saturday.

ALASKAN KING CRAB CHAR KWAY TEOW AND BABY LOBSTER HOKKIEN MEE AT LIME RESTAURANT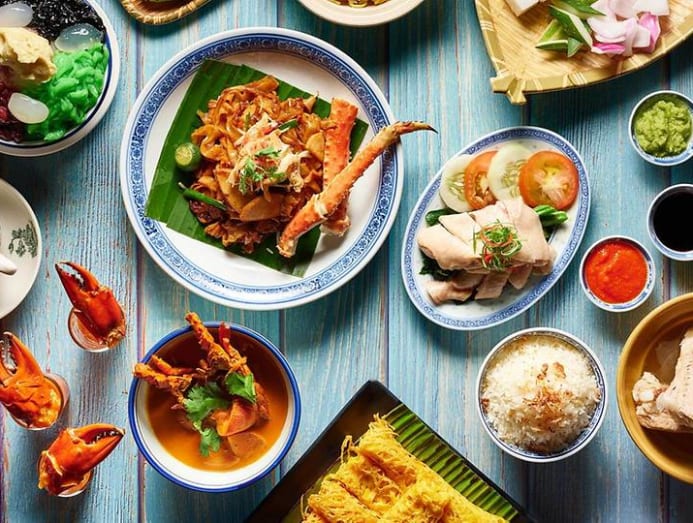 Local favourites get the upscale treatment at ParkRoyal on Pickering's Lime Restaurant. Available from Aug 5 to Sep 1, the Loco Local buffet dinner will see the likes of char kway teow upgraded with Alaskan king crab meat and Hokkien mee served with baby lobsters.
Who needs cockles when you can have steamed oysters served with your choice of Thai chilli sauce, mala sauce or sambal belacan? At dessert, choose from ice kacang, pong piah, orh nee and assorted mini Nonya kueh.
Priced at S$68 per adult and S$34 per child from Sunday to Thursday, S$78 per adult and S$29 per child on Friday and Saturday.

FLAVOURS OF THE 80s AND ALL-YOU-CAN-EAT DURIAN AT THE LINE
Go back to the 1980s at The Flavours Of Singapore Buffet, available on Thursdays, Fridays and Saturdays until Aug 10. That's when The Line at Shangri-La Hotel is serving nostalgic treats like kacang putih, lobster cube biscuits, White Rabbit sweets, wheel crackers, and as many durians as you can eat.
The durian selection will include varieties like D13, hong xia (red prawns) and Golden Phoenix. Those who prefer to eschew the pungent king of fruit can indulge instead in the selection of tropical fruit like mangosteens, jackfruits, longans and rambutans.
That's on top of the 16 live cooking stations serving everything from yong tau foo and bak kut teh, to oyster omelettes and soymilk with chin chow.
Available at S$128 per adult and S$64 per child on Thursdays and on Aug 9, and at S$118 per adult and S$59 per child on Fridays and Saturdays.

LAKSA AND LAMB RENDANG AT CLOVE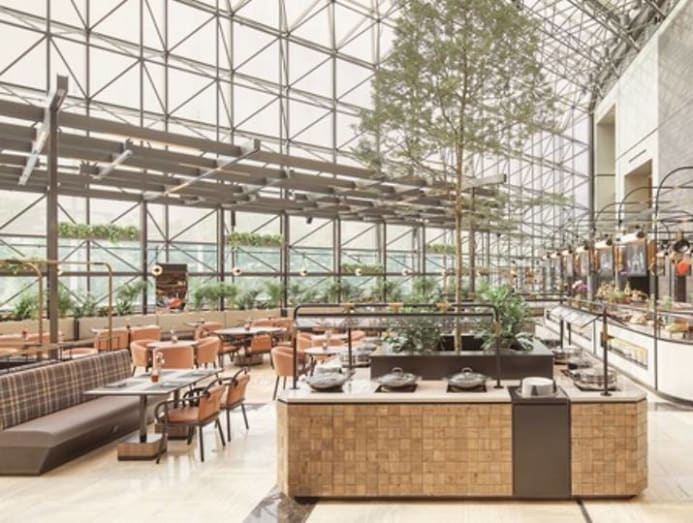 Throughout August, adding to the international spread at this swanky buffet restaurant at Swissotel The Stamford is a bevy of much-loved Singaporean favourites.
Slurp on unlimited bowls of laksa, crack into oatmeal crayfish with curry leaves and chillies, and tuck into earthy lamb rendang and clove-infused John snapper fish curry.
Available for lunch from Mondays to Saturdays (S$55 per adult; S$28 per child), with a larger spread on Sundays (S$108 per adult; S$54 per child), and for dinner from Monday to Thursday (S$65 per adult; S$33 per child) and Friday to Saturday (S$95 per adult; S$47 per child).

APOM BALIK AND CHILLI CRAB PIZZAS AT BEACH ROAD KITCHEN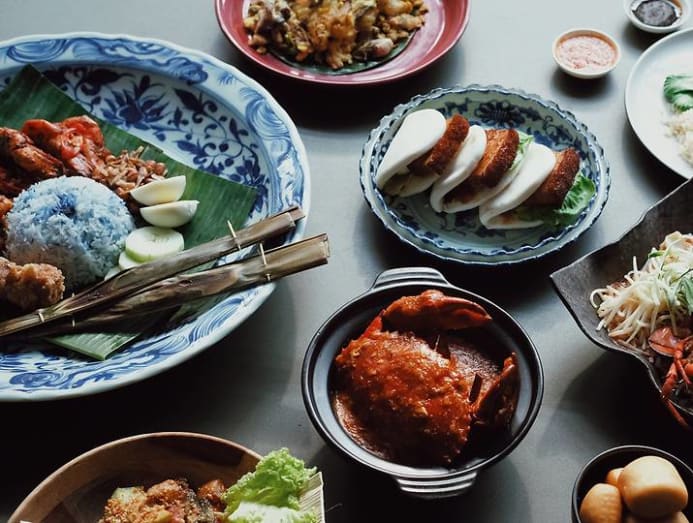 From Aug 9 to 12, the JW Marriott's buffet restaurant will see added live stations dishing out the likes of oyster omelette, nasi lemak and the hard-to-find apom balik. Be sure to look up while you chow down on the scrumptious eats as chefs and servers will pass around special treats like Sichuan pork belly crackers, chilli crab mini-pizzas and kong bak pau.
Priced at S$60 per adult and S$30 child for lunch, and S$90 per adult and S$45 per child at dinner on Aug 9 and 10. Sunday brunch at S$118 per adult and S$59 per child; dinner at S$90 per adult and S$45 per child on Aug 11. On Aug 12, lunch is at S$60 per adult and S$30 per child; dinner at S$80 per adult and S$40 per child.