The chef of this new seafood restaurant in Singapore wants to 'make fish sexy'
Chef Andrew Walsh knows the quick route to diners' hearts – with some boldly flavoured surprises to spice things up at his latest restaurant, Catfish.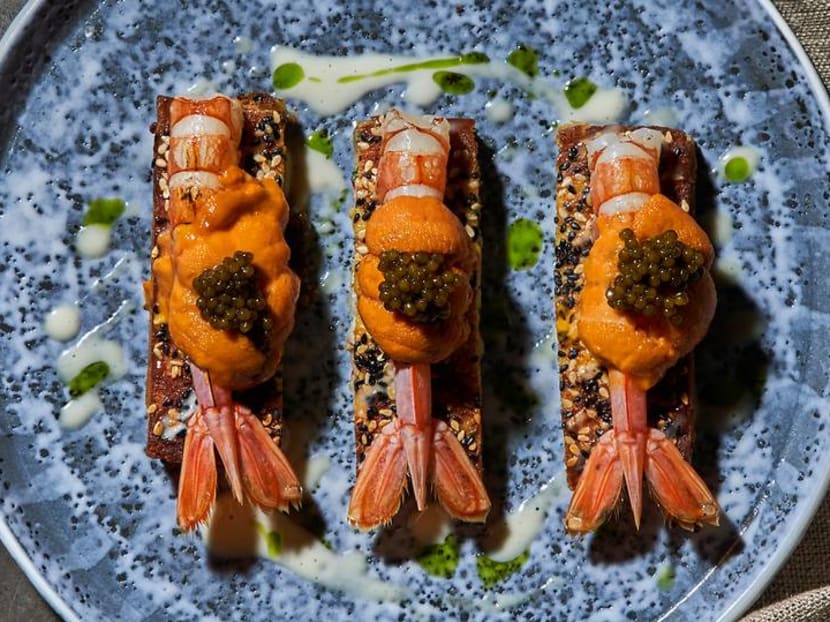 Since we can't travel right now and there are only so many times one can visit Coney Island, the opening of a new restaurant is a bat signal to those of us who hunger for new experiences. 
After all, it combines the things we Singaporeans seem best at: Eating and forking over 7 per cent GST.
Enter Catfish, the newest restaurant by Cure and Butcher Boy's Andrew Walsh, which ticks all the boxes: A beautifully designed space that changes with the light, from lush and lucid in the day to glittery and golden at night; and a seafood-focused menu that aims to "make fish sexy", in Walsh's words.
That means "bubbles and oysters", a range of fun cocktails and carefully-thought-out dishes with punchy Asian inflections. Here, the 37-year-old Ireland-born chef aims to "pimp up" trendy dishes like your prawn toast and your squid noodle ramen with a signature spin, together with head chef Erik Gustafsson, whose previous restaurants include Stockholm's F12.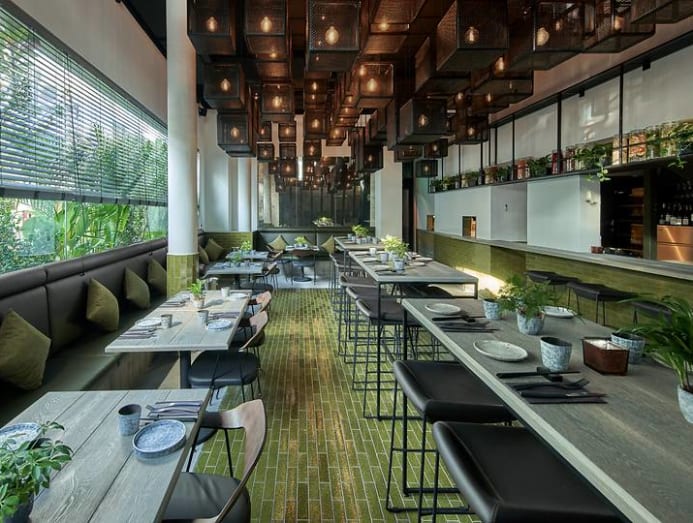 "We're making fish the star of the show, but dressing it up," said the 37-year-old Ireland-born chef who's made his home here for the last nine years. "Yeah, that's pretty much it – make playful dishes that are fun."
Some dishes, like the restaurant's double-meaning name, are even a bit naughty. "The fish and chips is quite naughty – I think you should be saving yourself for a nice lunch treat, especially on a Friday, for that fish and chips," Walsh winked. 
The batter is "super crispy", "there's jalapeño in there that's nice and spicy", there's "a beautiful vinegar spray", fries and "a little bit of greens in there – crushed peas to make you feel a little bit healthier."
Hopefully, it's a dish that will take you back along with him to his childhood in Ireland: "Summertime by the beach, and then, on the way home, you stop in at a great seafood restaurant… good Irish butter, good Irish oysters, and a pint of Guinness."
Catfish is the fifth restaurant in Asia under Walsh's Cure concepts, and it certainly won't be the last. Whenever the timing and the venue are right, he said, he loves developing new concepts. "I'd rather do it now because it is a young man's – or young lady's – game… I definitely have the hunger and desire for it now," he said. 
And "it's an opportunity that's driven by people who are just obsessed with food. Restaurants are hot property here. People love to dine. It's probably the number one pastime in Singapore."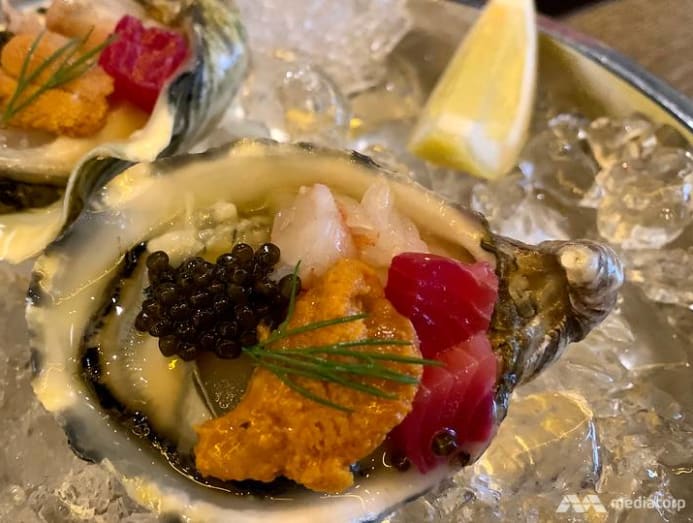 Indeed, Walsh is a good chef, but he's an even better businessman: In his endeavour to make fish sexy again, he's figured out that diners in Singapore are turned on by anything that has uni, caviar, truffle and Hokkaido scallop.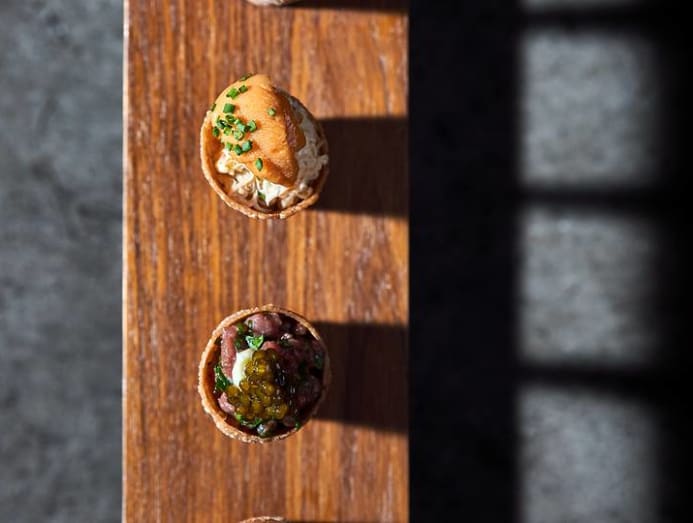 On the dinner menu we tasted, there were oysters topped with uni and caviar; hasselback potatoes topped with ikura and bluefin caviar; and mini cones made of crispy wanton skin with three different fillings: Smoked salmon, ikura and furikake cream; scallop sashimi, uni and avocado cream; and beef tartare, caviar and wasabi cream.
Then there was a sesame prawn and scallop toast topped with the tears of goth mermaids. Just kidding – it was topped with uni and caviar.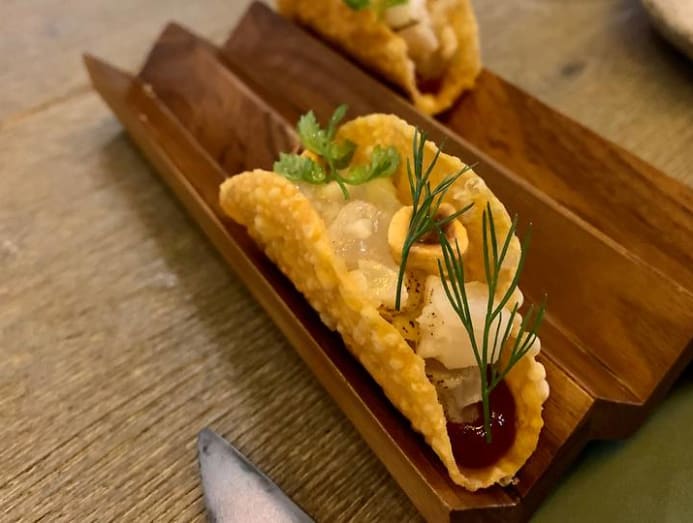 Certainly nobody is complaining, except perhaps to say it's a pity that those mini cones followed a dish that really does transport you into inappropriate fantasies: The catfish sashimi taco with plum jam, umeboshi mayonnaise and hazelnut. It's a tough act to follow, especially when both dishes feature crispy wanton skin shells – kind of like if you were a Singapore Idol contestant and gave a rip-roaring rendition of a song, and then the next contestant after you sang the same song.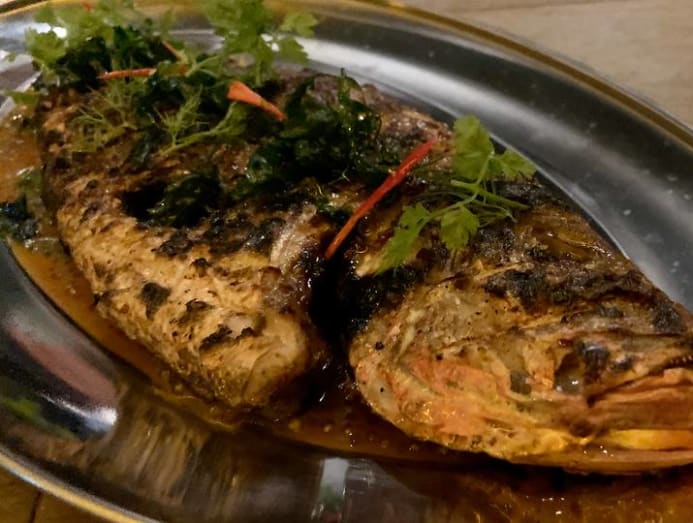 But the menu, we discovered, zigzags like an inebriated child between playing it really safe and being really daring. 
The bold and bounteous main course, Sichuan barbecue snapper with crispy herbs and laksa leaves, was an immediate head-turner: Perfectly charred, de-boned and sitting in a piquant tapioca sago sauce, served with a side of coconut rice. 
Can't travel? It's okay – adventure is experienced through all the senses, including taste, and this fish really does make you feel like you might be on that tropical beach in your screensaver. 
It's a dish that's difficult to do but faultlessly executed – as were all the dishes that night, really, though the one that charmed us most was probably the balanced yet bold scallop ceviche alive with flavour, which pushed the boundaries of acidity with green apple and clementine, and drops of dill oil.
The big surprise and unadvertised secret at Catfish, though, is the desserts. Gustafsson had hinted, before he served them, that he was justifiably proud of them, but we were caught off guard by just how excellent these prosaic-sounding sweets proved to be: A perfectly calibrated strawberry pavlova with the freshness of basil, and quite possibly the best lemon tart of our lives.
"They are made with love," Gustafsson quipped. And, yes, why not? With COVID-19, "The staff had a very stressful few months," Walsh said. 
"Some guys didn't know if they would make it. Now, it's probably more physical stress, because we're short of manpower all around Singapore. Go back to those times you missed (dining in restaurants) and understand the hard work that goes into them. Just come and enjoy… it's okay to just let go and enjoy yourself." 
He added: "That's people's therapy right now – to escape their apartments or work… and just sit in a restaurant and be comfortable."
And as far as escapes go, you'll be whisked away for a couple of hours, whether you like your fish naughty or nice.
Catfish is at 5 Gemmill Lane.