Constance Song opens a Cha Chaan Teng in a shophouse with Hong Kong partners
The actress loved the food at the original Friends Cafe at Upp Thomson so much, she convinced the couple to open a fancier outlet at a conservation shophouse on Neil Road.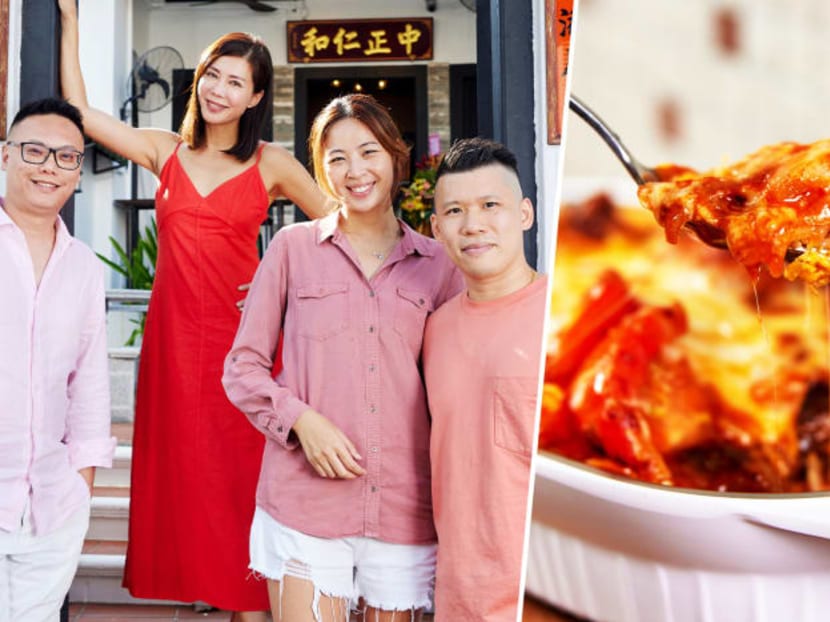 When veteran actress Constance Song first met freelance make-up artist Vicky Lee, 33, on the set of Mediacorp show Tanglin, she wasn't expecting to go into business with Lee and her husband Keith Wong, 35, a former civil engineer, someday.
In 2021, the Hong Kong-born couple opened the quaint Friends Cafe at Upper Thomson. "A courageous move during the pandemic," said Song. She became a regular at their popular cha chaan teng because she likes their "authentic Hong Kong" taste and brought her friend, Derick Wong, there for lunch. While chatting with Lee, they casually asked if she was keen to expand the business.
"Wah, she was very serious about it," laughed Song, who also co-owns Spanish joint Bam! Restaurant. She and Wong who is in the logistics business invested in Friends Cafe as a present to his wife who dreamed of going into F&B.
Following feedback from customers that their first outlet's location is inaccesible, the quad opened the fancier second branch at the more central 
Neil Road

 in April. "The Upper Thomson branch isn't very crowded on weekdays because it's too far away for most people's convenience," explains Lee, who says they haven't fully recouped their cost from the 20-month-old first branch despite the initial long queues.
"Vicky and Keith are super hardworking, capable and innovative; they're very productive," gushed Song. The couple runs between the two outlets and the husband cooks in the kitchen alongside his crew. He honed his cooking skills while working at Chinese and Western restaurants and even a lobster farm while studying in Perth for seven years. He also helped to run Lee's parents' kopitiam selling HK roast meats and dim sum in Upper Thomson.
Lee still takes bridal make-up bookings. "These are usually early in the morning so I have the rest of the day for the cafes," said the perky mum-of-three. 
THREE 'CONCEPTS' UNDER ONE ROOF
Friends Cafe's second branch is in a conservation shophouse at Neil Road (previously home to Sol restaurant and bar). The rent is three times that of the Upper Thomson branch, which only seats 40, but it gave them a chance to convert the two-storey, 80-seater into their dream eatery. "We're trying to transport our customers into different time zones," explained the couple about their three design concepts, although customers order from the same menu no matter where they sit.
FRONT YARD: ANCIENT RURAL CLAN HOUSE 
The front yard vaguely resembles a rural "Hong Kong clan house from the Qing dynasty", complete with bamboo-green ceramic eaves and grey bricks, which they sourced from China.
"We had a hard time getting a contractor experienced enough to put up the eaves for us because it was too much work. We finally found an uncle who helped to build a temple 40 years ago to do it!" recalled Lee.
Stop and admire the artfully broken grey tiles that Lee and Wong painstakingly put in to frame the door leading to the cafe. "They broke during transportation but that was exactly the 'antique' effect we wanted!"
LEVEL ONE: CLASSIC RETRO 

CHA CHAAN TENG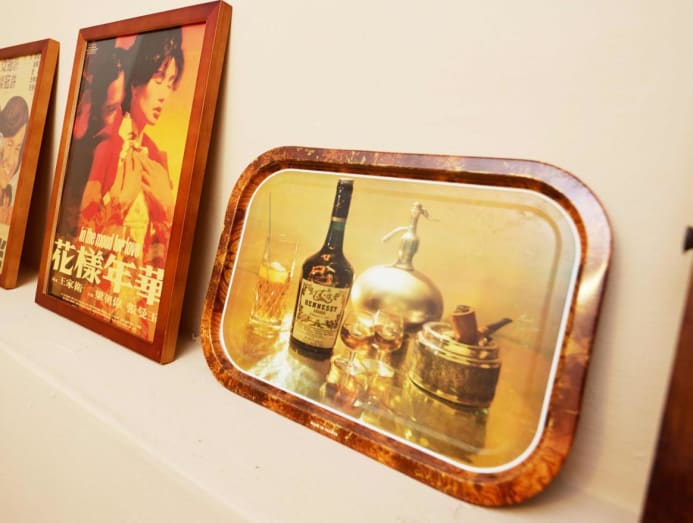 The first floor features the classic retro cha chaan teng look which replicates their first branch, to the soundtrack of Hong Kong Cantopop and Mandopop. The couple rolled up their sleeves to repaint the former restaurant-pub, which had black walls and "scary" neon murals, said Lee.
LEVEL TWO: "COLONIAL HONG KONG-STYLE ERA" 
Vintage-y collectibles like Hong Kong movie posters line the staircase leading to the second floor, which is decorated in what the couple describes as "the colonial HK-style era".
A bar and custom-made leather booths matching stools and tables recycled from the previous tenant's, lend it a more exclusive feel. A private room that is still being renovated can seat 10 people.
The glass-walled air well space is used to display the couple's collection of retro relics, like a gramophone and old luggage.
Because the couple DIY-ed much of the work, they managed to keep the renovation costs to a relatively modest S$50,000 for such a big space.
THE MENU
It's a very crowded menu filled with appetisers, signature set meals, rice items, bakes, toast and drinks. Hot faves from their Thomson cafe, like the Beef Brisket and Beef Ball Hor Fun and Char Siew and Egg Rice are also here. However, the higher rent and swankier digs also mean that prices here are 20 per cent more expensive than at the first branch.
NEW OUTLET-EXCLUSIVE DAI PAI DONG DISHES
Fresh on the menu are about 16 dishes (with "more on the way," promised Lee) inspired by Hong Kong's famous dai pai dong (basically their version of our zi char) and egg tarts. We checked out four new items.
STIR-FRIED BEEF CUBES IN WASABI SAUCE, S$18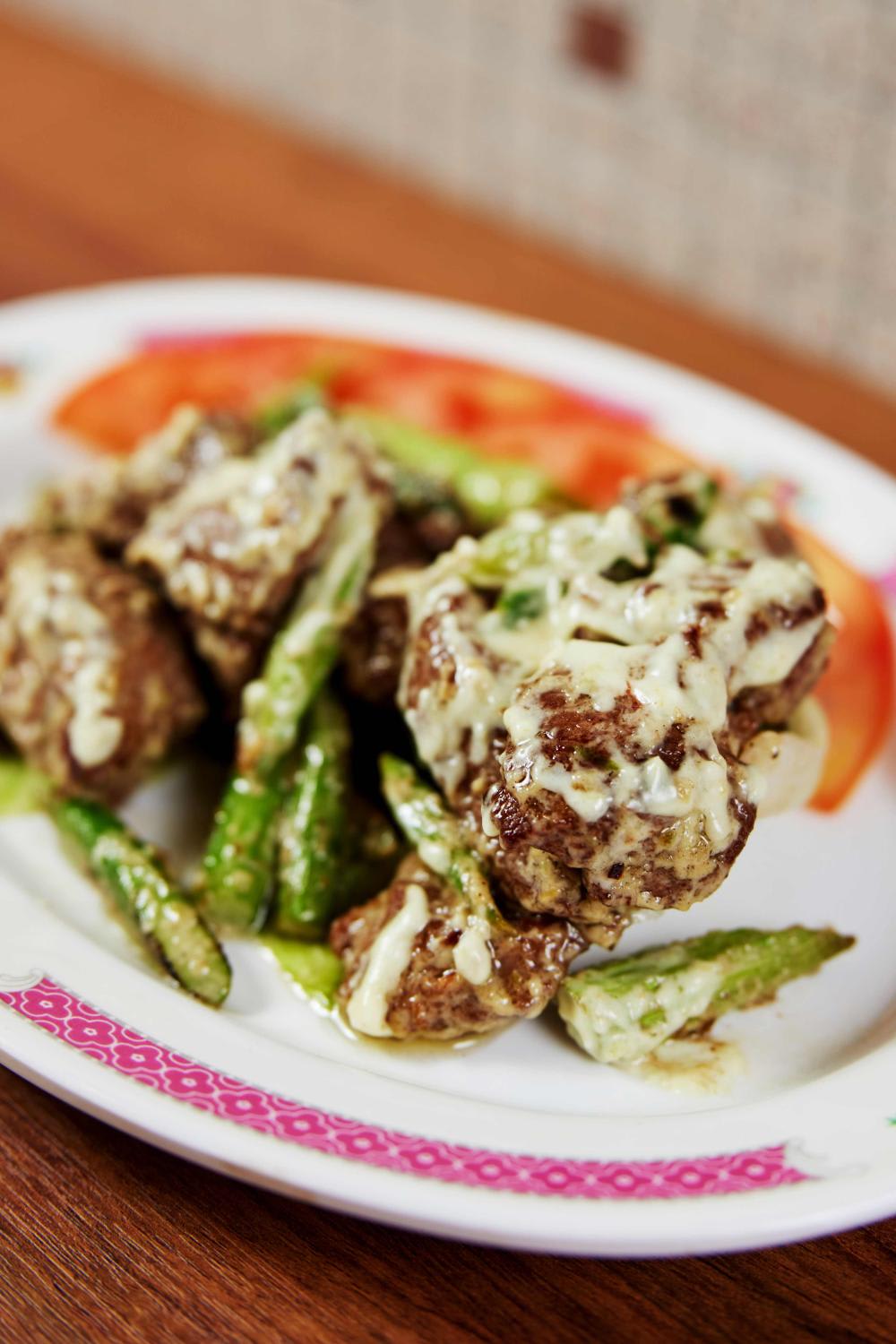 Using Australian tenderloin and asparagus and coating it with a creamy, not-too-spicy wasabi sauce, Wong tosses it on high heat for a kiss of wok hei. The result is succulent, tender nuggets and still-crunchy asparagus that makes a yummy combo. A must-order.
BAKED PORK CHOP RICE, S$14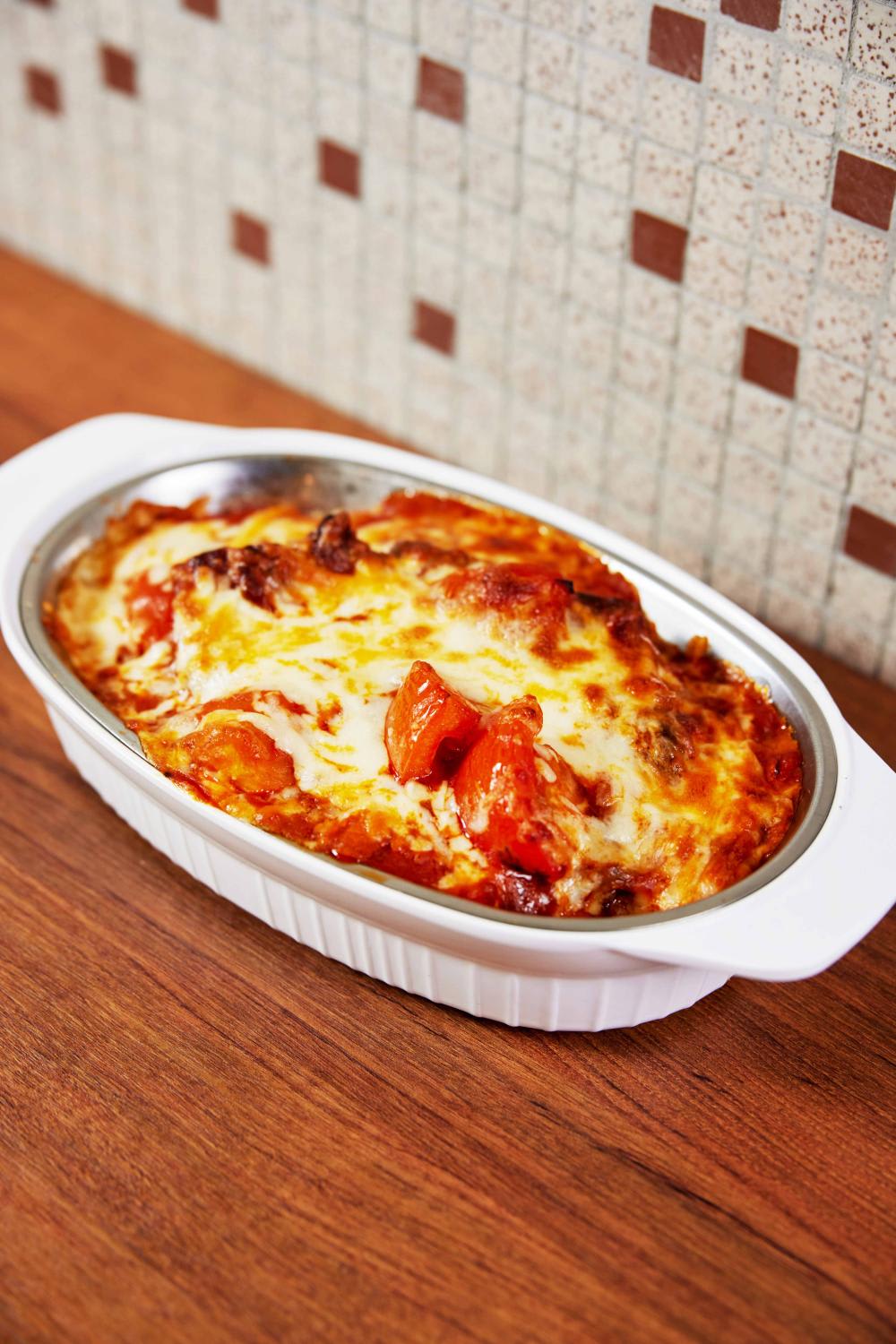 Regulars have been asking for this cha chaan tang staple. "Our first branch didn't have the space to fit in an oven," explained Lee, "but it's finally here!" A well-marinated pork chop, chunky tomatoes to add tang, and egg fried rice is topped with mozzarella cheese and grilled for a melty cheese pull. Comfort food that's nicely done. 
EGG TART, S$2.50 EACH
We were excited for this as a teatime snack, which their regulars have also been requesting. But while we liked the flaky pastry, the custard could be eggier and more fragrant. On the plus side, it wasn't too sweet. If you are feeling peckish, the existing signature snacks like Pork Chop Pineapple Bolo Bun (S$9.60) and Curry Fish Balls (S$5.60) are much more satisfying.
YUAN YANG, S$4
The classic cha chaan teng coffee-and-tea combo is silky on the tongue and brings us back to our holidays in Hong Kong. If you prefer something cold, their popular Red Bean with Ice Cream (S$5.60) or refreshing Sprite with Preserved Salted Lime (S$5.60) will hit the spot. 
BOTTOM LINE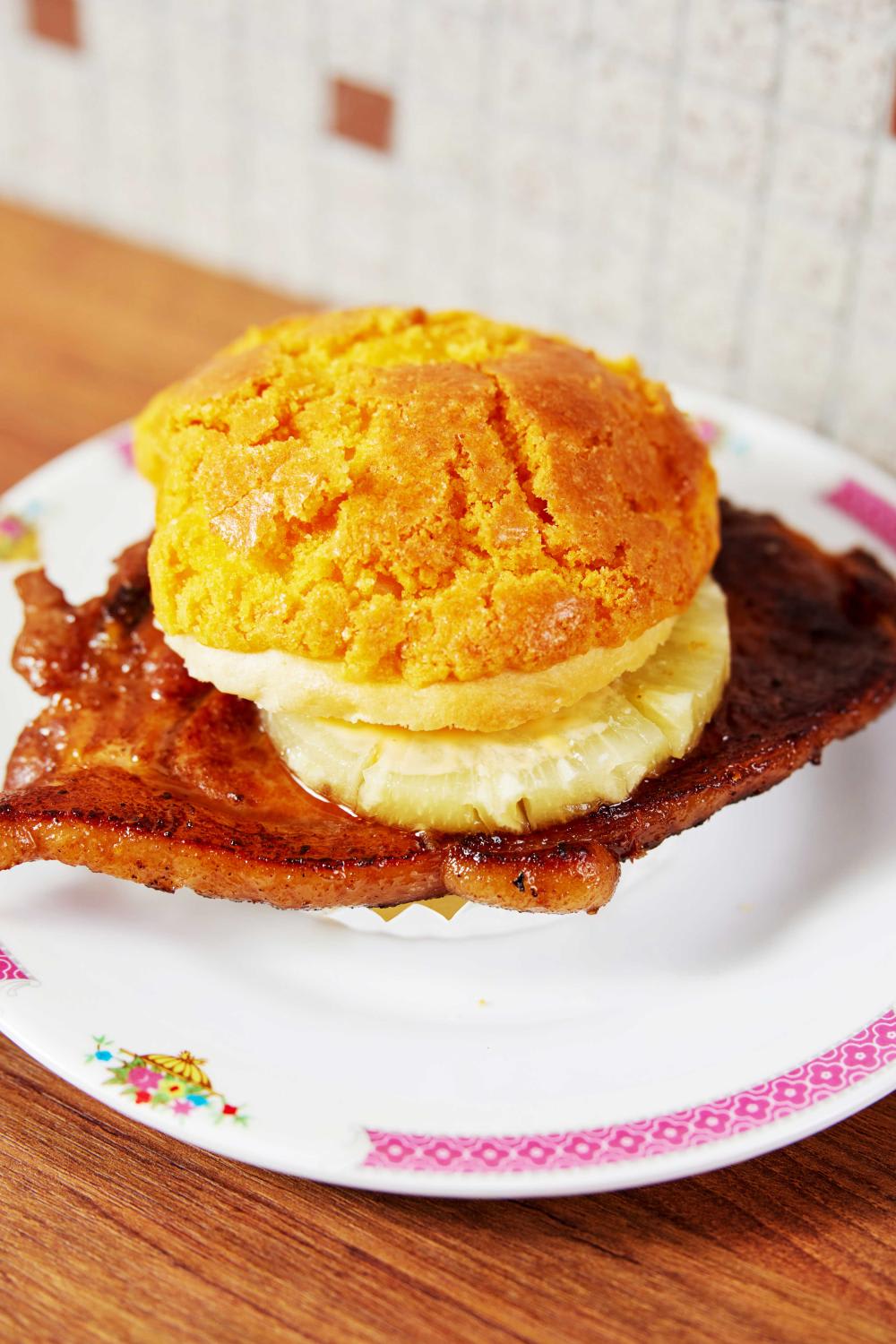 The various quaint design concepts give Friends Cafe at Neil Road a more interesting vibe than your usual cha chaan teng. While we like some dishes like the beef cubes in wasabi sauce and baked pork chop rice, we wish their much-anticipated egg tart was better executed. We'll be back for the promising new dai pai dong menu.
Friends Cafe is located at 78 Neil Rd, S088841. Opens daily except Tue, from 11.30am-3.30pm; 6pm-10.30pm. The Springleaf branch opens daily except Tue, from 11.30am-8.30pm. More info via Instagram. 
This story was originally published in 8Days.
For more 8Days stories, visit https://www.8days.sg/