88 Hong Kong Roast Meat has a new air-conditioned restaurant in the CBD
The 110-seater at Far East Square serves the signature char siew (roast pork) and sio bak (crispy roast pork belly), as well as a simple breakfast set with local kopi or tea, kaya toast and soft-boiled eggs.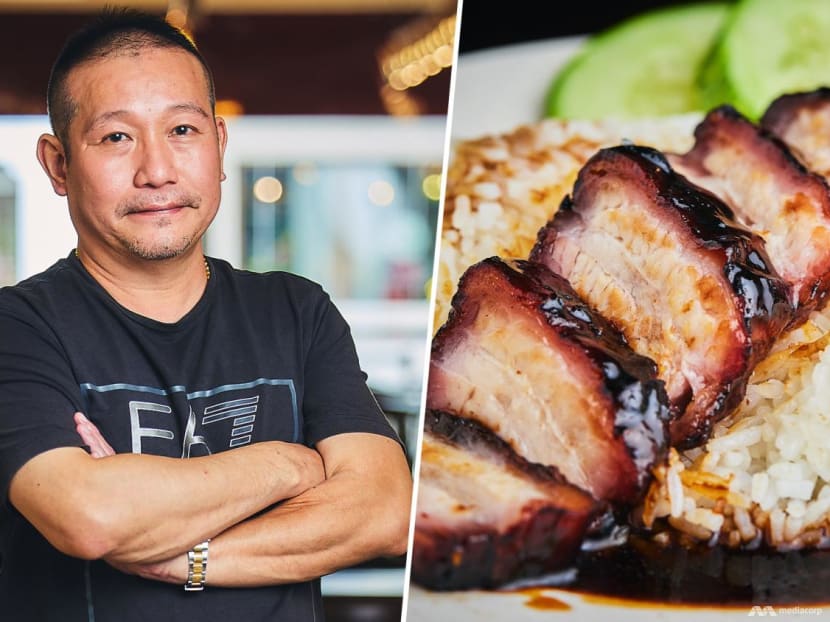 Given the challenging nature of the F&B trade, it's not every day that 8days.sg meets a hawker who claims they've never made a loss. "From day one when I started this business, I've never lost money – not even during COVID," shared Martin Ong, 50, owner of 88 Hong Kong Roast Meat Specialist.
His secret? "You must have principles as a chef. Everything you cook, you must be satisfied with it. Reputation is the most important," he asserted. 
As his chain has been our go-to spot for excellent char siew (roast pork) and sio bak (crispy roast pork belly) for years, we've got to admit that the towkay (Hokkien for boss) certainly walks the talk. Ong, a former restaurant chef, became a roast meat hawker in 2012 and opened several iterations of his stall in various locations before establishing 88 Hong Kong Roast Meat Specialist at a Tyrwhitt Road kopitiam outlet in 2016, and a standalone flagship eatery in a coffee shop on Lavender Street in 2018.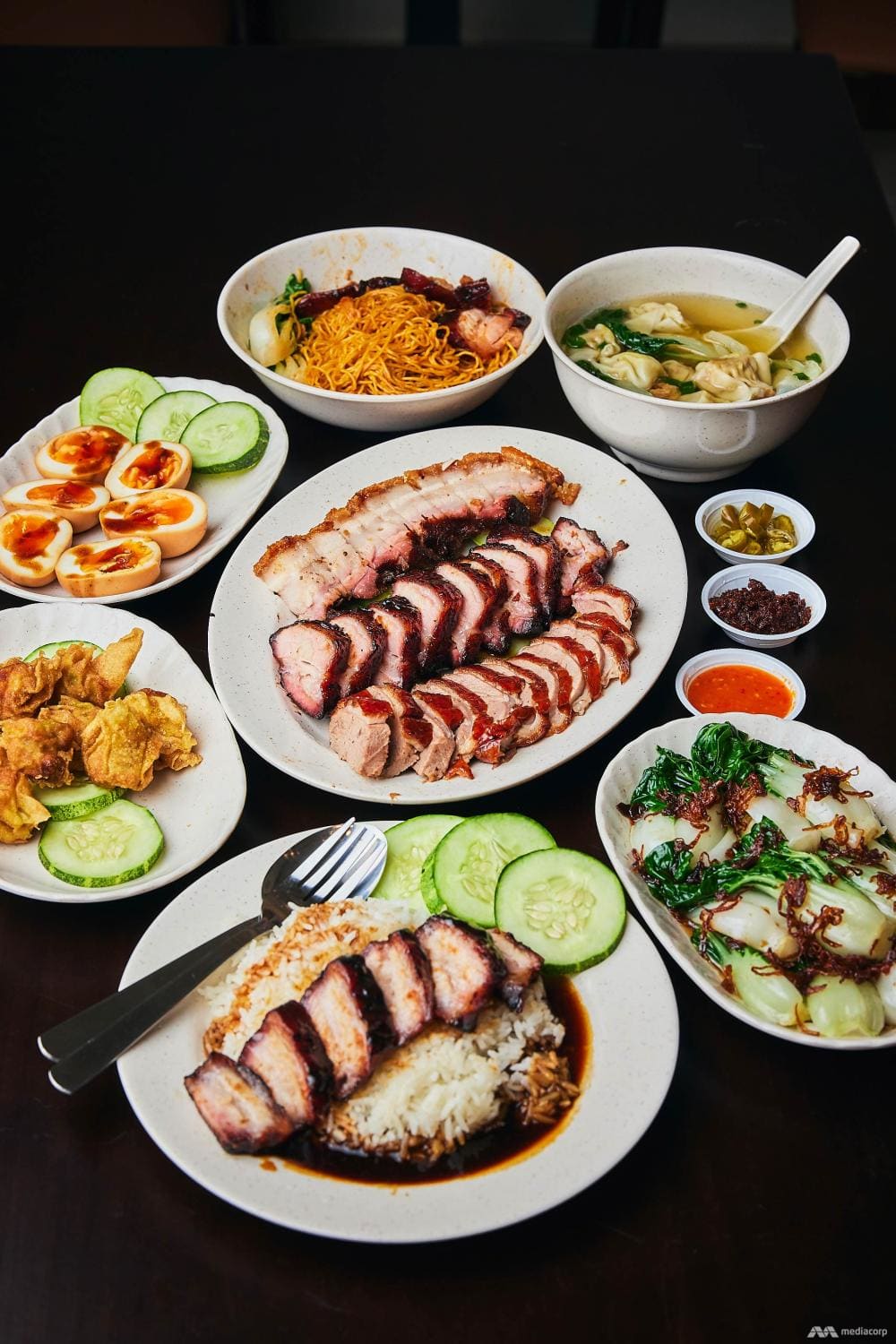 "They are packed to the limit most days," he revealed. Noting that a significant number of his Lavender Street patrons during lunch time come from the CBD, the hawker opened his first restaurant at Far East Square along China Street on Mar 15.
CASUAL BUT COMFY AIR-CON SETTING
The spacious air-conditioned 110-seater is simply decorated but bright and comfortable – a welcome upgrade from its grungier predecessors in Lavender. The restaurant is self-service – you can order and collect your food at the cashier counter.
"BEST ROAST MEAT IN SINGAPORE" ACCORDING TO GOOGLE
The walls here are plastered with media mentions – including a previous 8 Days feature – that the brand has received over the years. Asked if he views them as a measure of success, the towkay nonchalantly replied, "in a way, yes".
He added: "On Google Maps, when you search 'best roast meat in Singapore', we are at the top. We don't pay anything [for advertising]. Until today, we are still at 4.4 stars with about 1,200 reviews (referring to the Lavender flagship). That's very difficult to achieve."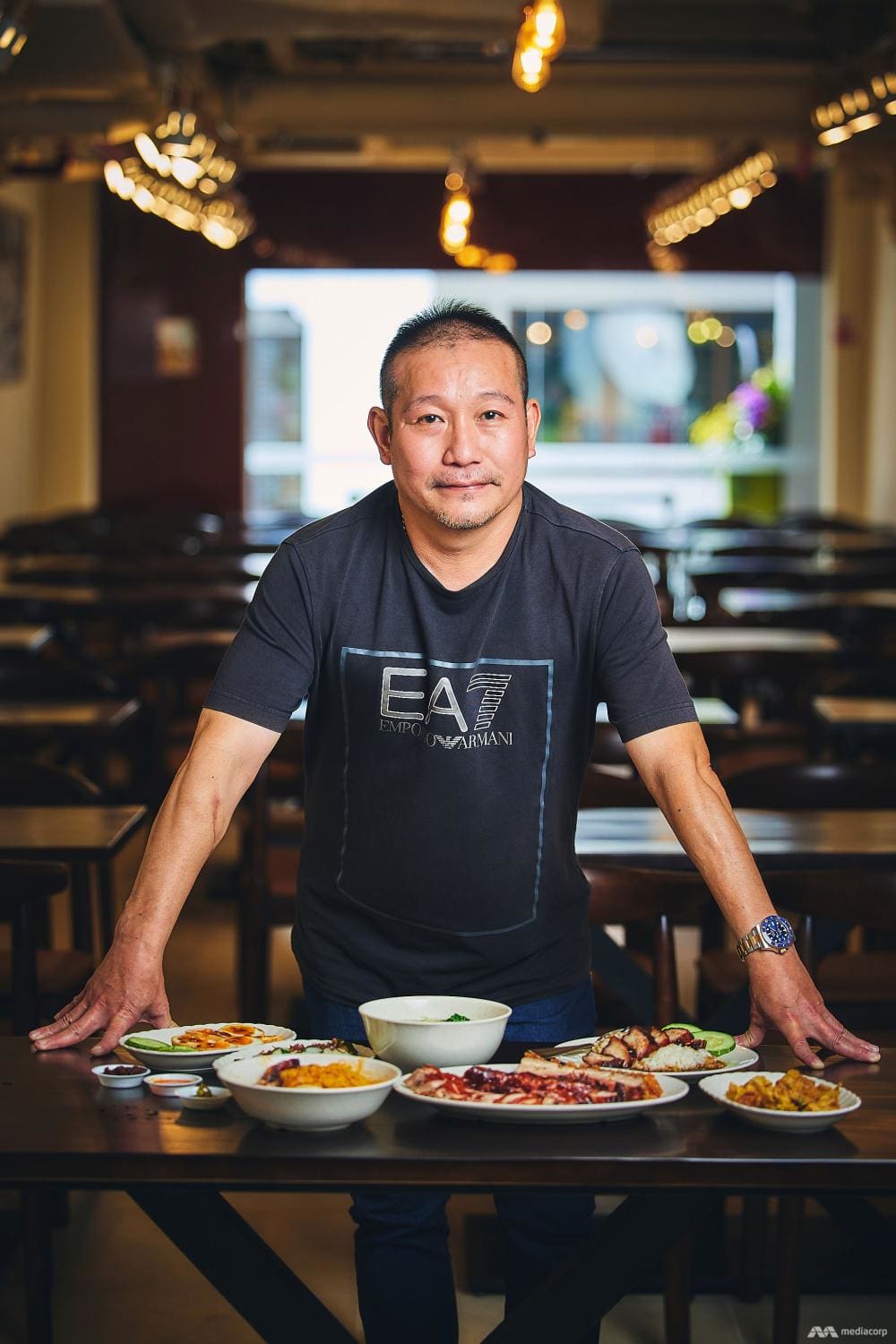 ON TAKING HIS TIME TO OPEN A RESTAURANT
"I could have expanded a long time ago. It's easy for us to open [new outlets]. Our products sell well anywhere but our production is limited," said Ong. "I'm very fussy, the standard must be there. I need to train the right people to the right standard before we open a new outlet." The entrepreneur says he has three disciples helming the Lavender flagship, where all the roast meats are prepped. He has also transferred ten of his more experienced staff to the new CBD restaurant. Due to kitchen restrictions, meats served at the restaurant are first charcoal-roasted at the HQ and kept in a warmer.
EX-JACK'S PLACE CHEF NOW SIO BAK AND CHAR SIEW MASTER
The former Western cuisine chef who worked at Jack's Place and The Canopy Cafe at Marina Bay Golf Course before becoming a hawker says he has developed "ten different versions of sio bak and seven versions for char siew" over the years. "I've roasted 40,000 slabs of sio bak since I started. We know everything about sio bak and char siew."
AIMS TO RECOVER CAPITAL IN SIX MONTHS
Though he is tight-lipped about the actual investment for this fancier new outlet, Ong is confident of recovering the capital in six months. "We haven't advertised [about our new location] and at lunchtime the restaurant is full already," he declared. The towkay tells us he is the "majority shareholder" of the brand and has "sleeping partners". There are no immediate plans to open another restaurant, but the boss says he is looking at "another kopitiam location" for his next expansion.
SLIGHT PRICE INCREASE FOR CERTAIN DISHES VS KOPITIAM OUTLETS
Apart from their signature roast meats, the restaurant also serves a simple breakfast set with local kopi or tea, kaya toast and soft-boiled eggs. Remarkably, prices for roast meat platters remain the same (S$10 for each type of meat) as at their kopitiam joints. There's been a slight increase for the other items like the popular Roasted Pork & Char Siew Rice – which costs S$7.50 at the restaurant compared to $7 at the other outlets.
CHAR SIEW RICE, S$5.50
The thick cut of pork belly is juicy and tender, evident from the faint pink tint in the middle, and crowned with exquisite, caramelised crispy edges from the charcoal roasting. 
The glorious, sticky marinade is an amalgamation of Hong Kong and Malaysian-style roasts (the former typically uses fermented beancurd and hoisin sauce, while the latter features honey and maltose) that results in a savoury smoky kiss that Ong describes as similar to bak kwa – the caramelly aroma of his honey-glazed pork does indeed resemble the Chinese New Year staple and is what sets the char siew here apart from competitors. Irresistible. We love it best with his lard-tossed noodles (see below).
There are also excellent house-made condiments to go with the meats – we enjoyed the bright flavours of the tangy chilli ginger dip.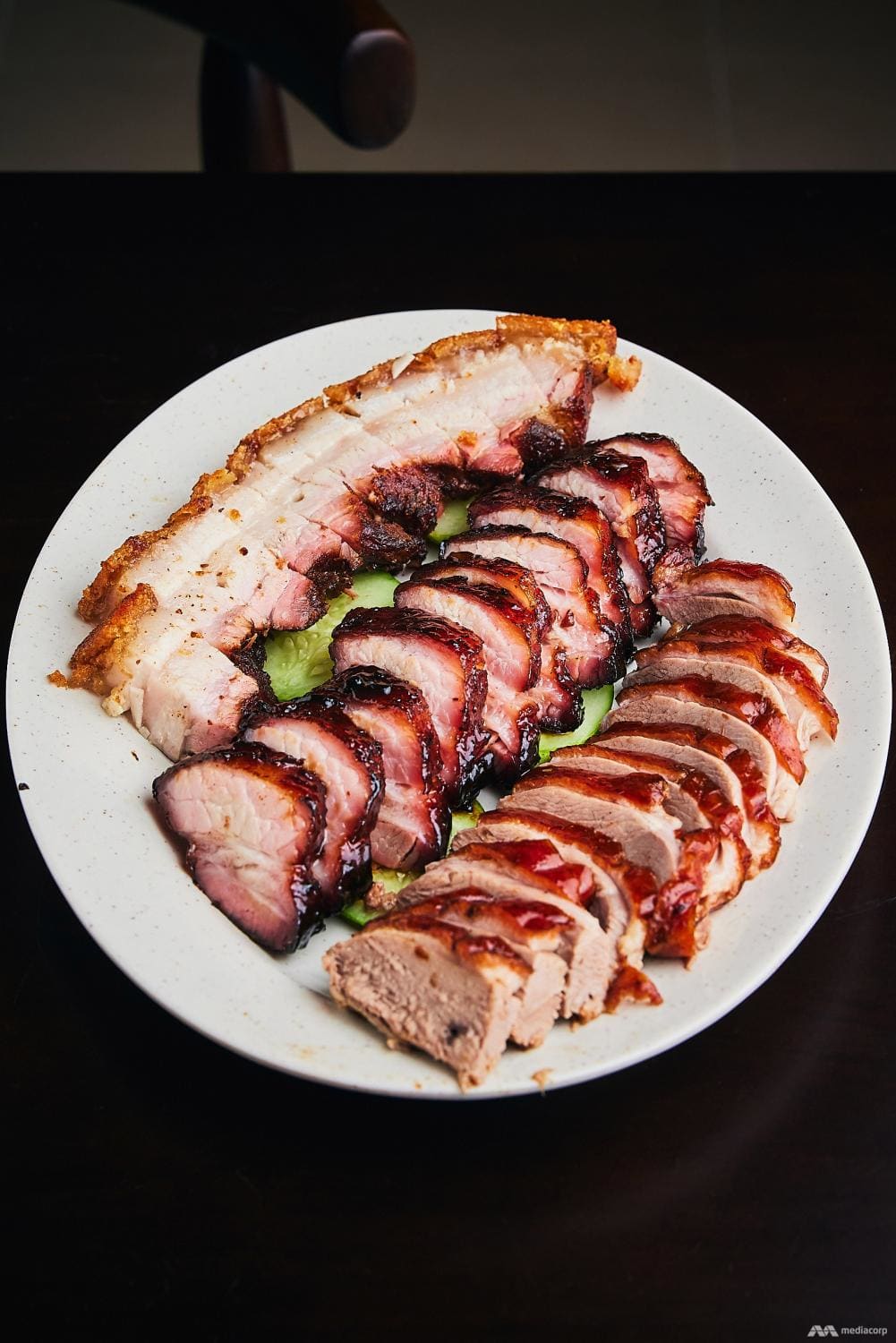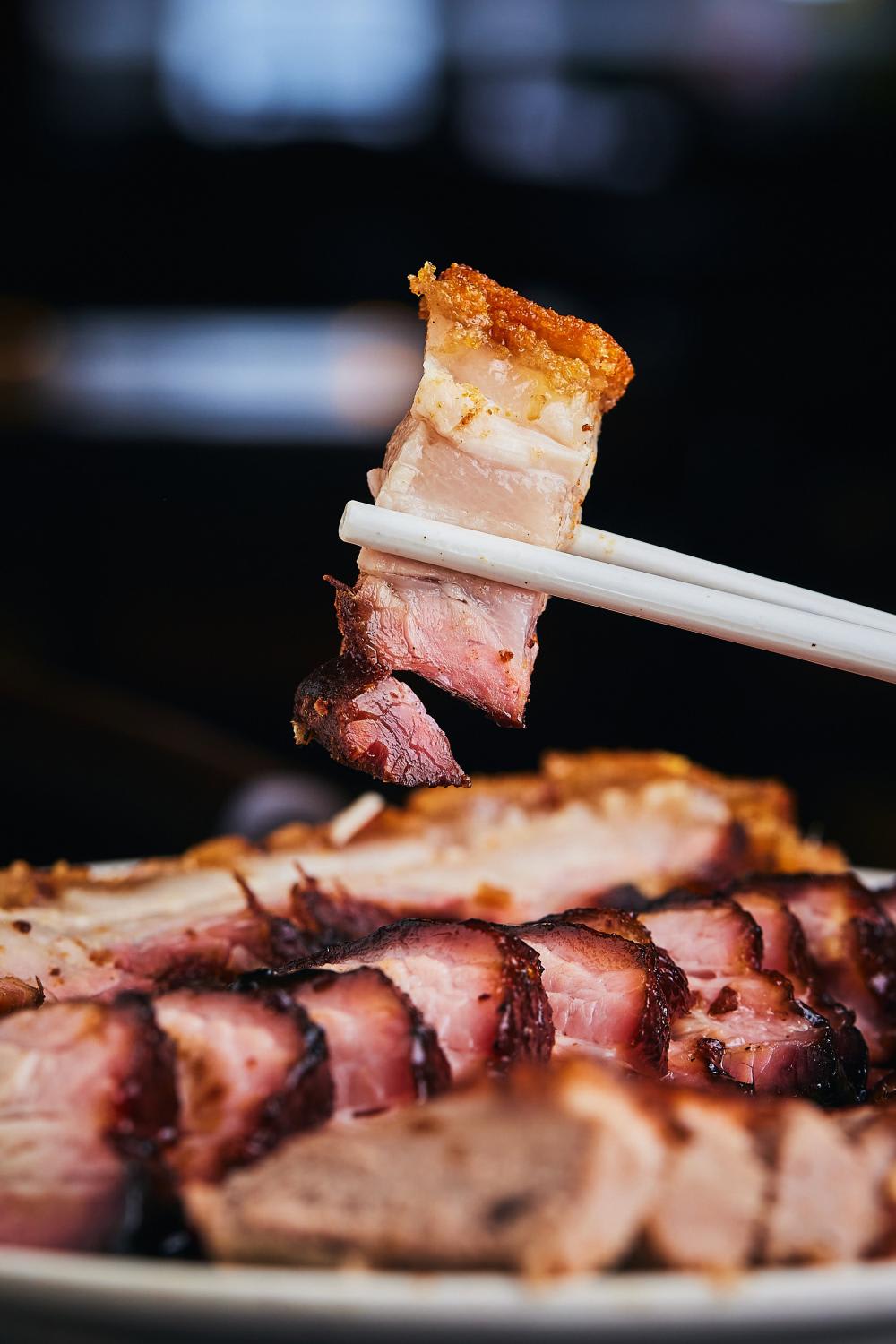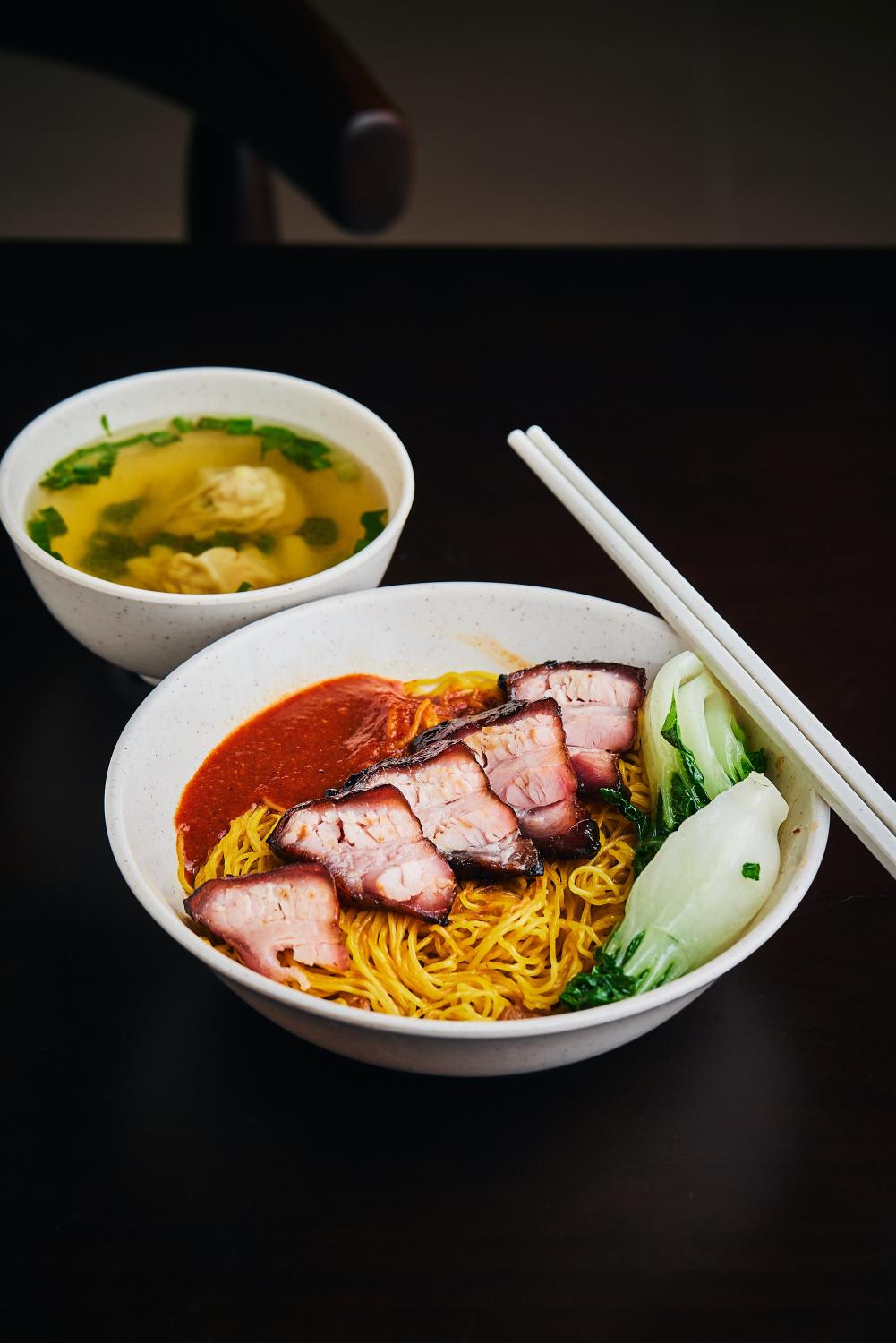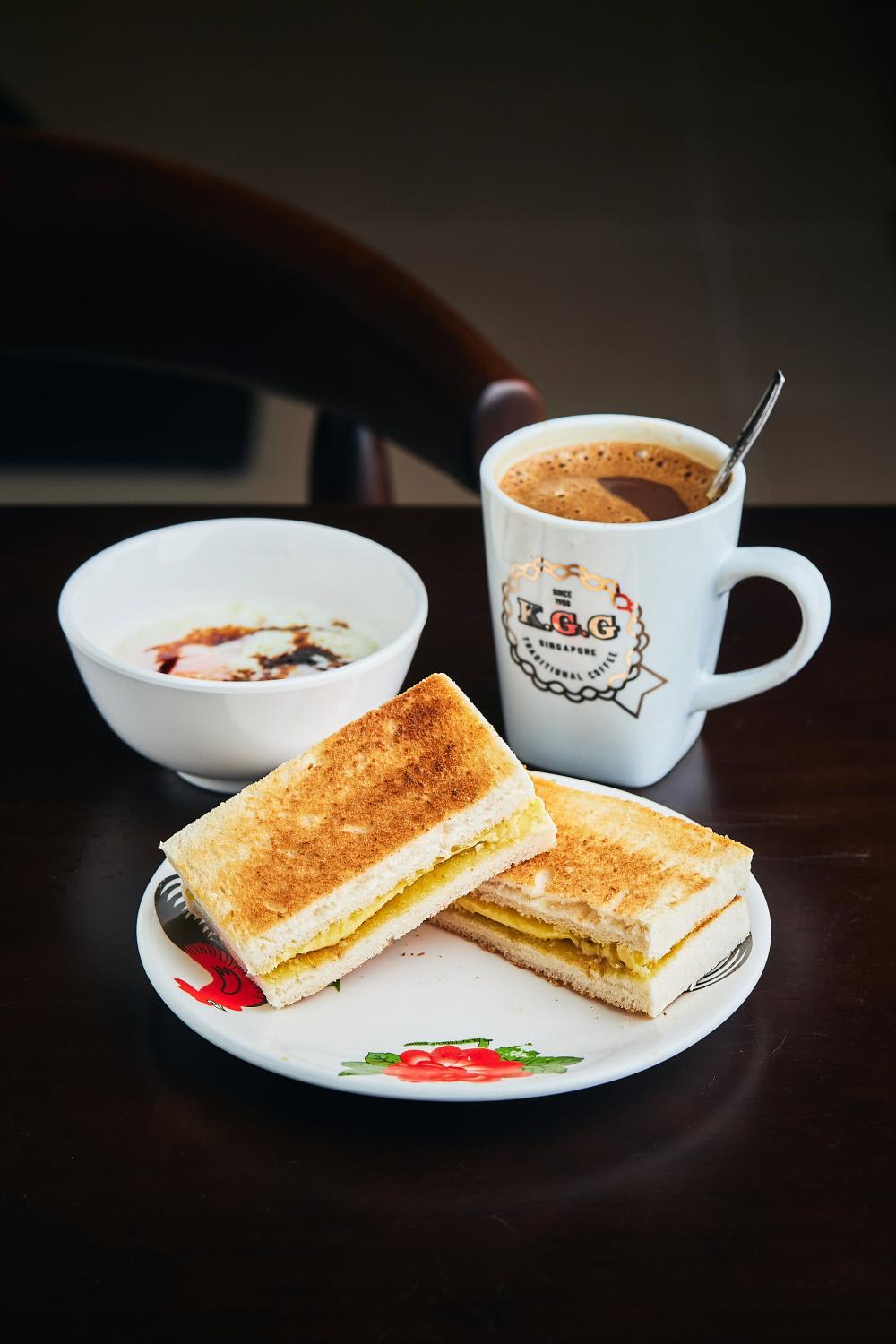 ROASTED PORK, S$5.50 WITH RICE; S$6 WITH NOODLES
Ong hints at using "secret elements of Western cuisine" for his sio bak. "Most [roast masters] typically use five spice and fermented beancurd to season the meat and the back of the pork belly is very dark. Ours is not dark. We only use a pinch of five spice powder and no fermented beancurd," he said. He remains mum on the other ingredients and techniques on how he creates some of the best roast pork in town. 
Despite sampling the sio bak several hours after it was freshly roasted in the morning, the belly meat retains a puffy, crunchy crackling and the flesh is moist with melt-in-your-mouth tenderness. The seasoning, applied with restraint, lets the natural sweetness and subtle smokiness of the meat shine – a hallmark of good quality sio bak. Yum.
ROASTED DUCK, S$5.50 WITH RICE, S$6 WITH NOODLES
A competent roast duck made from fresh Malaysian birds weighing about 2.9kg. By using larger ducks, there's a good layer of fat to keep even the breast meat from becoming stringy. Instead of the usual sweet, gloopy sauce served with Chinese roast duck, the cooks spoon a lighter blend of duck roasting juices and "secret" seasoning over the meat before serving. Not bad, but less impressive than the char siew and sio bak here.
PREMIUM CHAR SIEW WONTON NOODLE, S$6.50
The springy, thin egg noodles (made in a factory according to Ong's recipe so it's "a cross between local wonton mee and la mian") lack a strong alkaline taste, which makes them the perfect vehicle for absorbing the top-grade "first draw" soy sauce (the best drops from the first extraction of soy sauce), super fresh lard drippings and sesame oil dressing that they're tossed in.
Crispy, deeply flavourful lard bits add a further fragrant crunch to the dish. The plump wontons are served in a comforting clear soup, rendered from old chickens and cabbage. Shiok!
PREMIUM CHAR SIEW WONTON NOODLE WITH BABY ABALONE, S$11
A fancier version of the noodle dish – served with three pieces of sweet and succulent canned baby abalone – is also available if you feel like splurging.
LAVA EGG, S$1.80 EACH 
One of their most popular add-ons is this tasty jammy-yoked ramen egg cooked in "Chinese-style" soy braising liquid. "We sell about 300 eggs daily," says the owner. We can see why.
NAI BAI WITH SPECIAL SAUCE, S$5.50
Crunchy veggies are dressed in the same top-grade soy sauce and garnished with fried shallots.
FRIED WONTON, S$7 FOR 10 PIECES
These crackly golden parcels make a satisfying side to enjoy with your meal.
TOAST SET, S$4.50
While the kaya butter toast and soft-boiled eggs here are pretty standard, we enjoyed the robust, thick milk coffee served with the set.
"We buy the highest grade [local] coffee blend for this. The cost is twice as expensive as [what you get at] coffeeshops. Some people have said it's better than Ya Kun," said Ong. Prices start at S$1.80 for a Kopi-O, which has a strong kick that instantly invigorated our photographer after the shoot.
BOTTOM LINE
Finally, a clean and comfortable setting to enjoy the best char siew noodles in Singapore – without subjecting us to a steep price hike for it either. Yay. The other dishes like sio bak and lava eggs at this roomy new outlet remain great, too. Visit during weekends or dinnertime to avoid peak hour crowds.
88 Hong Kong Roast Meat Specialist's restaurant is at 19/20 China St, Far East Square, Singapore 049561. Open daily except Mon, 9am – 8.30pm. More info via Facebook.
Its other kopitam outlets are at 308 Lavender St, S338814, open daily except Mon, 10am – 8pm; 153 Tyrwhitt Rd, Singapore 207566, open daily except Mon, 9.30am – 7.30pm.
This story was originally published in 8Days.