'This kind of place sure cannot last': Artichoke's Bjorn Shen laughs at critics 9 years on
The MasterChef Singapore judge shares how he had to deal with customers who asked, 'Where's the real food?', how he had to counsel abused waitstaff and how he won the war against ketchup.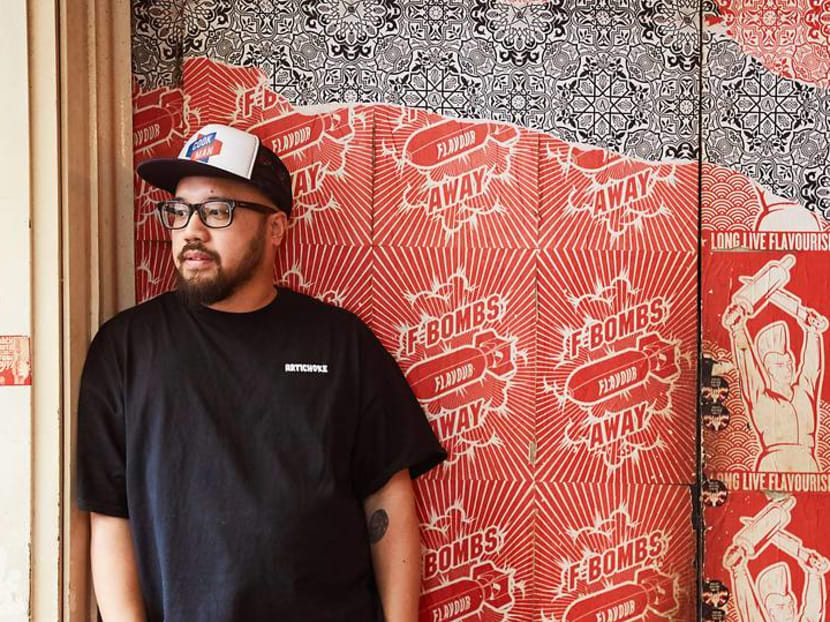 When Bjorn Shen first opened Artichoke in 2010, other chefs would come around to the kitchen to tell him he would never make it.
It was still the era of fine dining, when going out to eat meant going to a restaurant run by an expatriate chef located in a hotel, and there was only a handful of casual restaurants serving well-thought-out food.
"There were many people in the industry – the tall-chef-hat kind – questioning why I was wearing shorts in the kitchen, questioning why I was playing the kind of music I was playing, and saying, 'This kind of place sure cannot last one, lah'," Shen recounted.
Those people are the ones who have wound up with the proverbial egg on their faces, as Artichoke thumbs its nose and celebrates its ninth anniversary this year – a veritable eternity in Singapore's volatile dining scene, where eateries can and do open and shut in a matter of months.
In fact, if you're thinking of opening a restaurant, the MasterChef Singapore judge would give you the same message he gives the students he lectures at Temasek Polytechnic: He'd simply take a S$50 bill out of his wallet and rip it up in front of your horrified eyes.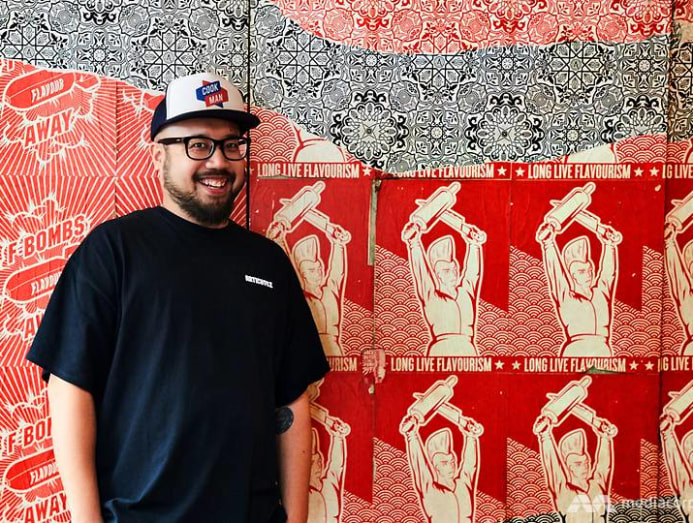 To appreciate what Artichoke has accomplished, consider the fact that the industry profit margin is minus eight per cent. This means that every restaurant that succeeds is necessarily putting other restaurants out of business, Shen shared.
For this, the 37-year-old actually experiences a form of survivor's guilt. "I think there are many other chefs out there who are way more hardworking, smart and talented than me… who can and do cook circles around me, manage their team of staff better than me, have better business acumen than me and are generally nicer people than me," he said. "I think I'm just very lucky and I don't deserve it. So I just live every day like it's a bonus right now."
The stars aligning is one thing, but in placing the emphasis on luck, Shen is downplaying the sheer grit it has taken to breathe life into and sustain a restaurant that, from the get-go, was always pushing the boundaries of what the market could accept ("Sorry, we don't have ketchup or truffle fries") while refusing to compromise its identity ("But may we draw your attention to the giant pin-up of George Costanza in tighty-whities hanging by the front door?").
"PLEASE DO NOT ASK FOR EGGS BENEDICT"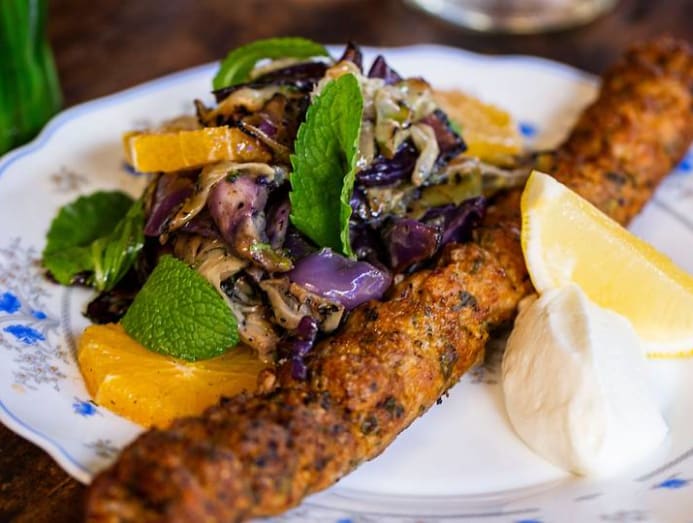 It's hard to recall or imagine now, but when Artichoke first opened nine years ago serving Shen's interpretations of Middle Eastern food in a communal setting, the dining scene was a completely different animal.
Back then, "When people thought of going out for Western food or café food, it was always the same thing – a fisherman's pie, a burger or fish and chips – that kind of stuff," he said. "We also used to get a lot of people complaining about the food and saying it was not real food, because they could not categorise it. People asked me directly in my face: 'Where's your real food?' 'What kind of Western restaurant doesn't serve balsamic vinegar?' They would ask for balsamic vinegar for the bread, and I was trying to explain to them that we were not an Italian restaurant."
Other commonly heard refrains from customers were, "'What kind of Western restaurant doesn't have steak?'" and "'What kind of Western restaurant doesn't serve ketchup?' The ketchup thing was a big thing," he recalled. "Back in those days, everyone wanted chilli, ketchup and truffle fries. And when we didn't offer it, it really offended some people. A lot of our regulars also stopped coming because we didn't have pancakes and waffles and all that. Everyone was like, 'What kind of brunch place doesn't serve eggs benedict?' 'But, guys, we're not a brunch place. We're a restaurant that serves brunch and dinner.'"
It would have been easy to cave in and give people what they wanted for the sake of profits. But, "It's a gamble. You either pander or you hold fast. And we decided to hold fast," Shen said.
Eventually, out of frustration, "I wrote a note on the wall saying, 'We are not a Western restaurant. Please do not ask for eggs benedict, pancakes, ketchup and pizza.' And when people saw that, especially the people who were asking for those things, they got even more upset. They'd say, 'You guys are going down. You guys won't survive with that kind of attitude.'
Because casual dining and café culture hadn't taken off yet, "A lot of customers still didn't know how to behave in casual restaurants. People were offended that they had to pour their own water," he recalled. "Now, it's commonplace to have water on the table, but we were the ones who took sh*t for it back then."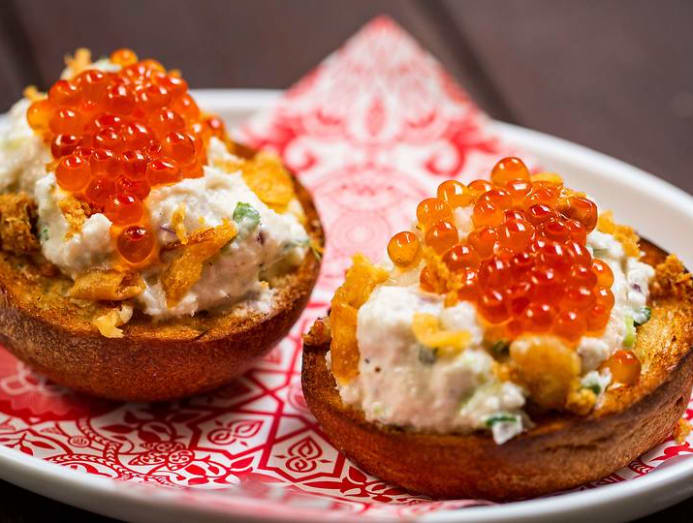 He continued, "Customers back then were very mean. They would show up without a reservation and get upset that we were full. These days, there's no such thing, right? But back then, it was like that: 'How can you be full? I've got kids here, you know.'" Also, "Instead of waiting to be seated, they would seat themselves at someone else's reserved table, and when the reservation came they would refuse to move. People back then were very different."
It was the waitstaff who endured the wrath of dissatisfied guests. "Sometimes they would break down and cry. The smoking corner is the corner where I had to put my arm around them and say, 'Don't let this bother you. I'm so sorry you have to go through this. Do you need a day off? Do you need two days off?' I had to send people home for being emotionally broken. Some of these were very young people – part time university students and all that. It eats away at their soul when people yell at them, shout at them, hurl abuse at them."
SLOW, STEADY AND STRONG
Happily, "People are lot more awesome these days," Shen said. And he's also a lot happier, "because I've stopped myself from reading TripAdvisor and Yelp (reviews) since last year. Just the other day, though, someone tagged the restaurant in an Instagram post saying, "'This place absolutely sucks. I expected so much more from the restaurant of the MasterChef Singapore judge. Everything sucks.' They took a screengrab of our logo and put it up. No photos of food. I don't even know if they actually came. We just laughed and laughed."
Thanks to Artichoke's loyal following, Shen doesn't have to fight online fires – and deliberate arsonists – himself. "We've got online apostles. When people write bad stuff online about us that seems a bit dodgy, we actually have regular customers who reply and say, 'No, that's not the experience I have all the time', or, 'You probably went on an off day. I'm sorry you had that experience but it's not normally like that.'
"I think it's nice when you know that you've done more than just transact with people. We don't want to build a brand that just transacts. We want to build a brand that actually gets into the hearts and minds of people. We want to sell more than just food and drink. We want to sell lifestyle, a subculture, a style. We don't want your money. We want your love," he laughed.
It may sound cheesy, but that might truly be the reason for Artichoke's continued success. "The way I see it – a business, when you start off, is like a stick in the sand. Any kind of wind blows, you can topple over. But the point of business is that you start growing your base. And as your base widens, you are no longer a stick in the sand but a pyramid. And when you're a pyramid, no matter what kind of wind blows, you may be able to survive. We've grown our base enough and built enough credibility that we can probably survive a sex scandal," Shen quipped.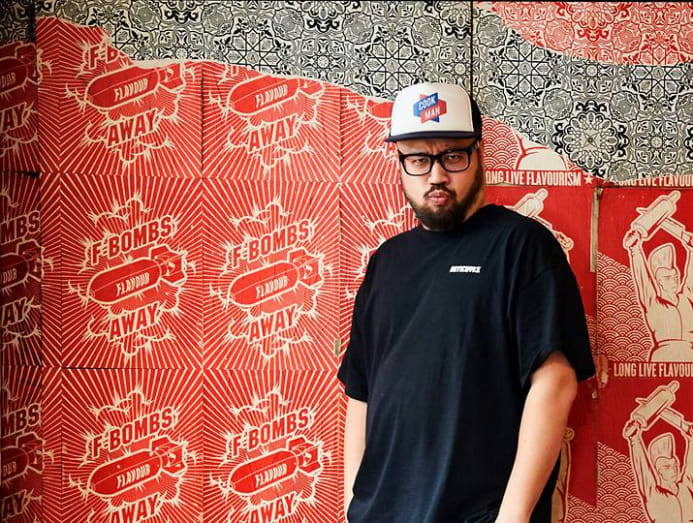 Plus, there are enough "gnarly people" who get what he's trying to say – the same people who love taking "superzoom" Instastory videos of the George Costanza poster, of course.
What's less obvious than George's bare, white belly is the fact that the restaurant's resilience has been built from weathering many storms.
Two years into its run, Artichoke experienced severe staffing problems when Marina Bay Sands (MBS) opened. "Everyone wanted to work for MBS and no one wanted to work for a small, independent set-up. And also, MBS at the time was on a very aggressive hiring campaign, so they paid a lot and hired a lot more people than they needed," he said. "The four people running the floor were my manager, his 15-year-old son, me, and my 15-year-old stepbrother. We could not find any staff."
Another low point was when "we had the wrong mix of employees and there were racial politics going on. A lot of people joined and then wanted to start getting rid of people from the other race. That was absolutely horrible. I had to keep them because I couldn't find anyone else to work, so I had to try and calm it down every day. Running a business felt like I wasn't working with food any more – I was managing people, and that's the hardest thing to do. Managing food is so easy. You've got a carrot and a fish on a table. The carrot does not try and push the fish off the table. I wish I were just managing food. I was managing people who were trying to kill each other every day and trying to get each other into trouble by sabotaging each other in front of me and playing these kinds of games."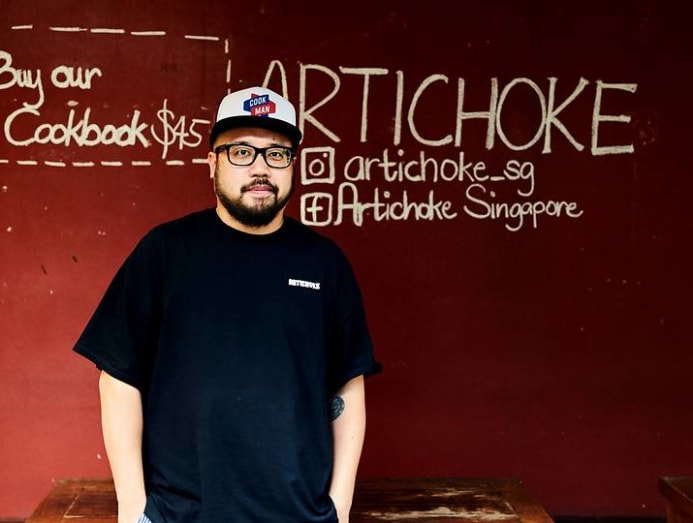 Years later, Artichoke was nearly crippled again when Shen's new venture, the fried chicken restaurant Bird Bird, was floundering before it eventually closed in 2017. "Bird Bird was losing money to the tune of about S$40,000 or S$50,000 a month. Artichoke's bank account would have depleted if we had kept Bird Bird one more month," he said.
That went to show that the same chef could be both successful and unsuccessful depending on his restaurant concepts and the temperature of the market. At Bird Bird, people weren't willing to shell out S$25 for half a chicken. "They were always comparing us to the Tenderbest chicken downstairs at their block. There's a mental perception, a psychological bias, against certain foods. If you cook Korean fried chicken, you can charge S$25 for it. If, suddenly, you do ayam goreng or Southeast Asian fried chicken, people compare it to Lucky Plaza ayam penyet… They would go to a restaurant and spend their money on shark's fin and abalone, but they wouldn't spend it on fried chicken at a casual place."
What keeps him active in the industry even after all the setbacks?
"I'm a bit slow," he chuckled, after a long pause. "If you pinch me, I'll take like 10 minutes to react. I think I was built for this. I think I was built for a life of suffering. I'll eat it and shut up. I come from a boys' school where all my classmates are bankers and doctors and lawyers now, and they're all kind of making stupid money. But I have conviction in what I've chosen to do. I believe that this life is for me. And it hasn't treated me that badly, to be honest. Apart from the stupid loss I made from Bird Bird, this career has rewarded me very well with a lot of highs. I get paid to guest lecture in polytechnics, endorse brands, do videos, be an ambassador for products and other brands, write books and be on TV shows. So, I think I'm just very lucky and I don't deserve it."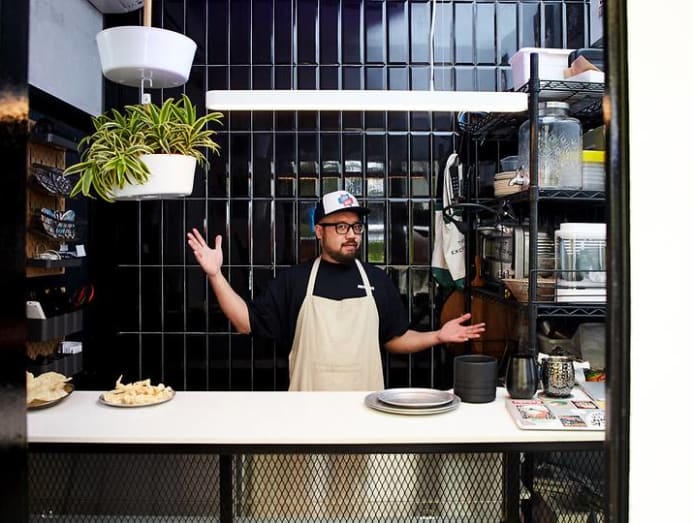 Artichoke's continued stability has also meant that Shen can experiment with new formats and cuisines. At the moment, he's getting ready to open Smalls, a four-seater omakase bar that's literally built into a refurbished closet opening onto Artichoke's courtyard, where he'll be serving a pizza degustation menu. "My thing now is pizza but one day we could be doing champagne and chicken nuggets. Or meatball sandwiches. Or whatever is the next stupid thing," he said. "It's also a place for me to show off my private collection of stupid things," such as Borat posters. And the dishes on the degustation menu will chart the story of his life, from birth to, well, whatever it is he's doing now, such as being a dad to two daughters aged three years and three months.
More than affording him a livelihood and the freedom to do what he loves in the kitchen, Artichoke has "given me the reassurance that I can be Bjorn. I don't have to try and be someone else. I don't have to try and be a fancy chef or do things that other restaurants think is what customers want. I don't have to pander to what I think people want. I just have to be who I am. And I'm very thankful for all the customers who have given me that reassurance by just coming," he said.
Artichoke is at 161 Middle Road.