David Thompson doesn't look up to anyone – but he is fond of one Singapore chef
The celebrated ambassador of Thai cuisine chats with CNA Lifestyle about his disinterest in Michelin stars and his professional "divorce" from hotelier Christina Ong.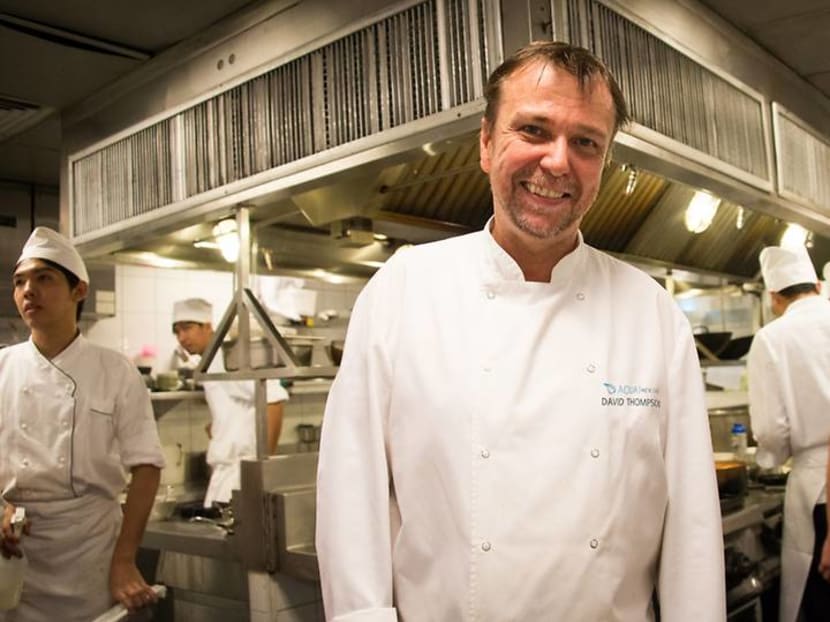 Celebrated chef David Thompson may have ended his run at his restaurant Nahm in Bangkok in April, but since then, he has been far from idle.
Opening this month are two highly-anticipated eateries. One is Aaharn (Thai for "food"), an upmarket Thai restaurant in Hong Kong. The other is the more low-key Someday Everyday in Bangkok.
CNA Lifestyle caught up with the acclaimed chef for a quick take-down on Michelin stars, his disdain for precious "tweezer food", and his professional "divorce" from Singaporean hotelier Christina Ong.
YOU'RE A SYDNEY BOY. HOW LONG HAVE YOU LIVED IN THAILAND?
DAVID THOMPSON: About 30 years.
WHAT FIRST BROUGHT YOU THERE?
It was an accident. I was meant to meet some friends in Tahiti, but when I arrived, they weren't there, so I decided on a whim to go to Thailand.
YOU ARE NOW UNIVERSALLY REGARDED AS AN AMBASSADOR FOR THAI CUISINE.
Isn't that just ridiculous?
HAVE YOU ALWAYS LOVED THAI FOOD?
No! In the beginning, I hated lemongrass, and chillies offended me.
WHY DO YOU LOVE IT NOW?
It's the balance of flavours, of sweet and sour. Balance is imperative in all aspects of Thai culture, especially in its cuisine.
WHAT DO YOU LOVE ABOUT THAILAND?
The chaos. It's thoroughly bewildering and exotic. Even today, I am still surprised by how differently the Thais live and how unpredictable they are.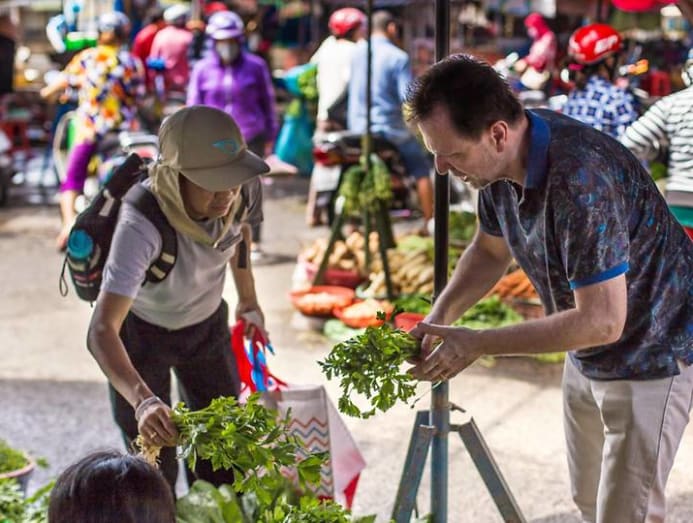 I can speak and read it. Did you know that in Thai, the word 'to eat' depends on who says it? 

WHAT IS YOUR FAVOURITE FOOD?
Street food. I like noodle soup and congee. And if you give me chocolates, cheese and bread, I can be mollified. Even bribed. Chocolate assuages. It pleases and comforts the soul. 
WHAT DO YOU THINK ABOUT "TWEEZER FOOD?"
A lot of people are masters of dehydration and sous vide, but they don't know how to cook... I get so annoyed by fey presentation and preciousness. It's distracting and it disguises and distorts what food should be. Which is to taste good, sustain and be nutritious. Good cooking involves honesty, simplicity and integrity.
WHO DO YOU LOOK UP TO?
I don't say this out of arrogance, but no one. Aren't we all equal?
LET US REPHRASE THE QUESTION: WHO DO YOU LIKE?
Julien Royer at Odette in Singapore.  I'm very impressed by him.
You work in the kitchen because you love it. Because it gives pleasure to your guests. You don't do it for the awards.

HAVE YOU MELLOWED WITH AGE?
I used to be more demanding. You need the steel to be in this business. I guess I still am, but I'm more gentle now. Especially over the past 10 years.
ARE YOU PLANNING ANOTHER COOKBOOK?
I don't have time. But if I were to do another one, it would be about ingredients. You can chart the history of an entire nation by the ingredients that arrive by trade. I'd also like to do another book on street food to better understand its history.
ONE OF YOUR GIGS IS TO HOST GUESTS TWICE A YEAR ON-BOARD THE AQUA MEKONG (A LUXURY YACHT THAT TRAVELS ALONG THE MEKONG RIVER). HOW IS FEEDING A GUEST ON A BOAT DIFFERENT FROM A GUEST IN A RESTAURANT?
The dining room on the Aqua Mekong is not a restaurant, so the food is not about me. You have to cook food that is as authentic and local and interesting as possible without causing offence to the majority of guests. Remember that you're essentially inviting someone into your home for four to seven nights and feeding them three meals a day. So, you need to be flexible and not take umbrage. If someone wants a burger instead of a pad thai, they get a burger.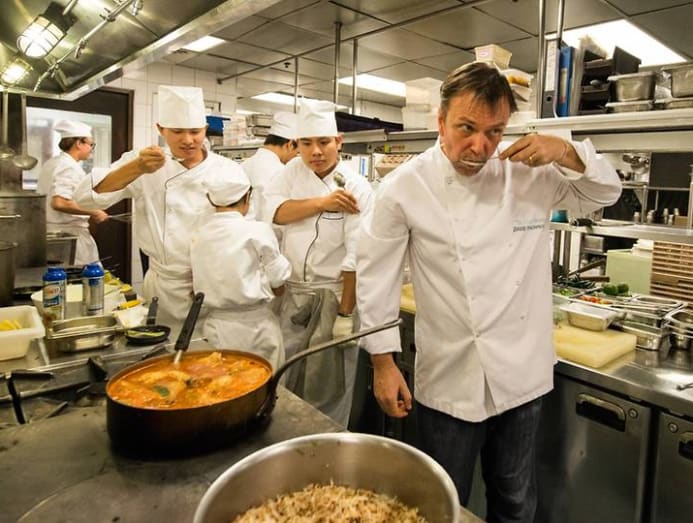 YOU RECENTLY GAVE UP THE KITCHEN IN NAHM (THE ONE-MICHELIN-STARRED RESTAURANT IN BANGKOK, CO-OWNED BY SINGAPOREAN HOTELIER CHRISTINA ONG). HOW DID MRS ONG TAKE IT?
She was distraught. She likened it to a divorce!
UP NEXT FOR YOU IS A SMALL CURRY SHOP IN BANGKOK CALLED SOMEDAY EVERYDAY.
Yes, it's old fashioned, homey food for the local market. It's exactly the type of food I like to eat.
WILL YOU BRING IT OVERSEAS?
There are no plans at the moment. I think I've had enough of working on overseas restaurants.
WHAT DO YOU THINK ABOUT MICHELIN STARS?
You must realise how transitory fame is. You work in the kitchen because you love it. Because it gives pleasure to your guests. You don't do it for the awards.