Kitchen Stories: This Singapore chef dreamt of becoming a footballer – but fell in love with cooking instead
Duck fat financiers with chicken liver pate, quail eggs pickled in black vinegar, ice cream sandwiches and more: Championing local flavours and ingredients comes naturally to chef Eugene Chee at newly opened 808 Eating House in Joo Chiat – but always in a fun and casual way, never "fancy-schmancy".
Eugene Chee's torrid love affair with the kitchen started out as a casual dalliance when he was 17 and waiting to begin National Service.
"I initially wanted to be a soccer player, and I studied sports science," he recalled. "Then I rode past a cafe on my motorbike, and thought I should earn some money. I found myself enjoying the pace and intensity of the kitchen work. That's where it all began, I guess."
After his first Michelin-starred dining experience at now-closed Cheek By Jowl, he was so taken by the food he'd enjoyed that "the next day, I went down, walked in at about 4pm and said, 'Hi, I was just wondering if you guys would be interested in hiring a part-time kitchen helper'."
Around the same time, he also enrolled in the The Culinary Institute of America programme in Singapore, and later went on to take up internships at Michelin-starred Atelier Crenn and Bar Crenn in San Francisco. When he returned, he did a stint at Cloudstreet before being selected for the lineup at now-closed Magic Square, which showcased the talents of up-and-coming local chefs.
"I'm quite realistic in that sense – the chances of me succeeding as a chef were much higher than as a footballer," he said with a laugh. And, "Luckily for me, I have two older siblings who are very successful," which takes the pressure off parental expectations. "My sister is a diplomat, and my brother is engineer. So, they've done the traditional, safe thing."
Having been trained to a high professional degree with an educational foundation in classic French cooking, Chee's heart led him down the local route when the opportunity came to helm his own place.
808 Eating House is a casual restaurant serving up plates of duck fat financiers with chicken liver mousse; roasted cauliflower with curry leaf and mint pesto, cashew nut sauce and toasted pumpkin seeds; chicken fat custard with creme fraiche and chives; beef cheek rendang with kerisik and pickled shallots; braised buah keluak pork belly with achar, serundeng and ginger flower; and more.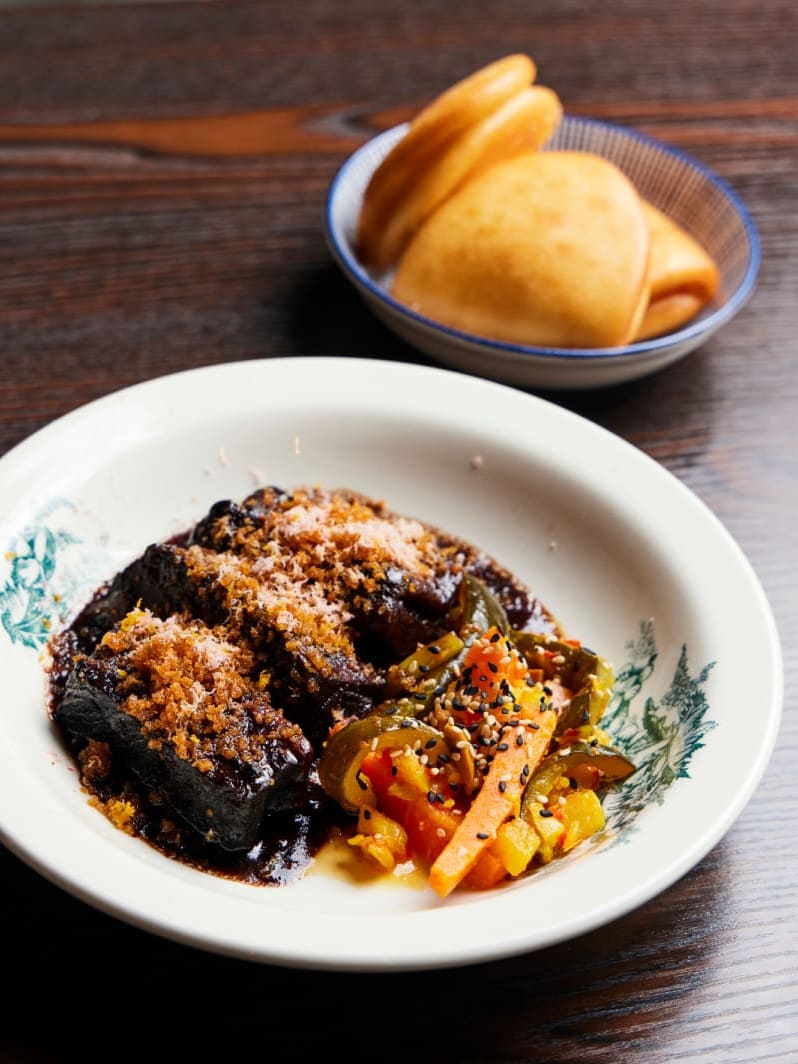 808 shares the premises with sister restaurant Province, helmed by Law Jia-Jun; the two chefs went to school, trained at Atelier Crenn and Bar Crenn, and cooked at Magic Square together.
Chee deliberately chose "Eating House" for the name "so that people disassociate us with restaurants", the 29-year-old said.
"I wanted the food and the experience that people have with their friends to be the focal point, rather than you coming here because it's a fine dining place, fancy schmancy. I just want people to take it for what it is – tasty food, good drinks. If you want to come and eat in your slippers and shorts, it's fine by us."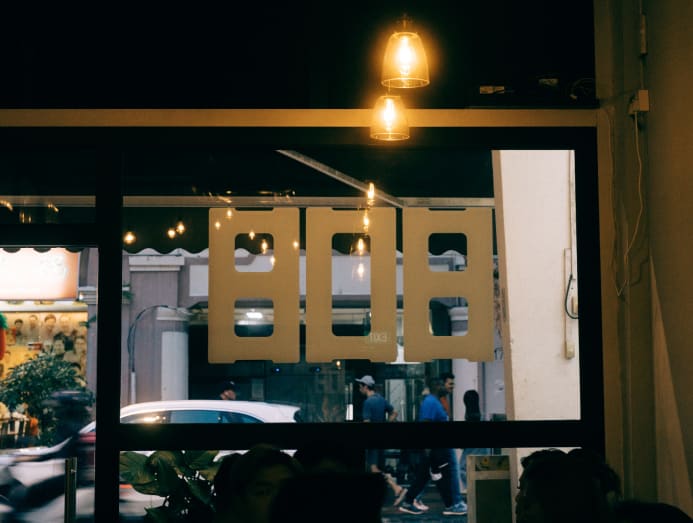 And the "808"? "It's named after a drum synthesiser called the Roland TR-808. It was a commercial failure but attracted a cult following and became one of their most popular pieces of equipment," he explained. Additionally, Aug 8 is also his birthday. The restaurant's logo, designed by his graphic designer wife, emulates the representation of bamboo on mahjong tiles.  
"SORRY, I'M SINGAPOREAN"
It wasn't a desire to delve into a particular style of cuisine that motivated Chee, although he does credit chef Rishi Naleendra of Cloudstreet and now-closed Cheek By Jowl for much of the inspiration behind his approach to creating dishes. Rather, "it was more about what made sense to us as Singaporeans", he said.
As a chef, he sees ingredients from home and the region as on par with those used in upscale restaurants, he said. "It makes sense in terms of sustainability, and flavour-wise, none are lacking."
For example, one of his dishes, Sweet XL Clams with huadiao broth and egg floss, uses clams from Singapore's Ah Hua Kelong that originally proliferated, unwanted, on the kelong's nets.
"They discovered that they were quite good to eat. These kinds of products, I feel, are worth the investment and worth shining the spotlight on because when the producers realise that this is something valuable, eventually, they can produce it better, and produce more of it. That's how French people have the produce that they have – because farmers have a reason to produce them."
Additionally, "I knew I had to create something of my own rather than, say, doing a French- or Japanese-inspired menu. It just wouldn't feel like a Singaporean restaurant. I am very comfortable making French mother sauces, beurre blanc, pate en croute and stuff like that. But, we can't deny it – we didn't grow up in France. If I put out a very French-inspired menu, I would feel like a poser. A French person would say, 'This is technically very good, seasoned perfectly, cooked perfectly, but not like what my grandmother made'." He shrugged. "Sorry, I'm Singaporean."
He pointed to a dessert on the menu: Ice Cream Sandwich, featuring black sesame parfait, coconut caramel, shiitake mushroom crumble and mint. "I present it in a style that, if you're Singaporean, you get the reference" to the slabs of ice cream sandwiched by wafers sold at streetside ice cream carts.
"The food I put out has to be something that is a part of us, a part of our DNA. I think this is the best product I can give because this is part of my experience. That's one of the reasons why the cuisine here had to be very Singaporean – not just Chinese-, Malay- or Indian-Singaporean, but Singaporean all around."
At the same time, he's also able to use the benefit of French techniques to bring out local flavours in a different way. The duck fat financiers, for instance, follow a traditional financier recipe but make use of the duck fat that is a byproduct of Province's dishes. "Jia-jun has duck on his menu right now, so every time he breaks down the duck, there's a ton of duck fat that goes to waste" – another win for sustainability.
As he's progressed in his career, he's come to realise one thing: Cooking in a professional kitchen and playing a game of football aren't so different.
"It is kind of like playing football, because it's physical; it's very mental as well. You have to plan and think. It's a sport," he said, with a smile. "You're playing a sport every single day: How do you get this and that done, your mise en place, your prep list, and then every dinner service, planning the tables.
"It literally is a very technical game. Every day, you're competing to give your guests the best experience and make them feel what you want them to feel. Basically, you're performing to be your best every single day. And, I really like that intensity."
OF BUAH KELUAK AND GRANDMAS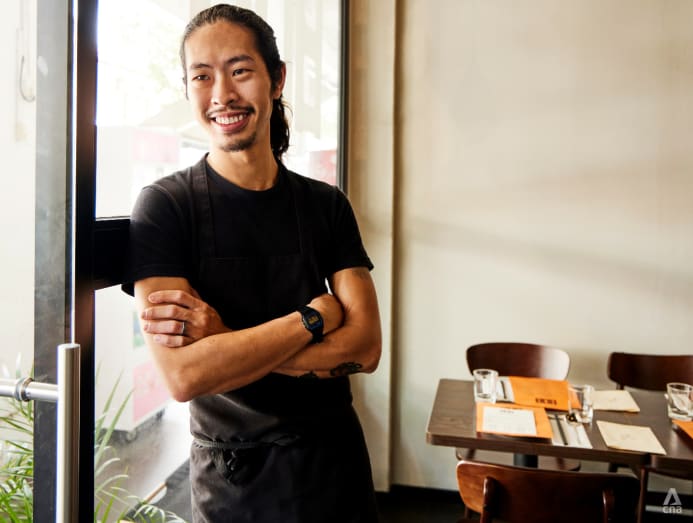 Although Chee quips that "I don't have the typical chef story about being inspired by my grandma" because "my grandparents died when I was really young", he does draw creative sparks from the flavours of home and family.
One of 808 Eating House's most winsome dishes is quail eggs pickled in black vinegar, molasses and soy sauce. Chee cites this as the most traditional thing on the menu as "we use a black vinegar pork trotter recipe to pickle the quail eggs. That flavour really reminds me of what mum makes – I mean, what my mum has made one once or twice!" The dish is also "somewhat inspired by my mother-in-law – she had this big pot of pork trotters in the fridge, which led to me throwing some quail eggs in and pickling them."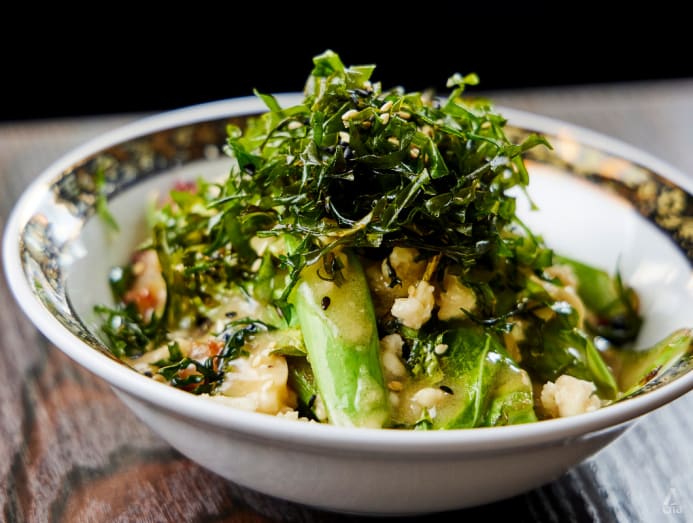 There's also a tangy-sweet dish of grilled kailan and house-cured bacon with maple miso dressing, pickled cashews and crispy kailan leaves. "This dish is kind of a riff off Brussels sprouts and bacon. We cure the bacon with rice wine lees," Chee explained.
"My wife's grandmother used to make red rice wine lees all the time… for the chicken mee sua dish" traditionally served to women who have recently given birth. "I had some free time and made a batch. Grandma loved it. We had two tubs left in the chiller and I managed to come up with this. The bacon reminds me of char siew when it's really freshly made – you can smell the spices used to cure the pork."
Besides finding ways to elevate a familiar style of cooking, Chee also wants to "try and break the consumer-perceived value of things like caviar and uni. Why is there such a difference in value between buah keluak and caviar? Maybe it's down to the marketing… I think that's one of the biggest obstacles facing us at the moment, and into the future. It's something we constantly try and tackle. These are ingredients that are actually around us and it makes sense to use them. And besides, it's more sustainable for the environment."
To crown it all off, "I think it's just natural pride: This is part of who I am. It's like your fashion choices – if you like wearing sweaters, you wear sweaters. I'm Singaporean, this is a part of my experience and I want to showcase it. I don't think what I feel is a duty – it's not like the government is paying me to eat coconut and buah keluak – but it's something I want to do."
808 Eating House is at 153 Joo Chiat Road.