Kitchen Stories: The chef whose dog Milo inspired pet-friendly gelato shop Mylo's
Michael Wilson always wanted to open a casual gelato cafe, and his golden retriever, Milo, played a part in making it happen. Psst: The chef, who came to Singapore with a Michelin star to his name, is also closing Pollen and opening his own restaurant, Marguerite, at Gardens By The Bay this month.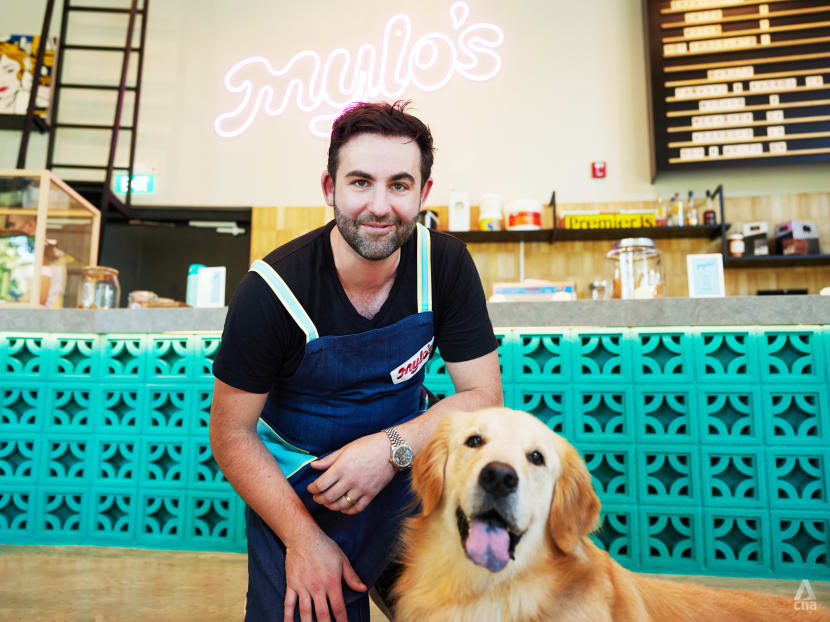 When chef Michael Wilson took his Golden Retriever, Milo, to an animal communicator just for fun, he wasn't expecting to hear, "The dog said he's bored and he wants to work".
Milo's idea of working, he was told, looked like what the friendly pooch used to do at a pub they frequently visited: "He used to walk around and people would pat him and he would give them advice".
So, when developing the concept for his new pet-friendly gelato cafe, Wilson used the working title "Mylo's", as a little joke.
The name, of course, stuck, and on weekends, if the stars align, you might see Milo himself strolling around the laid-back cafe at Gardens by the Bay, looking as if he owns the place.
He is, after all, the only heir to his human father's trio of restaurants.
Australia-born Wilson, formerly the executive chef of Pollen, is in the midst of closing that restaurant and opening a brand new concept in the same location at Gardens By The Bay.
The new restaurant, called Marguerite, is slated to open late this month, and Wilson is its chef-owner, in collaboration with Unlisted Collection, which opened Pollen in 2012 with British chef Jason Atherton.
Wilson has also just launched a new concept, called Hortus, on the second floor in the Flower Dome, turning the casual cafe space into a Mediterranean restaurant complete with a beautiful new pergola.
Here, you'll find wood-grilled whole baby fish, house-made pita, hummus made the traditional way by cooking chickpeas in baking soda so they shed their skins, raw fish with pomegranate juice instead of citrus, and lots of olive oil – dishes inspired by his visits to the Mediterranean.
"I just try to do things that I honestly love. That's it," Wilson, 37, said.
Hortus "is like if you came to my house for a barbecue or lunch – that's what I'm going to cook you. Unpretentious, nice recipes, freshly cooked ingredients".
Marguerite, which will serve tasting menus only and cultivate a more refined style of cuisine, is "what's trapped in here… between my ears". He tapped his temple.
And Mylo's "is something I've always wanted to do", after spending two months in Italy learning the art of gelato making. "It's been great to be able to do a place that people can bring their pets to, and it's good to see people enjoy themselves," he said. Personally, "I don't want to get dressed up and go to fancy restaurants – ask any chef."
CHEF, HUSBAND AND DOG DAD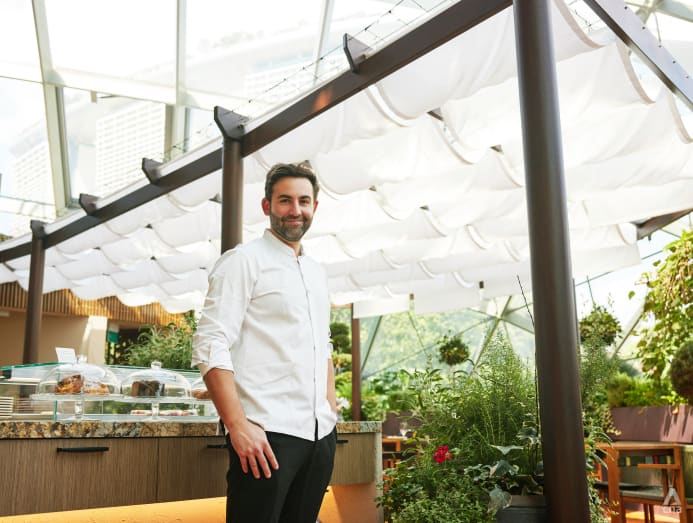 What does he do on his days off? Well, with four-year-old Milo in the family, Wilson and his wife find themselves going to the seaside a lot.
"On the weekend, it forces you to go out into nature. Would I go to the beach on a Monday if I didn't have a dog? Honestly, probably not," he chuckled. "He's helped me to relax a bit."
And subsequently, "the more relaxed you are when you're not working, the more focused you are when you're working. It's not about hours worked, it's about quality of work."
For about a year, though, the family was separated because of the pandemic.
Before moving to Singapore to head up Pollen early last year, Wilson and his wife, who were living in Shanghai, took a few months off.
Wilson had been a celebrated chef at the PuLi Hotel and Spa, leading its Phenix restaurant to a Michelin star within mere months. That was when Milo came to live with them as a puppy.
During his hiatus, they took Milo to India, where his wife's family lives, while they travelled the world.
As Wilson was getting settled in Singapore, his wife went back to fetch Milo. But before they could return, India closed its borders.
Wilson spent a year alone without his wife and dog, while getting used to a new job and a new country.
The menu he rolled out at Pollen was spectacular.
But the venue had been hard-hit by the pandemic. "As a chef, I'd never spent so much time at home," he recalled. "We were hit really, really bad, because the restaurant's in a park. It was deemed non-essential, so we couldn't even do takeaways from this venue. We set up a venue above Esquina for a while, but you can fit six people up there, and we have a staff of 30-something."
It was a tough time, but "it gave us a good chance to reset", he said.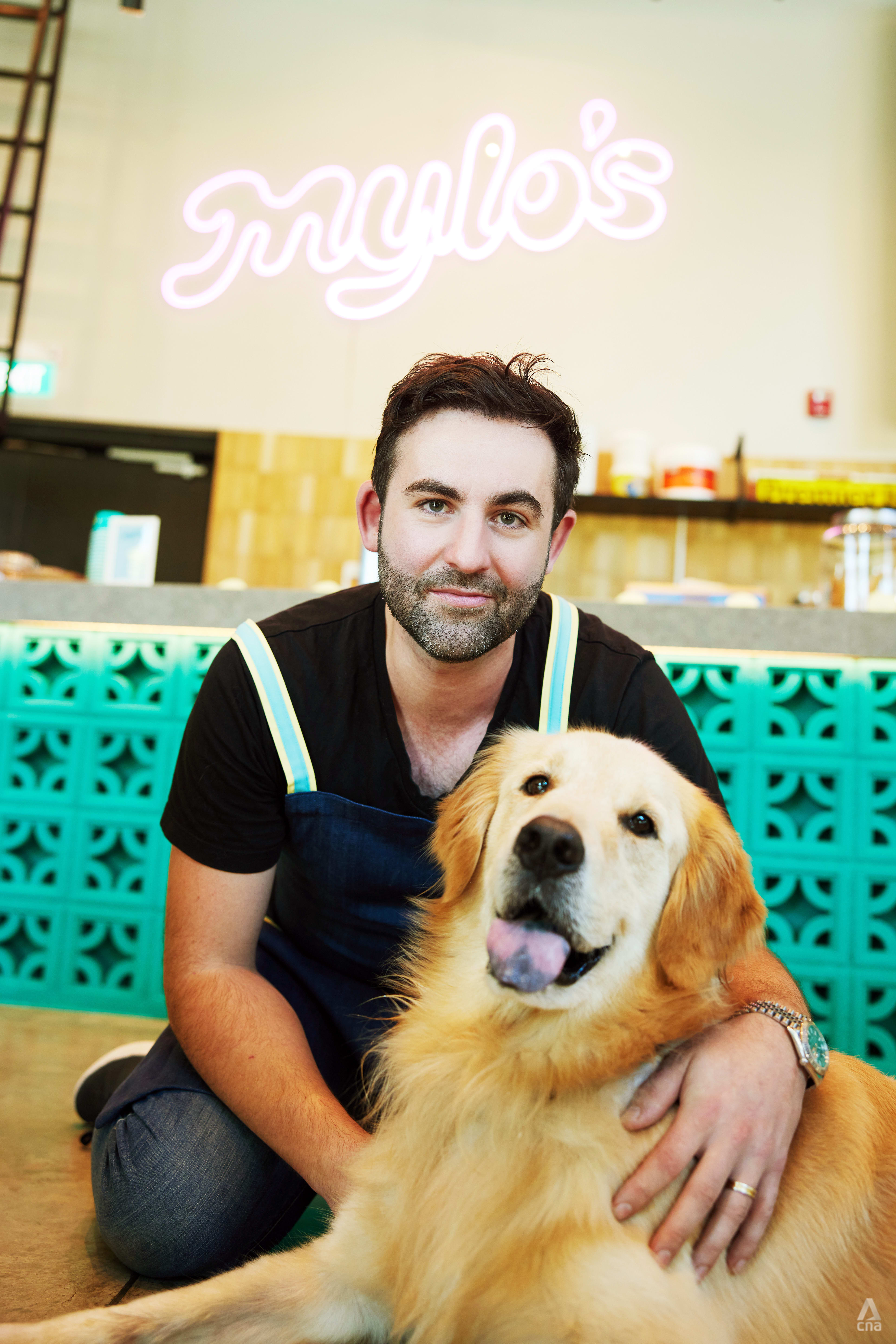 Now that his wife and Milo are happily back in Singapore, Wilson doesn't even mind having to learn to share the couch again with his very large fur kid.
And being a dog dad has even made him a little less reactive in the kitchen.
"Chefs have a reputation of freaking out – not me, but in general! It's not as common these days, but it was always a thing – I've worked with plenty of them. And as soon as they had children, they became the most patient people ever. I mean, I'm not comparing my dog to a child, but you know, when you come home and your door frame's chewed, all of a sudden, an overcooked egg is like – 'Oh, we'll just cook a new one.'"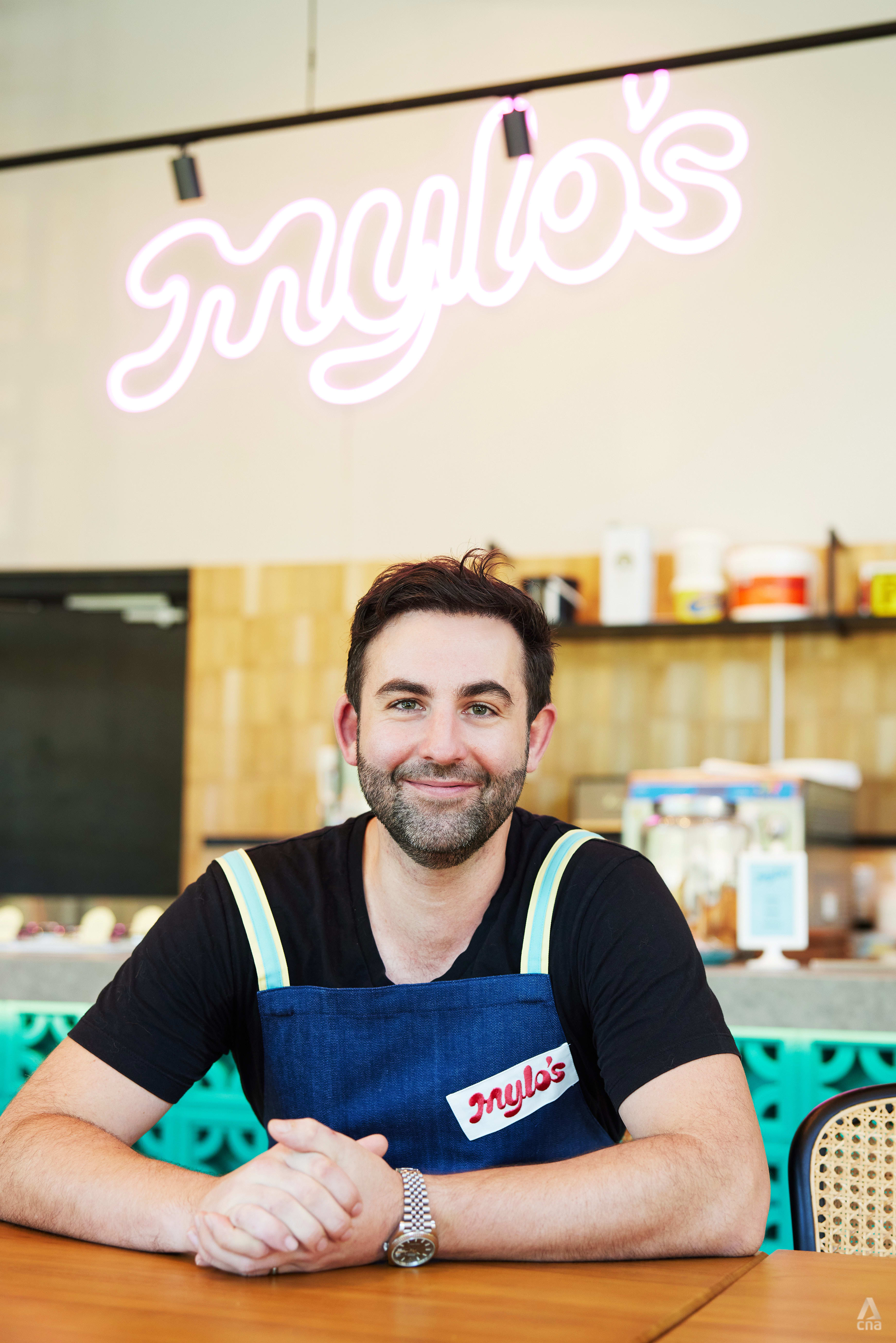 At Mylo's, there's a small menu for doggie patrons, with choices like bone broth popsicles made with veal, or yogurt and fruit desserts, and also a free biscuit for each dog. And because Milo has some food allergies, that "made us do more research into healthier options for dogs". Pumpkin and oat biscuits, for instance, are generally allergy-safer.
From time to time, Milo gets a small taste of real gelato, but not too much, because of the sugar content.
Wilson recalled, "In Shanghai, there was a gelato shop around the corner from my house. You know when you get to a corner and you want to go one way but the dog wants to go the other way? The lady would always come out and give him some gelato. So, he's very fond of frozen treats."
DREAMING UP A NEW RESTAURANT
Beach days notwithstanding, it's a busy time for Wilson as he launches not one but three new concepts. "I've always wanted to have a casual Mediterranean restaurant, a gelato shop and a fine-dining, tasting-menu restaurant, and lo and behold, I have all three of them! I wasn't expecting to do them all in a minute and a half," he chuckled.
Marguerite, named after the marguerite daisy "which brings happiness and hope", is where he'll have the most room to showcase his evolving style of cuisine, which is all about deceptively simple dishes that belie razor-sharp technique. The restaurant will "use more premium ingredients", is "a little bit more expensive" and is also "more refined".
A dish of smoked eel that will be on the menu, for example, features caviar, oyster leaf, dill oil and a savoury horseradish gelato. "We juice horseradishes, so, imagine going into a mustard gas chamber. I have the centrifuge juicer, and you're just putting a dry horseradish root in there, so from three kilos you get about 300g of juice. And then we make a savoury gelato base and infuse it with this juice."
Similarly, another dish of carrots and marigolds that's being worked on involves making marigold oil. "To make an oil strong tasting enough, you need to buy a kilo of marigold leaves. So, now you're talking about caviar prices for a herb, in order to get that intensity.
"That's what we try to do – intensify the flavours, then blend them together on a plate."
Taking the step up of owning a restaurant was never in question for this chef, who started his career at the age of 14 at a restaurant in his native Melbourne and has been cooking for more than 20 years.
"I once worked with this Scottish chap," Wilson recounted wryly. "He said to me, 'Michael, you lose the paranoia, you lose the edge.' I didn't sleep well that night!"
Does he consider himself a risk-taker?  
He paused. "See, the funny thing is, I didn't look at this as a risk. But you're entirely right. Yeah, probably. I mean, I have money in the crypto market as well – people seem to think that's risky! COVID-19; three venues – it probably looks really risky. But I suppose I'm focused on what needs to happen, and we need to get it done, make sure it happens."
He mused, "You know, you're 18, and you go to the centre of Melbourne – I was from the outskirts of the city – and you see these fancy places like Crown Casino, and the fancy restaurant in the corner, and you're like, 'One day, I'll be a chef just like that!' And then you do it, and then you're, like, 'Not good enough.' Then you get a star – Phenix was the first restaurant I did with my own identity, and Phenix got a star relatively quickly, and that was another check, right? And then you're like, 'I want two!'" He laughed.
"I was talking to a chef friend of mine the other day. Our dreams have been fulfilled several times over. But you just have this thing inside you, where you get there, and you want to get to the next one.
"Yeah, I don't know how to explain it."
Mylo's, Hortus and Marguerite are at 18 Marina Gardens Drive.